A Drive-By Caravan Honored a Couple's Original Wedding Date, and Their Reaction Was Everything
The bride's mom and planner came together to surprise the duo.
---
Amazing moments of community continue to come out of the Philadelphia wedding world during the pandemic — like when a bride's mother and Kate Boyle of Sara Rea Design planned a drive-by, socially distant caravan to celebrate a couple's original wedding date, which was postponed due to the coronavirus. That duo? Bryn Mawr residents Stephanie Lynch, 28, and Bryan Foster, 28. They were supposed to marry on April 25th at 3:30 p.m. but have had to reschedule not once, but twice, and are planning for a celebration in March 2021 in Villanova. "I knew from a professional and personal level how disappointed they were that they had to postpone their plans," says Boyle, who is planning the wedding and has known the bride's family for years. (She and Stephanie's sister, Samantha, have been friends since childhood.) "Even through the disappointment, they were so positive, kind and supportive of each other."
So, naturally, when Tina, Stephanie's mother, mentioned that she was arranging a caravan to commemorate the time and date, Boyle was in. "I wanted them to know their vendor team was there for them too, and to have faith that, when we do get to celebrate, it's going to be amazing." Boyle coordinated with Belovely Floral Co. on a bouquet; photographer Emily Wren sent a gift to the couple's home; the original wedding invitation was framed as a gift; and Afrik Armando, who photographed the bridal shower, agreed to take photos from afar. Day of, their family, friends and Boyle met in a large business complex parking lot about 15 minutes before the auto party (all in their respective cars) to get in line. Boyle went last in the caravan of about 10 cars the first time around so she could place the bouquet in front of the couple's house at a safe distance. She also provided a Clorox wipe so the bride could clean it and pick it up. "She went over to grab it after, and the caravan circled again, cheering and honking," says Boyle. Here's the rest of the story, in the bride's words.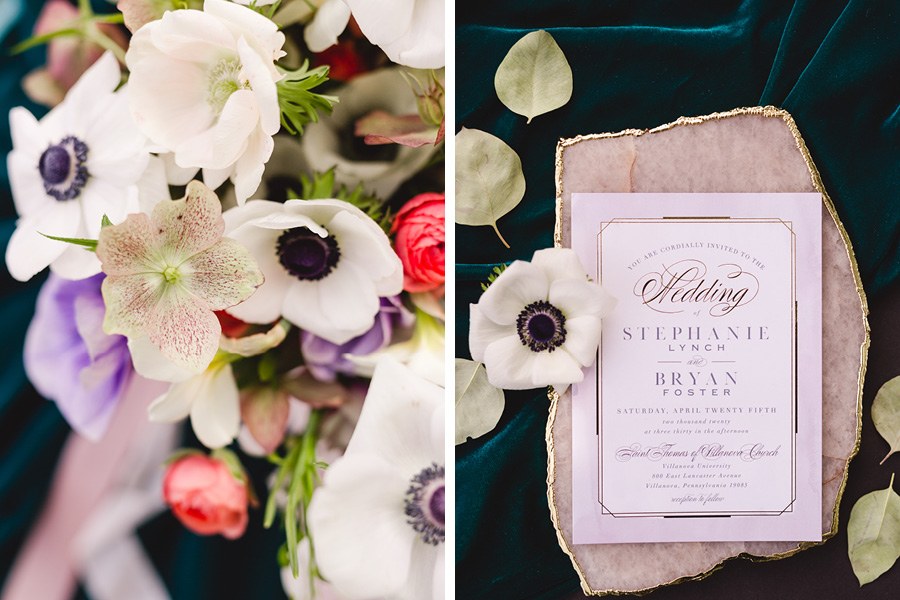 That morning, Bryan and I woke up and planned to hang out together. We just wanted to enjoy each other's company. My mom planned to drop off a special Italian dinner for us from Pepperoncini. But we realized something was going on after my mom called and said she needed Bryan and I both outside to help her with the food. Then we started hearing beeping and cheering. When we came out, we were drinking frozen strawberry margaritas or, as we like to refer to them, Morning Margs.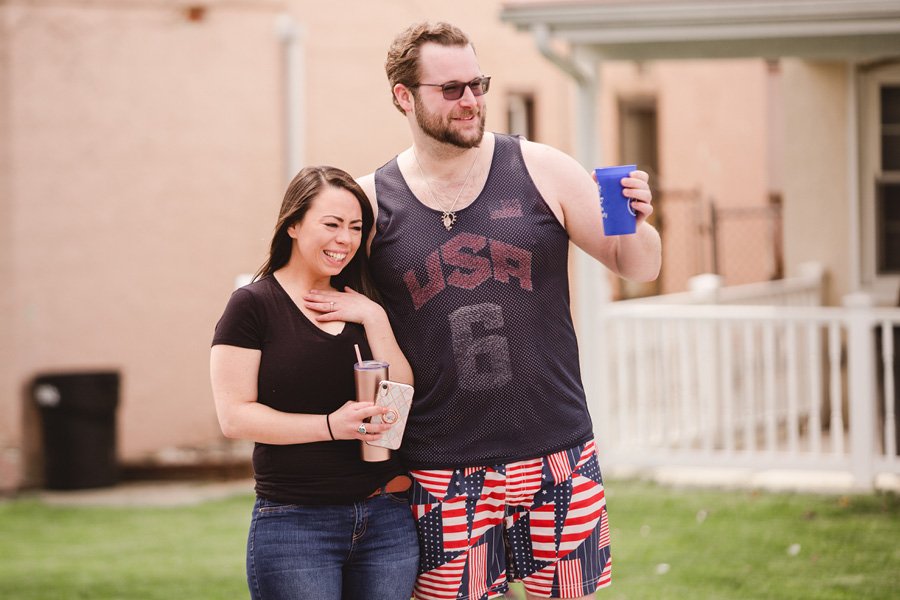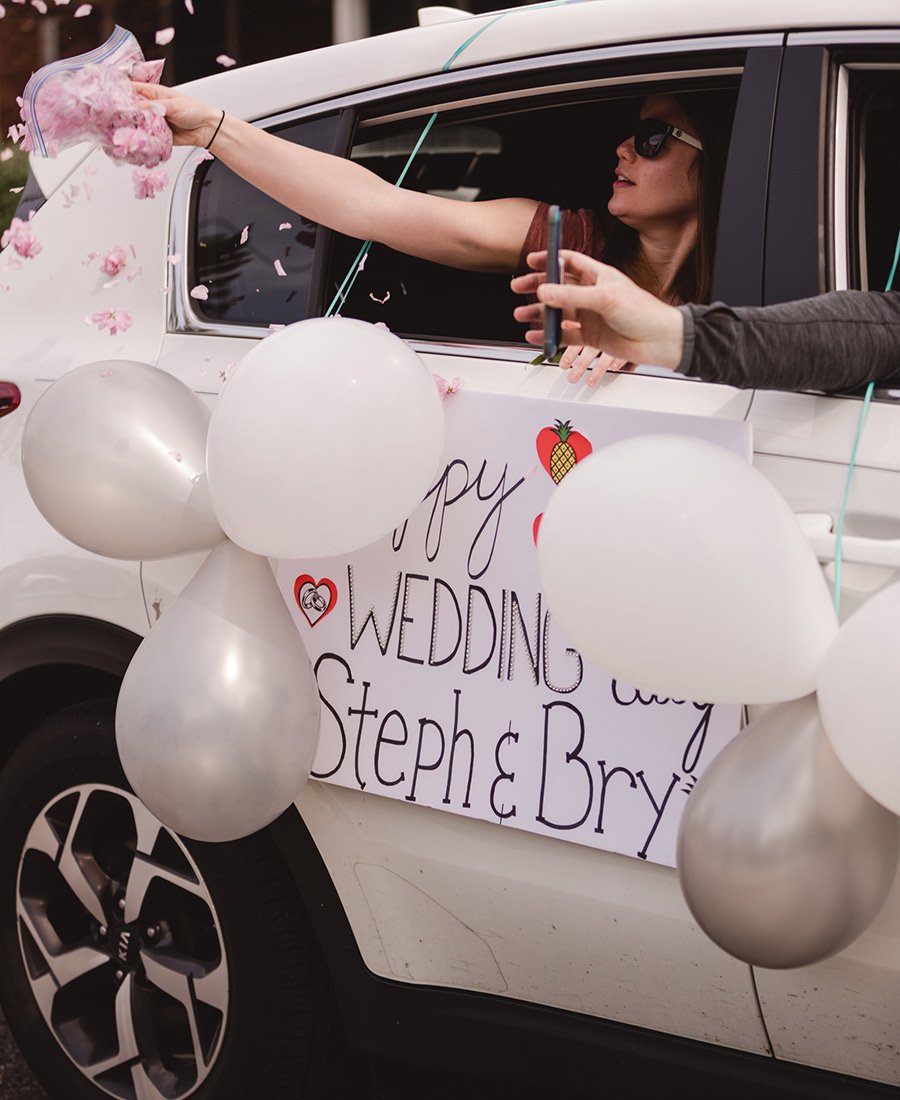 Our neighbors were in on it. My mom sent them direct messages on Facebook to see if they could participate. They also made "Here Comes the COVID bride" and "Meet the Quarantined Fosters" signs.
RELATED: A Guide to Philadelphia Weddings During the Coronavirus Outbreak
And my dad was actually hiding in my neighbor's yard so that he could videotape the entire thing. I remember looking at him once it started and thinking to myself: "Who is this person?" He had his hood up, sunglasses on and a mask. After my mom drove by without my dad with her, I realized it was him.
My 5-year-old niece, Sydney, made us a sign. It read, "We love you Steph and Bryan." It was the first time seeing my nieces, nephew and other family members and friends in over a month, so I definitely experienced an influx of emotion when I saw the sign.
I was shocked and just in awe of seeing so many friends and family members coming out to do this for us. Bryan was very surprised and pleased to see everyone. While we definitely have been disappointed by postponing, we realize it was something that had to be done in order to celebrate our wedding with all of our friends and family.
Our advice to other couples: You are allowed to be disappointed, but don't forget to keep joy and love alive. Also realize it's nothing you can really control, so it's not worth getting angry. You are surrounded by people who care about you, and it WILL eventually happen, so stay patient.
This interview has been edited for clarity and length.
Get more great content from Philadelphia Wedding:
FACEBOOK | INSTAGRAM | NEWSLETTER | PINTEREST
Getting married? Start and end your wedding planning journey with Philadelphia Weddings' guide to the best wedding vendors in the city.
---
---