Coronavirus Canceled Our Wedding. We Got Married Anyway
After COVID-19 caused them to cancel their large celebration, this Philly couple made their rehearsal dinner the time to say "I do."
---
In a matter of hours, the coronavirus crisis has upended every aspect of life in Philly (and the world), including the wedding industry. No one knows that more than Jordan Walden and fiancée Rachel Wolfheimer. The couple, who live in Fairmount with their Boston terrier, Charlie, were two days away from their large celebration this past Saturday, March 14th at Tendenza when they decided to change their plans—completely. They quickly acted to turn their intimate rehearsal on Friday at Boathouse Row into their new Big Day, surrounded by their closest family and friends. Philadelphia Wedding spoke to the couple before and after their wedding—here's how they handled it all.
This story is part of Philadelphia Wedding's on-going Real Talk series, where real Philly couples share their unique approaches to wedding planning and marriage. If you have a unique story or experience worth sharing, we'd love to hear about it.
Friday, March 13, 12:21 p.m.
As told by Jordan…
I'm getting married in a matter of hours, a day sooner than I thought. But I'm feeling good. I'm in a blur. I asked [our photographer, Joseph Gidjunis of JPG Photo & Video] if he had ever planned a wedding in 15 hours, and he hadn't. But he said he knew we could do it. It's remarkable how much we accomplished before noon.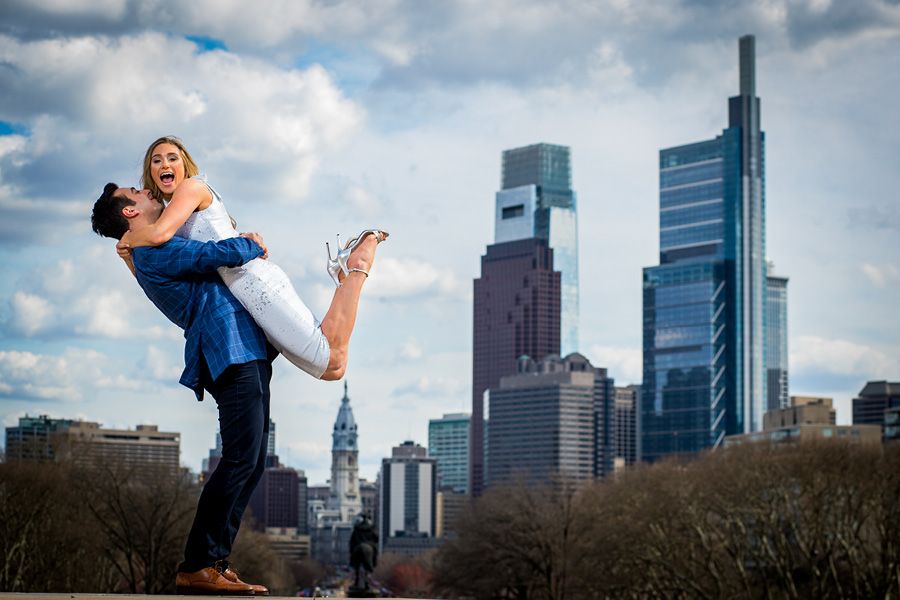 The decision to cancel wasn't on our radar until late Thursday afternoon. What led to that was certainly there had been a number of people who weren't able to make it. We were super understanding and supportive, and [held] no judgement against them in these hard times with the elderly and the immunocompromised. It came down to how quickly the news was unfolding, the uncertainty of what we would potentially be exposing our grandparents to, ourselves to, our parents to—everyone in the room—in what's supposed to be the best day of our lives. It was not gearing up to be that way, especially when I wouldn't be able to ignore that responsibility of putting everyone potentially in a dangerous situation.
Our first step after that was … we had conversations with all of our vendors. Rachel and I were on the same page that what was most important was having an opportunity to formally get married in front of our closest family and friends. While the party aspect is something we've been looking forward to for a year, that can wait for the right time, so we can move forward and do what's most important now.
We notified everyone next. Our original wedding was with 198 people. [Thursday] night we had a group conversation with our parents, and they were super supportive. At that point I started reaching out to my friends, Rachel to hers; we sent out our Excel list [to our parents] and requested that they start contacting people to fill them in [that night]. We communicated that to everybody and finished up [Friday] morning, with everyone calling and texting. We got it out there pretty quickly—impressive on our parents' part.
I also want to give a special shout out to all our vendors. They've been very accommodating. That's JPG Photo & Video, Tendenza, EBE Talent with London Bridge and Beautiful Blooms. Everyone has been above and beyond, more supportive than I anticipated. They are willing to work with us and start coordinating as early as next week to find a date in the future that we can get everybody together to have the party we're so looking forward to with all of our family and friends.
Tonight, we're going casual. I'm wearing jeans and a blazer, like I was planning to wear. We'll be at Vesper Boat Club, and 12th Street Catering is taking care of us. Our initial plans were exactly what we're having tonight. We'll have a small, intimate group, with some people getting together and a cocktail-style event with hors d'oeuvres. It's not formal—more of a welcome party, so to speak.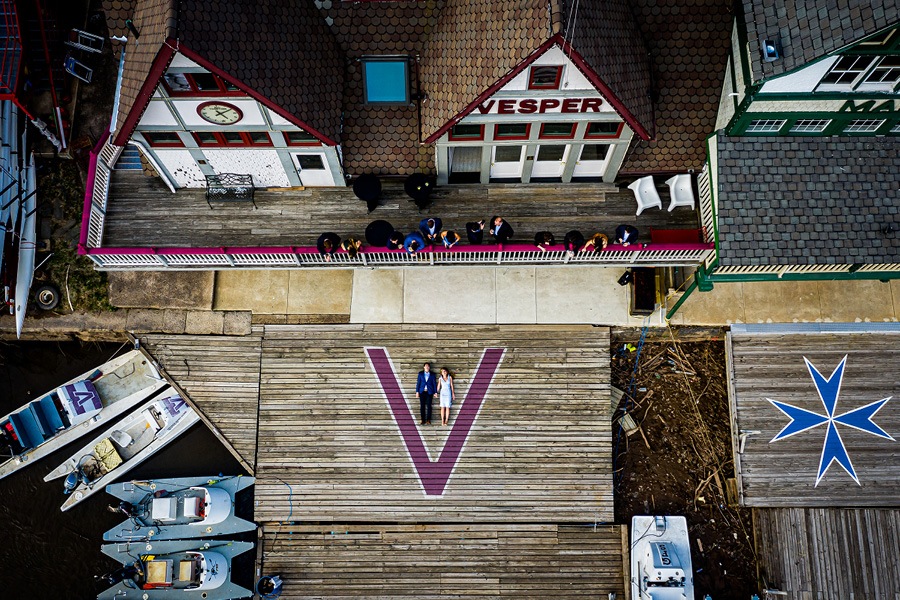 We'll say "I do" at the club, but we don't know where yet. It's all going to come together when we show up. I think Rachel and I have both been very flexible. It is what it is, and we're trying to make the best of it.
But we definitely … are going to read each other our vows. We're going to have a ceremony. We're going to break the glass as in Jewish tradition and officially be married.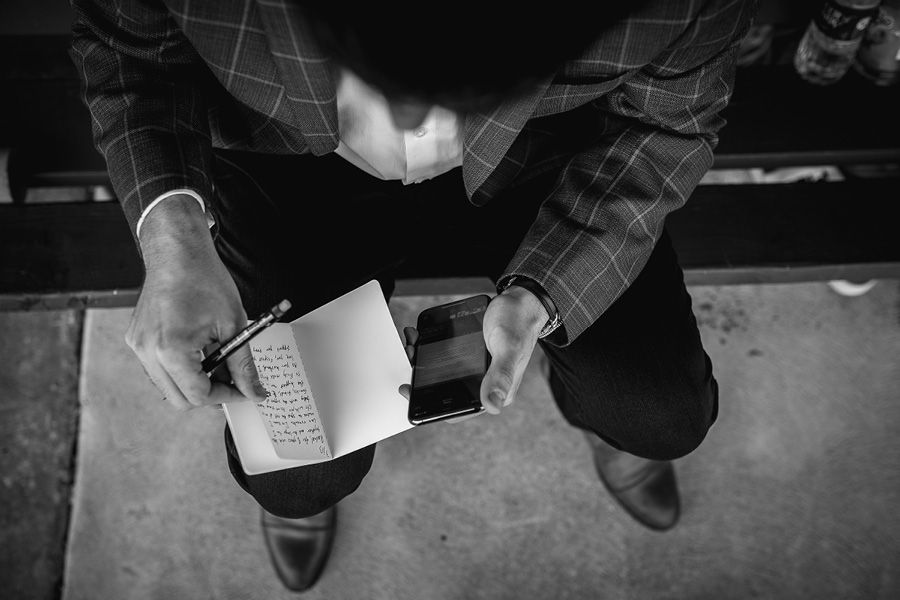 This is about love. That's what is most important. Rachel and I have each other and our families. At the end of the day, that's all we need.
To other couples going through this … follow your heart and don't be afraid to push things off to celebrate with a big group when the time is right. When you have the right relationship, that's invaluable.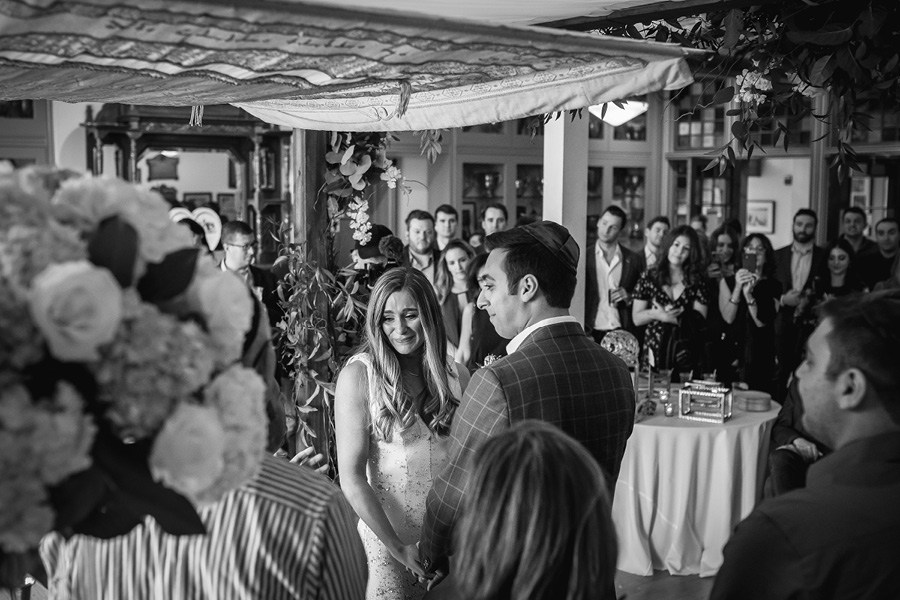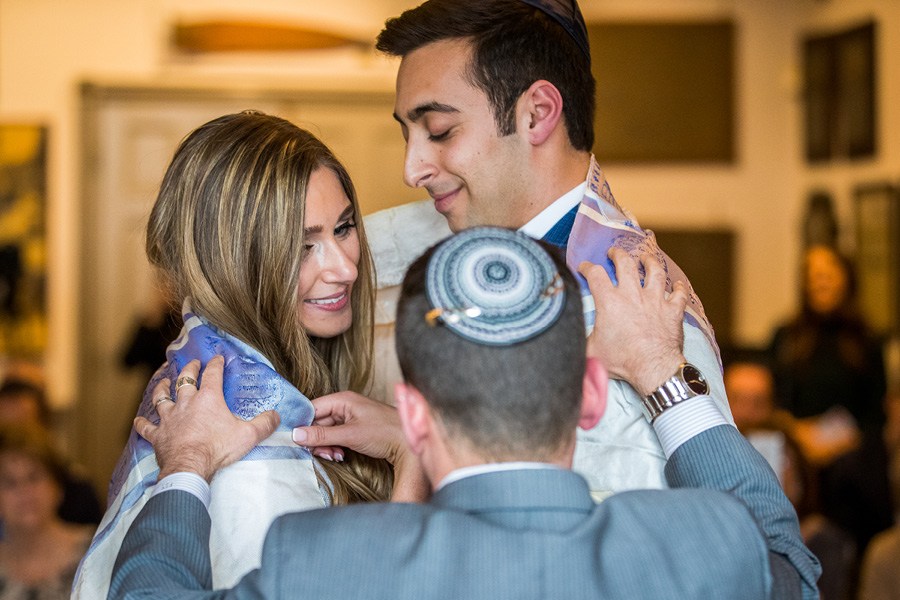 Sunday, March 15, 2:23p.m.
As told by the couple…
When we arrived at the boathouse … we didn't know if the chuppah would be there. Beautiful Blooms made it happen and delivered it a day early. It was so special because it is the chuppah from Rachel's synagogue that her parents were married under.
Everyone came together to help make this a reality. Our parents and friends arrived early to set up candles and make the room look magical. The caterer moved the chairs into an aisle and put on the song I [Rachel] was planning to walk down the aisle to.
One of the most memorable moments … was that all five of our grandparents made it.
It hit us that we really pulled this thing off when … [we] were standing under the chuppah, looking at our closest friends and family.
There were unexpected moments. Jordan's wedding band is engraved with the wrong date, [and he missed] breaking the glass on the first try.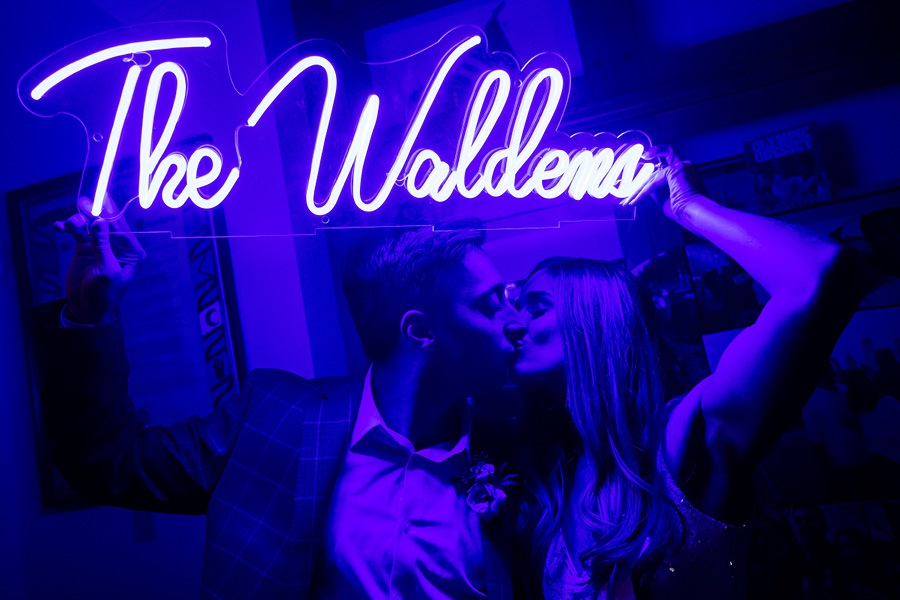 But one of the coolest parts was … we got to have the chuppah out all night, and we were dancing around it and under it. Even though we started out without music, it turned into one of the greatest dance parties. One of our family friends turned into the DJ for the night.
We're looking forward to our second wedding. I [will] wear my wedding dress. Jordan still doesn't know what it looks like yet!
This interview has been edited for clarity and length.
Get more great content from Philadelphia Wedding:
FACEBOOK | INSTAGRAM | NEWSLETTER | PINTEREST
Getting married? Start and end your wedding planning journey with Philadelphia Weddings' guide to the best wedding vendors in the city.
---
---