I Had Major Brain Surgery Before My Wedding. Here's How I Handled Everything.
"When you're reminded that every second of your life is precious, you don't waste any time."
---

Katrina Schmidt
and
Colin Preston
met as students at Villanova. Theirs is a powerful love story of resilience while facing a critical illness. The bride needed several brain surgeries immediately before their wedding, but Colin was beside her every step of the way. The couple wed on July 21, 2018 in a beautiful ceremony at St. Thomas of Villanova and held a reception at
The Inn at Grace Winery
in Glen Mills. Below, they share—in their own words—how Katrina's diagnosis impacted wedding planning and their perspective and what's truly important in the process.

Do you have a modern, unique, or just plain emotional wedding planning story of your own? We want to hear it!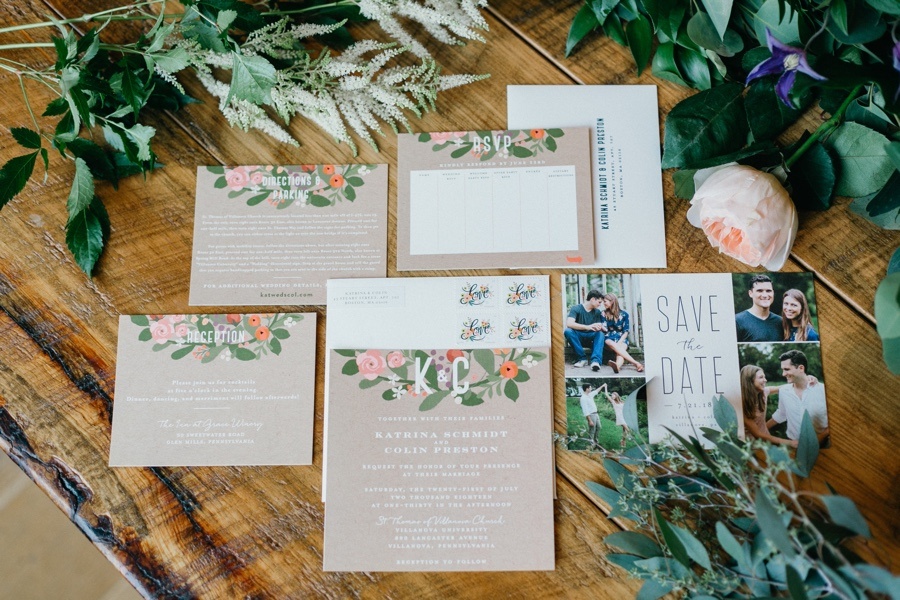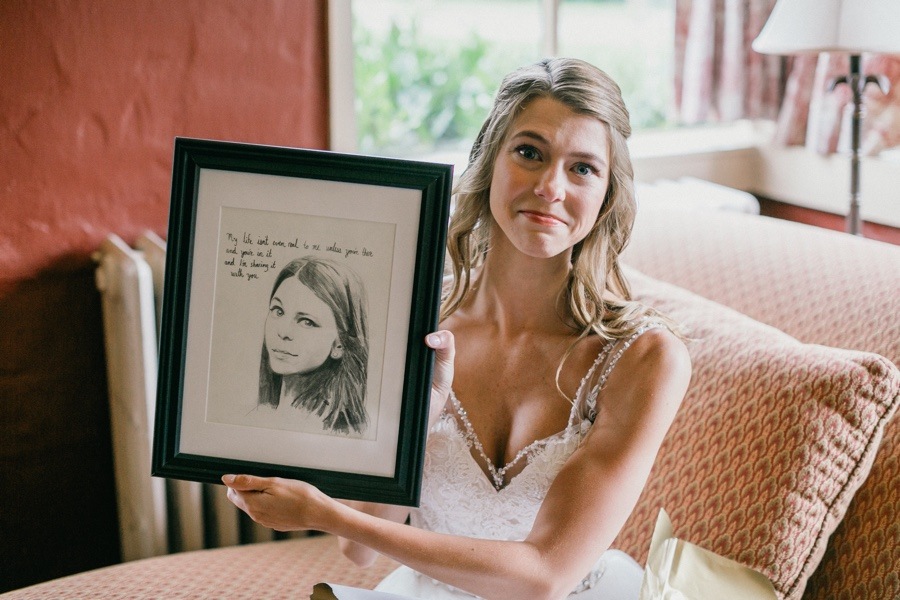 How we met and started dating (in Colin's words): "We met in April 2011, one month before graduating Villanova University, at karaoke night at a local restaurant. I thought Katrina was the prettiest girl I had ever seen and worked up the courage to ask her to sing a song, with the help of a few liquid friends, and to my surprise, she agreed and we sang "All You Need is Love" by the Beatles. I was feeling pretty damn smooth at this point and asked Katrina for her number. She promptly replied, "Why don't I get yours?" I thought that was as good as goodbye, but once again she surprised me, this time by texting me a few days later. We started officially dating shortly after that, and were inseparable during our final month at Villanova.
As the school year (and our time at Villanova) came to an end, we finally had the "Where is this going?" conversation and as luck/fate would have it, we were both heading to Maryland after graduation – I had enrolled at the University of Maryland as a PhD student, and Katrina had accepted a job near her hometown, which meant that we'd only be 30 minutes away from each other. We decided to stay together and make a go of it, and the rest is history. We got engaged on February 29, 2016. It was Leap Day!"
The hardest thing about planning our wedding was (in Katrina's words): "We always knew that we wanted a long engagement, so we didn't immediately rush to start planning. In January 2017, almost a year later, we finally started the process and quickly decided on a date, ceremony venue, and reception venue. In February 2017, I had an MRI done after experiencing a change in my chronic migraines, and was diagnosed with a brain abnormality known as an arteriovenous malformation, or AVM.
The major risk with a brain AVM is that it can bleed at any time, causing seizures, a stroke, or even death, so now that I knew it was there, leaving it alone and not doing anything wasn't an option for me. I consulted with a neurosurgeon, and we developed a multi-step surgery plan to remove the AVM. Due to the location of it in my brain though, there was the possibility that the final surgery would leave me permanently blind. Processing all of this information left me and Colin completely stunned. We had barely begun planning our wedding, and now we also had to plan and prepare for four major brain surgeries and all of the terrifying unknowns that go along with that."
How we overcame it (in Katrina's words): "As said, delaying the surgery process wasn't an option for me. Having already decided on a date, ceremony venue, and reception venue for our wedding, postponing that wasn't an option we felt comfortable with either. We needed to handle both simultaneously. Once I developed the surgery plan with my neurosurgeon, Colin and I got right down to work making as many of the bigger decisions regarding our wedding as we could. The diagnosis took what had been a leisurely engagement and wedding planning process thus far and kicked it into high gear.
Colin: We had a lot of work to do before Katrina's final surgery. We powered through it, supported each other, and asked for help when necessary, but to be honest, the main reason we got through everything is because Katrina is a total badass. She never made any excuses or felt sorry for herself, despite having to often tackle various wedding tasks from a hospital bed.
Katrina: I definitely led the charge, but Colin was extremely supportive and full of creative ideas and decisiveness. When it came time for my final surgery, I ended up being very lucky, too – the removal of my AVM was a success, and I only suffered minimal vision loss. At this point, we were only nine months away from our wedding, so even though I was now actively recovering from all of my surgeries, I was as motivated as ever to push through and plan the wedding of our dreams. When you survive multiple brain surgeries, everything else seems like a piece of cake. Well, maybe not a piece of cake, but seriously, we knew that if we could get through multiple brain surgeries, we could get through anything."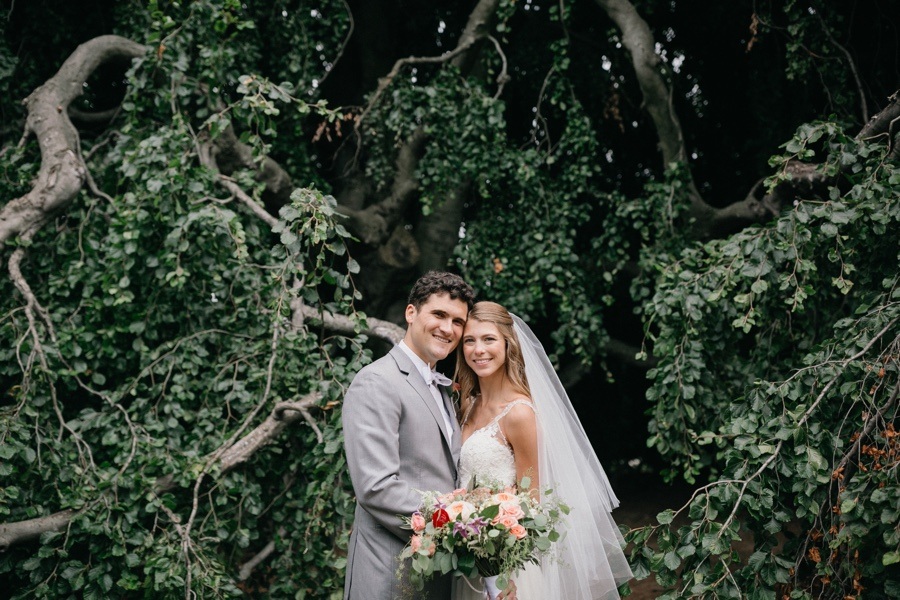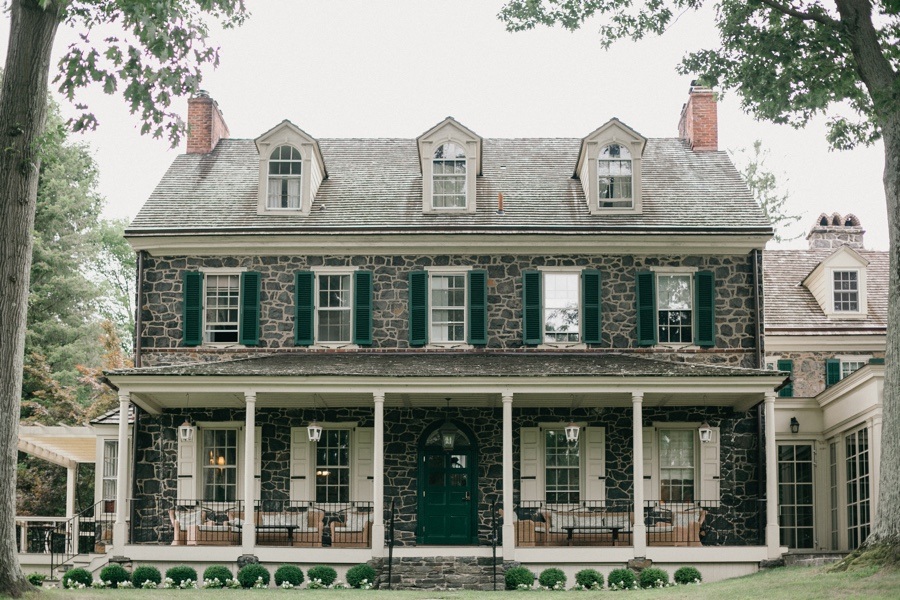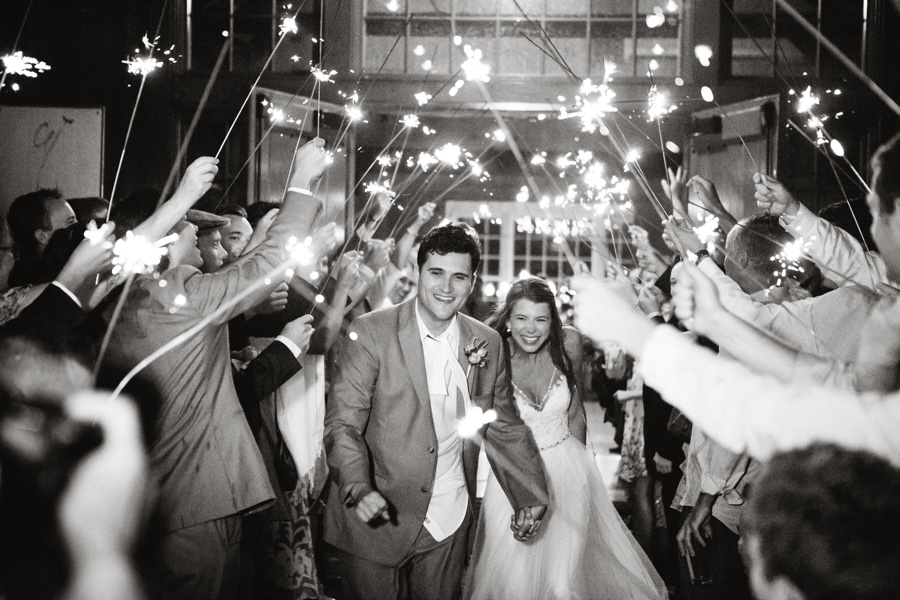 The best thing about our wedding: "We didn't waste any time or energy with the rest of our planning; we capitalized on every single day: conducting interviews with potential vendors, working on our reception playlists, brainstorming custom food ideas with our caterer, DIYing signs for the reception venue, designing ceremony programs, and trying to find every possible way to save money. We had so many of our vendors telling us that we were among the most meticulous couples they had ever worked with, and I take so much pride in that, knowing how much else we were juggling at the time. Looking back, there's no exact science to what we did – believe me, if there was, Colin would be the first to point it out! – but when you're reminded that every second of your life is precious, you don't waste any time, especially when you have a damn good reason to celebrate.
The best part of our wedding was seeing all of the details that we had tirelessly obsessed over come together perfectly. We certainly could have paid a wedding planner to handle all of these details for us, but we didn't – instead, we opted to have our fingerprints all over every single decision made, big or small. It made the best day of our lives even more special, knowing that we truly planned it all. However, we couldn't have done it alone. Our vendors were amazing; they embraced our passion and hands-on approach and helped bring our vision for the day to life in a way that was even more spectacular than we could have ever dreamt of. Our caterer was Birchtree Catering, our florist was Robertson's Flowers & Events, our cake and cupcakes were by Nutmeg Cake Design. We also had hair by Ariel Katrina Hair and makeup by Meghan Jester Makeup. Getting to our wedding day was the most difficult journey we've gone through as a couple, but that day was our greatest triumph."
Congrats to the happy couple! Watch Colin reflect on the process in their beautiful wedding video:
Katrina + Colin from Sweetwater Portraits on Vimeo.
This story has been edited for clarity and length.
Get more great content from Philadelphia Wedding:
FACEBOOK | INSTAGRAM | NEWSLETTER | PINTEREST
Getting married? Start and end your wedding planning journey with Philadelphia Weddings' guide to the best wedding vendors in the city.
---
---