A Philly Couple Took Grease-Themed Engagement Photos Down the Shore
They went full-on Sandy and Danny — complete with carnival rides, leather pants, and a T-birds jacket.
---
We love it when a couple takes engagement photos to the next level, and that's exactly what this soon-to-be-wed pair did. They decided to shoot playful engagement photos down the shore, working with Kseniya Berson Photography, then went full-on Sandy and Danny complete with leather pants and a T-birds jacket. See all the totally colorful and fun photos of the couple on the boardwalk at Ocean City, New Jersey below. (If you need even more ideas for your own shoot, check out our 19 great warm-weather engagement photo options.)
The Couple: Jillian Herman, 26, and Brandon Cohen, 30, of Northern Liberties.
How They Got Together (as described by Jillian and Brandon): "We swiped right…twice. Jillian had just graduated from West Chester University and was starting her first job in West Chester. She joined JSwipe and matched with Brandon soon after. We really hit it off and spent many late nights talking. Brandon finally decided to ask Jillian on a date. He never heard back from her and figured that Jillian wasn't interested. Jillian was busy moving into her new apartment in West Chester. But, a few months later, they matched again on JSwipe while Brandon was with his best friend at an OAR concert. Brandon had a feeling that this was his chance. He messaged Jillian, "Maybe the second time is the charm?" He asked her out again and this time she accepted. A few nights later, we finally met for our first date at Oishi in Newtown. The entire night was filled with laughs and amazing conversation."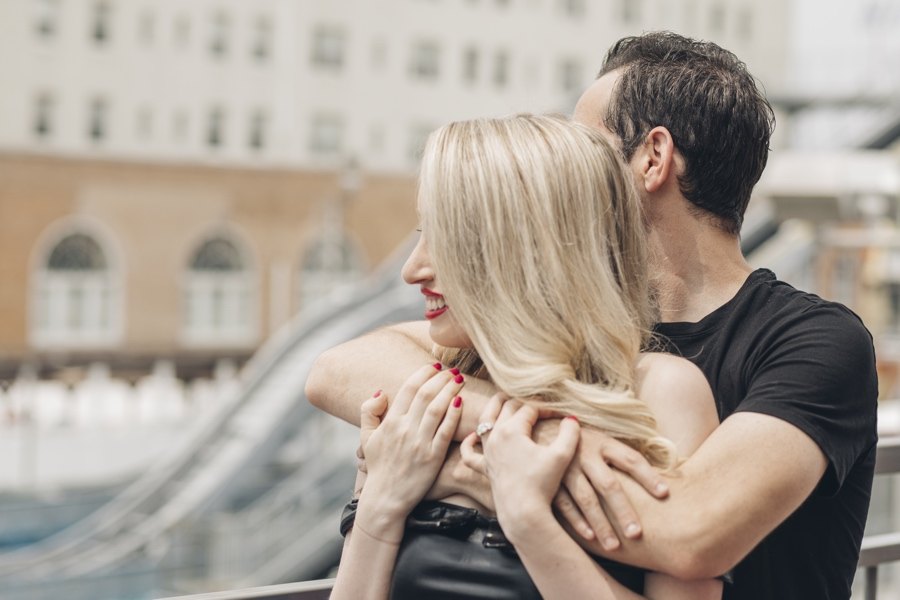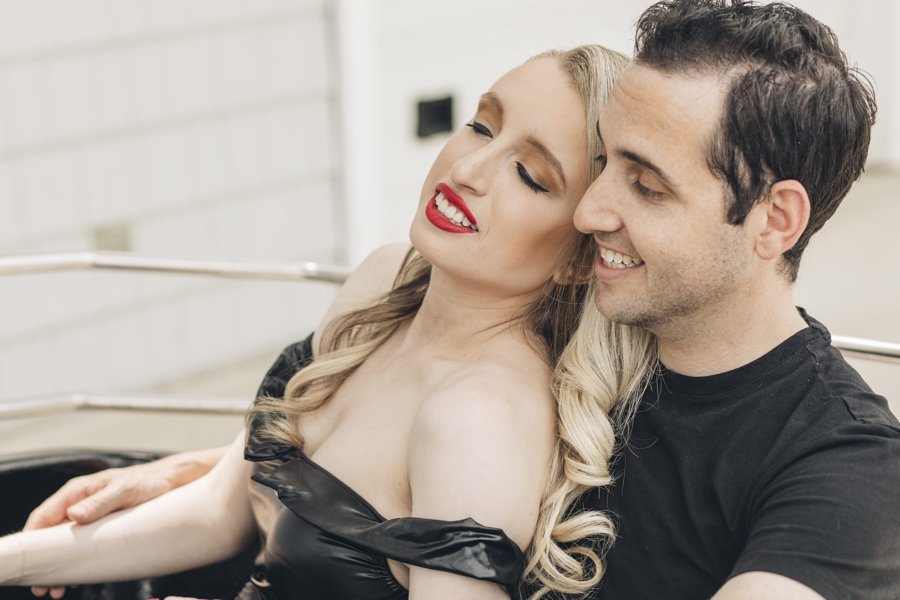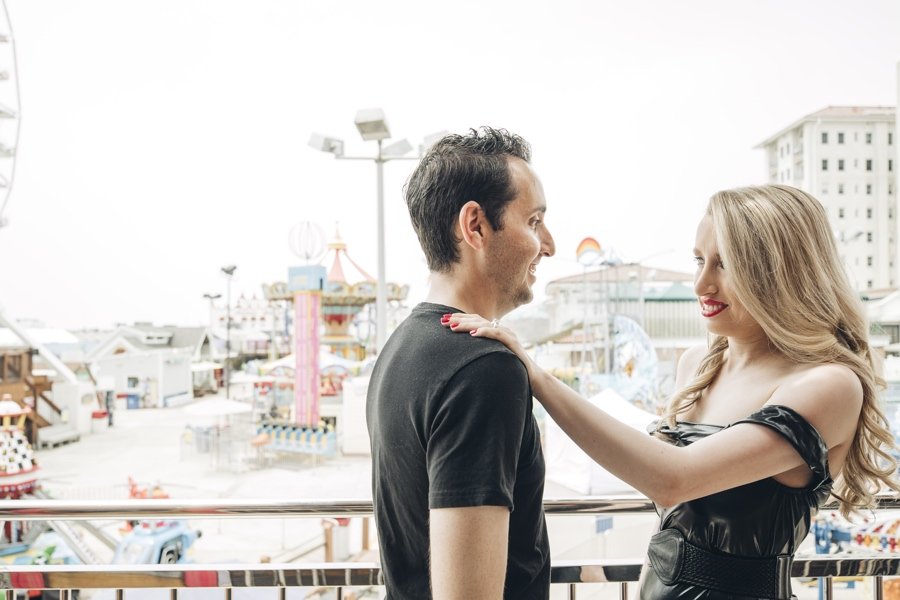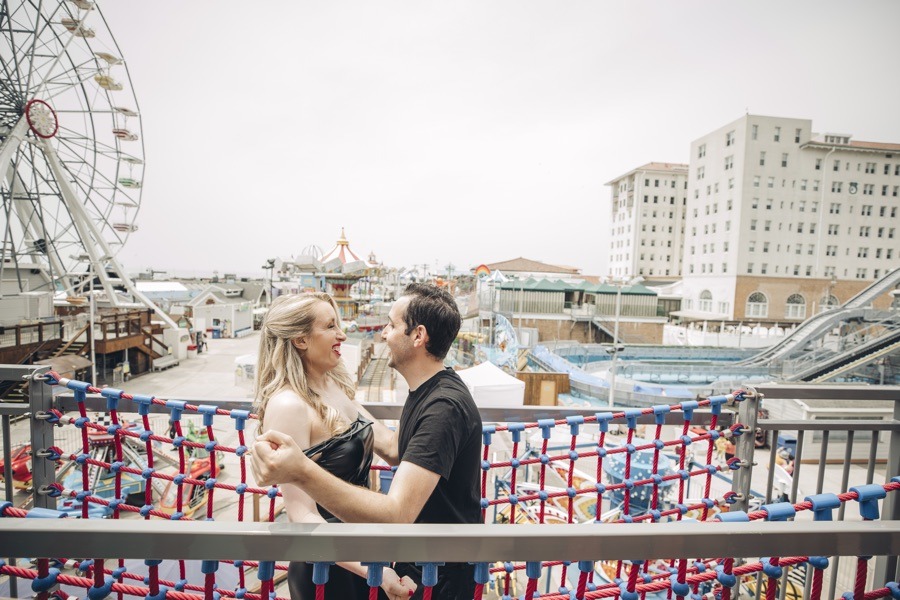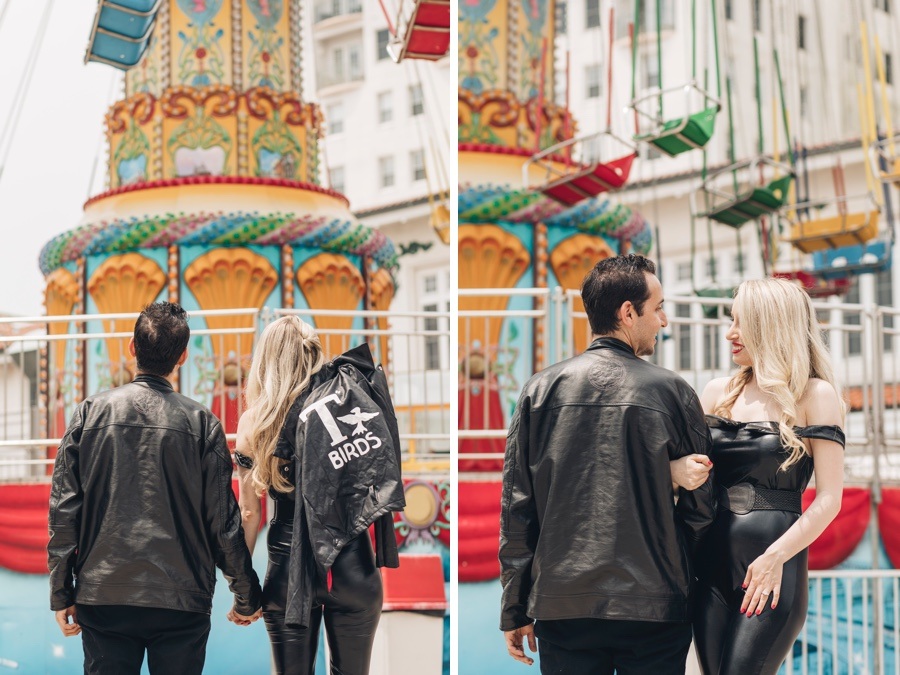 First Impressions: Jillian says, "My initial thought was that I was pleased with Brandon's good looks because I couldn't tell what he looked like from his JSwipe pictures because every picture had him doing Randy Orton from WWE's famous pose. After that, I felt like I found my long-lost best friend. We did not stop talking the entire night. We didn't end up eating and even missed our ice cream date after dinner, which Brandon now knows is a big no-no because this girl loves her ice cream. Brandon sealed the deal on the second date when we got ice cream after bowling at North Bowl and he rode with me in the Uber to my friend's house to make sure I got there safely."
Brandon says, "I was just so happy that someone way out of my league was going on a date with me. When I matched with Jillian the first time, I was very excited because we had great conversation. I thought I blew my chance when I never heard back. I never expected to match up with Jillian again. Jillian is very smart and is always keeping me on my toes. If love at first sight is a real thing, I would say love at first conversation is what I felt for Jillian. Following the date, I stopped at my parents' house and told them about it. I told my dad that night, 'This is the one. This is the girl I am going to marry.' It's all history from there."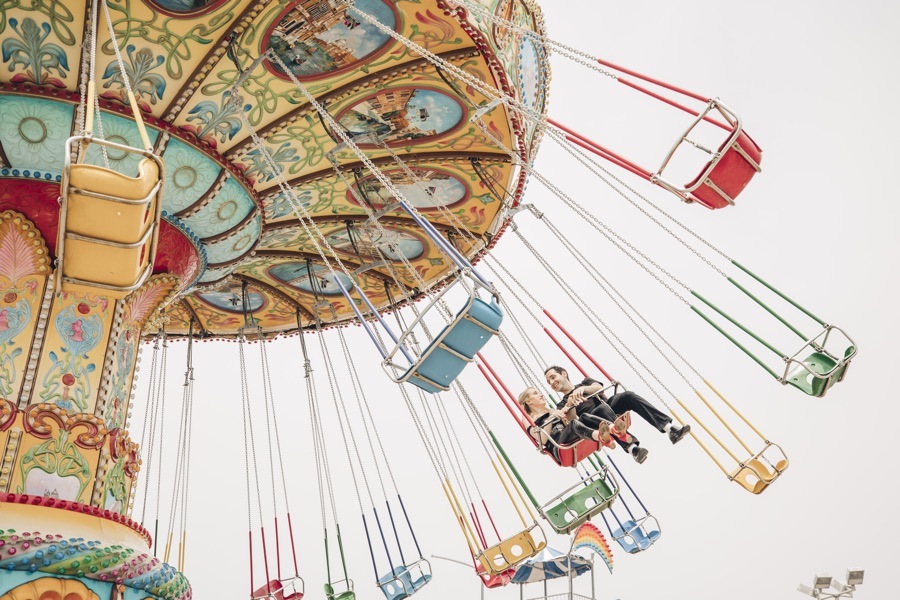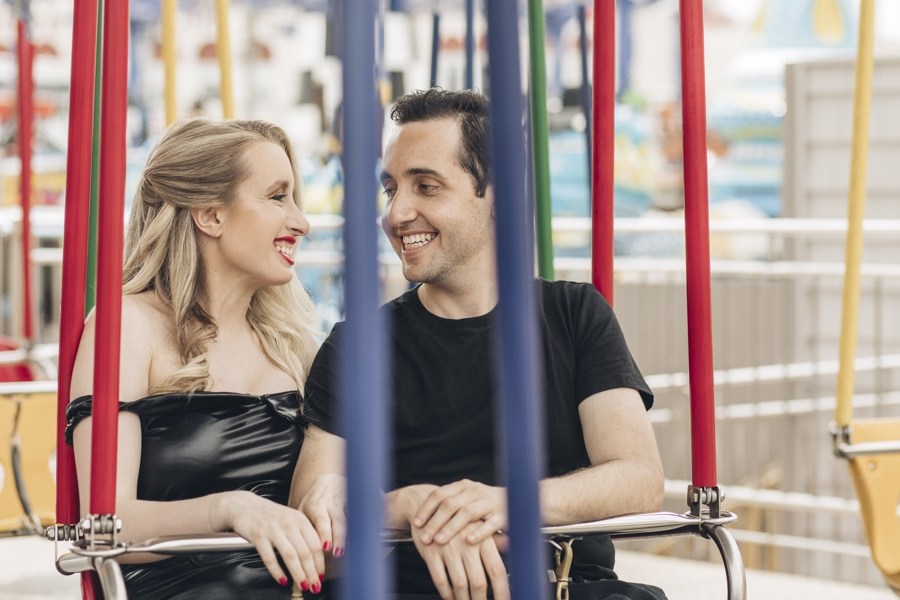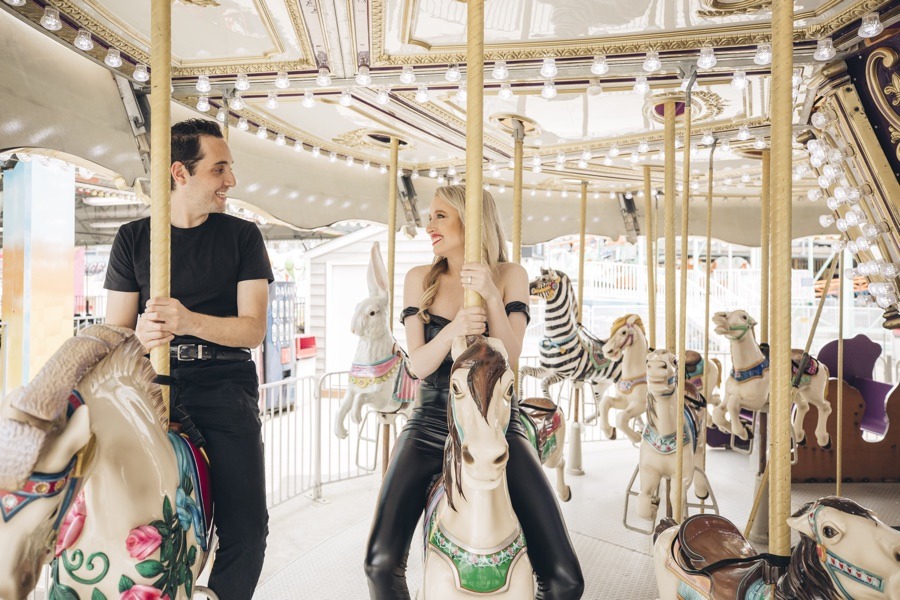 How They Got Engaged (as described by Jillian and Brandon): "We dated for almost 3 years before we got engaged. Jillian made it very known to Brandon that she was ready to get engaged and had very special instructions for him. She wanted the proposal to be like a scene on the Bachelor. Brandon had very special instructions for Jillian, which were to enjoy her summer because it wasn't happening then! Little did Jillian know, Brandon had already asked her parents for their permission for Jillian's hand in marriage on Memorial Day Weekend of the summer of 2018. The perfect plan came together and she was surprised with a 26th birthday proposal. Jillian and Brandon's favorite restaurant is Chef Vola's in Atlantic City, where they go often when they spend their summer weekends in Margate City. Jillian and a few of her closest family members and friends had plans to go there for her birthday and then go out to the club. They walked up to the porch of Chef Vola's and Jillian saw a bunch of family and family friends that weren't supposed to be there standing with signs that said "Congratulations!" Brandon turned Jillian around, had her stand next to a table, and started off a speech which ended in a proposal. Jillian said yes. Brandon presented her with a gold-dipped rose. They had the most delicious meal, but there was even more of a surprise: they went home and more family and friends were there for an amazing engagement party."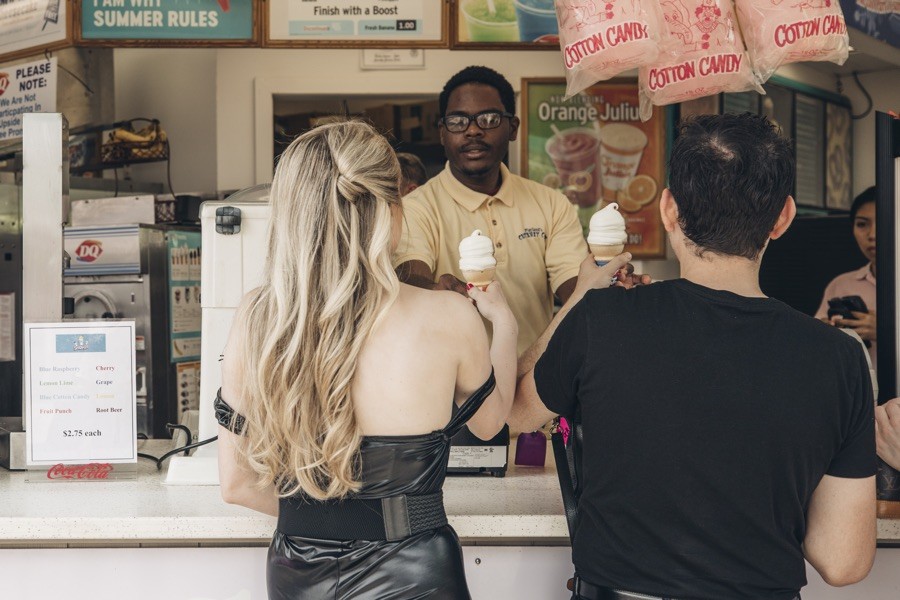 About The Engagement Session (as described by Jillian and Brandon): "Anybody who knows us well knows that we never do anything small! We knew we wanted to have a laid back and fun engagement shoot at the Shore sinceit's such a special place to us and fully brings out the most relaxed and care free side of us. Jillian mentioned an engagement shoot at Playland Castaway Cove in Ocean City, NJ on the rides. The moment Jillian told Brandon her idea, he took it to the next level. He called her and said 'Grease!' Brandon suggested that they play Sandy and Danny from the "You're the One That I Want" scene of Grease for the shoot at Playland Castaway Cove. Jillian was blown away by Brandon's idea and ran with it. Jillian spent the morning getting her hair and makeup done at Euro Colour Salon in Northfield, NJ and Brandon watched many YouTube videos to get his hair to look like Danny Zuko. 'We had the most magical time during our engagement shoot. We felt like we were on a movie set and could not stop laughing and dancing the entire time,' says Jillian."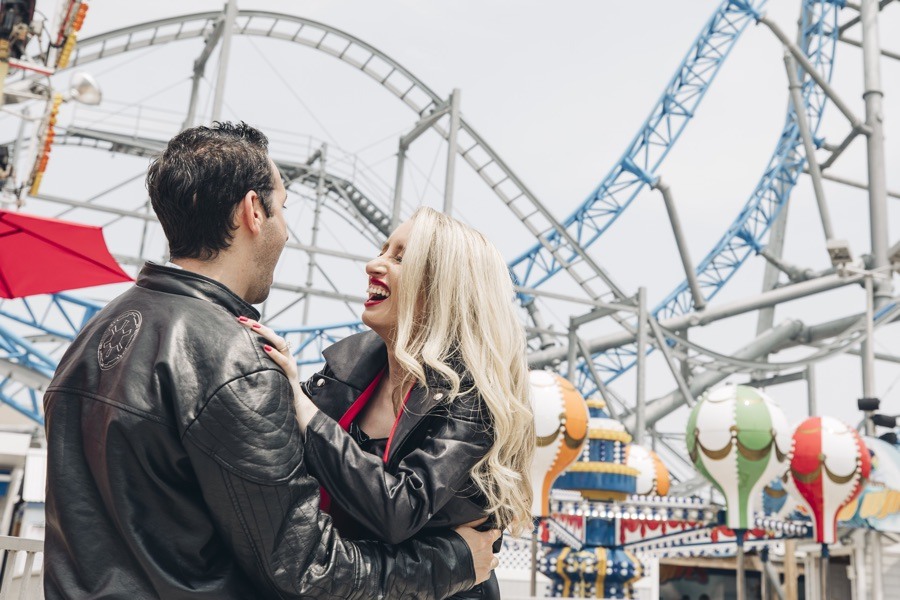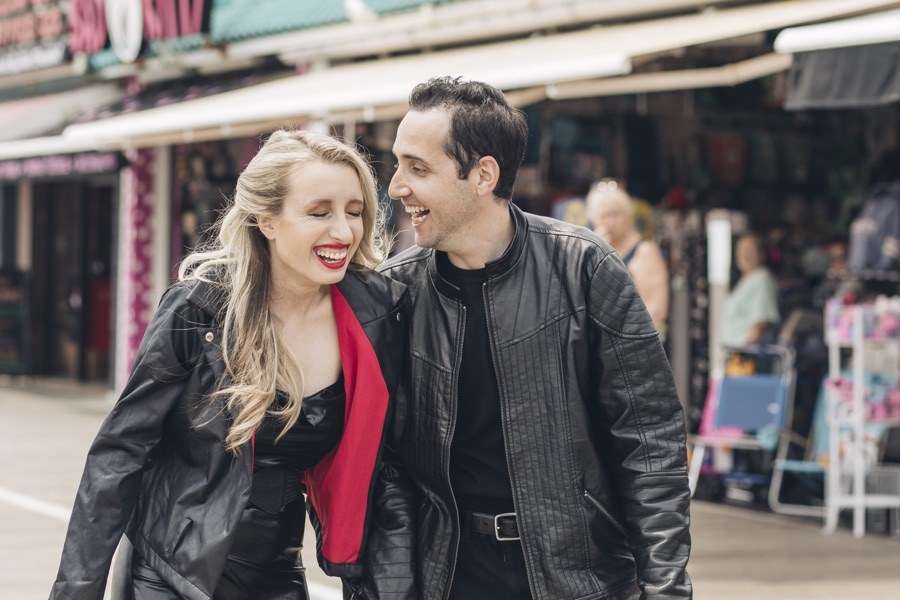 Congrats to the happy couple, who are planning a March 2020 wedding at the Crystal Tea Room. ("It's such a beautiful time in the city and it will ensure we get to enjoy our spring and summer weekends at the Shore," Jillian says.)
This story has been edited for clarity and length. Want to see your big moment on this blog? Learn how to submit your engagement or wedding photos to our editors here.
Get more great content from Philadelphia Wedding:
FACEBOOK | INSTAGRAM | NEWSLETTER | PINTEREST
Getting married? Start and end your wedding planning journey with Philadelphia Weddings' guide to the best wedding vendors in the city.
---
---