This Classic One North Broad Wedding Begins With a Bride and Her Big Mac
Starting with a burger is one way to make sure your wedding day is the best day of your life.
---
What's better than an ultra-glam wedding at stunning ONE North Broad? An ultra-glam wedding at ONE North Broad with a totally chill beforehand snack of McDonald's Big Mac and nuggets. This perfect marriage of fun food and upscale nuptials was accomplished by bride Maria Aurora Ciccotelli before her wedding to groom Tyler Peter White. The pair had a regal wedding ceremony at The Cathedral Basilica of Saints Peter and Paul before their reception at ONE, a glam event which was artfully created with event coordination and design from Lisa Marie Chimento at Kaleidoscope Solutions and Tanti Lina at Papertini Floral and Event Design. See it all unfold in the gorgeous shots below from Joshua Michael Johnson Photography.
The two first met completely by chance on a chilly night in December. Maria, from Yardley, was out with some friends from Temple Law School, and Tyler was out with childhood friends from his hometown, Allentown. They both happened to be at Plough and the Stars at the same time. They saw one another across the bar, and Maria asked Tyler to get a drink with her. Maria remembers thinking he was handsome, and "After meeting him, our conversation flowed very easily, and I just didn't want to stop talking to him!" They ended up talking all night long in front of the fireplace. Tyler happily remembers, "She came across as confident, intelligent, and stunning." When the bar closed, he called taxis for Maria and her friends, hoping he would see her again soon.
Back then, Tyler was living with his brother and his brother's boxer dog, Derby. The day after they met, Tyler had Derby friend Maria on Facebook, and send Maria a message about how her Uncle Tyler could not stop talking about Maria. So, basically, Tyler's brother's dog helped Tyler get up the courage to ask Maria out. Not bad for a boxer! After Derby's big ask, for their first date, they got a drink at Brü Craft & Würst, then headed to Blue Cross River Rink on the Delaware in Philadelphia to go ice-skating and grabbed some dinner. Maria insisted on taking a couple of pictures to, which Tyler remembers thinking was "a little audacious" at the time. But, she was right to hold on to the memory, because they started officially dating not long after.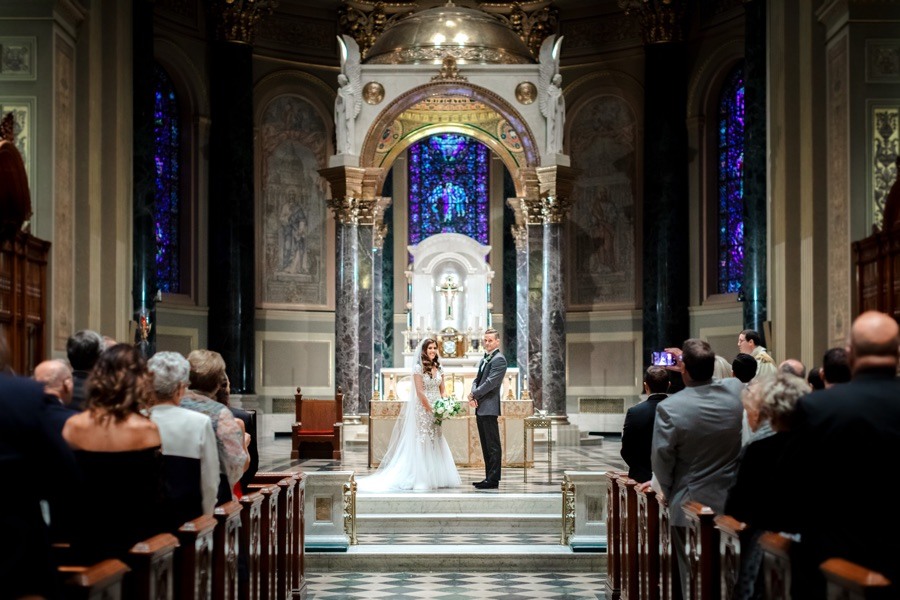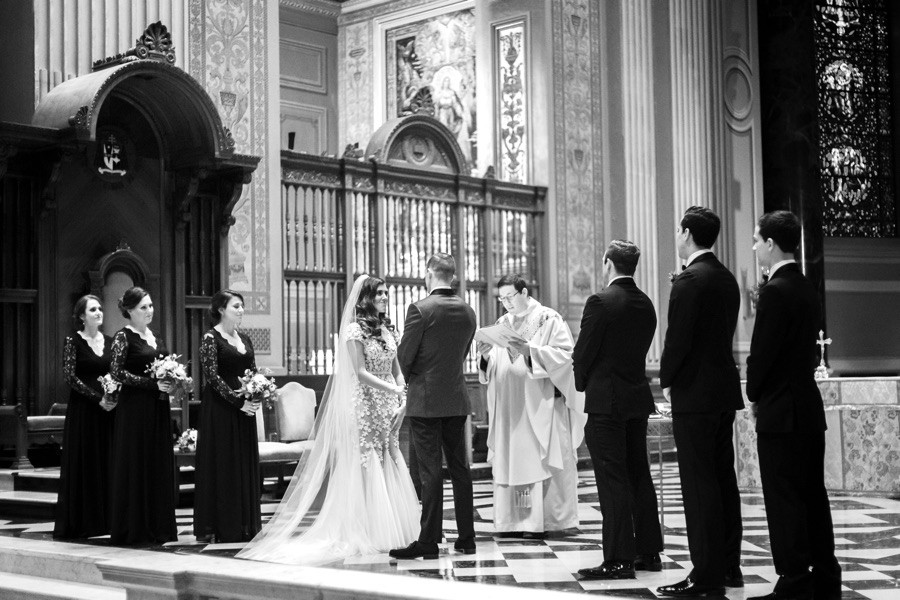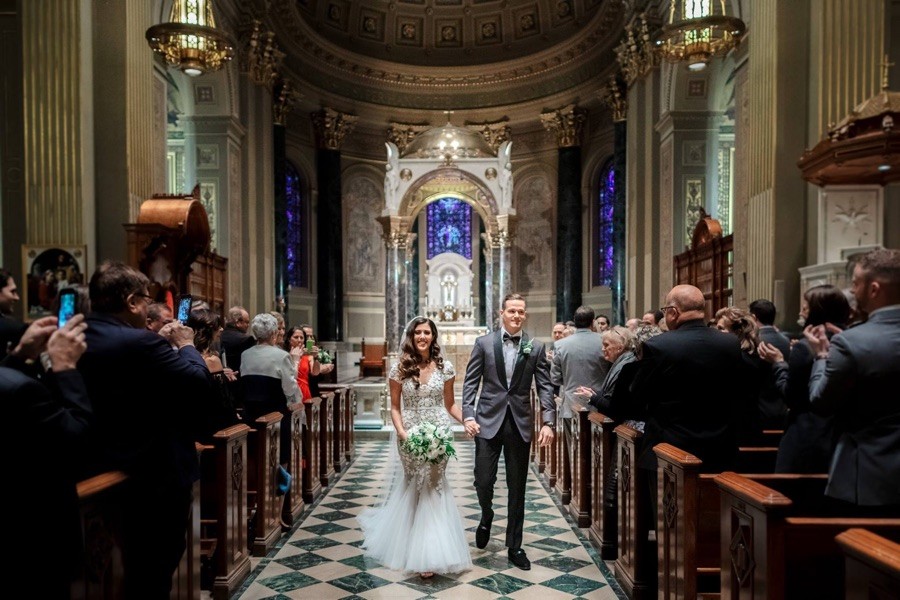 After two and a half years of happily dating, the couple took a trip to Europe to attend a friend's wedding in England, and then to travel around. Tyler proposed in July of 2017 at the Trocadero in Paris, as the couple looked out at the Eiffel Tower, and a photographer captured the moment. Maria was thrilled and instantly said yes! They went to Ladurée for brunch, then onto a tour of the top of the Eiffel Tower, and, finally, a helicopter ride over Paris. "We were supposed to go to a fancy dinner to celebrate, but ended up being too exhausted to make it to dinner. Instead, we grabbed crêpes from a street cart," said Maria, "We made sure to incorporate a crêpe station into the dessert portion of our wedding as a nod to the day we got engaged."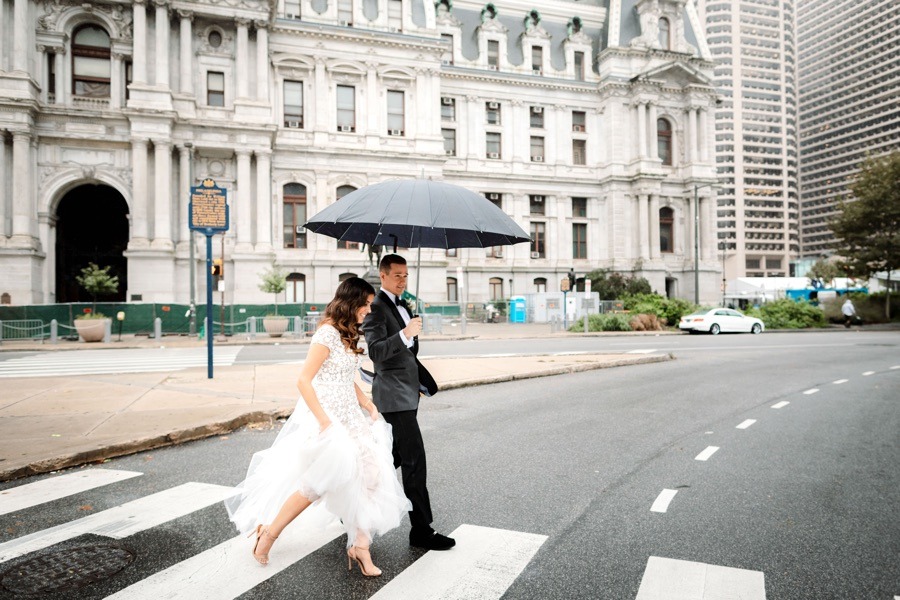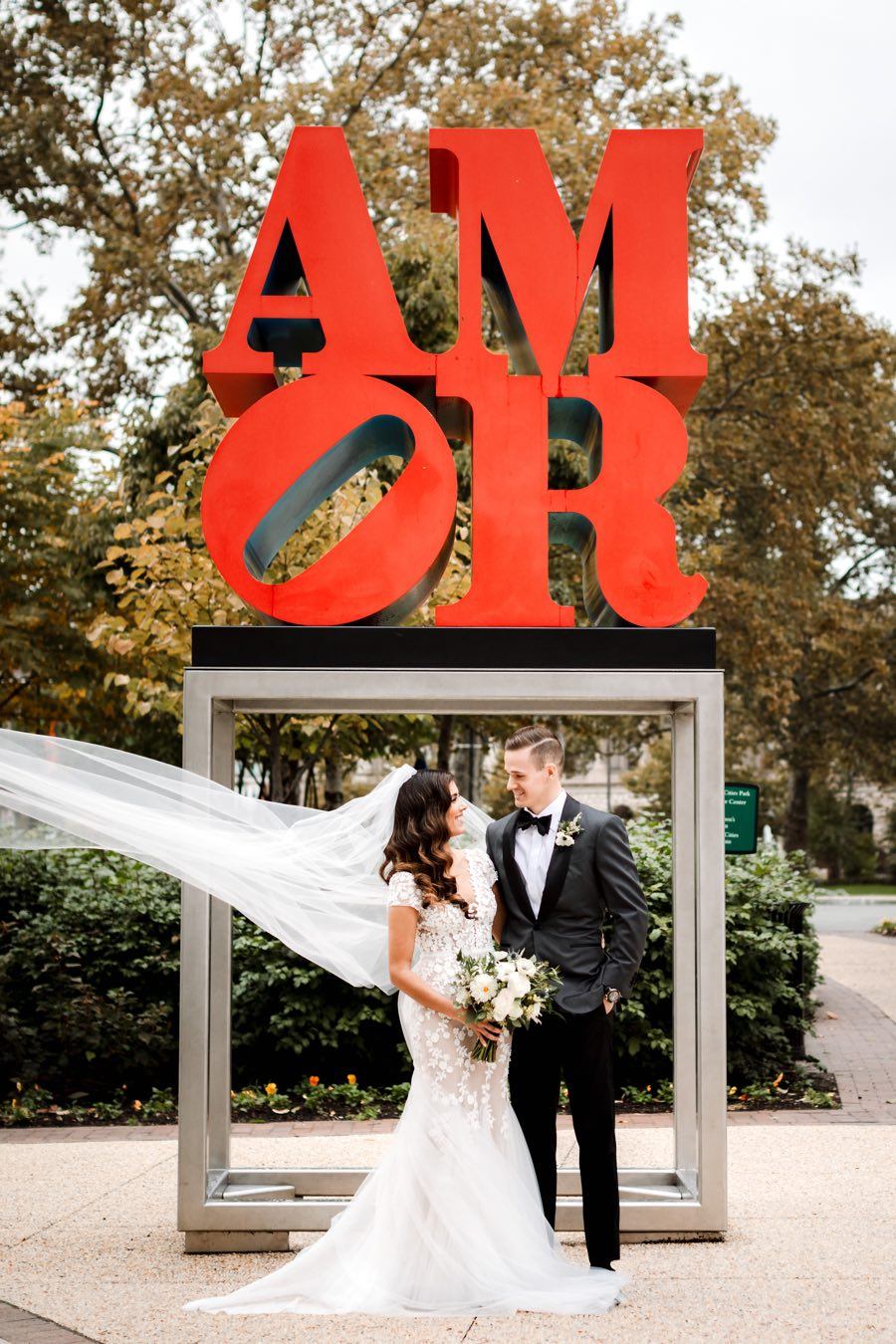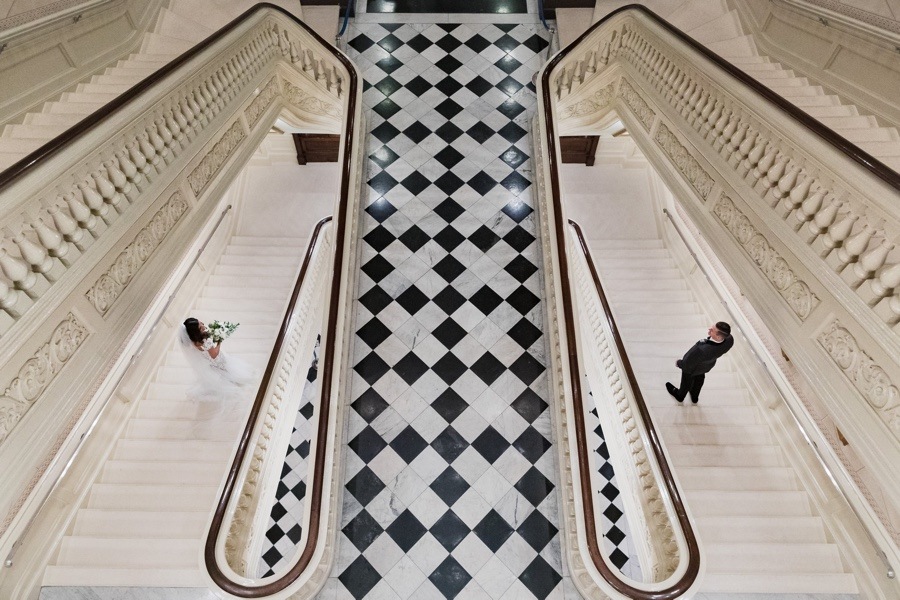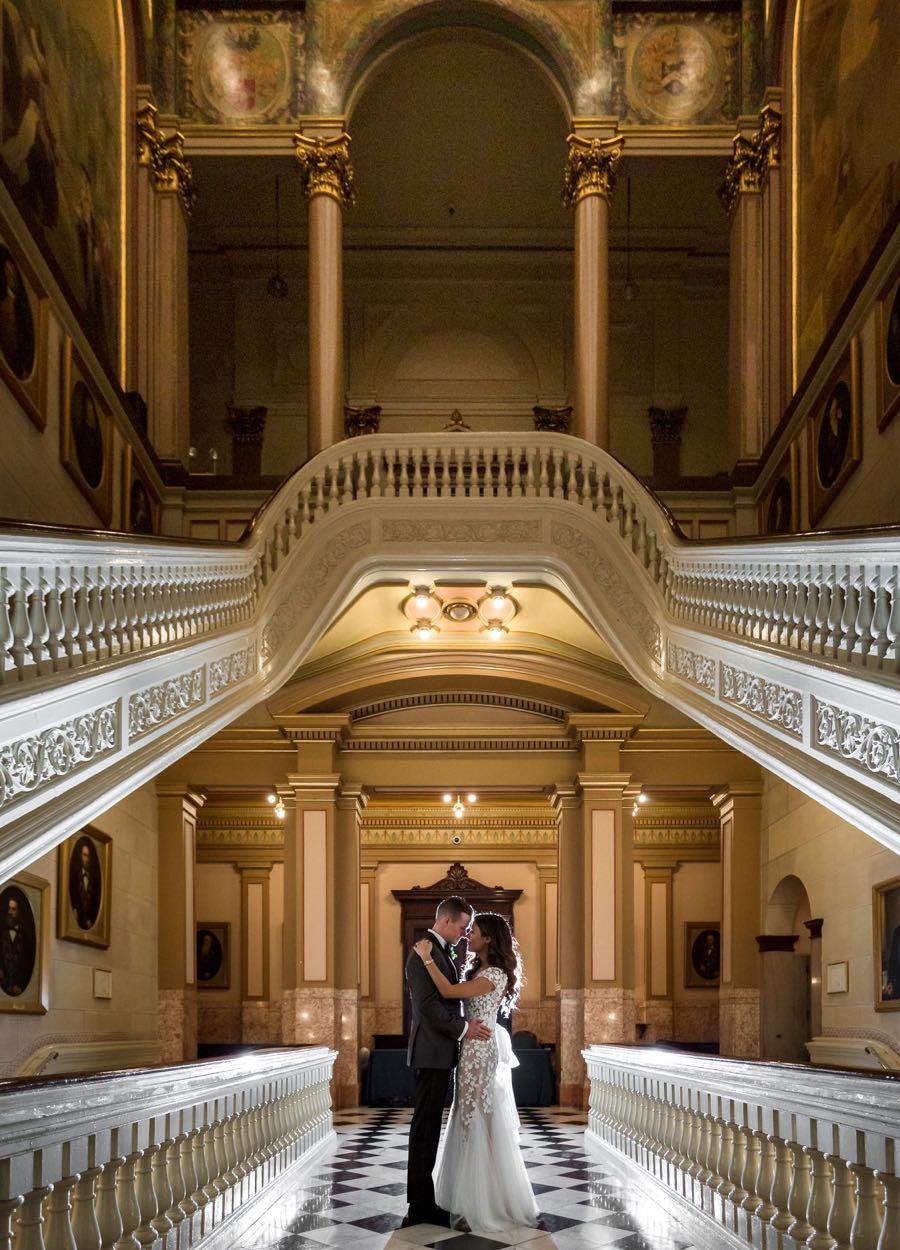 They were engaged for one year and three months before they got married in a beautiful ceremony at the cathedral, with a reception at ONE North Broad. (Maria loved that she got married on the same day as her namesake, her great-grandmother Maria, who was married on October 27, 1934. She carried a sixpence coin from 1934 on her shoe to honor her.) The couple included a bagpiper because Maria lived in Scotland for four years where she studied at University of St. Andrews. The florals for the day, designed by Papertini, were anemone, blue thistle, ranunculus, and mixed greenery and eucalyptus. Maria took inspiration from a collection of beautiful vintage Halloween postcards made by artist Ellen Clapsaddle for the wedding colors (blues, blacks, and oranges).
The hilarious (and amazing) part of the wedding prep that Maria requested was to eat a Big Mac, McDonald's fries, and chicken nuggets prior to walking down the aisle. "It's always been a running joke among my friends and family that even though Tyler and I love to eat out at higher-end restaurants, I love McDonald's," Maria says. "When I lived in the UK for undergrad, I learned to appreciate the fact that McDonald's is extremely consistent all over the world."
For their stunning ONE North Broad reception they danced to "Thank You for Being a Friend" by Alyssa Bonagura while their guests enjoyed signature cocktails made from local spirits: Kinsey Bourbon, Stateside Vodka, plus Yards brews for the beer drinkers. Cocktail hour appetizers ranged from warm brie and cranberry tartlets to South Philly pork spring rolls to marinated artichoke hearts. Dinner options were pan-roasted salmon, oven-roasted beef tenderloin, or butternut squash ravioli.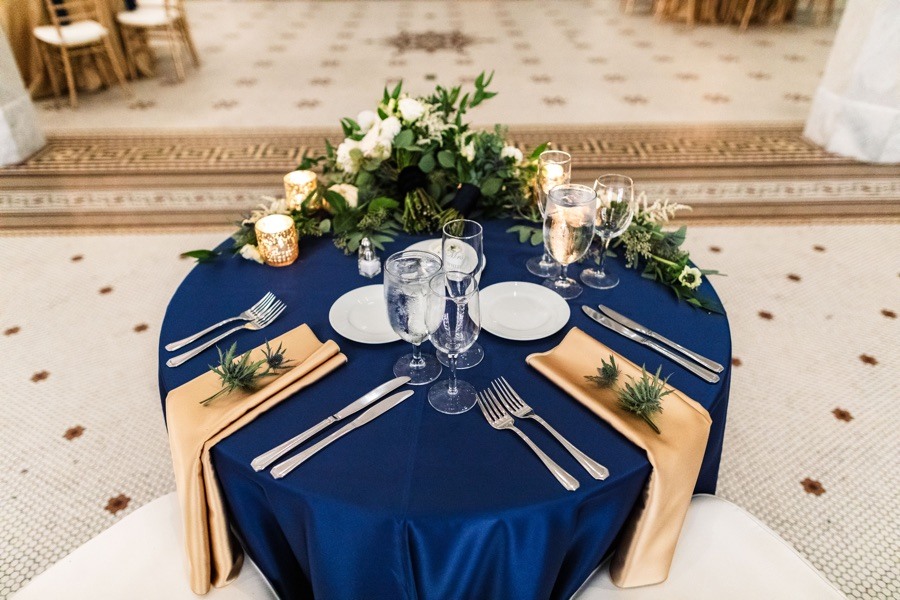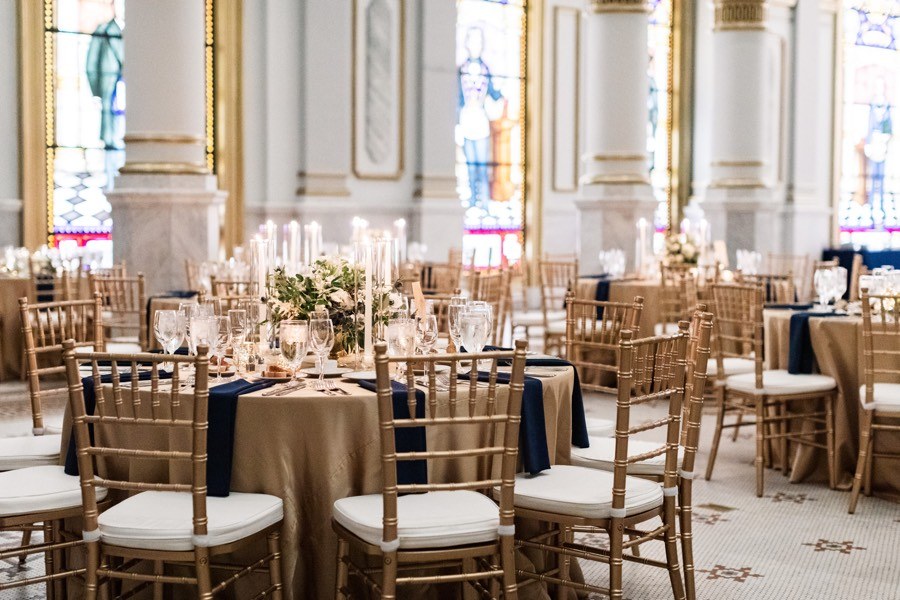 Instead of the cake, they filled a table with hundreds of cookies homemade by the bride's 96 year-old Italian grandmother, Aurora. They also had a veritable dessert buffet: a crêpe station, cake pops, brownie bites, cheesecake bites, a buffet table of Halloween candy, as well as deconstructed pecan, pumpkin, and cherry pies.
At the end of the night, the guests left with favors of Halloween Candy and those delicious homemade Italian cookies. After the wedding the happy couple took off to Orlando, Florida for a brief honeymoon (they planned to take a longer one later) before returning to their home in Fishtown, where Maria is an attorney and Tyler is a media strategist, and they live happily with their adorable maltipoo, Fozzie Bear.
THE DETAILS
Venue: ONE North Broad | Photographer: Joshua Michael Johnson Photography | Event Coordinator: Lisa Marie Chimento at Kaleidoscope Solutions | Caterers: Catering By Design | Florist and Designer: Tanti Lina at Papertini Floral and Event Design | Videographer: Cosmo Losco Films | Bride's Gown: Liz Martinez from Spina Bride | Bridesmaids Dresses: Lulus | Groom's Tux: Custom Scuderi from Boyds | Hair Dresser: Mack Stylist | Makeup Artist: Nicole DeSimone at Belviso Makeup & Hair | Invitations: Shine Wedding Invitations | Entertainment: Bagpiping by Thom Moore and Nick DiGiulio at White Label Wedding DJs | Transportation: Global Limo
Get more great content from Philadelphia Wedding:
FACEBOOK | INSTAGRAM | NEWSLETTER | PINTEREST
Getting married? Start and end your wedding planning journey with Philadelphia Weddings' guide to the best wedding vendors in the city.
---
---