She Thought They Were in Philly for the Broad Street Run. Instead, They Got Engaged.
The photos from this Rittenhouse proposal are just too sweet.
---
In case you haven't heard, it's Proposal Month here at Philadelphia Wedding! All December long, we'll be celebrating how Philly pops the question with everything from helpful guides to real deal, only-in-Philly proposal stories. You can check out all of our coverage here, but right now let's get to the goods. Today we're sharing the sweet Rittenhouse proposal of Michael Pivovarnick and Coffee Stained Lace blogger Sydney Paige Pauline. Here's the full story from Sydney, along with some beautiful snapshots from Alison Dunn Photography.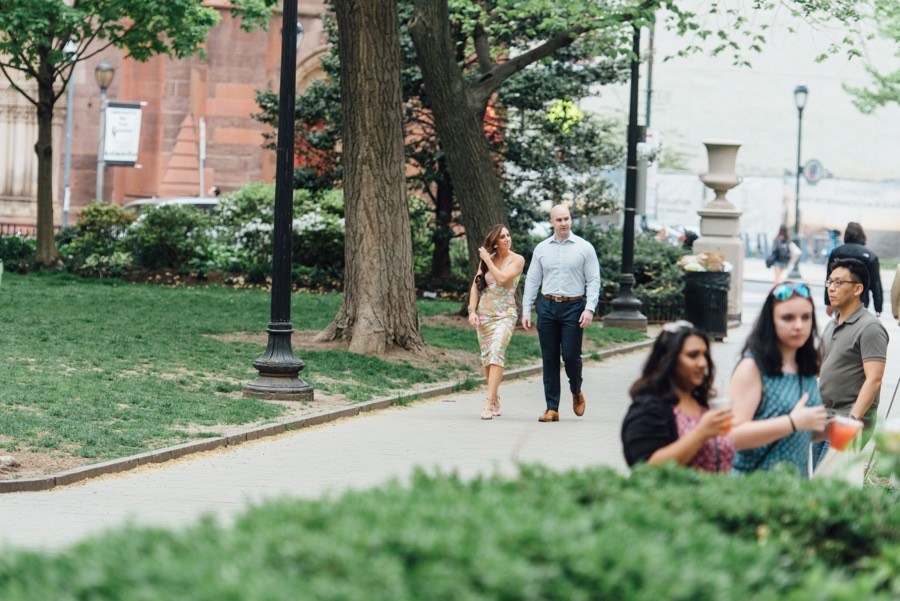 Michael popped the question in Rittenhouse Square on May 5, 2018, and it could not have been more perfect for us. Michael and I live in Baltimore currently (we moved there from Philadelphia almost two years ago for Michael's work), but we visit Philly quite often and are hoping to move back soon! We both miss the energy and the love that we feel when we are there — it will forever be my city. We signed up for the Broad Street Run this year, and while we didn't get in with the lottery system, Michael suggested we run it anyway without bibs. This should have been a sign from the beginning — usually I am the one begging him to run races, not the other way around!
 
We booked a room at the Ritz-Carlton for the weekend and made some plans with our friends, with the intention of running Broad Street on Sunday, despite being super under-prepared for it and with rain in the forecast. On Saturday, I went to brunch in the morning with some fellow bloggers in the city, and made my way to do some boutique shopping at my favorite spots. Afterward I met Michael at the hotel and we headed to Rittenhouse for a carb-loading dinner with our friends — or so I thought!
RELATED: How to Submit Your Proposal Story to Philadelphia Wedding magazine
As we walked over, Michael suggested we walk through Rittenhouse Square before heading to our dinner destination. As we walked through and I was perusing the farmer's market stands, I realized Michael was no longer with me. (Very typical, I'm often wandering around aimlessly.) As I turned around to look for him, he was behind me pulling something out of his pocket, with a subtle smile on his face.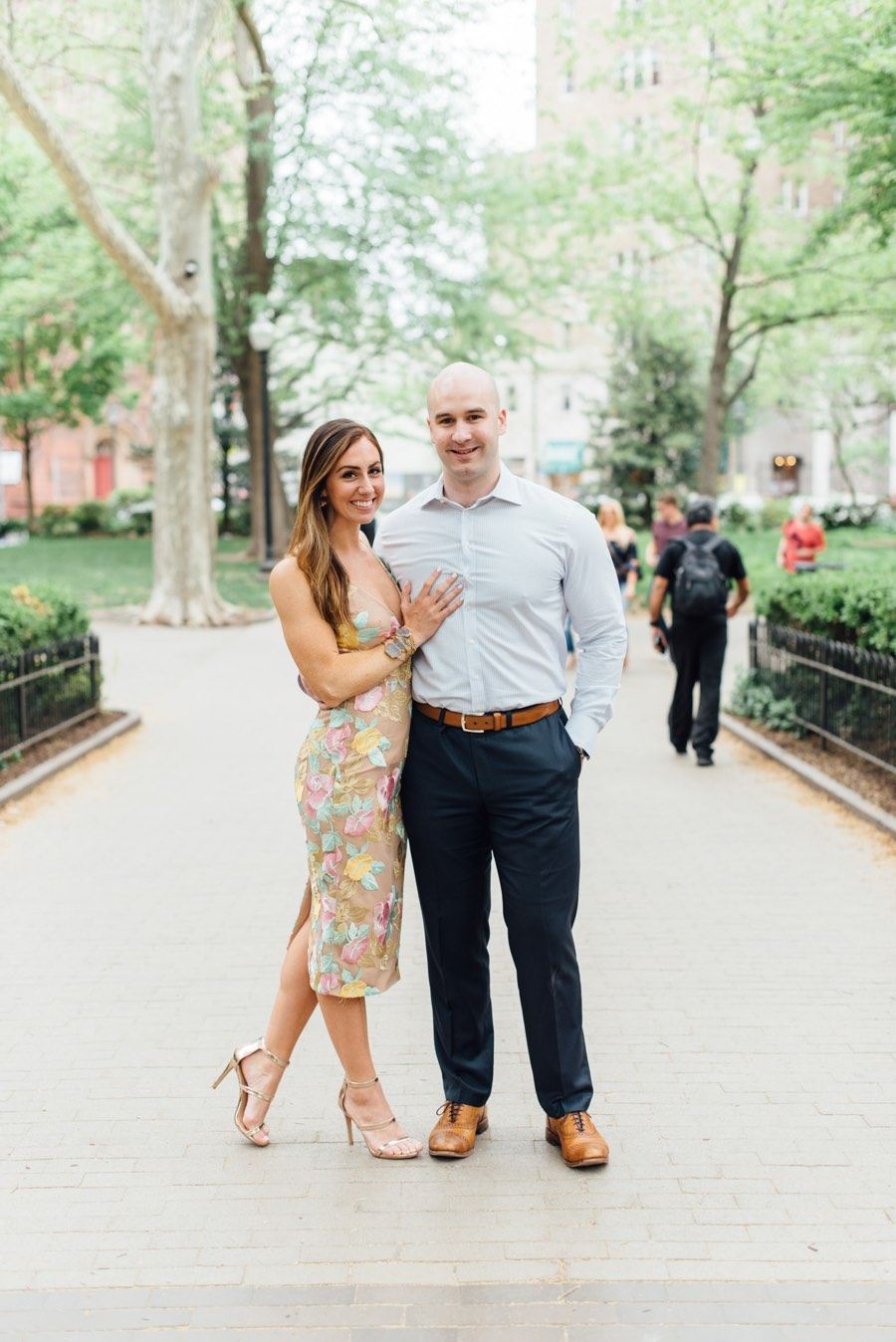 The last thing I remember him saying was, "Sydney, you know that I really love you …" and then I legitimately blacked out. I barely remember what happened or what was said — and neither does he! I vaguely remember repeating myself saying "Are you sure, are you sure!? I'm crazy!" to which he replied, "I know you are — but you're the perfect kind of crazy."
The entire park erupted into applause and cheer, and as I caught my breath and took a minute to look at the most gorgeous, perfectly designed ring of my dreams (designed by Lauren Priori) sitting on my finger, I realized I was living my dream in real time, in my favorite place, with my favorite person. Michael then told me all of this was being captured by a photographer, Alison Dunn, who took some time to capture these special moments during and after the proposal.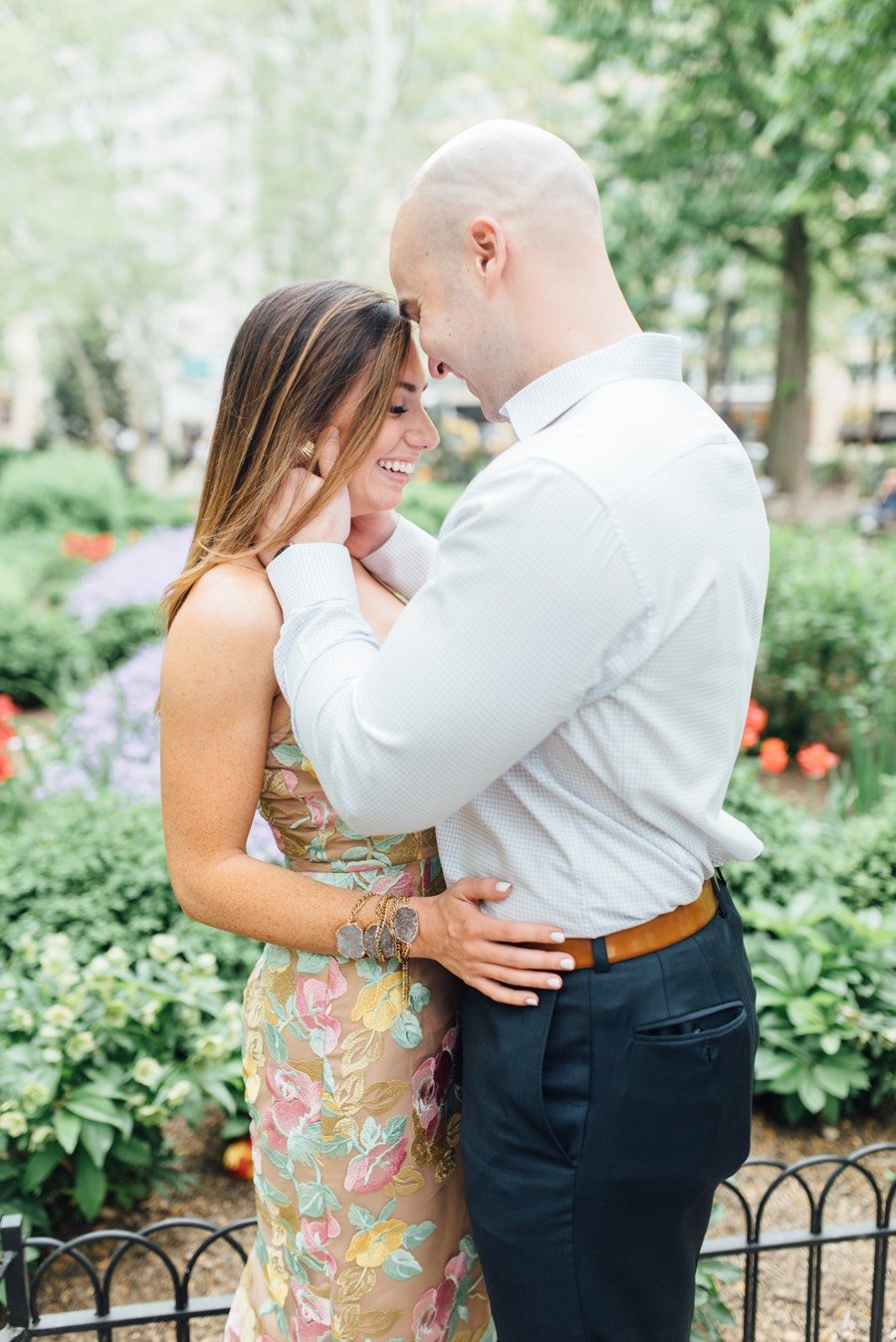 Afterward, we walked to Audrey Claire a few blocks away where we were supposed to be meeting a few friends, only to be surprised by around 25 of our closest friends and family. I will never stop replaying this perfect day filled with the most special moments in my head, over and over again.

As for the race,  there wasn't a CHANCE! I was determined to, but the night's festivities decided otherwise. 
For more Proposal Month content, go
here
.
Get more great content from Philadelphia Wedding:
FACEBOOK | INSTAGRAM | NEWSLETTER | PINTEREST
Getting married? Start and end your wedding planning journey with Philadelphia Weddings' guide to the best wedding vendors in the city.
---