Scenes From the Campaign Trail: The Coffee Can of Destiny
"This is the universe giving us number 2 for a reason," one political director said after his candidate drew a favorable ballot position from the city's Horn & Hardart coffee can.
---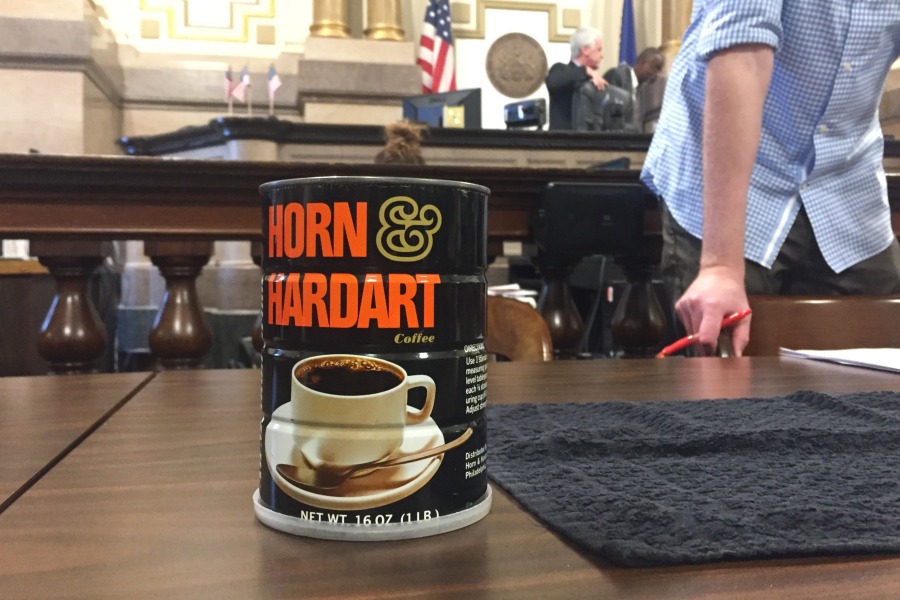 The air in City Hall's Courtroom 676 felt undeniably musty on Wednesday morning. Inside the jam-packed space, officials, would-be officials, and their campaign managers brushed shoulders, sizing each other up and staring anxiously at a metal coffee can in the front of the room.
The can, an old Horn and Hardart tin, would decide where they — candidates in the city's May 21st primary election — would land on the ballot. They would, as they were summoned, approach the can to choose a raffle ball that would reveal their placement. The lower the number, the better: Studies have shown that ballot position can play a role in a candidate's electoral success, and those listed first enjoy the advantage.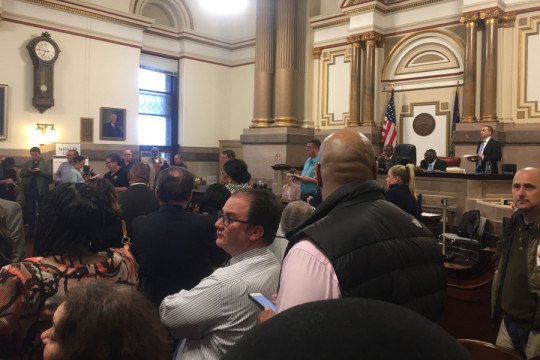 Many of the city's power players swarmed the ceremonial space on Wednesday with an air of confidence. (Among them were incumbent Council members Curtis Jones and Cindy Bass, as well as Democratic mayoral candidate Alan Butkovitz.) Some first-time candidates — like City Council at-large competitors Hena Veit, Erika Almirón, and Deja Lynn Alvarez — appeared more jittery. Still others seemed relatively unfazed, like at-large candidate Asa Khalif, who laughed and shrugged as he drew "lucky number 33" from the can. (There are 34 competitors in the at-large contest.)
Both Khalif and fellow at-large candidate Justin DiBerardinis (who picked 31), however, have something others don't: name recognition, which means their unlucky drawings won't necessarily ruin their campaigns. DiBerardinis, a former staffer to Council member María Quiñones-Sánchez and son of former Philadelphia managing director Michael DiBerardinis, appeared bubbly despite his drawing.
"You know exactly where to find me — just look to the bottom right [of the ballot]," he said. "I'll be there."
Philly's long-standing Horn & Hardart ballot-drawing method has drawn notable critique over the years, and rightly so. Democratic Party chair Bob Brady recently called the can a "total disgrace." But it was naturally the center of attention on Wednesday (its parody Twitter account bursted to life once again), bringing both delight and disappointment to those who reached their hands inside. As the candidates for each race (mayor, register of wills, sheriff, city commissioner, City Council at-large and district) learned of their fates, the wide-eyed crowd looked on, some verbally contemplating the powers of "the coffee can of destiny." A few reporters (myself included) reveled in the so-very-Philly scene unfolding before our eyes. (Especially considering all the legal challenges filed on Tuesday by candidates seeking to block their competitors from the ballot.)
A busy morning indeed. Good luck to all the candidates. but for now, It is 5 o'clock somewhere. Time to relax. pic.twitter.com/wwsCD7PzSD

— Mr Horn N Hardart (@MrHornNHardart) March 20, 2019
The whole spectacle, as multiple people in the room echoed, could only happen in this city. It was rowdy, it was bizarre, and it was a bit of a mess. When a Board of Elections administrator called recently indicted Council member Bobby Henon's name on Wednesday and the politician was a no-show (surprise!), the crowd erupted with laughter and chit-chat until the administrator boomed, "Quiet down!" (as he yelled several times throughout the hour).
And then came former Traffic Court Judge Willie Singletary, who was convicted of lying to the FBI during an investigation into a ticket-fixing scheme in 2014. Singletary is running for City Council at-large. As he approached the can, multiple people yelled something like, "Willie's gonna get first, just watch!" (He got fourth.)
The spectacle is a tradition — but in a way, Horn & Hardart departed from Old Philly politics on Wednesday. John Brady, political director for Deja Lynn Alverez, was elated when Alverez pulled number 2. And he noted that the top two ballot spots for the at-large contest went to two LGBT Latinos — Adrian Rivera-Reyes, a 26-year-old biologist and Democratic socialist, got number 1.
"I bet the ward leaders will meet with us now," Brady said. "We're on a mission from God now — this is the universe giving us number 2 for a reason. This election is going to change Philly politics."
Below, you'll find the unofficial ballot positions chosen on Wednesday, courtesy of City Commissioner Al Schmidt (who's running for reelection himself).
NOW AVAILABLE: Results of today's ballot position order drawing at City Hall for the 2019 Primary Election are available on our website: https://t.co/FO31YwDMvf pic.twitter.com/qSVDYpr1U1

— Commissioner Al Schmidt (@Commish_Schmidt) March 20, 2019
---
---