ThinkFest Preview: Meek Mill and Michael Rubin on Reforming the Criminal Justice System
Rapper Meek Mill and billionaire CEO/Sixers co-owner Michael Rubin are set to lead a fascinating conversation at our annual ThinkFest event in November. Do you have your tickets yet?
---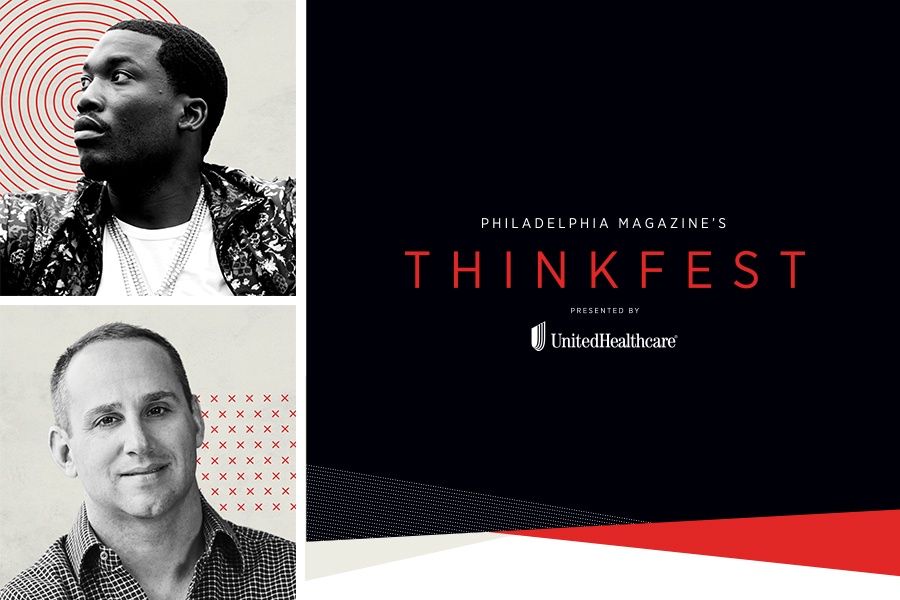 Last week, we were really excited to announce this year's ThinkFest 2018 headliners: North Philly rapper Meek Mill and Sixers co-owner Michael Rubin.
Now we've got some details for you: Mill and Rubin are set to discuss criminal justice reform at the November 15th event. The duo is among more than a dozen influencers, makers, and doers who will take the stage during Philadelphia magazine's annual ThinkFest at the Annenberg Center for the Performing Arts on Penn's campus. (You can check out our full lineup here.)
In our September issue, writer Richard Rys examined Mill and Rubin's curious friendship in "How Michael Rubin, Meek Mill's Billionaire Bestie, Got Woke." The story tells of Mill and Rubin hitting it off courtside at a 2015 NBA All-Star game in New York — and then, after Mill was sent to prison last November, of their mutual fight to shed light on corruption and racial inequality within the criminal justice system.
Following Mill's high-profile arrest for violating probation on contentious, decade-old gun and drug convictions (as reporter Steve Volk chronicled in June), Rubin, a billionaire CEO from Lafayette Hill, launched the Free Meek campaign with Jay-Z. When Mill was released from state prison in Chester in April, Rubin picked him up in his helicopter and flew him straight to a Sixers playoff game.
At ThinkFest, you'll have the chance to be part of Mill and Rubin's fascinating conversation from the front lines of criminal justice reform — as well as join in on a networking brunch and catch panels with other speakers like Philadelphia District Attorney Larry Krasner, Pennsylvania Attorney General Josh Shapiro, restaurateur and chef Greg Vernick, and more.
Join them at ThinkFest 2018 on November 15th at the Annenberg Center for Performing Arts. Check out the full lineup and get your tickets here.
---
---