Suit Corner Fire Is Under Control (Updated)
Details sketchy, but Twitter pics are plentiful.
---
---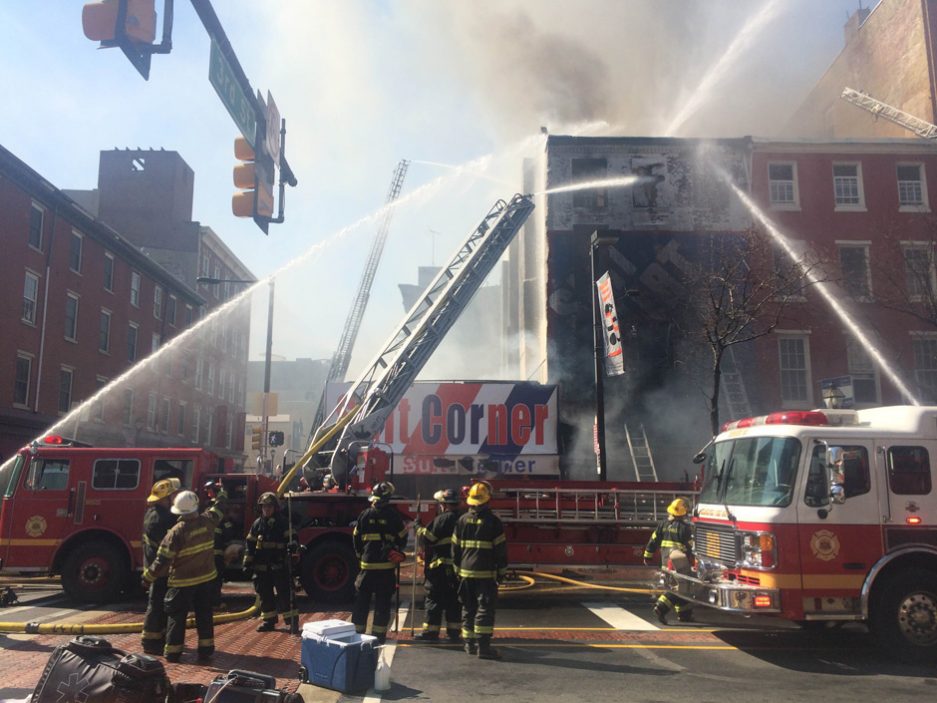 Dan McQuade
---
UPDATE [10:46 a.m.]: Dan McQuade reports that the fire has been declared under control by officials from the Philadelphia Fire Department. We'll bring you more shortly.
UPDATE [10:30 a.m.]: Suit Corner in Old City is on fire at the moment.
CBSPhilly reports: "The fire broke out in the Suit Corner, on the southwest corner of Third and Market Streets, about 9:15am. The fire department declared it under control about 40 minutes later but then quickly struck a second alarm as the blaze flared up and consumed the building. One firefighter had to be taken to Jefferson University Hospital when he tripped over a hose line while battling the fire."
RT @ZagatPhilly RT @underservedphil: Shirt corner on fire pic.twitter.com/kD0NgQTjkn

— FOX 29 (@FOX29philly) April 9, 2014
The shirt corner just caught on fire while I was having breakfast at @menageriecoffee pic.twitter.com/Nlz2ua02x0

— Philly Love Notes (@phillylovenotes) April 9, 2014
#SuitCorner is on fire in #OldCity @OldCityDistrict – tragic. Hopefully no-one inside. pic.twitter.com/h87M3gYuVg

— Kylie Flett (@KylieLee83) April 9, 2014
OLD CITY! The Suit Corner building is on fire! Smoke everywhere. pic.twitter.com/0a83LOZ3IL

— Eric Smith (@ericsmithrocks) April 9, 2014
Smoke extending down 3rd street from shirt corner fire pic.twitter.com/7TGzCeTUvv

— Kevin McKenzie (@AmusingMyBouche) April 9, 2014
---