News
A Sneak Peek at Bar Lesieur, Michael Schulson's Gorgeous New French Spot
The Schulson Collective is hoping that the third (or maybe fourth?) time's the charm for the space above Giuseppe & Sons.
---
Once upon a time, the ground-level space at 1523 Sansom Street must've seemed like the perfect cover for what was happening underground, behind some velvet curtains, at the bottom of a long flight of stairs. Giuseppe & Sons was down there — a veritable church of meatballs and Sunday gravy — and it wore the space above it like a fancy little hat.
Early days, the space operated like a luncheonette — all chicken parm sandwiches and Termini Bros. cannoli. It closed before Giuseppe & Sons even opened for the night. Or not closed exactly, but stopped serving sandwiches. I think I remember a time when the counter stayed open so people would have somewhere to sit while they were waiting on their reservations downstairs. I think I remember staggering up from the noise and glitz below and grabbing a cannoli for the road. But I could be wrong about that. It might've all been some kind of tomato-and-oregano-scented dream.
Anyway, the luncheonette thing? It didn't really work out. So the Schulson team decided to amp it up. In 2019, Philly was in the middle of a kind of pizza boom (though, seriously, when are we not?), and it struck some people as strange that Schulson et al. could have this ENORMOUS Italian restaurant in the middle of Center City but not serve any pizza. Apparently, it must've struck the Schulson team as odd, too, because they re-tooled G&S's upstairs neighbor, added a couple of imported triple-deck electric pizza ovens, a wine list and a dinner service, and styled it after the streetside pizzerias of Italy. This was in August of 2019.
Y'all know what came next.
During the pandemic, everything closed. But slowly, haltingly, Philly's restaurateurs figured out ways to continue serving during one of the weirdest times this industry has ever gone through. For a little while, that upstairs space must've seemed like the most brilliant idea because it allowed Giuseppe & Sons to be able to operate as a takeout operation, offering an à la carte menu as well as full-on Italian family meals. And after things started reopening and restaurants began serving guests indoors again, Schulson started thinking about what to do with the luncheonette space next.
What he came up with was a Jewish deli — something personal, almost biographical, and deeply rooted in his memories of his grandfather who used to run a kosher butcher shop called Samuel's Deli. Schulson even named it for him, calling the place Samuel's and offering bagels, pastrami, black-and-white cookies, hamantaschen, the works. It opened in June of 2022.
And then closed about a year later.
So there is an argument to be made that the rather innocuous looking space at 1523 Sansom is really just a graveyard of concepts for the Schulson Collective. A place where (seemingly) good ideas go to die. And while yes, there is the whole lockdown/global pandemic/gutting of the restaurant industry to consider when making any sort of judgment, I think it can absolutely be said that this space, for all its potential, just hasn't found the right voice for itself.
But that certainly hasn't stopped Schulson and his crew from trying.
I mean, how could he stop, really? It's not like he can just give the space up. The entrance to one of his most successful restaurants is on the premises, and it would just be weird — though, admittedly, kinda cool — if you had to walk through a Sunglass Hut or a Famous Footwear to get to the door. So now, the Schulson Collective has a brand-new concept opening in this half-cursed space next week. On November 15th, they'll open the doors to Bar Lesieur — an unabashedly French cafe and "an ode to French culinary excellence, its impeccable viticulture, and the ever-growing cocktail scene in the heart of Paris."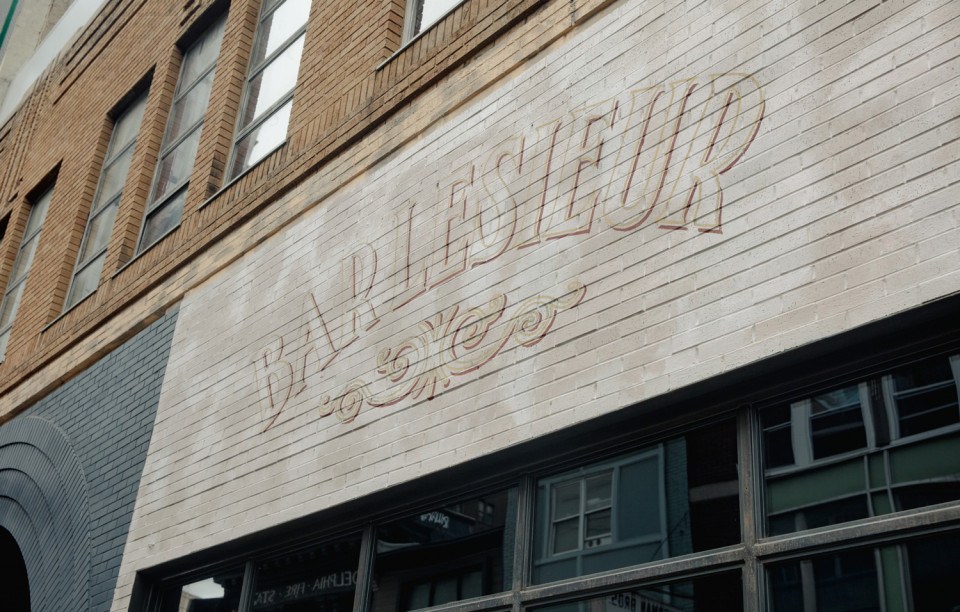 And while normally, I would have a LOT to say about anyone unironically calling anything an ode to anything else (or, honestly, using the word 'viticulture' in a sentence), I'm gonna bite my tongue here, because if there's one thing that Schulson, their designers, their artists, and everyone else involved are inarguable experts at, it's doing "odes" to things. Almost every place they have is an ode to something else. To delis, to luncheonettes, to South Philly, to whatever it is you'd call the bowling alley underneath Harp & Crown. Collectively, the Collective has a way of creating some of the most beautiful and surprising spaces in the entire city. And you know what? Bar Lesieur is no different.
Seriously, just look at the place.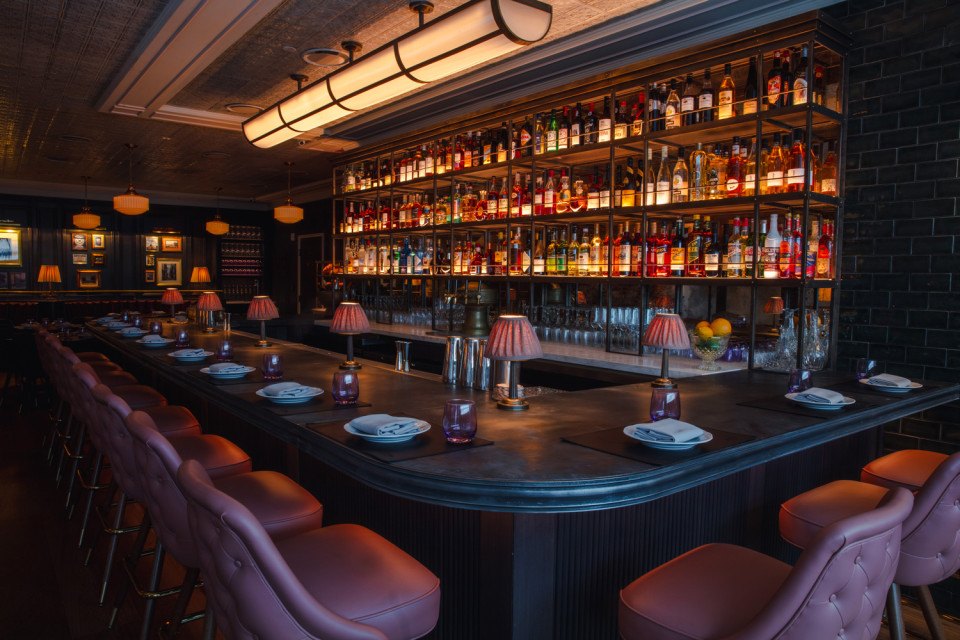 You can totally see the bones of each iteration of the space, but Bar Lesieur (which, by the way, is its own ode — to Louis Lesieur, a Frenchman who once ran a popular bar down along another stretch of Sansom Street) is its own creature. The weathered brickwork on the arches, the pink leather, the zinc-topped bar like something out of a Graham Greene novel — no one can say it isn't gorgeous. That it isn't an absolutely beautiful stage on which the next act of 1523 Sansom's murderous little drama will play out.
Zach Bates (ex of Twenty Manning and Lacroix, among others) has command of the kitchen, with Nick Brannon on breads and Abby Dahan-Kramer (The Bake School) handling desserts. The menu is exactly what you'd expect — steak frites, foie, pork collar with celeriac and truffle, butter-poached lobster in sauce Americain.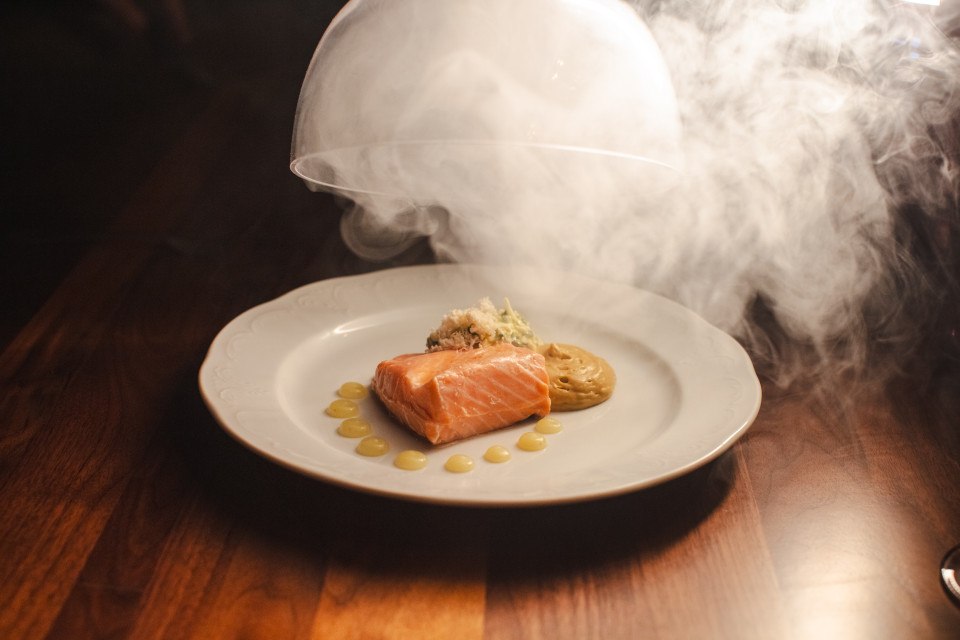 And the bar (run by Michael McCaulley of Tria) is no different, right down to the gin-and-elderflower cocktail named for Victor Hugo, and the "Parisian Breakfast," that's basically more gin, tea, orange marmalade and an egg.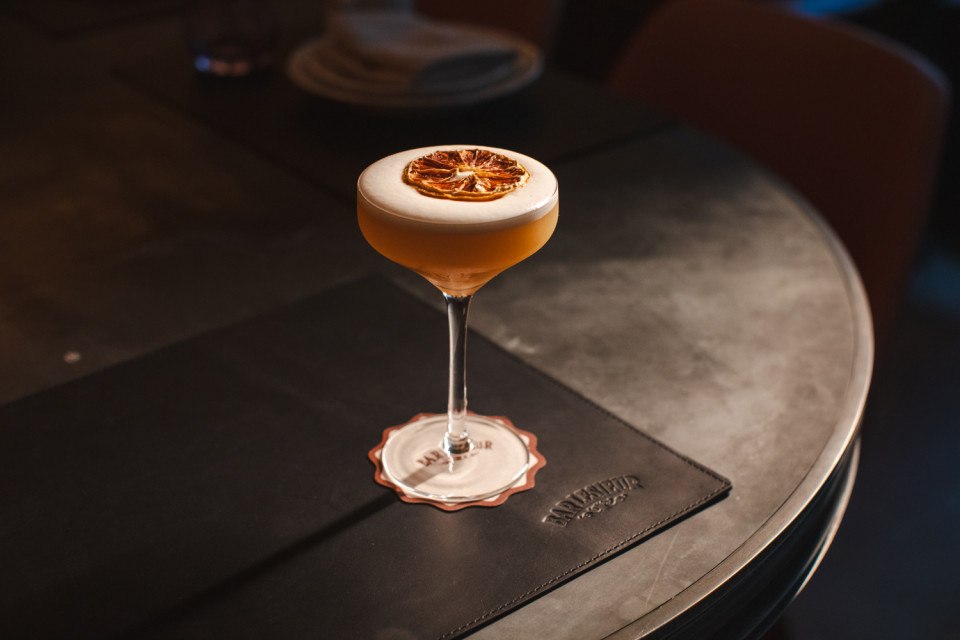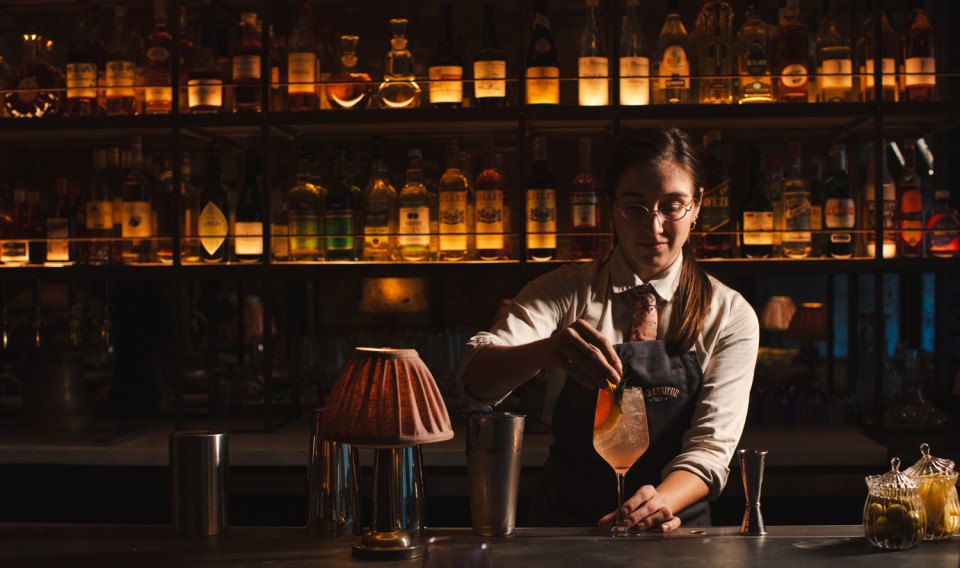 They're keeping it as Frenched-up as possible (even if Sansom Street is a helluva long way from Paris), and I am insanely curious how this is going to go. The Schulson Collective is very good at transporting their guests. They set a lovely scene.
Now, all they have to do is live up to it. Honestly, I'm pulling for them. Because you know what they say: Fourth time's the charm.
---