News
Say Hello to R&D, Root Reborn as a Cocktail Bar
The Mediterranean wine bar turned "sexy, dark" cocktail haven will be rechristened when it opens next week.
---
Earlier this month, we told you all about why Root has been closed since August: their planned pivot to cocktail bar (headed up by Aaron Deary, the originator of Suraya's Khalil Gibran-inspired cocktail menu), the kitchen revamp from Mediterranean fare to small plates and bar snacks that would best support Deary's drink menu. After the transition, the look of the place would stay the same, as would the name, owners Greg Root and Nick Kennedy told us.
Well, during the process of changing up their business in all but name, they decided to change the name, too. Root is now R&D – a nod to "research and development." It'll reopen on Monday, October 1st.
Deary got his first hospitality lessons from his grandparents — his grandmother still runs the pub his longtime bartender grandfather owned over in Ireland — and bartended through college in Liverpool, where he had his first experiences with cocktails and learned that drinks could be "more than just Jaeger bombs and shitty beer." He came to the States, working in Irish bars until a gig at Vesper, then landed at Root a few years ago.
"Aaron grew with us, blossomed with us, and knocked the cocktail list at Suraya out of the park," Root said.
Deary, Root, Kennedy, and creative director Katherine Lundberg are hoping to create a "dark, sexy" atmosphere at R&D. That means installing a heavy black velvet curtain over the space's sunny front window and adding pink-tinted lighting to create a mood that's intimate and insular.
But don't expect R&D to stay static. True to its name, they'll be exploring lots of different ideas: Deary will switch up the cocktail menu every three months or so. While the sleek, Midcentury-inspired interior will remain the same, the vibe of the place — the menu, the glassware, the staff's uniforms — will change with it.
Their opening menu will be a tribute to the pre-1930s bartenders who developed the classic cocktails we know and love — seven traditional recipes and seven variations developed by Deary and his team. In January, they could be rocking Hawaiian shirts and mixing tiki drinks, for example. R&D also aims to be a haven for those working in hospitality: while they'll be closed Tuesdays, the bar become a private club for industry folk on Monday nights.
Even when they're serving classic recipes, R&D will add bespoke touches: they're treating ice "like an ingredient," sourcing 50-pound slabs from Frank's Ice in Port Richmond, usually reserved for ice sculptures, and hand-carving it in the bar. In addition to making their own syrups and using fresh ingredients, the bartenders will also be blending multiple bitters and spirits to suit their recipes.
When R&D opens on Monday, they'll serve classic drinks like the Bijou, made with Hammonds Navy Strength gin, a house blend of sweet vermouths, Chartreuse, and a blend of orange bitters; the Florodora, a shocking pink sip developed by cocktail pioneer Jerry Thomas in 1901 that's made with period-appropriate Plymouth gin, fresh raspberry puree, rich ginger syrup, and fresh lemon juice; and Le Serpiente (their take on a Rattlesnake), made with reposado tequila, house-made tamarind syrup, Amontillado sherry, lemon, egg white, and smoky, Chinese rhubarb-infused amaro sfumato.
R&D will be open Wednesday through Monday from 6 p.m. until 1 a.m., with Monday reserved for hospitality industry folk only, and closed Tuesdays. Check out the opening cocktail and food menus below (click to embiggen).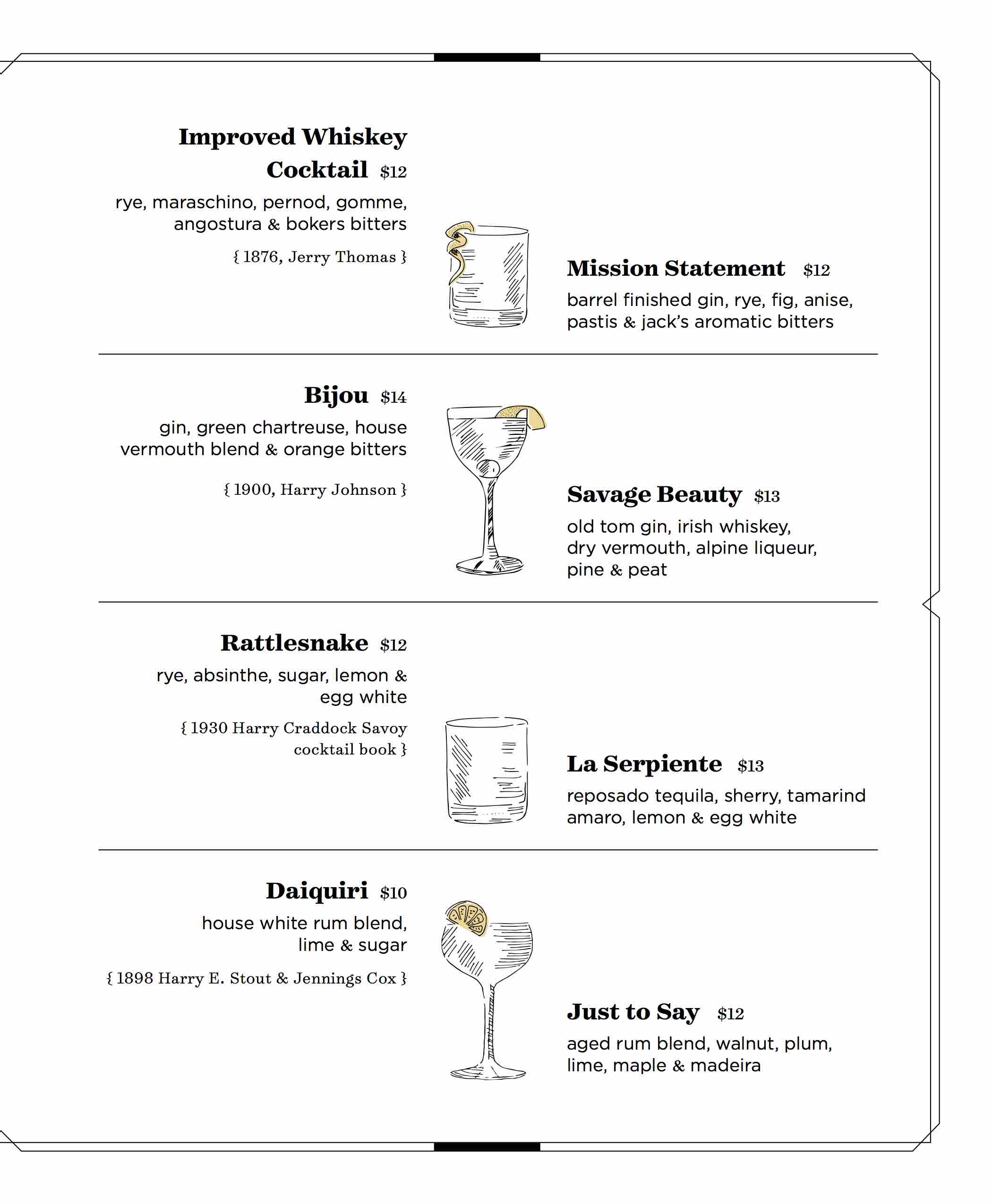 ---
---