Where to Eat This Weekend: Curry Worth Waiting in Line For
Plus Chinese dumplings, Georgian dumplings and more.
---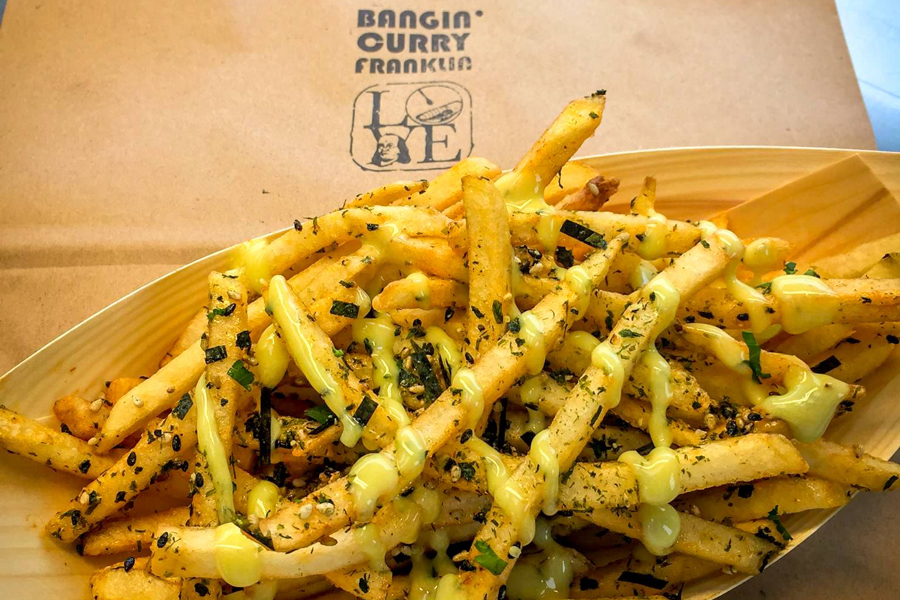 With Halloween over and Thanksgiving not quite yet on the horizon, this is the perfect weekend to get out there and eat something not made of candy or turkey and stuffing.
Here, we're looking at everything from classic diner comfort food to Russian dumplings to get us through this weekend. But the first place we're headed? A brand-new food truck upgrade for a place we've been fascinated with for a long time.
Weird Name, Excellent Curry
We wrote about Bangin' Curry Franklin all the way back in April — when they were nothing but a little food cart in South Philly doing Japanese curry. Thing is, that curry was so good and Bangin' Franklin got such a reputation so fast that people started lining up before they even got to their spot each day. They would sell out early, and people would sometimes wait an hour just for a taste. The good news? Bangin' Franklin hit the streets with a brand new food truck last week. And while they still sold out in two hours, they were able to serve a helluva lot more people and get food into people's hands a helluva lot faster. So if you're around 18th and Washington Streets this weekend, go check it out.
First Friday Comfort Food
It sucked when the Avenue Delicatessen stopped doing regular dinner service. But you know what? Now they do these crazy First Friday dinners with free beer and a menu full of serious comfort food. We're talking parsnip bisque, fried chicken sandwiches, smoked salmon with lemon-dill tahini. And lucky you, tonight just happens to be the first Friday of the month…
Let's Go Eat Dim Sum
I mean, seriously. Do I really need to say any more than that? Who has ever said no to that kind of offer? Philly has some really good dim sum. And this week, we put together a list of the best. You're welcome.
Beyond Dim Sum
Okay, so China Gourmet made it onto our list of the best dim sum in Philly. And it deserves to be there. But the non-dim-sum menu that they serve here is just bonkers. Were you looking for somewhere to get some salted pig feet? Cold jellyfish? Beef bellies? Or what about sauteed frog with chestnut and ginko? Because China Gourmet has all those things. Plus about a hundred more. They've got a thing on their menu that I'm pretty sure is chicken testicles ferchrissakes. And I don't even know how that's possible. But the kitchen here is good, so if you're looking to get a little weird this weekend, China Gourmet is your jam.
A Very Different Kind of Dumpling
Since you're headed up to Northeast Philly to go to China Gourmet anyway, know where else you should go? Georgian Bread and Cuisine — the fantastic Georgian restaurant that serves the best and most varied khachapuri menu in the city. I reviewed it this week, and can't wait to go back. Along with the khachapuri, Georgian Bread serves platters of Georgian khinkali dumplings, which are essentially soup dumplings the size of a fist. About twice the size of a Chinese soup dumpling, thick-skinned and fat with broth, they are worth the trip all on their own. But since you're there anyway, you should absolutely eat some khachapuri, too.
---