Post-Apocalyptic Restaurant Mad Rex Opens in Fishtown This Weekend
The restaurant and virtual reality lounge kicks off with grand opening parties on October 6th and 7th.
---
The world's first post-apocalyptic-themed restaurant, complete with a "Survivor's Kitchen," virtual reality lounge, and a rugged "battle truck" bearing its name that will sit on pilings 14 feet in the air and double as an outdoor seating shelter, will open in Fishtown on Friday.
The long-awaited Mad Rex, located at 1000 Frankford Avenue, is the brainchild of Pavel Rathousky, a master butcher from Prague, and his partners, whose interest in post-apocalyptic imagery and a desire to provide a new kind of dining and entertainment experience led to Mad Rex. In addition to the gritty decor and survival-themed menu items, the space includes a virtual reality lounge, including a private VR booth, in which a technician will hook you up to an IV cocktail.
---
---
Executive chef and butcher Peter Rule, whose background includes stints at Brigantessa, Fork, and Avance, is focusing on fresh ingredients, including meats from the neighboring George L. Wells Meat Co. His butchery background dovetails perfectly with Mad Rex's focus; the kitchen offers a special Survivor's Menu, in which guests cook their own meats at table over black rocks that have been heated to 500 degrees.
---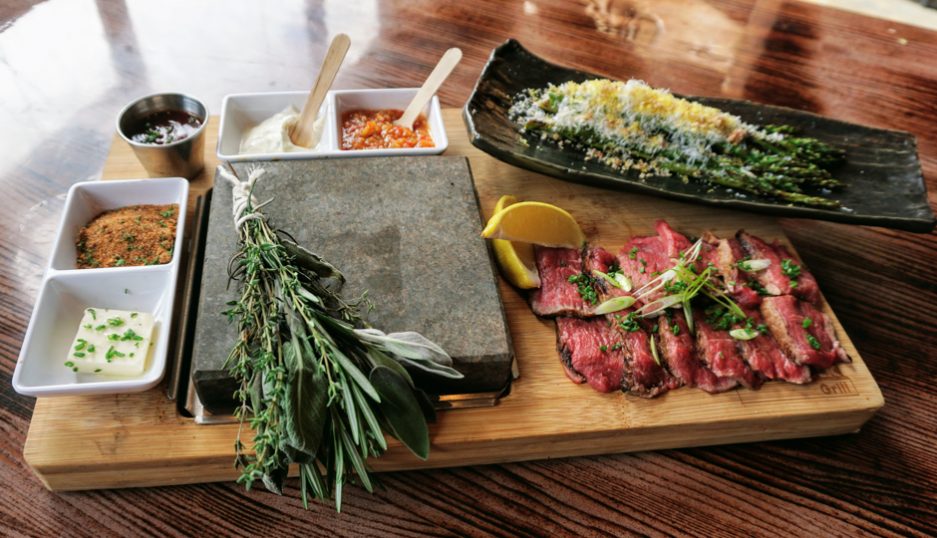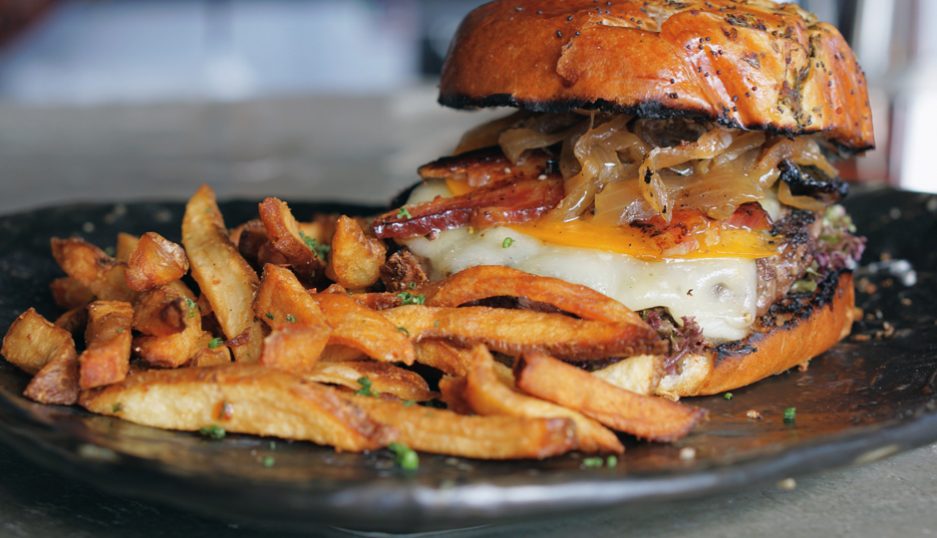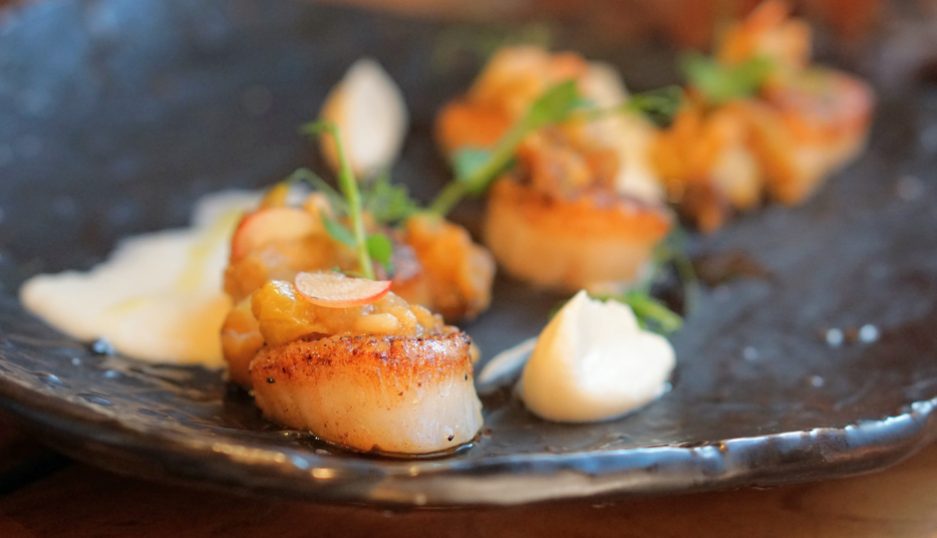 ---
The grand opening festivities on Friday, October 6th — also the restaurant's first day of service — and Saturday, October 7th will include performances by a fire breather, hula hoopers, a photo booth (Friday only) and live DJs.
Mad Rex is open Sunday through Thursday from 11 a.m. until 12 a.m. and Friday and Saturday from 11 a.m. to 2 a.m., with lunch served until 3 p.m. Dinner is served from 3 p.m. until 10 p.m. Sunday through Thursday and until 11 p.m. Friday and Saturday. Management plans to add an "Hour After"-themed happy hour, late night bar menu, kids' menu and weekend brunch service in the coming weeks.
Check out the full menu below.
Mad Rex
Opening Menu
SALADS
Pear and endive salad $10
Bosc Pears, candied walnuts, manchego,
pomegranate vinaigrette
Rock grilled caesar salad $10
wedge of char grilled romaine, parmesan
croutons, housemade caesar ( add chicken $5)
Rock charred octopus and fennel $11
grilled on lava rock, balsamic reduction, panzanella salad in a
citrus vinaigrette
Sea green salad $11
Japanese seaweed, kale, roasted ginger garlic carrots in a
buttermilk vinaigrette
Quinoa salad $10
cucumbers, fresh basil, tomatoes, and
shallots in a citrus vinaigrette
STARTERS
Wild mushroom flatbread $12
wild mushrooms, parmesan, fresh arugula salad on a homemade crust
Tomato basil flatbread $12
tomato sauce, fennel mozzerella, fresh basil on a homemade crust
Pear brie and onion flatbread $12
Bosc pears, Brie, garlic oil, caramelized onions on a homemade crust
Seasonal vegetable tempura $9
soy ginger chili sauce
Whole Wings $10
Mad Rex hot sauce, Mad Rex BBQ Sauce , or garlic butter parmesan
Beef Kabobs $8
onions, peppers, tomatos, mushrooms
house made salsa verde (Medium spicy)
Chicken Kabobs $8
onions, peppers, tomatoes
house made salsa verde (Medium spicy)
Shrimp kabobs $10
onions, mushrooms, tomatos
house made salsa verde (Medium spicy)
Home Made pretzel bites $7
cheese sauce and Mad Rex hot sauce
SOUPS
du jour $6
SURVIVOR MENU/BLACK ROCK DINING
Beef
14 oz. NY Strip $28
8 oz.Culotte $24
8oz Flank $20
10 oz.Filet $30
Fish
7oz. Cobia $22
7 oz. Tuna steak $23
7 oz. Salmon $20
Chicken $20
chicken strips
all protein served rare
and sliced for convenience
except chicken
other proteins to be added as daily and weekly specials for market price
SAUCE SETS FOR BLACK ROCK DINING
"Wasteland" $3
hot pepper relish
horseradish crème fraiche
Mad Rex BBQ
w/ spice rub
"Guts and Glory" $3
Mad Rex Hot Sauce
tzatziki sauce
romesco
w/ spice rub
ENTREES
Pan Seared 1/2 Green Circle Chicken $22
Free range chicken, fresh whole artichokes, potatoes, broccoli, laveder chicken au jus
Pan Seared Salmon $20
Salmon pan seared, wild rice, wild mushrooms, hoisin buerre blanc
Grilled Kale Pappardelle $18
Homemade papparadelle, parmesan, pecans, pickled mustard seeds, kale pesto sauce
Grilled Pork Chop $24
10oz grilled, sauté greens, rice & beans, in a pork au jus
Grilled NY strip $28
14 oz NY Strip glazed roasted carrots, roasted fingerling, red wine au jus
Pan Seared Scallops $24
thyme butter, celery root puree, white caponata
apples and seaweed
SIDES
Sauteed Broccoli and Grain $5
garlic, wheatberries, butter, fresh lemon
Grilled Asparagus $6
lemon olive oil, pecans, shaved cured egg yolk
Rice and Beans $5
seasoned rice, eye of the goat beans
cranberry, cannellini beans
Roasted Potatoes $5
rosemary, thyme, garlic
Sauteed Seasonal Vegetables $5
Seasonal
Handcut French fries $5
Housemade seasoned hand cut fries
one side included in rock entrees
prices are for additional only
LUNCH SANDWICHES (REST OF MENU ALSO AVAILABLE DURING LUNCH)
All Sandwiches comes with fries or side salad
Mad Rex Burger $14 * ALSO AVAILABLE AT DINNER!
8oz blended caramelized onions, bacon, lettuce, tomato
cheddar and house made pickles, w/ garlic aioli
onion poppy seed bun
Grilled Chicken Parmesana $10
tomato sauce, house made mozzarella, chicken breast
in a Vietnamese French baguette
Pulled Pork $11
Pork shoulder, house made pickles, raw red onion, Mad Rex BBQ Sauce in a Vietnamese French Baguette
Pork Bahn Mi $12
pork belly, chicken liver pate, house made pickles, cilantro, jalapenos
in a Vietnamese French baguette
Roast Beef $12
garlic rosemary au jus, provolone, roasted peppers, and sautéed onions in a garlic aioli.
in a Vietnamese French baguette
Mushroom Tomato Goat Cheese $12
sautéed wild mushroom, peppers, and onions, w/ slices of tomato, balsamic reduction
goat cheese in a toasted Vietnamese French baguette
Vegetarian Reuben $12
carrot spiced in a pastrami blend, sauerkraut, melted swiss, w/homemade thousand island dressing
DESSERT CUPS/SHOOTERS
Chocolate cremeux $5
Goat cheesecake $5
Cannoli shooter $5
Berry parfait $5
Quinoa cake almond milk icing $5
Spiced rice pudding $5
Chocolate cake cherry jubilee sauce $5
DESSERT PLATES
Lava Rock Bananas Foster $7
vanilla ice cream, waffles, rum brown sugar
Himalayan Salt Rocks Ice Cream $8
Toppings du jour
COCKTAIL LIST
The Debacle $10
Vodka, ginger liquer, grapefruit juice, ginger simple syrup, & topped with an IPA Float.
Twelve Mile Hike $11
White Rum, rye whiskey, blackberry brandy, cherry liquer and fresh lemon juice.
Brine Yard $11
Gin, homemade pickle juice with homemade pickled veggie skewer.
The Last Sunrise $10
Tequila, orange & pineapple juices, jalapeno simple syrup with a blackberry brandy float.
Scorched Earth $11
Rye whiskey, Campari, orange liquer, orange juice and ginger simple syrup w/ spiced rim.
The Dark Saying $10
Bacardi dark & light Rum, ginger simple syrup, fresh lime juice topped with a porter beer.
The Mehmet $10
Apple Infused Bourbon, apple cider, cider vinegar, cinammon simple syrup with a dash of hot sauce and bitters.
The Coming $10
Habanero vodka, citrus liqueur, fresh lime and passion fruit puree.
The Outcast $10
Muddled sage, bourbon, Aperol, citrus liqueur agave with grapefruit and orange juices.
Second Sight $10
Gin, elderflower liqueur, herb honey simple syrup fresh lemon juice and Pom juice.
BEER LIST
Draught
Austin Cider $5
Bells Lager of the Lakes $5
DockStreet Rye $5
Double Nickel Rye Porter $6
Evil Genius Adulting $6
Flying Dog Bloodline $6
Goose Island Sofie $6
Southern Tier Coffee Pumpking $6
Troegs Chocolate Stout (Nitro) $6
Victory Golden Monkey $6
Yards Pale Ale $5
Yuengling $4
Cans
Asahi 1L $7
Avery El Gose $5
Ballast Point Grapefruit Sculpin $5
Bells Two Hearted Ale $5
Firestone Walker Luponic Distortion $6
Guiness 16oz $7
Heineken 16oz $7
Kentucky Barrel Aged $5
Naraganset $4
PBR $4
Shiner OktoberFest $5
Sly Fox Helles Lager $5
Tecate $4
Terrapin Hopsecutioner $5
Troegs Troegenator 16oz $6
Two Roads Honeyspot IPA $5
Yards Love Stout $5
Bottles
Amstel Light $5
Angry Orchard $5
Blue Moon $5
Bud Light $4
Coors Lite $4
Corona $6
Corona Light $6
Michelob Ultra $5
Miller Lite $4
Sam Adams Boston Lager $5
Stella $6
WINE LIST
White Wines
Pinot Grigio
Ca Donini, Italy – G$8.5 B$32
Anew, Columbia Valley – G$10 B$38
Lechthaler, Italy – G$13.5 B$52
Sauv Blanc
Magnificent Wine, Col. Val. – G$9.5 B$36
Ranga Ranga, New Zealand – G$11.5 B$44
Emollo, Napa Valley – G$15.5 B$60
Chardonnay
Carmenet, California – G$9.5 B$36
Met Soeili, California – G$11 B$42
Folie a Deux, Rus. River – G$14 B$54
Other Whites
Pacific Oasis Rslng, Col Vlly – G$9 B$34
Domino Moscato, California – G$9 B$34
Terra D'Oro Ch Blnc/Viog, Clrkbrg – B$42
Sparkling
Charles de Fere Brut – Splt$12
Martini & Rossi Prosseco – Splt$9
Red Wines
Pinot Noir
Lost Angel, California – G$9 B$34
The Crusher, Clarksburg – G$10.5 B$40
Trin Hill Hawkes Bay, NZ – G$13.5 B$54
Merlot
Seven Falls, Columbia Valley – G$10 B$39
Bonny Doon $%&*#! Merlot, CA – G$13 B$50
Cabernet
Concannon Founders, CA – G$9 B$34
Francis Coppola Claret, CA – G$10.5 B$40
Penfolds Max's 2015, South Australia
Other Reds
Vina Robles "Red 4" Blend, CA – G$12 B$46
Smoking Loon Malbec, Chile – G$9 B$34
Aruma Malbec, Argentina – G$17 B$65
Querceto Tuscan, Italy – G$11.5 B$44
Luigi Righetti Amarone, Italy – B$108
Terra D'Oro Zinfandel, CA – B$75
Screw It. Let's Just Go to This Post-Apocalyptic-Themed Restaurant in Fishtown [Foobooz]
Mad Rex [Official]
---
---