Philly Gets Its Own Ping Pong Bar
Grab your paddles for Spin's grand opening this Friday.
---
You can drink and do a lot of things in Philly: sit outside, bowl, play board games, throw axes.
And now, you can party while playing ping pong — because the Philly outpost of Spin, the New York-based table tennis establishment, opens this Friday, September 15th.
Spin — "the original ping pong social destination" — is located in the basement at 211 South 15th Street, downstairs from WeWork. The expansive space is 12,000 square feet of ping pong tables, bars, and seating, including a private room with its own bar. (While alcohol is served to patrons over the age of 21, the space is open to guests of all ages.)
There is scratch-and-sniff wallpaper printed with cherries. The general theme of the decor is "graffiti" — there are murals by street artists including Philly's own King SALADEEN — and also "red."
---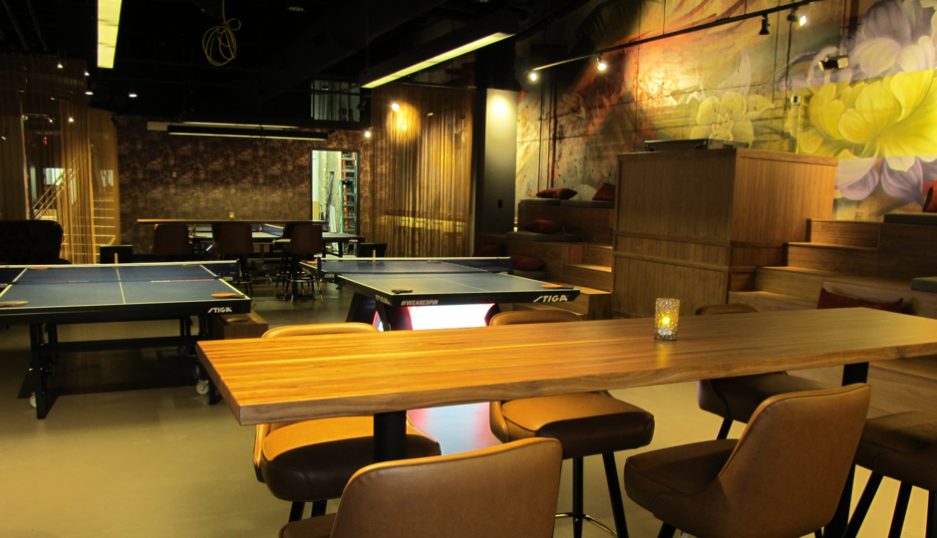 ---
Spin boasts 17 Olympic-sized tables, along with "state of the art Olympic sport flooring for exceptional ping pong performance" that will definitely make a difference when you and your buddies try to play while plastered at 1 a.m.
Food-wise, they're going for comfort food with unique touches, like pastrami tots with coriander black pepper aioli, pork roll sliders with pickled red onion and chipotle remoulade, and funnel cake bites with Applejack caramel, plus house-made cocktails.
Friday's grand opening starts at 9 p.m. and will feature music from DJ Royale, with appearances from rapper Schoolly D, and Philadelphia 76ers Robert Covington.
Regular walk-in rates to hit the ball around for off-peak times — that's 11 a.m. until 5 p.m. Monday through Thursday, 10 p.m. to midnight Monday through Wednesday, and 10 p.m. to 2 a.m. Thursday nights — are $15 per half-hour or $25 per hour. Walk-ins during peak times (5 p.m. until 10 p.m. Monday through Thursday, 5 p.m. to 2 a.m. Friday, and all day Saturday and Sunday) pay $22 for a half hour and $39 for an hour. Or reserve a table in advance at a rate of $59 per hour.
Spin Philadelphia [Official]
---
---