12 Restaurants You'll Actually Enjoy Dining at With Your Kids
Going out to eat with the kids can be tough. We're here to help.
---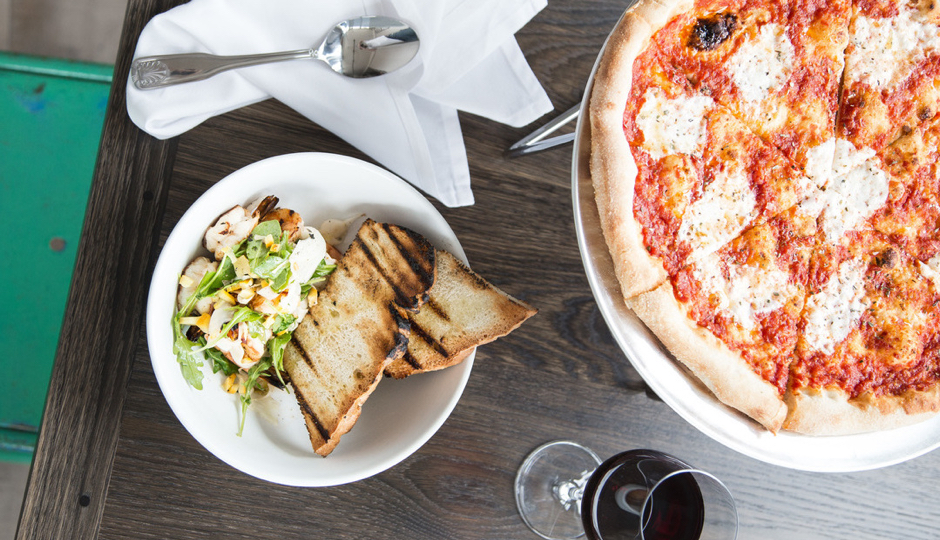 Going out to eat with the entire family can be tough. High chairs, crayons, mac-and-cheese–these seem to be the hallmarks of what most people look for when they're searching for a place to bring the rugrats. Loud, brightly-colored rooms that cater to young eaters by creating an experience where tears, tantrums and spills can go almost completely unnoticed.
And look, there are plenty of those kinds of places out there. Most diners, a lot of suburban restaurants, pizza joints, every fast-casual operation ever invented — all perfect. Iron Hill? That place is ideal because it's planted squarely at the intersection of kids menus and beer lists. It's a bar that you can bring your kids to without being, you know, the parents who bring their kids to the bar…
But sometimes you're looking for something a little different. Sometimes you want to sit at an actual table and eat something that's not chicken fingers. You want to take a chance and push the family-dining envelope a little.
That's where we come in.
Personally, I am of the opinion that nearly any restaurant can be kid-friendly provided the kids in question know how to handle themselves in that sort of environment. But the only way kids can learn that is to practice, which means taking them out into the world and showing them an environment that's not Chuck E. Cheese's or the local Chipotle.
So with that in mind, we've put together a three-part list. Part one (amateurs) contains places to get started — a bunch of the most forgiving dining rooms in town. Part two (good eaters) is for those who've had a little experience dining out, but might not be ready yet for fine dining. And finally, part three (pros) is a short list of restaurants where the food is for real, the vibe is more adult, but bringing kids inside won't get you the stink-eye from servers, staff or couples looking for a quiet, romantic evening away from kids.
First up:
Amateurs
Sure, you could just take the little ones to Mickey D's or Pizza Hut. There's literally nothing they could do to embarrass you there. But eventually, they're going to have to learn how to hold a fork and not take off their pants in public (though, granted, I haven't entirely learned those lessons yet), so when you're looking for a restaurant that doesn't come with its own playground attached, and something to eat that's better than stealing fries from your kid's Happy Meal, here's where to start.
Shake Shack // Center City, University City, KOP Mall
Fast-casual, an approachable menu full of excellent burgers, fries and shakes, plus all the trappings of an actual restaurant–like tables, chairs, silverware and no clown mascot. The place is almost always loud and crowded, so any small outbursts are likely to get drowned out fast. And should a full-scale meltdown happen, you've already paid for your meal (one of the benefits of counter service) so you're always free to walk right out and take your lunch to go.
Olce Pizza Grille // Skippack, PA
Yes, there are lots of pizza places (and lots of suburban restaurants) that are kid-friendly, but I'm including Olce here because it has three very important things going for it. 1) The staff honestly likes seeing kids and families in the dining room. 2) There's outdoor seating surrounded by a large grassy area that's perfect for letting the kid's run out the crazy once they reach their sitting-still-and-waiting limit. 3) The pizzas here are awesome, thin-crust, scratch-made masterpieces–primarily the roasted corn pizza which happens to be one of my favorite in the region. Finally, Olce is the place I took my kids to get them used to eating out, so I can personally vouch for this place as being an ideal Little League for budding gastronauts.
City Tavern // Old City
First, servers in costumes. If that kind of thing doesn't freak your kids out, they'll probably dig it. Second, City Tavern won an award for having the best kid's menu in America, and that's nothing to sneeze at. Third, the menu in question offers things like cornmeal-crusted chicken fingers, fish and chips, and Colonial-style turkey pot pie specifically designed to mimic the main menu's 18th century inspirations while taking into account the tastes of younger diners. And finally, the staff is 100% prepared for having kids in the dining room. They deal with it every single day and, at this point, are basically ninja-level experts in handling anything that your children can dish out. No matter how bad of a day they're having, these veterans have seen worse. And if you're a parent, you know exactly how comforting that kind of knowledge can be.
Honey's Sit n' Eat // Graduate Hospital and NoLibs
They've got a short kids menu, but plenty of things on the normal, grown-up menu that your kids will love. But more important than that, they have a dining room that's regularly full of families and a staff accustomed to dealing with the unique challenge of feeding all ages.
Good Eaters
Okay, so your kids have got an appetite. They've moved beyond the simple things like chicken fingers and high chairs, but aren't yet comfortable enough in a restaurant environment to handle linen napkins and 14-course tasting menus. What you need is somewhere that's a little more grown-up, but not quite downstairs at Double Knot. A dining room with a net, as it were. And we've got a couple places that are perfect for you.
Clarkville // Clark Park
This restaurant was built right across the street from Clark Park and designed to be the restaurant that friends and families want to go to after a day at Clark Park. There's a solid bar for the grownups, plus pizzas and pastas, and a good kid's menu for the little ones. And while, at night, Clarkville is more of a restaurant for the neighbors, while the sun is up the whole place is just bright and happy and good for all ages.
24 Wood Fired Grill // Center City
The staff is so smooth here I can't imagine anything they can't handle. The menu is approachable and better than you expect it to be at nearly every turn. And since this is the Garces Group's experiment with the all-day cafe model, during the day it's often filled with neighbors and families ducking in for a quick bite of the surprising Italian menu or scoring a personal-sized pizza that's scaled just right for kids.
Pizzeria Stella // Headhouse Square
You might find it surprising, but we talked to a bunch of Junior Gastronauts while doing research for this piece, and the one restaurant that kept coming up over and over again? Pizzeria Stella. If you think about it, though, what's not to love? Excellent, interesting pizzas. A pasta menu that's even better. A bright, open location that gets a lot of tourist traffic. And a staff that's accustomed to dealing with all kinds of different parties. So if you're looking to make the jump from take-out and fast-casual to an actual sit-down meal of pizza and pasta with the young ones, give it a trial run at Stella first and see how it goes.
On Point Bistro // Point Breeze
There are not a lot of options for family-friendly dining in Point Breeze, but with the amount of young families moving into the neighborhood, that's going to have to change soon. Until it does, there's always On Point, which prides itself on being a kid-appropriate destination with high chairs, kid's cups (with games on the side), a changing table and a kid-dinner and brunch menu full of snacks like cheesesteak spring rolls, fresh fruit and nachos that anyone can enjoy. Being a BYO with fish tacos, steak frites and chicken wings makes it easy on the grown-ups, too.
Humpty's Dumplings // Glenside and Queen Village
Seriously, it's a dumpling restaurant. And who doesn't love dumplings? Apple pie and Buffalo chicken for the kids, spinach and ricotta (plus maybe a salad) for the adults and everyone's happy.
For The Pros
Okay, so your little bundles of joy are experienced diners. They turn up their noses at fast food, know the difference between penne and tagliatelle, and complained when they went to Kyle's birthday party at Bounce U and the pizza came without arugula on top. They're ready for something more challenging, and so are you, so it's time to try…
Mistral // King of Prussia
It is one of the best restaurants in the 'burbs, a relative of the award-winning joint of the same name in Princeton, NJ, and just happens to be attached to the King of Prussia Mall. But don't let that spook you because this place is awesome for two reasons. First, it is an excellent restaurant with a killer menu full of Asian-influenced options (and the best riblets you will ever have). Second, because it is attached to a mall, families and kids are bound to end up here, meaning that no one is going to be surprised when you roll in with your progeny in tow. If they already know how to behave in a sit-down restaurant environment, all the better. The staff is going to love you.
Chinatown Square // Chinatown
The new food hall smack in the middle of Chinatown is already a gathering place for teenagers, families, locals and serious eaters looking for curry, bao and bulgogi. But it's also a great place to bring kids who want a taste of the exotic because it is always loud, always busy, offers a ton of options (everything from sit-down Korean upstairs at Dae Bak to poke, falafel and pork buns down below) and is primarily made up of counter-service, quick-serve food stalls. While not a place where the young diner will learn anything about proper table manners, it is an excellent spot for expanding palates and adventurous tastes. Plus, they've got ICE NY Thai rolled ice cream for dessert, so if you have to resort to bribery, now you've got your leverage.
Whetstone Tavern // Queen Village
Since the day it opened, this friendly spot from Jeremy Nolen has been a place primarily concerned with feeding the neighbors. They do brunch, lunch and dinner, offer a solid menu of American classics, and are just casual enough that families with kids can be completely comfortable in the bright, relaxed dining room.
---