The Bungee Cord Workout That Went Viral Is Coming to a New Studio
Havertown's Pop Fit Studio is launching bungee fitness.
---
It is 6:10 p.m. The bungee fitness class I'm supposed to observe at Pop Fit Studio started at 6. But, instead of watching exercisers fly around the room attached to bungee cords, I'm wandering around Havertown's Manoa Shopping Center, trying to find a studio that doesn't seem to exist.
In a way, this confirms my suspicions that the videos I've seen of athleisure-clad women springing off the ground while tethered from the ceiling by giant ropes are not, in fact, real. Bungee fitness looks like an elaborate April Fool's Day joke, a ruse concocted by another country to see how many gullible, desperate-to-get-in-shape Americans will take the bait. How can we make them look like idiots this time? I imagine a Russian operative musing.
Pop Fit Studio, at least, is not actually a hoax. I finally find the entrance, a covert door on the side of an Applebee's, and take the stairs to the second floor, which takes up a gargantuan 6,000 square feet that would make any urban gym owner grimace with envy. I'm directed to the larger of the two studio spaces, where about 10 intrepid women are indeed strapped into harnesses attached to thick bungee cords hanging from the ceiling, looking like they're about to film an elaborate stunt scene for an action flick.
Fortunately, I haven't missed much because it takes a while to get everyone into the required neoprene shorts, which keep the rock climbing-esque harnesses you wear over them from chafing your skin through your thin workout leggings, and adjust the length of each bungee to create the right amount of resistance based on each individual's height and weight.
"It feels like a giant wedgie at first," says Pop Fit owner Christine DeFilippis, a redhead who seems to know exactly what I'm going to say or ask before the words come out of my mouth. Perhaps it's because she studied journalism as an undergrad at Temple University, but more likely, it's due to her decades of experience in the fitness industry. She started teaching group fitness at age 16 and has since received more than 20 different workout certifications while honing her style everywhere from Sweat Fitness to the 12th Street Gym — and bagging Best of Philly honors in 2013 and 2014. If anyone could turn an utterly meme-able workout fad into a successful venture, it's probably her.
She directs my attention to the instructor of the class, who's flown all the way from Thailand to train the Pop Fit Studio crew in the bungee workout and demo classes for those new to the form. (Turns out I wasn't that far off with the April-Fool's-Day-joke-planned-by-another-country comparison.) Stories to Tales Theatre in Bangkok was the alleged first gym to offer bungee fitness, and its instructors now travel around the world teaching the method to other fitness studios, including Arizona's Tough Lotus, whose bungee videos have gone viral. (It's there that DeFilippis first tried the bungee.)
I watch the Stories to Tales instructor as she demonstrates moves ranging from squats to tricep-push-ups. For the latter, you essentially fall forward, land lightly on your hands, and then use the bungee to spring back up to a standing position. As per usual, it's not as easy as it sounds — you have to engage your core big-time to keep it a controlled movement — but it's clear the bungee makes this an easier exercise to pull off. One woman mentioned after class that she can't do a regular push-up, but she could do one with the help of the bungee.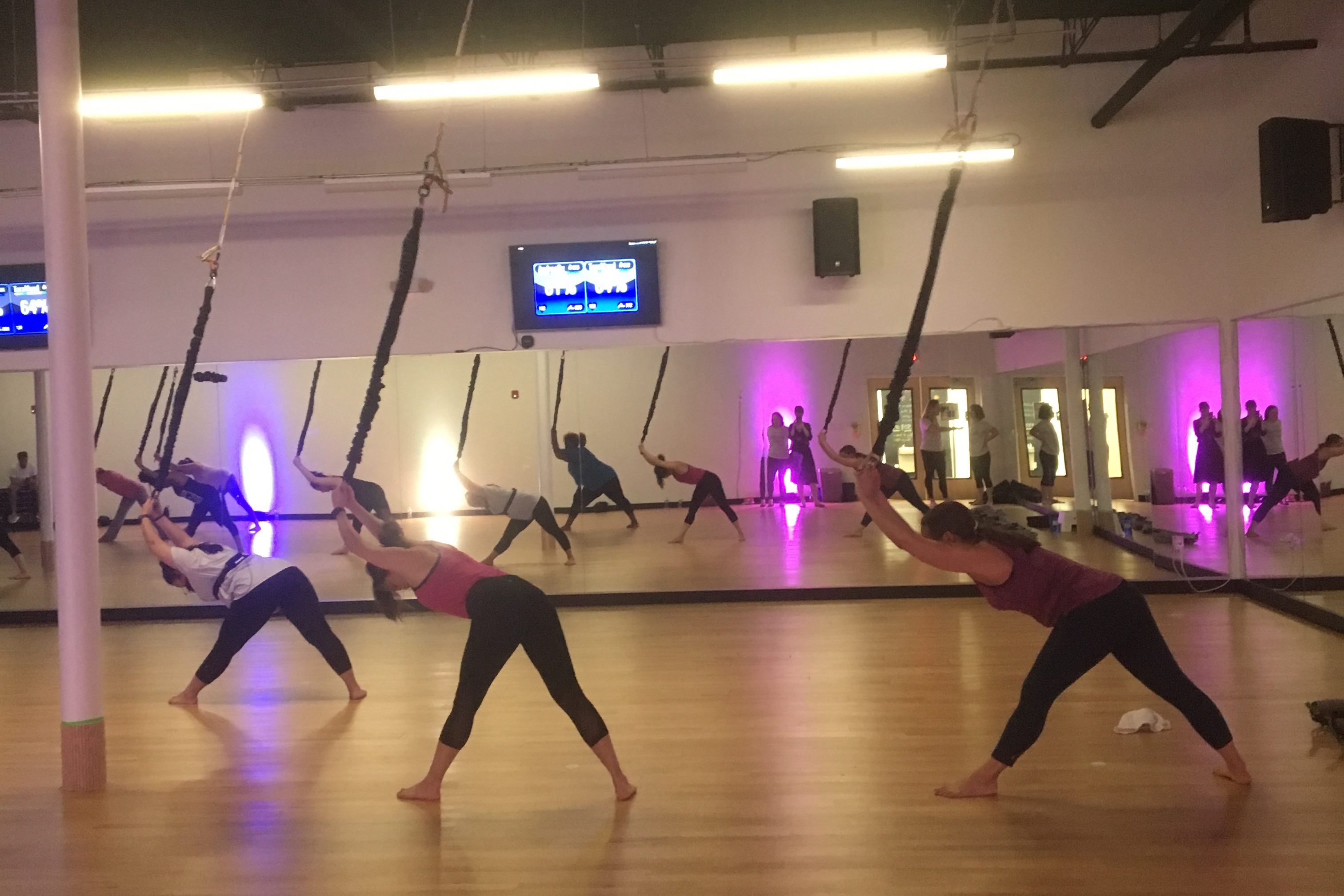 Pop Fit patrons even stretch with the bungee cords. / Photograph by Mary Clare Fischer
DeFilippis says the format is also good for older folks whose aging joints crave low-impact exercises and those in larger bodies. (Pop Fit has two different sizes of harnesses to accommodate varying body types.) "They may not be able to hold a plank because they're carrying more weight," she says. "The bungee's assisting them — but they still have to work hard."
That's eminently clear. Everyone in the class is drenched with sweat as they work through the short choreographed routine that incorporates bodyweight movements like lunges, basic dance moves, and what everyone really came to bungee fitness for: the jumps that make you feel like you're floating. To execute them, you spring forward, arms raised and one foot back, as if you're presenting yourself as a gift to the world. It seems like the most liberating motion — a chance to be free of the burdens that keep you tethered to the earth. For a few seconds, you can be weightless.
View this post on Instagram
You'll have to wait a few days to experience that sensation. Pop Fit has now wrapped up its bungee training, and DeFilippis says the studio is taking some time off from the format (spending multiple eight-hour days attached to that apparatus probably leaves you feeling a bit sore) before pop-up classes launch next week. The staffers will then be playing around with class times for the next month before they announce a regular bungee schedule.
DeFilippis, though, is thrilled the program is simply getting off the ground (pun intended). She intended to launch bungee when she opened Pop Fit this past May, but the build-out of the space, which had been vacant for 12 years, took so long she had to push back the training. Also, she'd recently given birth to her son in an emergency C-section, and you're not supposed to do bungee if you've had surgery in the past six months. (No one wants a tight harness squeezing their fresh abdominal scar.)
"You know how some girls put together their dream wedding when they're 12, with binders full of dresses and everything?" DeFillipis asks as she's showing me around the gleaming space, complete with eight-foot mirrors and floors with inches of foam cushioning under the wood to make them softer to land on. "I had that compilation of what my perfect studio would be early on. But I knew I had to make it happen mostly when I saw bungee because I didn't think [many] other gyms would put this in."
She wanted to manifest something she didn't think existed. Looks like I was right all along.
Correction: This post originally stated that Pop Fit Studio was the first to launch bungee fitness in the Philly area. That is incorrect. The story has been updated to reflect that change.
---
---