Meet Livvie, This Week's Adoptable Running Dog
This young pup is already a great runner.
---
This week's adoptable running dog, Livvie, is currently being fostered through the Monster Milers' Adopt a Running Buddy foster program. At less than a year old, she's already a great runner — and she's cute to boot! Learn more about her below.
Name: Livvie
Age: 6 to 12 months
Weight: 29 pounds
Breed: Shepherd/Terrier mix
Running style: Livvie is going to be a great distance runner when she grows up. She can already run at a fairly decent clip and, since she's an energetic pup, she loves to get out and about. She listens really well, so even if she's interested in other dogs or people as you pass by, she'll get back on track quickly.
Why Livvie is awesome: Livvie is like that person in high school that had it all: athletic ability, brains, and looks. She's super smart. Proof: She's learned commands like "down" and "touch" in an hour and she responds to verbal and nonverbal cues immediately. With her combination of attentiveness and athletic ability, Livvie would probably do really well with agility classes. She also loves to be around people and enjoys a good cuddle session on the couch. Livvie is social with other dogs and may also be able to live with cats.
---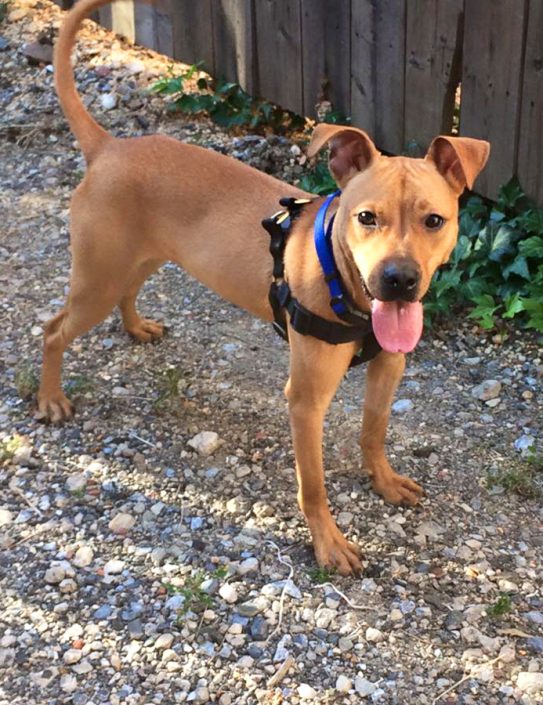 ---
You can learn more about Livvie here. If you are interested in meeting Livvie, contact the Monster Milers here. And for more awww-worthy photos, check out our previous adoptable running dogs here.
……………..
We work with The Monster Milers each and every week to profile local running dogs waiting to be adopted. The Monster Milers are a group of runners who help shelter dogs burn off  energy and get much-needed exercise by taking them on runs around the city, and they also just launched their first-of-it's-kind Adopt a Running Buddy foster program. If you're not in the market for a pup right now, but would still love to help out homeless dogs, you can always become a Monster Miler volunteer or foster parent. Find out more about how to get started with those processes here. 
Like what you're reading? Stay in touch with Be Well Philly — here's how:
---