INTERVIEW: Yoko Ono
Yoko Ono shares funny Philly memories, talks about falling in love with John's music again, and her work to preserve his legacy.
---
Next month, Ocean Galleries in Stone Harbor, New Jersey, will debut an exhibit of artworks by John Lennon. Curated by his wife Yoko Ono, "The Art of John Lennon" comprises limited edition prints adapted from the "Imagine" singer's original drawings—from his iconic pencil-scribbled self portraits, to whimsical, comic book-like illustrations with sayings like, "He tried to consult the stars, but no one returned his calls."
"The Art of John Lennon" is a traveling exhibit created by Ono around 15 years ago with the intent of not only sharing her husband's work with the masses, but to support local nonprofits. In this case, Ocean Galleries requests that guests donate $5 to see the exhibit, which will be given to Community FoodBank of New Jersey.
I chatted with Ono this week in anticipation of the exhibit. She shared anecdotes behind some of the works in the exhibit, told me a funny story about Philly, and opened up about falling in love with Lennon's music again after all these years.
Let's talk about this exhibit coming to Ocean Galleries. Why is it important for you to exhibit John's work in small galleries like this across the country?
I really think that it's very important—even if it's in a very small space … because it has a power and that power you're going to get anywhere.
How did you go about selecting the pieces that would appear in the exhibit?
In the beginning—15 years ago when it was starting—I [chose based on] what hit me the most. And then, gradually, I realized that each one was hitting me very strongly. I started to get into his work more. Now, I really feel that each one is so special. So I rotate them: This time I show some things, next year I'll show something different.
One of my favorite pieces is Let's Have a Dream (right). What's the story behind that sketch?
John was really getting into the family scene. He was really getting into [his son] Sean, actually. I was surprised at how he felt so strongly connected with Sean. Maybe in some ways, subconsciously, he knew he wasn't going to have much time with us. I don"t know. But there was that feeling.
I also like On Cloud Nine (below, right), which pictures the two of you naked sitting on a cloud. Nudity was a recurring theme in your works and activism. Why?
It has to do with softness and the fragility of human beings.
How did John's work influence the art you were making?
I was doing my artwork for about 30 years before I met him. I was eight years older than him … I was very much deep into my own artwork, and I think that there were a lot of technical things I knew … So there was more giving than taking.
So he was more influenced by you?
I don't think so. That's another thing that was very interesting: He was an artist before I met him—he started when he was 9. He was very good, and extremely different from my kind of work. In a way, we didn't really influence each other, but we loved each other, which helped in a way. … You know what I think: We were in Japan together, and I think he was influenced more by classic Japanese paintings.
You guys met in an art gallery, right? Can you take me back to that moment?
[Singing] We met in an art gallery … When he came in, he was looking around, but not expressing his emotions so much. When he went up to see a [canvas on the ceiling], he went all the way up the ladder and saw it and came down. He said, "Hmm," and sort of gave a little smile and left—never explaining how he thought about it. Later, on a TV show, he said, [imitating Lennon's voice] "Well, you know, I saw this thing and I didn't like it." So he felt something, but he was too shy to tell me about it at the time.
There are a lot of themes of peace and love in John's art. How do you think his images speak to what's happening now in the world, especially in places like Ferguson and Baltimore?
He was so upset about people killing each other and hurting each other. … He would have hated what's going on now in the world.
What are your thoughts?
Ditto. I'm with him, okay? … We tried hard to bring peace and a better world. And we still do. Don't give up. Don't give up.
Do you have any memories of Philadelphia?
Yes. It's so funny: John was in L.A. and I was in New York, and they wanted me to come to Philadelphia to do a show or something. I went with a very attractive, tall girl, who was my assistant at the time. And she had glasses on. Everybody went up to her thinking it was John. She said, "I don't look like a guy, do I?" She was a little bit offended. [Laughs]
Do you have a favorite John and Yoko song?
Any song that John wrote—especially when it was about us—I love very much. I used to have favorites, but now I'm starting to listen to his songs more … and I'm starting to like all of them, really. … I didn't usually like to listen to John's songs. It reminded me of John not being here, but I started to listen to them because I had to, because of business. Then I started to really like them.
Where do you see yourself in the next 10 years?
Ten years is a very long time these days. … In 10 years, maybe we'll all be moths, or something. [Laughs]
It seems like you work really hard to preserve John's legacy. How do you want to be remembered?
I don't know. … I don't know how people see me. I have no idea. I'm more concerned about John's legacy, because he's not here. I'm the only one who can work on it.
"The Art of John Lennon" will be on display at Ocean Galleries for a limited time only, from June 18th to 22nd. For more information on that and special events around the exhibit, go here. Check out more works from the exhibit below.
---
Yoko Ono

Yoko Ono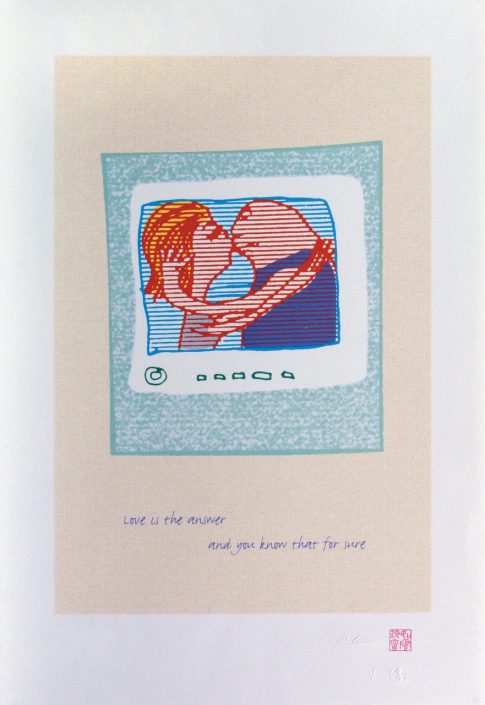 Yoko Ono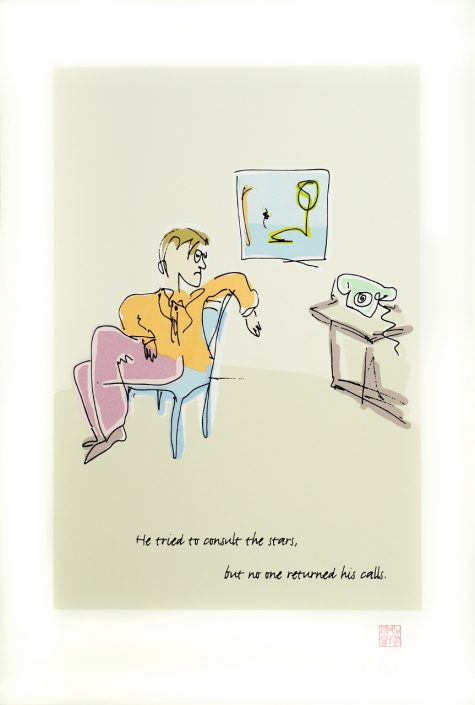 Yoko Ono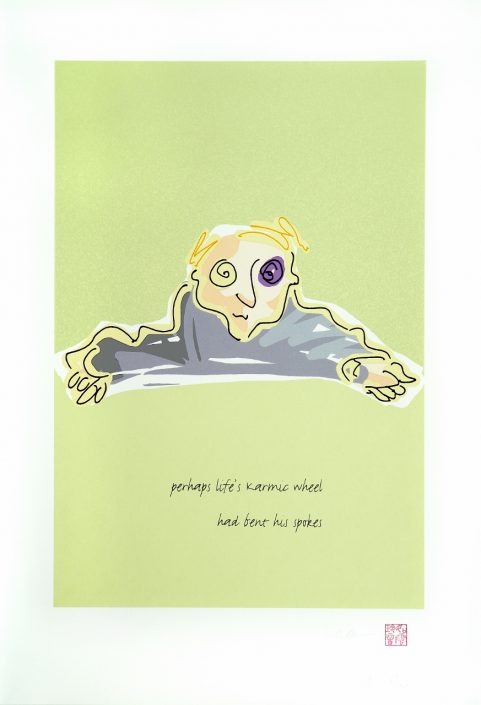 Yoko Ono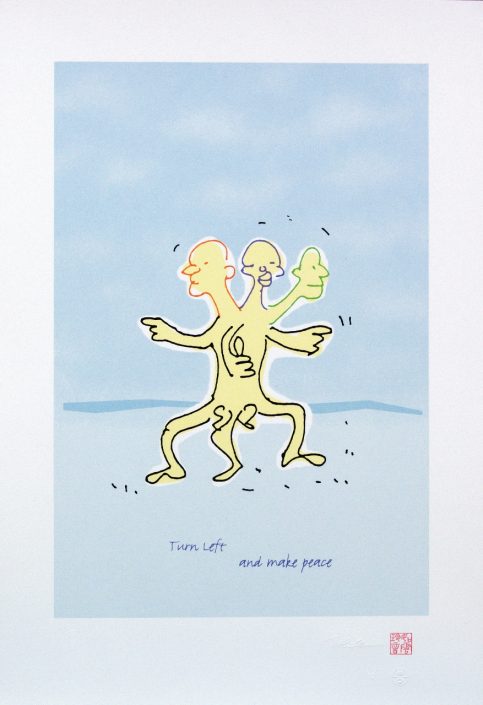 ---
---