Four Lion Cubs Born at Philadelphia Zoo
---
On June 26th, four new African lion cubs were born to two first-time parents at the Philadelphia Zoo—making it the first time lion cubs have been born there in 18 years. More from a press release I received this morning:
Philadelphia Zoo is pleased to announce four new members of its animal family: African lion cubs born to Tajiri, the Zoo's 4-year-old female, during the early morning of Thursday, June 26th. This is the first litter for Tajiri and 6-year-old male Makini, and marks the expansion of the pride in First Niagara Big Cat Falls. These are the first lion cubs born at Philadelphia Zoo since 1996, continuing the Zoo's successful breeding of big cats over the past few years.

Mother and cubs are doing well. Like newborn humans, lion cubs are essentially helpless, relying on their mother for care. Tajiri has been in almost constant physical contact with her cubs since their birth, and appears confident and relaxed as a first-time mother. Zoo staff continues to monitor them by video camera during this crucial time, giving Tajiri almost complete privacy in her off-exhibit den.
---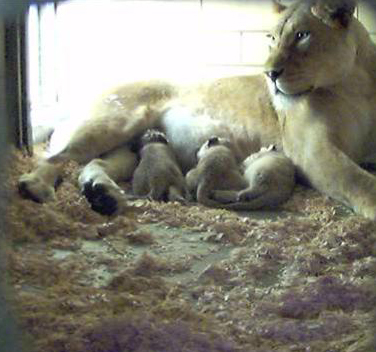 ---
---