The Philly Hospital Challenging the Status Quo of Lung Cancer Screenings
Lung cancer screenings can turn up a wide range of health issues outside of lung cancer, including conditions like COPD, coronary heart calcification or osteoporosis, but too often patients are not aware of these secondary findings. Temple Lung Center has a plan to change that.
At the start of 2022, 51-year-old Levaun Rudisill didn't have any significant health concerns or symptoms. His job offered free health screenings, but he hadn't taken advantage of them in the past. He saw his coworkers finding health issues through screenings, however, so with their encouragement he decided to get a preventative lung cancer screening in May at the Temple Lung Center.
While he did not have lung cancer, the results did turn up something important: "I found out I have coronary heart disease, severe heart disease," Rudisill says. "Fortunately, we caught it in the early stages and have time to do something about it."
A number of things had to come together for Rudisill to receive his life-saving diagnosis of coronary artery disease. First, the United States Preventive Services Task Force recently lowered the limit of the screening age from 55 to 50 years and reduced the minimum smoking history from 30 to 20 pack years. Those expanded guidelines included candidates like Rudisill. Second, Rudisill decided to get a low-dose CT scan, despite not having symptoms. Finally, he ended up at the Temple Lung Center, where a new comprehensive program informs patients of any conditions that show up on the report—not just lung abnormalities.
"Low-dose CT scans can turn up any number of conditions, including problems with the heart, the bones, the muscles, the coronary artery, and for some, the esophagus and stomach," says Dr. Gerard Criner, director of the Temple Lung Center. "But patients aren't always properly informed of those other issues or connected with the treatment they need."
According to Dr. Criner only about 5% of people who are at risk for lung cancer get screened, and of those who do get screened, about 15% discover other issues.
That's why the team at Temple Health is trying to do things differently through their new program called the Temple Healthy Chest Initiative. Patients go through a symptom and risk assessment, and then the scan captures a series of images of not only the lungs, but other parts of the body in that region, looking for signs of other conditions.
"At the same time that we're creating an enhanced, systemwide lung cancer screening, we wanted to maximize the benefit of being able to detect other conditions, especially ones that are common among the group of people we usually see: those over 50 who smoke," Criner says.
Looking for a wide range of conditions, however, is only half the challenge. Often in the U.S., even when radiologists see an unrelated issue on a scan and mark it on the chart, the patient and their primary care provider are never verbally informed about the issue. If they don't happen to spot it on the chart, it could go untreated.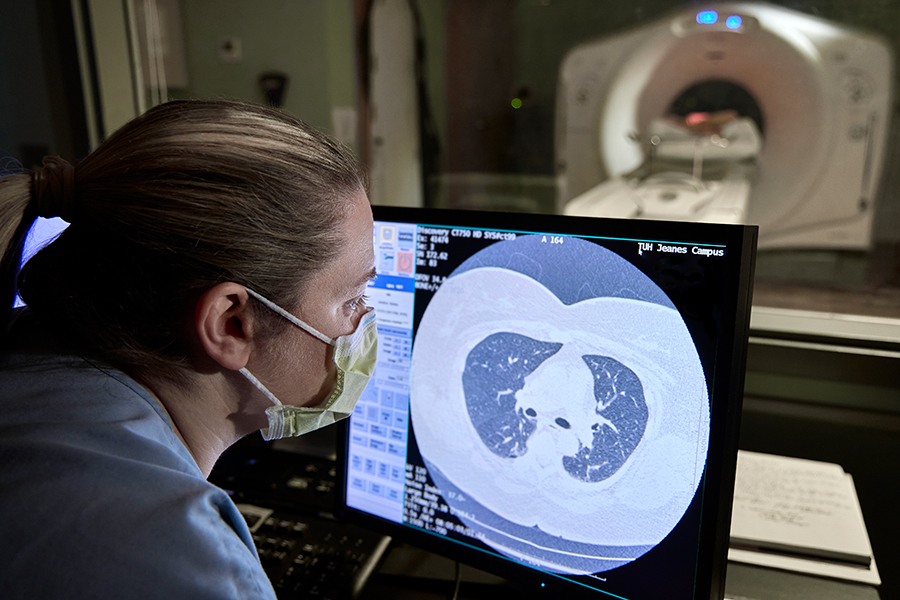 To prevent results from falling through the cracks, Temple brought on a nurse navigator team, including Bridget Fonash. Fonash gives all scans a second set of eyes, keeps an extensive file of every single patient they scan, informs the patient and their primary care provider about all results and sends regular reminders to keep patients' screenings and treatment on track.
"Especially when you have doctors sending their patients to a different hospital network to get scanned or see a specialist, it's easy for medical providers to think 'oh, someone else will take care of that,'" Fonash says.
The process worked for Rudisill. Only a week after the Temple Lung Center spotted a heart issue, he saw a cardiologist who ordered a heart scan which showed severe coronary artery disease. Rudisill is now scheduled for a stress echocardiogram and may need cardiac catheterization.
While he has a long road ahead of him, he's thankful that the low-dose CT scan picked up on the heart condition before he was symptomatic. The knowledge he gained from the Temple Lung Center empowered him to make crucial lifestyle changes for his health—including changing his diet and starting a consistent exercise routine.
"I would advise people to get their screenings and take their health seriously, even if they feel healthy," Rudisill says. "I had no idea I had a heart problem, but finding out through the screening has allowed me to take control of my health."
This is a paid partnership between Temple Health and Philadelphia Magazine's City/Studio
---