Have An Eye For ROI? Philly's Latest Adtech Wants To Hire You
Looking for a new gig in Philly can seem a little daunting. You want something that challenges you, but is rewarding, an office that's laid-back, but efficient to what you need, a dress code, er, lack of dress code would be ideal…
That's where the newest company on Philly's tech scene, ReachMobi, percolates to the top of the list. The mobile adtech company is opening a new office in Northern Liberties and looking for skilled media buyers, software developers and account managers to join their team.
The Kansas City-based company, which has been one of the biggest players in the industry for well over a decade, opened the doors to its Philadelphia office in November 2016 with a mission to grow its new mobile channel. The folks at ReachMobi are excited to offer Philly adtech talent a chance to work in the rapidly growing mobile industry.
"We've experienced explosive growth around our mobile products for the past several years, and it shows no sign of slowing," says Matt Hoggatt, chief executive officer at ReachMobi. "Opening a Philadelphia office while becoming a separate mobile company enables us to double down on building and monetizing mobile audiences across both Android and iOS devices."
ReachMobi uses data science and audience engagement to continually create new solutions for the challenging world of adtech. Powered by a one-of-a-kind content delivery system compatible on both iOS and Android, out of the app or off-site, ReachMobi is able to deliver desired content and rich media that users can trust.
Plus, with more than 20 million monthly unique subscribers, ReachMobi is able to maintain the largest collection of online media for some of the most influential magazines and websites in the world.
"For our partners, we've been very successful in turning their one-time mobile web visitors into lifelong subscribers," says Hogatt. "ReachMobi is one of the industry leaders in mobile engagement because we create real connections with real people by giving them the content they want, when they want it."
So if data gets your heart pumping and the sound of ROI is like music to your ears, ReachMobi wants you to join them on the Philly tech scene. And, lucky for you, they have a pretty amazing view from their office window.
---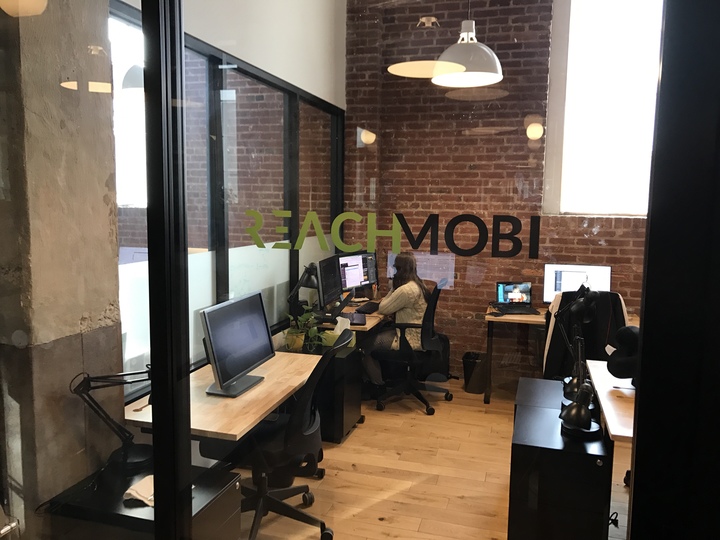 ---
To learn more about ReachMobi and current job opportunities in Philadelphia, click here to apply.
This is a paid partnership between ReachMobi and Philadelphia Magazine's City/Studio
---