He Survived Stage III Lymphoma, Now He Helps Others in Their Climb Against Cancer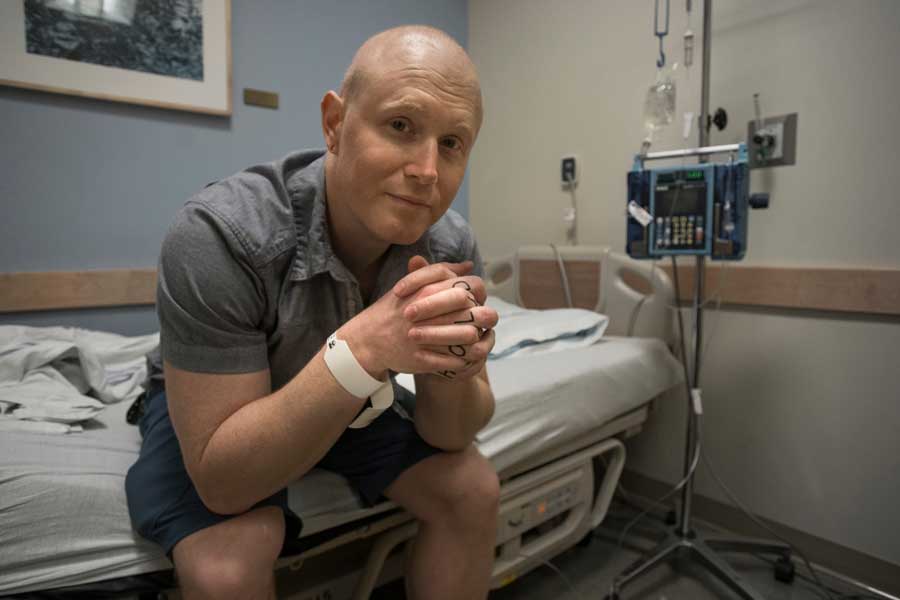 In February of 2016, Cherry Hill native, Alex Wildman woke up in the middle of the night with an unbearable stomach ache. "I was in agony, but assumed it was something I ate," he says. The next morning, the registered nurse realized his pain might be something more significant than food poisoning and reached out to a friend in medical school. She told him he needed to head to the ER immediately. "I felt silly I didn't want to waste resources for something small," he explains.
After running a myriad of blood tests, and a CAT Scan, the doctors explained that Wildman wasn't dealing with something small—he had enlarged lymph nodes and tissue masses throughout his diaphragm. "As a nurse, who knows what that means, it definitely wasn't something I wanted to hear," he explains.
Soon after they found a fatal blood clot and diagnosed him with Stage III Non Hodgkin's lymphoma, a cancer that attacks the white blood cells, at just 33 years old. The young and active Wildman was in a state of shock. In just two weeks, he was supposed to be on a plane to Patagonia for the rock-climbing trip of a lifetime. He was strong, in peak physical shape, and had been training for months. "I really couldn't wrap my head around it at first," says Wildman. "I thought I just had a stomach ache; cancer was nowhere on my radar."
But the part he struggled most with was what to tell his young daughter. "I got my cancer staging the day before my daughter's fifth birthday, it was such a head trip," he says sadly. "I just kept thinking that I'm so young and I'm going to die and she's going to have to deal with that trauma." Drawing from his own experience, Wildman's father passed away when he was just twenty years old, he knew he needed to fight this battle and win. "I decided that I was going to be positive and that this was not going to be the end of my story," he says. "This was simply the end of a chapter."
As Alex began undergoing his aggressive chemotherapy treatments his climbing community gathered around him, including his personal idol and renowned mountaineer, Conrad Anker. During a particularly rough 96-hour infusion, Anker visited Wildman and told him, to "hold fast, all storms pass." A statement that would stick with him through every consecutive chemotherapy round and big climb in his life. Wildman would also become the subject of Anker's newest documentary, titled Hold Fast, which tells the story of how he was able to climb over his biggest hurdle yet and come out on the other side.
Working with Anker wasn't the only climbing adventure that Wildman would accomplish during chemo though. A close friend sent him the link to the Big Climb Philly, the 47-floor climb to the top of the FMC Tower at Cira Centre South that supports the Leukemia and Lymphoma Society, a few weeks after he began chemo and assured Wildman that together they could do it. "He said he would literally carry me up those steps if he had to," Wildman laughs.
Wildman tackled the climb head on and made his way up the entire tower, while sick, a moment he considers to be a profound milestone. "There are so many beautiful unspoken aspects of this event," he says. "You're posed with this kind of impossible task-47 floors, but it's akin to a cancer diagnosis that you didn't ask for. If you put your mind to it, you can overcome these obstacles that once seemed impossible."
Thankfully for Wildman, he tackled that once unbeatable obstacle after six aggressive rounds of chemo. Once in remission, he knew he needed to do everything he could to empower others in a similar situation and shed light on the importance of funding blood cancer research. "I'm so grateful, not everyone gets a movie made about themselves or has a huge support group," says Wildman. "That's why I do the Big Climb Philly—to try to give back as much as possible and help as many people as possible."
This year, Wildman is an honored hero and heading up his own team of climbers aptly named, Team Hold Fast. He hopes to raise $10,000 before the April 13th event. "I can't cure cancer, but I can feel like I'm making a difference when I reach the top of that Climb," he says. "The look on people's faces when you reach the top says it all—it's unforgettable."
Participants of this year's climb can attend a kickoff event, hosted at Lincoln Financial Field on March 2nd to train on the stadium steps, get tips on how to conquer your fundraising goals, meet Honored Heroes (including Alex!), and learn what LLS is doing to find a cure. Every participant of the Big Climb is asked to raise $100, all of which goes to LLS to fund
research and provide support to patients of blood cancers and their families. "For someone battling cancer or their family members and loved ones, the Big Climb is a nice thing to have," says Wildman. "You feel like you're really doing something to help."
Today, he continues to share his story across the area in hopes of raising awareness and giving hope. He has a book coming out early next year and his film, Hold Fast, premiers at the Academy of Natural Sciences on April 6th (all proceeds from the event will go to LLS). "There are days where I feel like I'm telling someone else's story, everything happened so fast and it's been overwhelming," says Wildman. "But I'll continue to tell my story and share my experiences if good can come from it."
Join in Alex's crusade against blood cancers by signing up for The Big Climb, taking place on April 13th at the FMC Tower at Cira Center South. You can sign-up to train at the Big Climb Kickoff, taking place at Lincoln Financial Field on March 2nd, here.
This is a paid partnership between Leukemia & Lymphoma Society and Philadelphia Magazine's City/Studio
---