Hardwood Flooring: New Trends to Upgrade your Home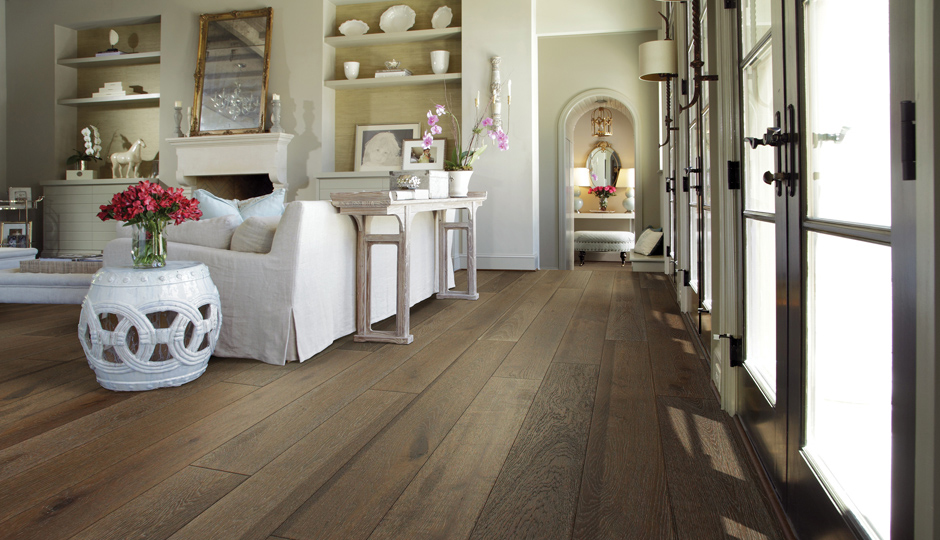 Tired of looking at worn-down, old carpeting in your living room? Do the nicks and stains in your dining room drive you crazy? It's time to upgrade your home and look at the new, exciting trends in hardwood flooring! At Design Home 2014, you can see the beautiful options that Floors USA is able to provide to kick-start your home improvement project.
Hardwood flooring continues to be a fast growing flooring choice among homeowners and remodelers. Over the last couple of years, there has been a seismic shift in style and colorations of hardwood flooring. Five inch wide hardwood flooring is giving way to new six and seven inch wide planks; which have become commonplace in homes. Reds and oranges are out and browns and greys are in. In fact, in some ways it's all about color. Widely available finish colors include an array of browns, greys, whites and even blacks. Choose the perfect color to match your décor and bring style and excitement to any room in your house. Finding the perfect floor for your room can be challenging, so come to Design Home 2014 and discover exciting options for your hardwood flooring needs.
Not only have color trends for hardwood flooring begun to change, the type of wood that's being used is heading in new and exciting directions. The hardwood flooring you choose can drastically change the feel and tone of a room too. Domestic species such as oak, hickory and maple continue to gain in popularity. It's the lower grades of these domestic hardwoods which offer a more natural, rustic/vintage appearance, featuring nature's fingerprints of knots, mineral streaks, graining and color variation which have become all the rage. Floors USA, Mainstreet Development, and Diane Bishop Interiors have chosen Mirage's domestic hard maple in a character grade infused with a beautiful charcoal stain. The result is a perfect grey hardwood floor featuring a balance of grey tones and beige/brown tones making it the perfect floor to kick-off your own design project.
Floors USA stocks and features all of today's most popular hardwood flooring styles, including the floor featured in Philadelphia magazine's Design Home 2014. Buy your Design Home tickets today, and see these beautiful hardwood floors in person. Then, head out to King of Prussia to visit Floors USA and let one of their hardwood flooring experts help you pick the perfect new hardwood floor for your home. Floors USA- Because it's Your Home!
This is a paid partnership between Design Home and Philadelphia Magazine
---