Cancer in the Time of COVID-19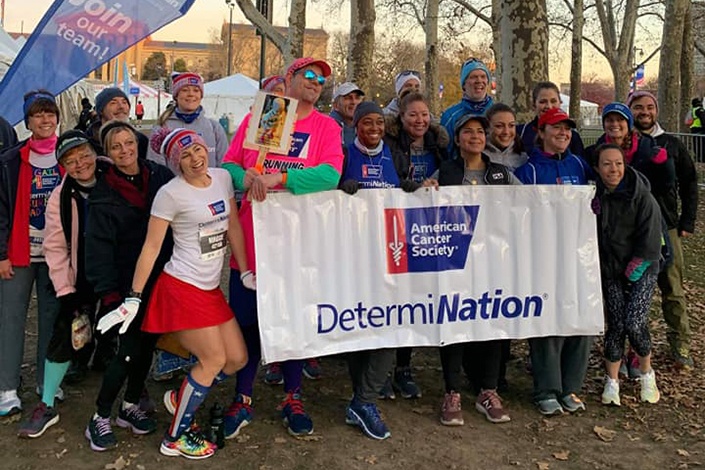 Cancer doesn't stop just because there's another global health crisis. Here, six stories from doctors, patients, volunteers and others who stepped up in a time of great need.
Charlotte Connor, Breast Cancer Survivor and Registered Nurse
Saul Gonzalez, Cancer Information Specialist
Maggie Muir, DetermiNation Coach
Dr. Caitlin Innerfield, Breast Cancer Survivor and Doctor
Dr. Curtis Miyamoto, Cancer Doctor
Paula Green, American Cancer Society Executive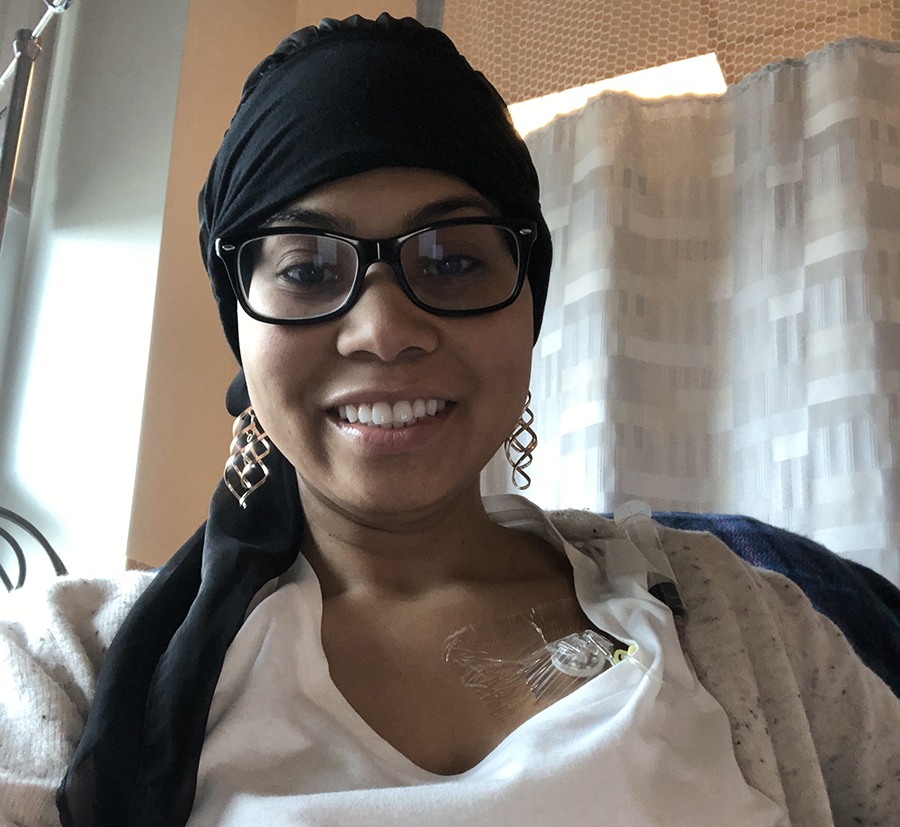 Charlotte Connor, Breast Cancer Survivor and Registered Nurse
Charlotte Connor, a child psychology nurse in New Jersey, wasn't sure whether or not it was safe to attend an upcoming birthday party, but she had already missed so many events lately. The birthday girl was her own daughter's same age—8—and this felt like an important occasion. So she decided to attend, but wore a mask and kept her distance.
The party wasn't last March, and Connor wasn't worried about coronavirus. It was last year, and Connor was undergoing chemotherapy for breast cancer. In 2019, the routines of quarantine—frequent hand washing, no shoes in the house, wearing a mask when going out and avoiding large gatherings—were still foreign to the vast majority of Americans. But for Connor and many other cancer patients, that's daily life while undergoing chemotherapy, which suppresses the immune system and makes patients more susceptible to catching and having serious consequences from infectious diseases.
"Now no one thinks twice about seeing someone wearing a mask out, " Connor says. "But a year ago, it was like I had a scarlet letter on."
Connor's cancer journey began in 2017, when the then-30-year-old found a lump in her breast a few months after getting a breast augmentation. While initially doctors assured her it was natural, by a year later, it had tripled in size and a biopsy showed it was cancerous. She began six months of chemotherapy while raising her daughter as a single mom and continuing to work as a nurse.
"As a nurse, when you have an illness you understand it and its risk more," she says. She was constantly aware of being immunosuppressed and how working with patients put her at a higher risk for secondary illnesses and complications.
Connor received the exciting news that she was in remission last year, and began speaking out about her experience, starting with a speech at an ACS Making Strides Against Breast Cancer walk near her home in Loveland, New Jersey. She wanted other young people to know that cancer can happen to them and they need to be diligent.
Heading into 2020, Connor was excited about her activism and looking forward to life getting back to normal in 2020 after parties, travel and anything else that could be high-risk or tire her out was limited for the past few years—and then the coronavirus hit. While Connor is thankful she's not currently on immunosuppressants, she still could be at higher risk working in a hospital, having gone through chemo recently and still receiving endocrine therapy. She's back in her now-familiar routine of quarantining outside of work and taking extra precautions to avoid infection. As for vacations—"I'm now aiming for 2021," she laughs.
One plus—her mask-wearing no longer stands out.
Saul Gonzalez, Cancer Information Specialist
For the past two decades,the American Cancer Society's 24/7 helpline helped patients and caretakers through the most vulnerable and terrifying moments of their cancer journey. Each year, the helpline answers more than 4 million calls and messages around the clock from social workers, family members, caregivers and cancer patients that range the gamut from cancer detection to treatment to end-of-life care: What are the long-term side-effects of this treatment? What precautions does my mom need to take? I wrote down all this terminology at my appointment today; can you help me understand it? Sometimes they just call because it's 2 a.m. and they need someone to process with.
In early March, call-taker Saul Gonzalez started to see a different type of question come through.
"COVID-related calls started coming at the onset of the pandemic," he says. "Often they lament about the changes the pandemic has brought: They cannot bring anyone to their medical appointments with them; they may not have the capacity to have virtual appointments; their treatment schedule had been interrupted or delayed; they spend most of their day on hold with their service provider. The list goes on."
Gonzalez works overnight and typically fields between 10-20 calls in a night. He estimates up to 70 percent of calls have been related to the pandemic in some way. In one particularly heartbreaking call, a woman in the middle of her treatments lost her job and with it, her health insurance, which made her no longer eligible for treatment at her current facility. On top of fighting cancer during a pandemic, she got notified she was facing eviction and was facing homelessness.
The helpline can connect patients like that woman to assistance and help them feel less alone. Call-takers can also direct callers to an ACS app that connects breast cancer patients with a survivor who has gone through a similar experience or offer them the chance to talk to one of their on-staff nurses. They also have Spanish speakers on staff and interpreters on call for other languages. Even in the most dire of situations, Gonzalez says many callers tell a story of resilience and positivity.
"They mention how blessed they are to have whatever support they have," he says. "And most of all, they express gratitude that they found someone who listened to them and not rushed them off the phone. If all I did was listen to them, they make me feel like I made their situation more bearable."
You can reach the ACS Helpline at 800-227-2345.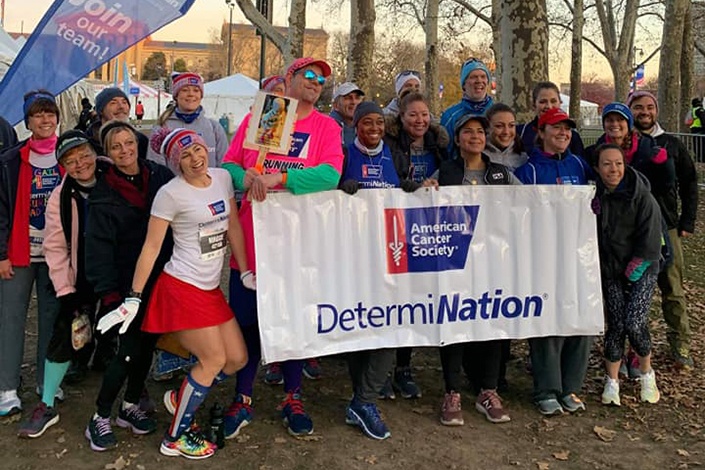 Maggie Muir, DetermiNation Coach
It started with a simple goal: $1,000 raised for the American Cancer Society by running the Philadelphia Marathon. High school teacher Maggie Muir wanted to feel like she was doing something to help cancer patients after her dad and her new father-in-law were diagnosed with cancer—both within the months following her wedding.
Muir surpassed her fundraising goal and soon found herself involved with the American Cancer Society DetermiNation team—ACS' community of athletes who raise funds through endurance events—eventually becoming a coach who helps other runners meet their race goals. Her dad had surgery to remove his kidney cancer and made a full recovery, but sadly her father-in-law passed away from lung cancer, reinvigorating her resolve to fund research for treatments.
She's run the Philadelphia Marathon for the American Cancer Society every year since, and by 2019, Muir Shylock found herself also running the New Jersey New York City marathons—raising more than $4,500 in all for the American Cancer Society.
"I have friends who have used ACS' services," she says. "I have a friend who has stayed at a Hope Lodge. My cousin is still only with us because of ongoing immunotherapy research from ACS. It brings me hope to know that we're really making an impact."
When the coronavirus brought a rapid halt to in-person races, Muir brought her enthusiasm to virtual events, pulling together a team for ACS's virtual race, Run Across America."Even if we weren't together in person, it was a really beautiful sense of community," she says.
"With the events going virtual, DetermiNation got really nervous about whether people were still going to want to participate and fundraise without the race experience," she says. "These races are a huge way ACS raises funds for research."
Muir got creative with fundraising, spelling out donors' names with her running route, and signing up everyone she could, including a friend who had started walking daily during quarantine, working up to a 5K a day. Her team ended up being in the top three for fundraisers.
"I told him we could use those miles for Run Across America and he should join my team," she says. "He initially poo-pooed it, but he eventually joined and lost 60 pounds while he was at it."
Muir says she intends to keep going until she's not needed.
"Every race I say I wish I didn't have to do this because I wish we had a cure for cancer," she says. "But we're close, we're so close."
Dr. Caitlin Innerfield, Breast Cancer Survivor and Doctor
Being a doctor facing cancer is both a blessing and a curse.
In August of 2019, when Dr. Caitlin Innerfield first saw the imaging of the mass in her breast, she knew immediately what she was up against.
"You go into immediate triage mode and are like ok, this is cancer, how are we going to fix this?" she says. "I was so aware of what was happening and the risks of the treatments. I'm an interventional pain doctor and knew that the meds I was given can give you neuropathy [nerve damage that can cause weakness and numbness in the hands and feet]. I've spent my whole life working with patients doing interventional procedures and working with my hands."
Her next thought was, "how can you feel this good and be diagnosed with cancer?"
"I have no risk factors: I'm young, I don't smoke, I don't have a family history, I don't drink alcohol, I keep physically active. I'm not the person that you think of that gets cancer," she says. "I had actually just run my fastest-ever 5K."
Innerfield was also three months into a new relationship. It was going great, but she was confident once she told him he would run for the hills. She laid it all out: This is what chemo is; it's not if I'm going to lose my hair it's when; I'm not going to be able to be active with you, which is a big part of our relationship; I'm going to get a mastectomy. He didn't leave, instead showing up to as many of her chemo treatments as he could and, along with her best friend, trying to make them as normal as possible.
"We played [the game] Head's Up, ordered food, did our best to make it as fun as you could make it," she says. "We were the rowdy people in chemo—others where like 'calm down over there!'"
And when Innerfield did lose her hair, he told her she'd never looked prettier because he could see her face better.
Throughout treatment, Innerfield tried to live her life as normal as possible. That meant working her six rounds of chemo around her schedule of seeing her own patients at RA Pain Docs. It meant refusing to delay her treatment despite side effects including extreme nausea because it would alter that patient schedule. And it meant pushing to wrap up chemo by Christmas so she could enjoy holiday cookies after barely being able to eat for a few segments of treatment.
"Everyone was trying to restrict me in terms of not having me work as much, but for me, the best thing was to feel normal," she says. "And normal for me meant helping patients and doing procedures. During my first cycle when the bone pain was unreal, the only time I didn't have pain was when I was treating patients."
She was also bolstered by the support that poured in, particularly at her first Making Strides Against Breast Cancer walk, where she was shocked to see 80 supporters. "I remember seeing the survivors, which is so powerful, and thinking that this time next year, I'm going to be with them wearing that survivor sash," she says.
The chemo and double mastectomy that followed in early January were effective, and by early March, Innerfield and her boyfriend were planning a trip to the Amalfi coast for later in 2020, after she completed treatment and received reconstructive surgery. Two weeks later, however, the country went on lockdown.
"I was still going in every three weeks for 18 cycles of Herceptin, but the difference was I couldn't bring anyone with me," Innerfield says. "It's very isolating and lonely. Having those support people with you is so crucial."
Innerfield persevered, and almost exactly one year after her diagnosis she rang the bell in her cancer ward, a tradition to signal the end of treatment. Due to COVID-19, her loved ones weren't allowed in to celebrate with her, but when she got home, she was surprised to meet her friends and family holding a present: a bell for her to ring, surrounded by the support system that got her through.
Dr. Curtis Miyamoto, Cancer Doctor
Since Temple Hospital first began discussing COVID-19 protocols back in February, the head of its cancer department, Dr. Curtis Miyamoto, has been working to avoid disruptions in cancer care for patients. Still, he says, some of his concerns have been realized. On top of delays in treatment at many hospitals across the country, some patients avoided screenings or treatment even when available because of fears of being exposed to the coronavirus.
"The worst thing that could happen is for them to survive COVID and die from cancer," he says. "The public needs to know that cancer hasn't gone away, it's still there, you still need to get your screening, get to your doctor, and take an active stance in your care."
His department has been taking extensive precautions to be able to see patients safely—from extending their hours to have fewer patients in at a time to sanitizing patient rooms between patients—and he has been communicating to patients the very real risk of delaying diagnosis or treatment until things calm down.
"There are absolutely cases I've seen where women have delayed their care and it's now more advanced," Miyamoto says. "And now we're talking about more advanced treatments for them than we would have had to use three or fourth months ago and their prognosis is worse. We can't turn back the hands of time."
In addition to delayed screenings and treatment, Miyamoto is concerned about the impact on research. His American Cancer Society-funded research in antibody therapies from the '80s has helped changed standards of care. There could be life-saving research today that is paused or doesn't have the funding to continue to the pandemic.
Still, Miyamoto stays positive and focused on doing what we can to calm patients' fears and encourage them to get the treatment they need. He's also focused on supporting ACS through the now-virtual Real Men Wear Pink initiative and looking to the positive changes COVID-19 has spurred in how Fox Chase and other hospitals operate.
"This has made us acutely aware of the risks of infectious disease and how it can impact their health and cancer care," he says. "We'll carry that knowledge going forward."
Paula Green, American Cancer Society Executive
More than 1.8 million people will still hear the words "you have cancer" in the U.S. this year. That news is frightening under the best of circumstances, but with COVID-19, cancer patients—many who already have compromised immune systems—became more vulnerable than ever.
"The impact from COVID-19 also includes missed screenings that could result in 80,000 delayed diagnoses, delays or interruptions in treatment, increased anxiety and isolation for patients, and unemployment, potentially resulting in more uninsured and research at risk," says Paula Green, the executive director of the American Cancer Society for the Northeast.
In response, the American Cancer Society formed a national response team in February and by March was rolling out changes. They increased capacity at their National Cancer Information Center as questions about how the pandemic would impact cancer treatment began to pour in. Many Hope Lodges became housing for frontline healthcare workers, and the ACS Cancer Action Network advocated for access to critical health care to continue despite the pandemic.
Amidst these efforts, the American Cancer Society has been affected internally. Despite a sweep of new virtual events and programming, Green says the American Cancer Society is facing a devastating drop in fundraising.
"We're facing the greatest threat to cancer research we've ever known," Green says. "We're at risk of cutting research funding by 50 percent this year, which would represent our lowest investment in this century. We need everyone to get involved to ensure we keep research labs open and find the next cancer breakthrough."
Here are a few ways to get involved from home this year:
ResearcHERS: Women Fighting Cancer of Greater Philadelphia aims to sustain women-led cancer research, bolster the careers of female researchers, and help to support a more robust pipeline of women in cancer research leadership roles – an area where women are consistently underrepresented. Are you an influential leader in your community? Become a ResearcHERS Ambassador and commit to fundraising in support of women-led cancer research.
Making Strides Against Breast Cancer has funded breakthrough research, 24/7 support for cancer patients and access to lifesaving screenings. It's a movement that has significantly contributed to breast cancer mortality rates dropping 40 percent in the last three decades. While walks will look different this call, communities, companies and individuals can still sign up to celebrate and honor the many unique journeys of breast cancer survivors and thrivers.
Real Men Wear Pink gives men a leadership role in the fight against breast cancer. Community leaders around the nation and across our community use the power of pink to raise awareness and money for the American Cancer Society's breast cancer initiatives, including innovative research, patient services, and education around screenings and risk reduction. It's one important way we're attacking cancer from every angle.
This is a paid partnership between Think Pink and Philadelphia Magazine's City/Studio
---