Build-Your-Own Bar Crawl Featuring Philly's Finest
Whether you're in search of a cozy little dive bar or an excuse to dress up and dance at a swanky rooftop club, Philly has more than its fair share of local libation options. The hardest part is whittling down exactly where to go. Enter entrepreneur and influencer, Rashaad Lambert – a Philly native and self-proclaimed night-life expert who's tested watering holes from West Philly to Fishtown to put together the ultimate bar crawl for you and your crew. Here, he gives us a sneak peek at how he and his group stylishly sip their way across the city. Take notes!
First Stop: Misconduct
Misconduct is always a solid spot to start the night because it has a lot of TVs to keep tabs on the scores or catch the big game before heading out-out. The happy hour deals do not disappoint (always a key quality of the first stop). We always joke about spinning the helm on the wall but we've never done it… or have we?
Second Stop: Ladder 15
Ladder is always stop number two for one essential reason—those wings and that bleu cheese! (Fortification is key!) They also have a pretty dope set up with lots of bar space to catch-up while we eat.
Third Stop: Brickwall
My crew loves Brickwall because it has a frat house vibe (in the best way) in the middle of Center City and it'sconnected to a pizza shop (what more could you want?!) We're a competitive bunch so we usually play darts, shuffleboard, table tennis and cornhole while we're there.
Fourth Stop: Time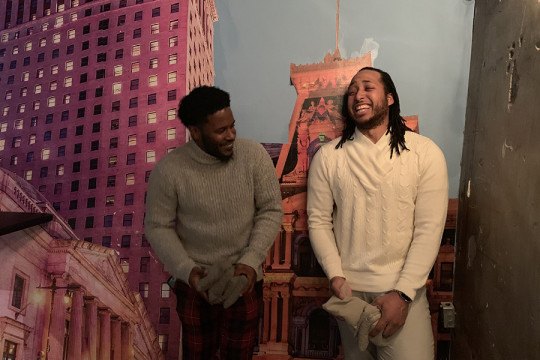 Next, we'll head down to Time, which is good on any night, but particularly great on weeknights when you can get a seat at the bar. It has one of the best whiskey selections and macaroni & cheese in the city, so that's always our main focus. Pro tip: order the macaroni & cheese before you drink and never ever after…never.
Fifth Stop: Chicks
At this point, we usually leave Center City to hit Chick's in South Philly. It's a newer spot but it's become part of our routine thanks to the good selection of beers and drinks and stomach lining bites like the amazing truffle popcorn. Find the best seat in the house—a booth with the leather wall behind it. It's the perfect spot to lay your head back and contemplate the next move or take a mid-crawl nap, to each their own.
The Night Cap: Dock Street
Our last stop is almost always Dock Street. It's a West Philly staple, they have the world's best pizza (it's a fact), good drinks and the staff is like family. This would be my Cheers if this was Boston and I was Norm.
Grab your besties and build your own bar crawl over an ice-cold Bud Light— the beer you can always count on.
This is a paid partnership between Bud Light and Philadelphia Magazine
---