Have the Sunday Scaries? Here's How to Plan an Unforgettable Sunday Funday
We've all been there—you've just had the best Friday/Saturday night combo ever, but you wake up on Sunday feeling tired, sad and a little defeated. But before you resolve yourself to mourning the arrival of Monday, pump the breaks and savor the last few hours of the weekend. It's time to take back Sunday and transform it into a Funday.
Too hungover or lazy to plan your own day of fun? We've got you covered with a fool-proof plan. We sought the advice of fashion and lifestyle blogger, Lindsey Jednak, also known as @thefashionablybroketeacher, to school us on the best ways to turn a boring old Sunday into an unforgettable Funday.
Here's how you and your crew can beat the pre-Monday blues:
Stop 1: The Christmas Village
After slowly waking up, it's time to get out and about. There are so many things going on during the holidays in Philly, so I love to hit up as many of those spots as I can. One of my favorite seasonal Sunday activities is to visit Christmas Village. My boyfriend John and I venture to Dilworth Park to meet up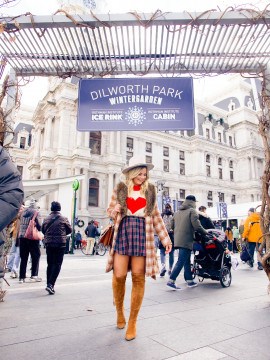 with some friends and grab a drink in the beer garden. It's the best place to get into the holiday spirit and catch up with your crew.
Stop 2: Ice Skating
It's all about the balance, right? I try and add a little workout into the mix but keep things fun of course. The perfect activity that does both—ice skating! There is nothing like an outdoor ice-skating rink in the city! My friends and I love gliding around the rink and taking breaks to soak in the atmosphere and watch all of the families and friends enjoying the season. Next up, we pretend we're kids and take the merry-go-round for a spin. It's allowed during the holidays—everyone's a kid!
Stop 3: Shopping
Tis the season to go shopping and obviously it's a favorite pastime of mine all year long. Since I'm busy teaching and blogging during the week, I like to get my shopping on during the weekend. Philly has the cutest shops to find the perfect gift for everyone on your list. I start at the Christmas markets then venture to my local favorites like the new Shakespeare and Co., The Geisha House and Moon + Arrow. Favorite buy of the day? A cool Love Park-inspired print created by local artist, Philly Word Art.
The Fourth and Final Stop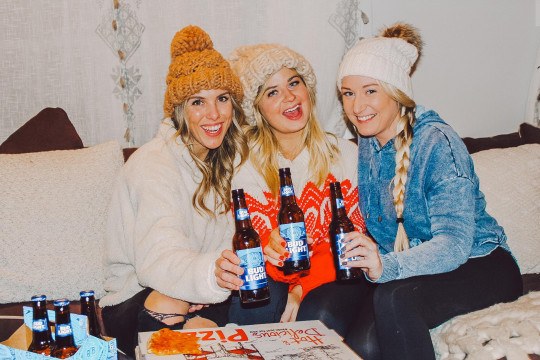 After a long day of seeing friends, skating and shopping, is there anything better than sitting back and unwinding over a beer? Nope! Which is exactly why I invite my girls over for a Sunday night football game. I love finally dressing down (cozy knits for the win!), grabbing some pizza and Bud Light, and recapping the weekend with friends. Cheers to the week ahead!
You and your crew can wind down your weekend with an ice-cold Bud Light— the beer you can always count on.
This is a paid partnership between Bud Light and Philadelphia Magazine's City/Studio
---