These Philly-Favorite Cheesesteak Spots Are Open for Delivery and Takeout
In times like these, we turn to trusted friends, nostalgic memories and comfort food. When you order a great cheesesteak, you're getting all three. Even after all these years, there's no denying the cheesesteak is great, and its lack of pretension and resilience under difficult conditions (sometimes the rolls are even better once they've been softened a bit by the styrofoam takeout container) make it the perfect choice for someone looking to get through these times with a bit of that underdog Philly spirit. Fortunately, according to Open for Takeout (a database of local restaurants that are still taking orders) many of Philly's favorite cheesesteak joints are open for business. Add an ice-cold beer to your order, and you've got a pretty perfect night ahead of you. To help you indulge, wit or witout, we've gathered together Philly's favorite cheesesteak places open for takeout and delivery.
Chubby's has garnered rave reviews over the years as the go-to cheesesteak spot in Northwest Philly. The no-frills stop puts an emphasis on exacting technique for their steaks: sweet, caramelized onion atop carefully browned ribeye, chopped just finely enough so that the cheese melds with the meat without masking it. Plus, they now have wings. If you're not from the neighborhood, you can save yourself a trek by getting it delivered by phone or through their website. 215-487-2575
If you want a taste of Philly, you'll probably find it at Molly Malloy's. The gastropub is located in the Reading Terminal, and was founded by brothers Jimmy and Vinny Iovine, who's popular Iovine Bros. Produce helped grow the market to what it is today. Their new venture sources its ingredients from around the Reading Terminal for a menu of Philly classics. Their cheesesteak, with a roll from fifth-generation Italian Sarcone's Bakery and sliced ribeye from Giunta's Prime Shop, is one of the freshest you'll find. 267-525-1001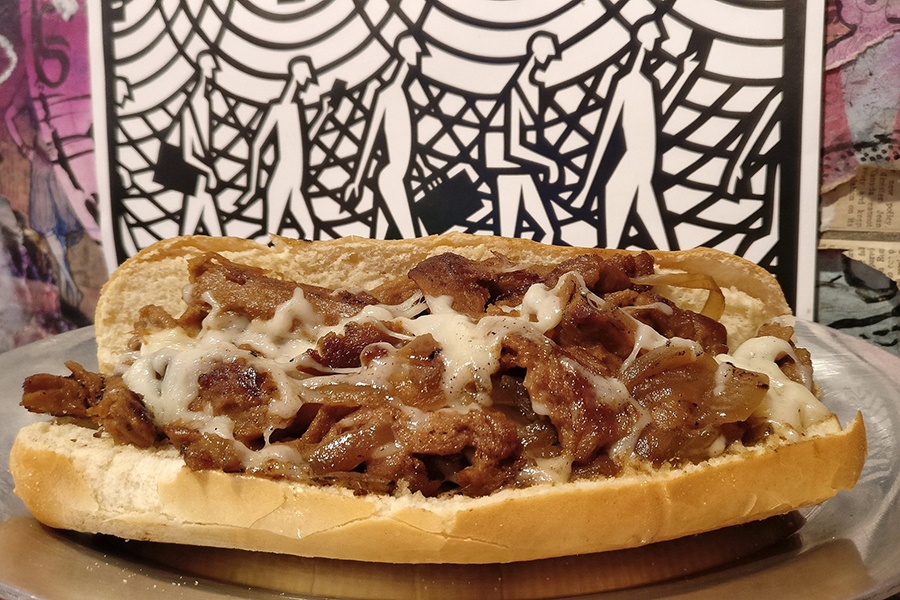 For some people, a vegan cheesesteak might be blasphemy. But as much as the meat matters, it's rarely the most important player in a great cheesesteak. If you nail the spread and, most importantly, the roll, you can make most anything that lies underneath taste good. Tattooed Mom specializes in just that kind of thing. The classic South Street bar makes vegetarian and bar food go hand-in-hand, and its vegan cheesesteak was named one of the best in the city by Philly Mag readers (they also have a carnivours option, just FYI). 215-238-9880
Taps and Bourbon is an approachable bar in Manayunk, with interesting quirks like a self-service tap system (not in use currently, obviously). What makes them special as a cheesesteak haunt is how seriously they take the wiz, which is housemade and poured over the ribeye. They're so proud of it they also offer it as a side order for customers to dunk their burgers into. 215-621-7574
To order now, or explore more restaurants open for takeout and delivery, visit Open for Takeout at budlight.com.
This is a paid partnership between Bud Light and Philadelphia Magazine's City/Studio
---