Living in Manayunk: A Neighborhood Guide
This picturesque hillside neighborhood still wears its mill-town heritage proudly, but it's grown well beyond its historic industrial roots.
---
So this is Manayunk.
A classic Pennsylvania mill town that just happens to be located in Philadelphia.
A place with the charm (and the verticality) of an Italian hill town.
One big weekend bender for Main Line college kids.
The place to shop when Small Business Saturday rolls around.
A neighborhood of million-dollar houses.
Of these possible descriptions, only the first two have remained constant since the Manayunk Canal turned the community first settled in 1716 into an industrial hub in the first decades of the 19th century.
At that time, the community was known as Flat Rock after a distinctive geological feature on the banks of the Schuylkill. But the growing number of residents didn't like that name. In 1824, some fans of ancient Greece pushed to rename it "Udoravia" ("place by the water"), but that name soon got discarded in favor of the Lenape word for the Schuylkill River, "manaiung."
Literal translation: "the place where we go to drink."
Manayunk — its spelling got altered by the time it became a borough in 1840 — is definitely that today. Many popular bars and restaurants line its Main Street, one of the few in the region to actually bear that name.
Those bars and restaurants share the street with a slew of boutiques and shops that sell merchandise ranging from plain to elegant. And there's not a chain store in the bunch.
All of this hugs the bank of the Schuylkill, with the picturesque Manayunk Canal and towpath separating the street from the riverbank. The island formed by the canal's construction, Venice Island, once housed some of the mills that made Manayunk. Today, it's home to a performing arts center and chic loft apartments and condos, some of which occupy those old mill buildings.
The closing of the mills in the 1960s and 1970s sent Main Street into a deep funk. Its revival began when the city built a new canal towpath in the late 1970s in the hopes of attracting visitors. That cleanup attracted two pioneering businesses: Venturi, Scott Brown and Associates, the world-renowned architecture firm that moved its headquarters to Main Street in 1979, and the Canal View Inn, the first restaurant on the street, in 1981.
These were followed in short order by Jamey's (1985), Mayor Bill Green's U.S. Hotel (1986) and Jake's (1987). An international championship bike race launched the year Jamey's opened brought hordes of visitors to Main Street, and from there, the transformation of Main Street really took off. All of these establishments and events save the architectural firm have departed, but the upscale revival they sparked has proven durable.
As you climb the hill rising up from Main Street, Manayunk's blue-collar character comes to the fore. But even that is slowly evolving into something different as newer residents move into new houses, some of which now sport seven-figure price tags. Those million-dollar houses remain exceptions to the general rule, but they're getting more numerous — and the neighborhood more affluent — with each passing month.
---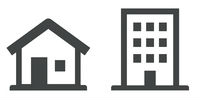 Manayunk Housing Prices at a Glance
Median single-family house value: $233,300
Median condo/co-op value: $219,300
Median monthly rent: $1,419
---
What You Can Buy in Manayunk
Builder's Model Home in New Venice Island Townhouse Community
1 Leverington Ave. #101A | 4 beds, 3 full, 1 half baths, 3,630 square feet, $1,115,950
Three-Year-Old Rowhouse That Plays Real Nice with Its Older Neighbors
159 Green Lane | 4 beds, 2 full, 1 half baths, 2,700 square feet, $615,000
Traditional Workingman's Rowhouse with Third Story, Back Porch and Lush Backyard
168 Dupont St. | 3 beds, 1 bath, 1,638 square feet, $222,500
---
Public Transportation in Manayunk
SEPTA Regional Rail: Manayunk station, Manayunk/Norristown Line
SEPTA Bus Routes: 27, on Manayunk Avenue; 35 (Roxborough-Manayunk Loop), on Main Street, Umbria Street, Leverington and Manayunk avenues; 61, on Main Street and Flat Rock Road
---
Food Shopping in Manayunk
Supermarkets: The two closest are up the hill in Roxborough: Acme Markets, 5927-59 Ridge Ave., and ShopRite of Roxborough, 6901 Ridge Ave.
Farmers' markets: Pretzel Park Farmers' Market, Pretzel Park, 4300 Silverwood St., 10 a.m. to 2 p.m. Saturdays from mid-May through mid-November
Local grocers: Mason's Grocery, 353 E. Lyceum Ave. (corner Manayunk Avenue, on the Roxborough side of the street); Palm Tree Market, 4366 Cresson St.
Specialty grocer: River City Outpost, 4412-14 Main St.
---
What A Real Estate Agent Says About Manayunk
"Manayunk is flourishing with new business and investment opportunities and homeowners are enjoying significant appreciation for their residential and commercial properties. Main Street and Ridge Avenue are flurried with new permits for bars, restaurants, and new local small businesses. Many are already under construction. New construction is always a sign that this is a good place to buy or invest. Manayunk is seeing average home values of $247,500 and an increase of over two percent in the past 12 months.
"There is no shortage of holiday events, food to enjoy, and bars to crawl in 19127. The market isn't slowing and it's a safe bet to consider buying, selling or investing in the 19127 area."
—Joseph McCabe, CEO, RE/MAX Experts and Home Front Mortgage, Manayunk
---
Local Color
Nobody knows exactly why or how it got its name, but the park the city christened as Manayunk Park when it opened in 1929 has been known to neighborhood residents as "Pretzel Park" for decades. The park's Friends group and many others attribute it to the pretzel-shaped pattern of the park's walkways; others say the name pays homage to a vendor who sold Philly Pretzels in the park for years. Regardless which tale you believe is true, the city made the unofficial name official in 2004 when the Parks and Recreation Department officially rechristened it as Pretzel Park.
In case anyone has any lingering doubts about the park's real name, a six-foot-high sculpture of a pretzel was installed in the park in 2005.
---
More Local Color
The largest juried outdoor art show in the Greater Philadelphia region brings more than 200,000 art lovers and collectors to Main Street on one of the last two weekends in June. The Manayunk Arts Festival, which celebrates its 30th anniversary in June 2020 (that's the 31st edition, folks), showcases the work of more than 300 artists and craftspeople from all over the country, working in a variety of media, styles and materials.
---
Did You Know?
Venice Island came into being when the Schuylkill Navigati0n Company built a stretch of its canal connecting Philadelphia with the anthracite coal country upriver in 1817-19. The late-1970s restoration of the canal towpath and Manayunk's subsequent revival also transformed the island from an industrial area to a residential one.
The residential developments, however, all sit on raised berms or stilts because the island is also part of the river's narrow floodplain. As a means of protecting the Schuylkill's water quality during major storms, the Philadephia Water Department built a massive stormwater holding tank beneath the island in 2013-14. Atop this multimillion-gallon tank sits a park anchored by the finest community performing arts facility in the city, the Venice Island Performing Arts and Recreation Center (VIPARC). In addition to rain gardens, outdoor basketball and volleyball courts, a playground and a sprayground, the award-winning facility contains a 250-seat theater and several multipurpose rooms that community groups can use for rehearsals, performances and special events.
House price and rent data from Zillow Home Value Index and Zillow Rent Index, October 2019
---
---