1911 Walnut to Be Mixed-Use, Mixed-Income Project
Southern Land Company made several tweaks to its apartment tower proposal. One saves two of three historic buildings on Sansom Street. Another adds dozens of affordable units to the mix.
---
Southern Land Company appeared before the City Planning Commission today with a revised version of its proposed apartment tower on the last piece of open land right on Rittenhouse Square.
Preservationists will be pleased with one of the two biggest revisions the company made to its proposal, and for those who've longed to live on Rittenhouse Square but simply don't have the scratch, the second is a dream come true.
Plan Philly reports that at today's Planning Commission meeting, the company presented a proposal that preserves both the Rittenhouse Coffee Shop and the Warwick Apartments, both of which had been slated to fall to the wrecking ball in earlier versions of the project. Both of those buildings will be rehabbed to provide affordable housing units, and the tower itself will contain at least eight more below-market-rate apartments.
The revised proposal is the result of nearly two years of negotiations that involved Southern Land and several interested parties, including the Preservation Alliance for Greater Philadelphia, City Council President Darrell Clarke's office, and near neighbors who contracted the services of architect Cecil Baker's emergency building rescue squad.
For its part, Southern Land was extremely pleased with the outcome. CEO Tim Downey told Plan Philly, "After three years of working with the community on this, I'm really proud of the consensus. I'm not sure in my career if I've ever been able to put together anything like this. I think the affordable housing at this location is really neat. My personal belief is that sometimes dollars can't be measured in terms of putting affordable in a nice part of town."
A City Council committee voted to recommend two companion zoning bills that were part of the package on the same day as the Planning Commission hearing. One would revise the existing density bonus for mixed-income housing to add an extra bonus if that housing is low-income. The other would remove Moravian Street, a tiny alley between Sansom and Walnut streets that splits the site in two, from the city plan on the condition that Southern Land agree to maintain it.
Southern Land is negotiating with Project HOME to operate the units in the two historic buildings as housing for those transitioning out of homelessness. To obtain the density bonuses, at least 10 percent of the project's total units must be affordable to low- or moderate-income residents; Downey said the possibility exists that additional units might be provided in the tower.
The complete report on the Planning Commission meeting and the zoning bills can be found on Plan Philly:
1911 Walnut tower plans updated as project nears final legislative approval [Plan Philly]
---
1911 Walnut, Revised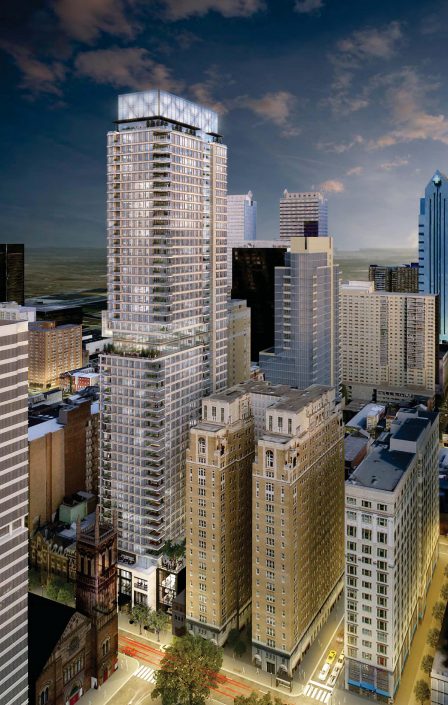 ---
---
---