Who's Building Philly: Ken Weinstein
The Mt. Airy-based redeveloper is doing more than renewing Northwest Philly's commercial buildings - he's preparing a new generation of developers to do the same for distressed homes in Germantown and beyond.
---
An idea that has been gaining steam of late among developers and planners is "social impact development." This relatively recent concept marries the market to social change and community benefit by combining profitable construction with services or facilities that help improve the lives of those in need.
Maybe what Philly Office Retail President Ken Weinstein is doing doesn't exactly fit in that box. But it is development, and it does contain a strong community benefit component, for not only is he redeveloping Northwest Philly's stock of commercial buildings, he is developing the talent that will rebuild Germantown's neglected housing stock.
Let's let Weinstein explain the benefit that flows from what he has been doing for the last 28 or so years first. "We renovate vacant properties, put them back on the tax rolls, and make them something better," he said.
For the first ten years, the vacant properties Weinstein restored were all residential. In that time span, he restored some 125 residential buildings ranging from single-family homes to duplexes and triplexes.
Weinstein learned from the example of his landlady. "I was living in Fishtown in the late 1980s," he said, "and I was really impressed by my landlady at the time, a woman named Marilyn Pitt who, with her own hands, renovated six vacant houses in Fishtown, and I thought, 'How cool is that?'"
He then began scouting the city in search of a neighborhood where he could do the same thing. He decided Germantown was the place.
"It had a low price point then; we were able to buy and rehab homes for $25,000 a unit," he said.
While low cost lured Weinstein to Germantown, its character caused him to fall in love with it. Specifically, he says, "I fell in love with the architecture. But it also has good public transit access, with two Regional Rail lines running through it.
"Overall, I thought it had great potential, and it still does," he continued. "There's still a lot of blight and vacant properties. There's still too much crime and poverty. But new people every day are finding it and discovering its potential."
After a decade spent rehabbing houses, he switched to commercial property, in the process branching out beyond Germantown.
"We focus on Mt. Airy, Germantown, West Philadelphia, Norristown and Upper Darby," he said. "We've also done a sprinkling of projects in other areas."
There's a strong streak of social consciousness running through the company: it has as one of its specialties leasing space customized to meet the needs and the budgets of nonprofit organizations, for instance. "We consider Philly Office Retail to be half mission-driven, half financial-driven," he said. He and his partners in the firm, Stan Smith and Bob Kaufman, all approach real estate development from a standpoint of "doing well by doing good" and improving neighborhoods for the benefit of all who live in them.
Philly Ofice Retail currently owns or manages 800,000 square feet of commercial space, the bulk of it in Northwest Philly. It also does no new construction; all of its projects are rehabilitations or conversions of existing buildings. And to date all of its projects have been commercial or industrial, though that will change soon when it undertakes the conversion of the former Mt. Airy Presbyterian Church into 19 condominium units, its first exclusively residential project.
Sort of.
For Weinstein is also involved in residential construction at one remove. Through the Jumpstart Germantown program, which he launched a little over a year ago, he is providing young would-be developers the training, connections and resources they need to gain a foothold in the industry.
About a year and a half ago, the socially conscious real estate developer noted, "a lot of people were coming to me asking for advice: 'How can I do what you're doing?' And I'd sit down and give them advice, but I wasn't helping them; I was just being their cheerleader. And more people were coming to me, and it was taking up more of my time.
"So I said to myself, What if I took 20 people at a time and gave them the resources and attention to get started?"
Thus was born the apprentice-developer program that was Jumpstart Germantown's first component.
Four times a year, the program runs a nine-hour introductory course for 20 students who then are paired with a mentor after completion. The mentors — there are 18 of them — walk each graduate through their first development project.
The graduates also become part of a networking group that meets quarterly to provide mutual support to startup developers.
They also get something even more valuable: access to funding.
"The third and most powerful piece of the program is that we've taken out a $2 million line of credit and have given out more than two dozen loans to developers for use to buy, repair, and hold onto or sell properties, so we've had an immediate impact on blight in Germantown."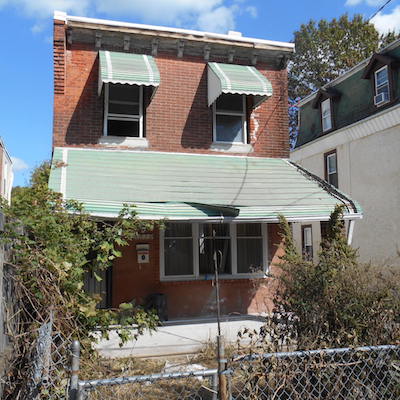 Jumpstart Germantown aims for big change by thinking small: The projects being financed from that pool of credit so far consist entirely of one- or two-unit houses that have either been sold to new owners or rented to tenants. Where possible, Jumpstart encourages its startup developers to work on adjacent vacant and abandoned homes on a single block in order to maximize impact.
"If you can take a block with four vacant homes, like Rubicam Street near La Salle, and my mentees can buy up those four homes, the entire block can be occupied again with a better quality of life for everyone."
Jumpstart Germantown has also produced another positive side effect: increasing the diversity of Philadelphia's development community.
"One of the best results of the program, and one that was somewhat unexpected, is that 80 to 90 percent of the graduates are women or African-American," he said. "For a development industry that's very white and male, that's a great result, for if we can diversify the industry, we can also change who benefits from [development]."
Weinstein said he hasn't had to go looking for would-be developers because graduates tip their friends and relatives off to the opportunity. "It spreads like wildfire," he said. "Once they learn how they can build a nest egg for their families through this program, of course they want other people to know.
"Real estate development is a difficult occupation, and not everyone is going to succeed at it, and we acknowledge that up front at the beginning of our mentoring classes. But if they're interested in going into our program, we will give them the tools and financial backing they need to succeed."
Weinstein is now involved in expanding Jumpstart into other neighborhoods. With help from the Local Initiatives Support Corporation, the program has already expanded into Mt. Airy and Kensington, and a $125,000 grant from the Barra Foundation will allow the program to be replicated in additional communities. Local community development corporations and professionals active in each neighborhood will structure the programs to meet their specific needs; the Mt. Airy program, for instance, focuses more on conservatorship.
"We're always looking for new neighborhoods to invest in," Weinstein said. "We purposely avoid the hotttest neighborhoods right now in order to be pioneers in the neighborhoods surrounding the hot neighborhoods." He sees Strawberry Mansion and the West Philadelphia Promise Zone as good candidates and said that Philly Office Retail might also consider projects in those areas.
"The other part of Jumpstart that really works is that when it goes into a neighborhood, it creates buzz for more development in the neighborhood, and hopefully, that attracts outside investors, for it takes a lot of hands to improve a neighborhood."
---
---