Thos. Moser Joins the Back-to-the-City Movement
The Maine furniture maker's affinity for Pennsylvania goes back to the early 1980s. The company's new Rittenhouse Row showroom will introduce a new generation of Philadelphians to its classic style - and some contemporary additions.
---
Thos. Moser has been making handcrafted furniture in Maine since 1972 and selling it in Philadelphia since the early 1980s. The company's affinity for Pennsylvania runs strong and deep, and on Thursday, Nov. 10, Moser returned to Center City, where it opened its first showroom outside Maine.
The new showroom is at 1605 Walnut Street, right next door to the Apple Store. It's the latest iteration in a four-decade-long love affair with Pennsylvania, said company founder Tom Moser.
Moser started his woodworking business in a Grange hall in New Gloucester, Maine, in 1972. Moser sought to produce high-quality products — furniture, in Moser's case — that were rooted in a tradition of craftsmanship and made to last. Thos. Moser's original chairs and other furniture took their inspiration from 19th-century designs, most notably the Shaker and Pennsylvania Dutch traditions, whose emphasis on simplicity embodied the aesthetic Moser wished to display in his furniture. Such furniture, he said, fit in well with the Pennsylvania aesthetic: the stone farmhouses of the Brandywine Valley, the unpretentious brick row homes of Philadelphia.
"Pennsylvania generally, and Philadelphia specifically, has been good to us for over 40 years. Our work is appreciated here. I think the culture is very much like the Maine culture," Moser said. He added that there was also a strong culture of fine woodworking in this region, noting in particular the work of Wharton Esherick in Paoli and George Nakashima in New Hope.
Not to mention, he added, that the wood used to make most of Moser's furniture comes from the black cherry forests of Pennsylvania's Allegheny Plateau.
Moser sold furniture from a showroom in Freeport and through mail order for its first few years but soon decided that opening showrooms outside Maine would help the business grow. "We did a study" in the early 1980s "to see, if we were to expand outside Maine, where would our first store be?" he said. "And the first choice that came to us was Pennsylvania, Philadelphia."
Moser's first Philadelphia showroom opened in 1984 in the N.W. Ayer building on Washington Square, an Art Deco high-rise built in 1929 that has since been converted to condominiums. From there, the showroom moved to Broad and Walnut, across from the Bellevue, in a space now occupied by Banana Republic.
"In both cases, we did all right, obviously not enough to sustain," Moser said. When the lease expired at Broad and Walnut, Moser left the area for about 10 years. Moser returned to the area five years ago with a showroom in Wayne, "in a lovely 18th-century building," he said.
What triggered this latest move was the expiration of the Wayne lease. "They were going to raze the building and put up a drug store," he said. "Now we are in Center City, and I'm happy to be here."
The time, he said, was right for a return: "I think there's a renaissance here. For a number of years, the traffic was from the inner city out. But now, there's a national trend, not just in this city, but in other cities, people are coming back — young people in their 30s and 40s." These people, he said, are filling those converted apartments and have an appreciation for Moser's style and quality.
That style has also expanded over the years. The Shaker-inspired furniture remains a prominent part of the Moser collection, but it's been joined by pieces reflecting a more contemporary sensibility, including Scandinavian and Japanese influences. The showroom opening also served as the occasion to show off the latest addition to the Moser furniture line: the Foreside bed, an updated interpretation of the spindle style that features a new twist on Moser's emphasis on traditional wood joinery. (Tom's son Aaron Moser, who runs the company's contract division and was also present at the opening, said that the design would appeal more to the contemporary sensibilities of urbanites.)
Throughout the showroom, displays illustrate the woodworking and joinery techniques used in making Moser furniture. The people who make it are also honored in photographs and on the furniture itself: once Moser woodworkers have mastered their craft, their signature appears on every piece of furniture they produce. "You have to be with us for a year before you have the privilege of signing," said Aaron. "It's our quality control and marks the passing on of our tribal knowledge." Currently, 70 people, evenly split between men and women, work at the Moser shop in Auburn, Maine.
Those 70 people take their time in order to make furniture that will outlast its buyer. "Our furniture is built to order, one piece at a time," Tom Moser said. "We don't wholesale – we sell directly to the consumer." And the company backs its work up by guaranteeing it for the lifetime of the original owner.
In addition to selling to the general public and the interior design trade, Moser has several active contract relationships with institutional customers in the region, including the University of Pennsylvania and the new Museum of the American Revolution. On display at the opening was a decorative item that will become part of the museum's collection: a wood version of what was probably the first American flag as we now know it. Consisting of 13 six-pointed stars on a blue background, the flag was discovered near General George Washington's encampment at Valley Forge in the mid-20th century and has been known since as the "Washington flag" or "Washington ensign," though whether Washington actually flew this flag is in dispute.
During the week-long grand opening celebration, the showroom will feature woodworking demonstrations and other special events, including a raffle whose winner will take home a piece of Moser furniture for free. If you've always wanted to own one but couldn't afford it, this may be your best chance to acquire one short of inheriting it from a relative (if you're lucky enough to have one who owns Moser furniture).
---
Thos. Moser Rittenhouse Row Showroom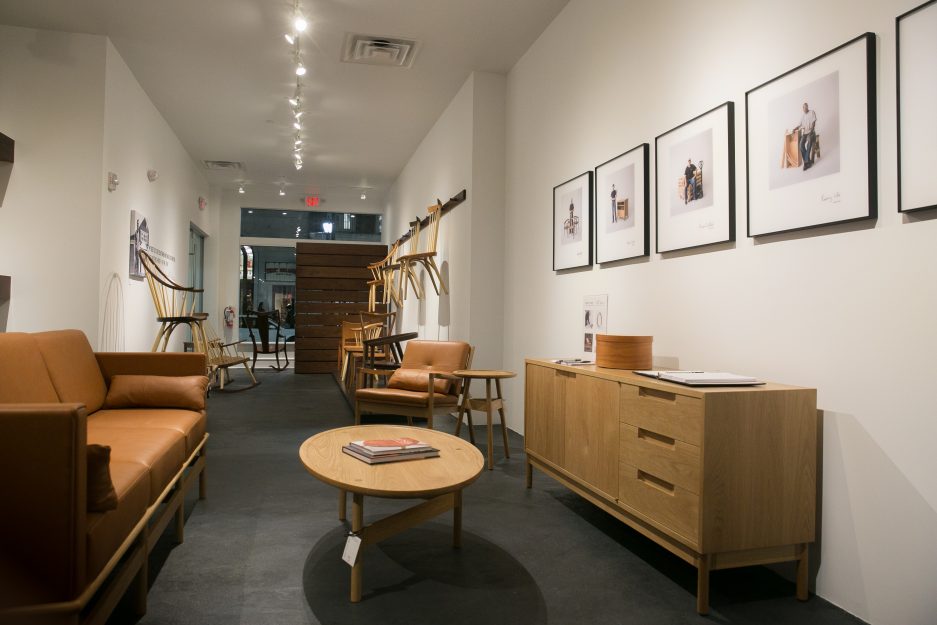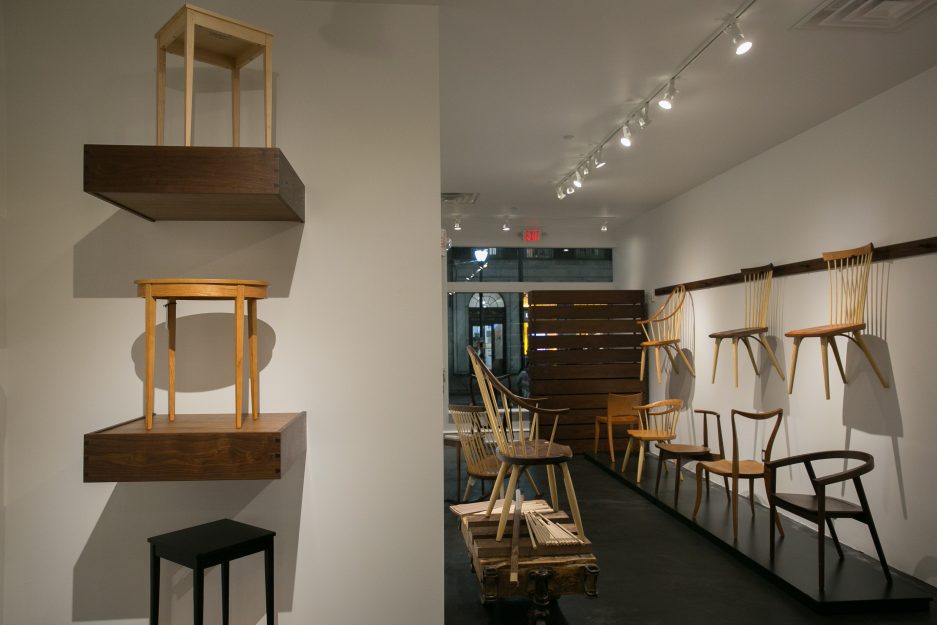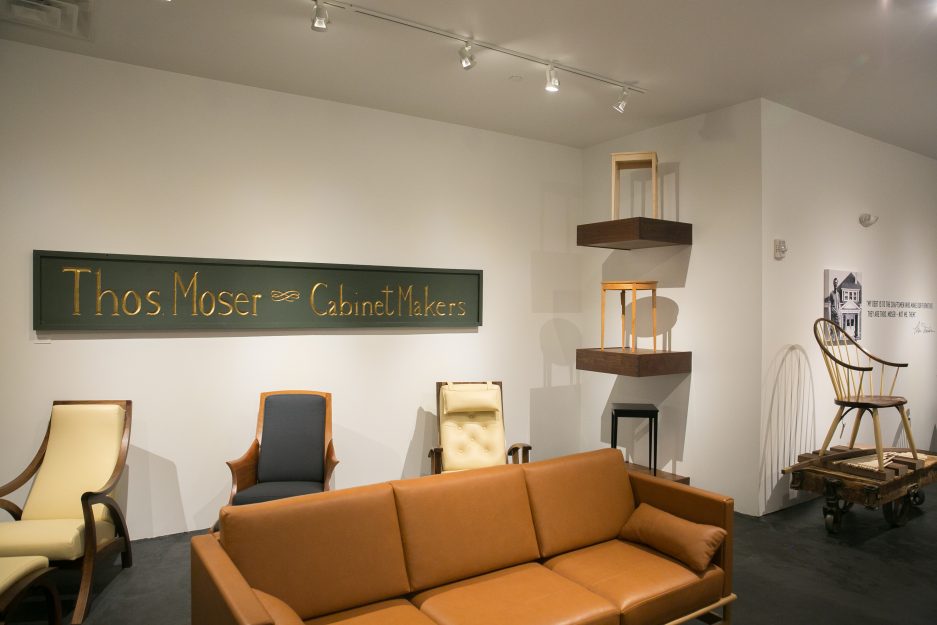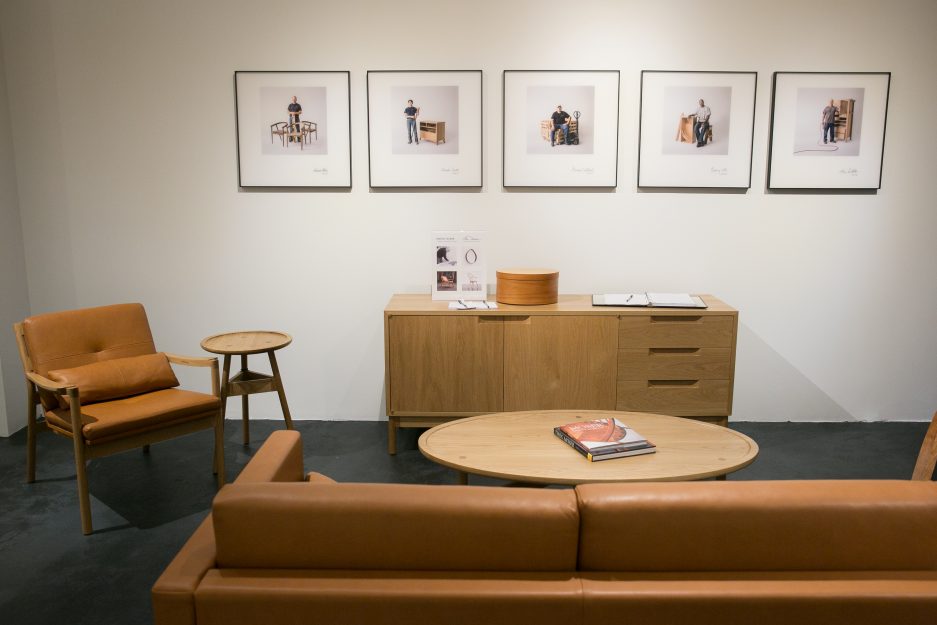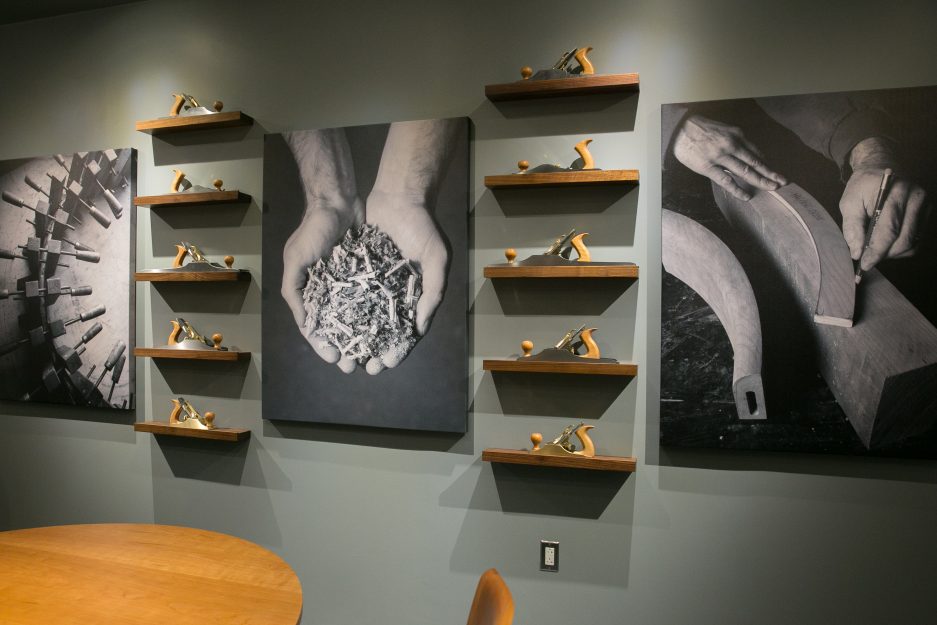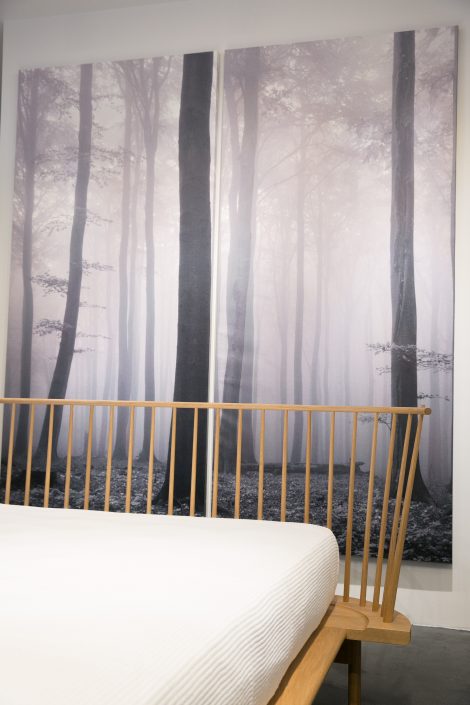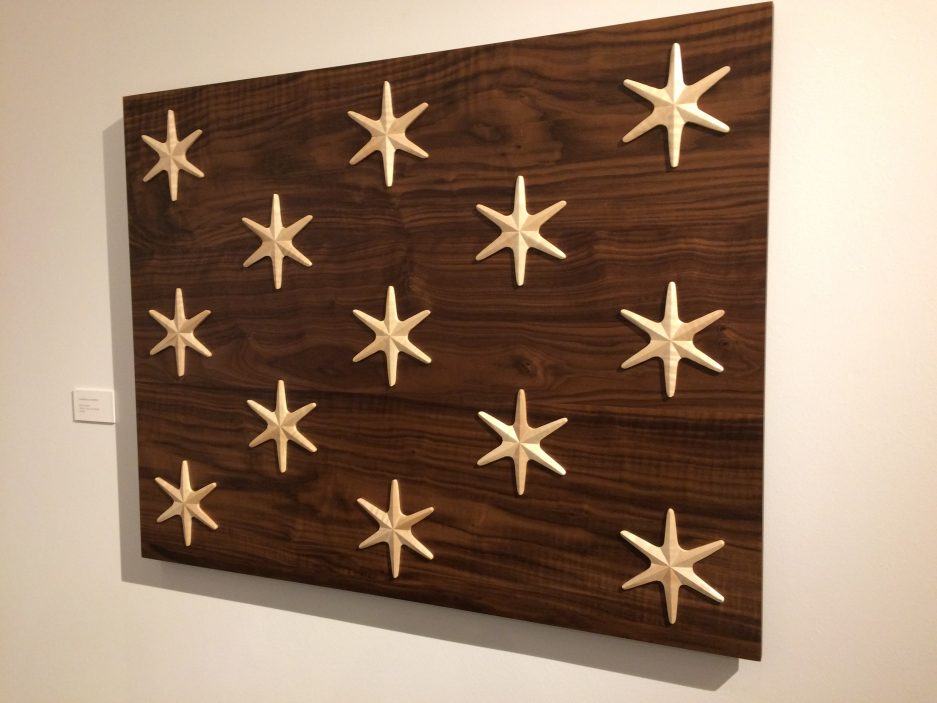 ---
Follow Sandy Smith on Twitter.
---
---