A Modern Metallic Marvel in the Wissahickon
A couple builds a modern home nestled in the Wissahickon Valley.
---
The wait was over.
After raising their family in a traditional residence in Northwest Philadelphia for many years, Leslie and Curt Pontz decided the time was right to follow their hearts and design their dream home, especially after they found the perfect site in the Wissahickon Valley. "I had always wanted to build a contemporary home," says Leslie. And to make up for lost time, they wanted the process to go quickly.
"As soon as they had this site, they were ready to go," recalls Jim Cassidy, principal of C2 Architecture, who, along with Calfayan Construction, made Leslie's vision a reality. "We immediately jumped into designing this thing."
They demolished the existing home on the site, fleshed out the designs, obtained construction permits, battled a bitter winter, and built the two-story abode in about a year — no small feat in Philadelphia, admits Curt. The result is a striking addition to the woodsy landscape in which life imitates art. Leslie says the contrast between the home's exterior and its idyllic surroundings parallels her craft as a fiber sculptor: "When you put an element in there that's not what you're expecting, I think it always makes a louder statement. It really is what my work is all about."
---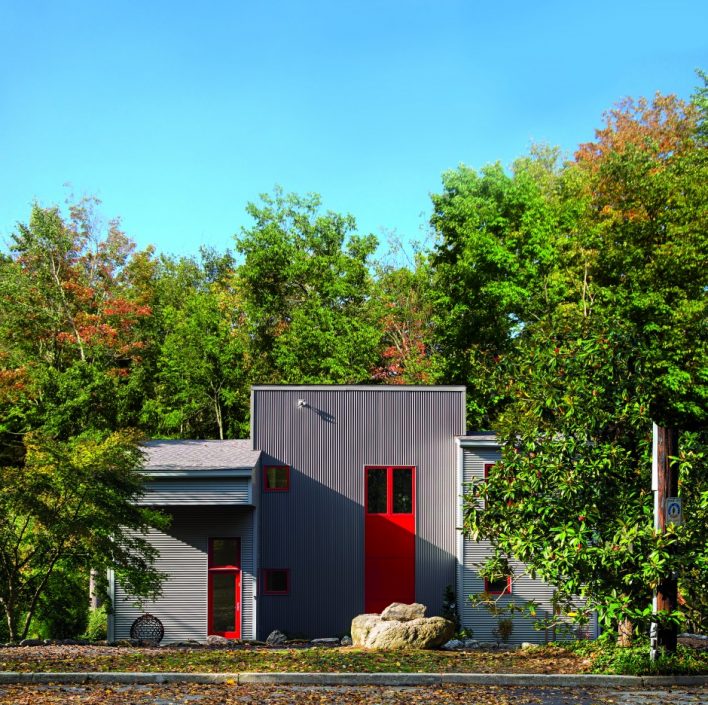 ---
---