Farm Refresh: A Masterful Barn Conversion in Blue Bell
A converted barn in Blue Bell seamlessly connects its workmanlike past to its stunning present.
---
"There isn't really any playbook for a barn conversion," says Mark Hallowell, owner of Hallowell Construction. So when a Blue Bell family decided to renovate the barn on their property — once owned by the wife's great-grandfather — both skill and a strong vision were required to pull it off.
The family first turned to architect Daniela Holt Voith, principal of Voith & Mactavish Architects, who convinced them to think beyond their original plans for an entertaining space and a guesthouse. "If you're going to go through all of that trouble," she told them, "you're going to want to live there." Voith's design hinged on using the barn's original timber framing, promoting upward openness, and creating comfortable living spaces.
Hallowell and his son Alex expertly meshed new materials with the old structure, blowing out the entire southern wall for what the homeowners call "a valley of glass" that overlooks their verdant surroundings. Outside, landscape designer Victoria Steiger was inspired by her nostalgia for farm landscapes, reimagining a former paddock into a walled-off garden with lush plantings, a heated spa and a custom outdoor fireplace.
Learn more about the home by clicking through the gallery. All photos taken by Jeffrey Totaro.
---
Habitat: Farm Refresh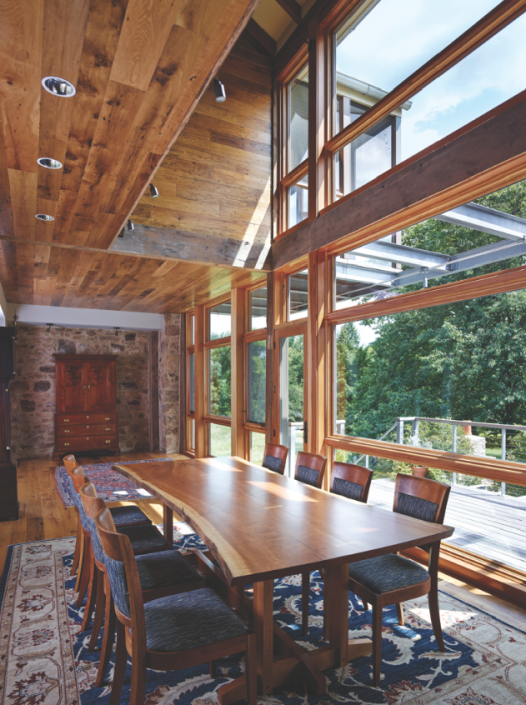 ---
Originally published in the May 2015 issue of Philadelphia magazine.
• Check out previous Habitat coverage [Property]
---