Spring Garden Whole Foods Cheat Sheet and Renderings Galore
---
Questions and craving for clarification have been coming in regarding the new Whole Foods that will be at 501 N. 22nd Street, which is now the address of the Best Western hotel. So here's a handy cheat sheet people can simply return to every time they have a panic attack or wave of excitement about hemp haircare and chickpeas.
Where exactly will it be?
Here are some Google satellite images that show where it is from above: that full square block between 21st and 22nd; Hamilton and Pennsylvania and Spring Garden.
What's there now and what happens to it?
The current property owner is V+H Hotel. A Best Western hotel is at that address, but it will be demolished for the new project.
What will replace it?
The new project will be called Rodin Square, which makes reference not to the Rodin Museum, but to developer Neil Rodin. The new complex will include:
A "modern" Whole Foods market with glass facade facing Hamilton Street
Office and retail space
293 "luxury" apartment units on nine floors above the Whole Foods
50,000 square feet of landscaped rooftop
30,000 square feet of residential amenity area with swimming pool
One level of below-grade parking (172 spaces) for Whole Foods
108 bicycle spaces
Bicycle storage
Above-grade parking structure for residential parking spaces (271, plus 8 Zipcar spots) and 43 retail/accessory parking spaces
Will it employ sustainable design?
That's the goal. Strategies will include using plenty of glass for natural daylighting; attempts to use local materials; energy- and water-efficiency; an eye toward indoor air quality; bike storage, bike racks and bike maintenance; green roofs; "reduction in heat island effects"; underground stormwater management basin.
Who's in charge of design?
MV+A Architects. The firm has a veritable Whole Foods Ph.D.

What will it look like, really?
The following images were created for the Philadelphia Planning Commission's Civic Design Review on July 17th.
---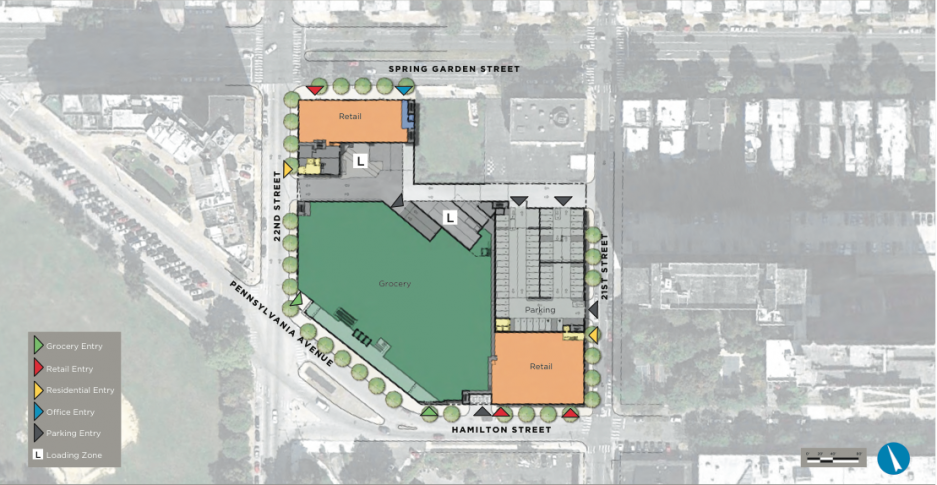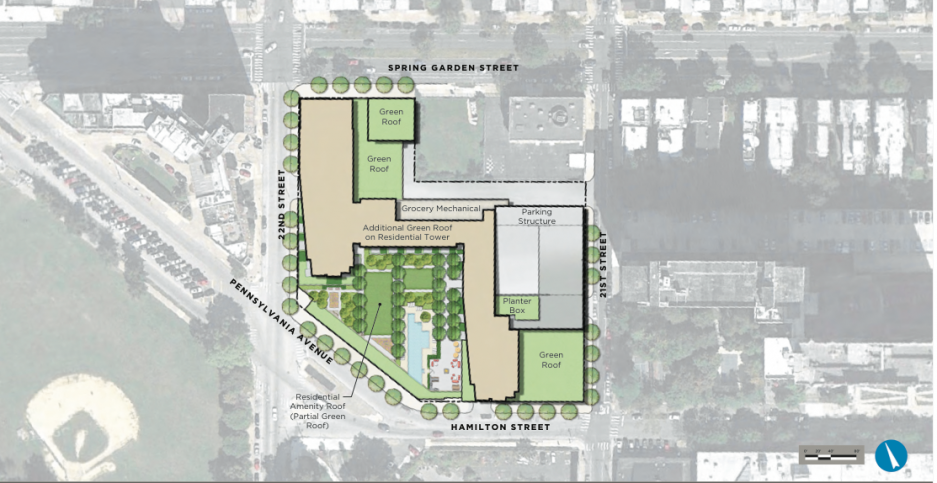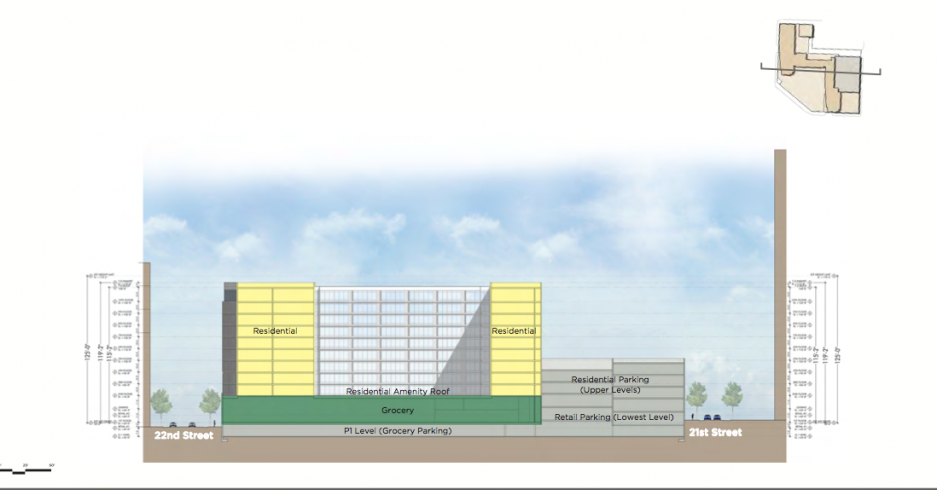 ---
What happens next?
The project needs to get special exceptions from the Zoning Board. Here is the language as the Board of Building Standards puts it, just for fun. People who do zoning scream everything:
Grounds:

SPECIAL EXCEPTION/PERMIT FOR COMPLETE DEMOLITION OF ALL EXISTING STRUCTURES ON THE LOT. ERECTION OF AN ATTACHED MULTI-USE STRUCTURE MAXIMUM HEIGHT 120.33 FT ( GROSS FLOOR AREA OF 470,393 SQ FT). PROPOSED USE FOR 293 RESIDENTIAL UNITS WITH ACCESSORY RESIDENTIAL AMENITIES INCLUDING POOL, ROOF TOP DECK TOP OF SECOND FLOOR LEVEL, PERSONAL SERVICES (FITNESS CENTER) TENANT STORAGE & LOBBY AND RETAIL SALES OF SUNDRIES & PHARMACEUTICAL SALES, OFFICE USE, FINANCIAL SERVICE, GROCERY STORE WITH INCIDENTAL & ACCESSORY FOOD AND BEVERAGE SERVICE, ACCESSORY OFFICE, STORAGE AND UNDERGROUND PARKING (172 SPACES), AND ABOVE ENCLOSED PARKING GARAGE SPACES 324 TOTAL 496 OFF STREET PARKING SPACES (271 ACCESSORY FOR RESIDENTIAL UNITS) INCLUDING SEVENTEEN (17) HANDICAPPED SPACES AND TEN (10) RESERVE SPACES, ACCESSORY BICYCLE PARKING SPACES 108, FOUR (4) ACCESSORY LOADING SPACES, ACCESSORY ENCLOSED TRASH STORAGE/ COMPACTORS. SIZE AND LOCATION AS SHOWN ON THE APPLICATION
PREVIOUSLY: Renderings and Details of Spring Garden Whole Foods Complex!
---