News
Yes, an Elvis Impersonator Officiated This Vegas-Themed Wedding
Think: disco balls, roller skaters, and 1970s-glam vibes.
---
We've been all about entertainment over here in recent weeks thanks to Sammy Hagar's surprise concert at a recent Four Seasons wedding — not to mention our list of over-the-top ways to keep your guests engaged on your Big Day. And, now, we present you with this: a Vegas-inspired Globe Dye Works wedding with '70s-glam vibes and an Elvis impersonator-officiant. Amit Gabai Photography snapped all the images you can't help but falling in love with. (Sorry. We couldn't stop ourselves.)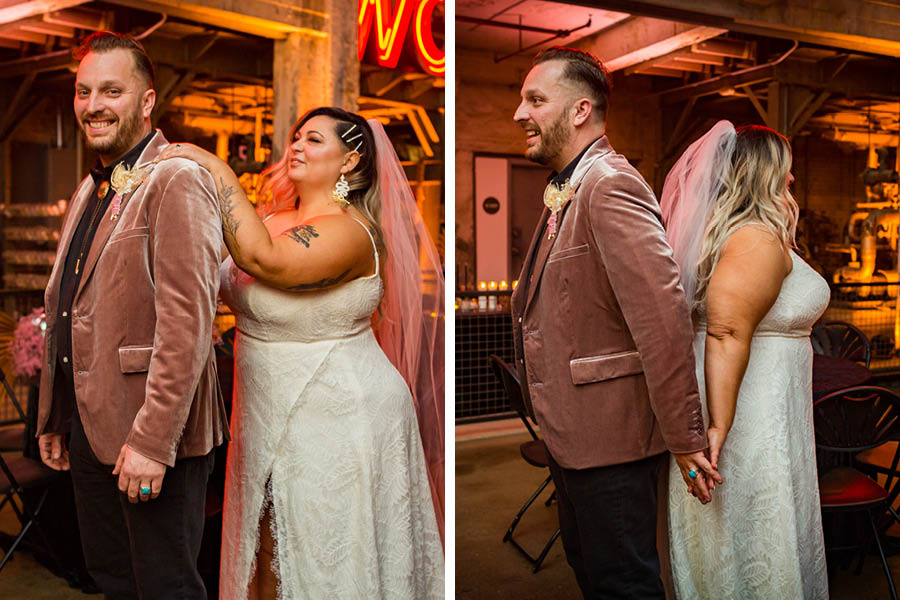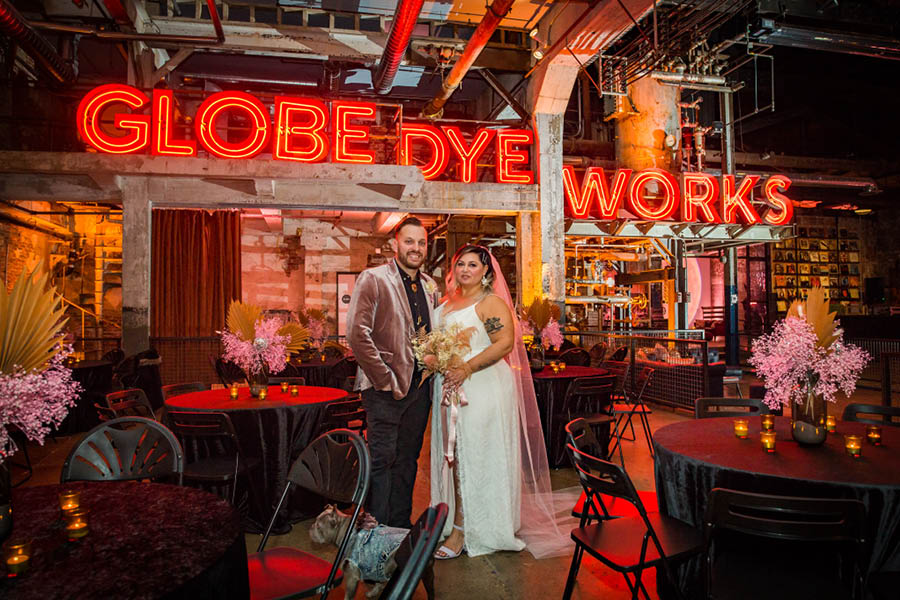 Kylie Flett and Christopher Norris met the old-fashioned way — kind of. By that we mean they were both at The Districts' show at Johnny Brenda's. Only Kylie, the director of PR and strategy at Punch Media, wasn't on the dance floor with her friends. The South Australia native was at the bar shielding the leg she'd recently broken from the fray. (She had just gotten the cast off and was in a boot.) Chris, a Maryland-born small business owner and former touring musician, offered to buy her a shot of tequila. "I made a joke that he only offered because I couldn't run away," recalls Kylie. (His first impression, by the way, was that he didn't understand the Australian accent or self-deprecating humor.)
They dated for three and a half years before Chris popped the question after a nerve-rattling drive on the Road to Hana in Maui. And seven months after that, on February 26, 2022, they held a wedding that would make The King proud. The theme? Vegas, baby — with a 1970s-glam aesthetic, but of course.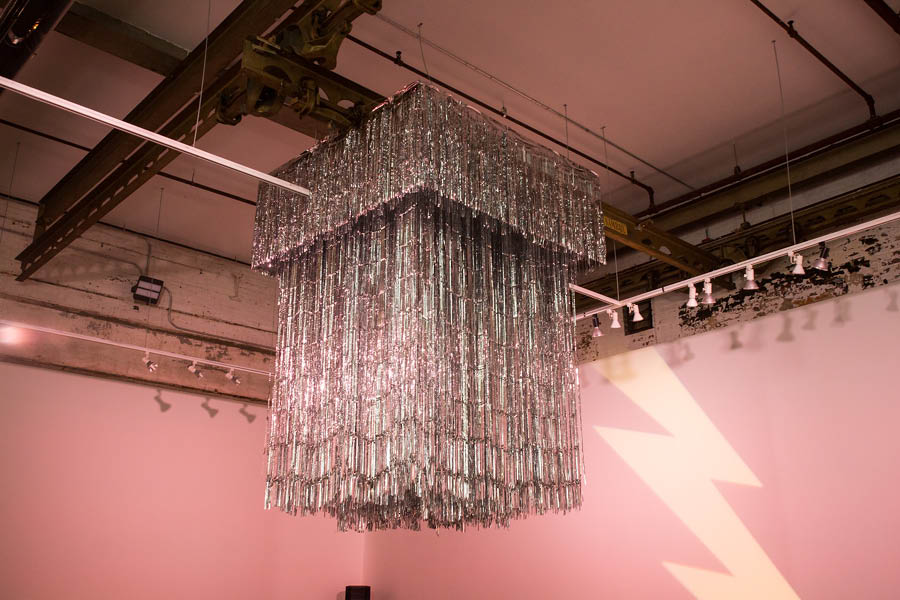 And such a wedding naturally needs an Elvis impersonator as the officiant, a role provided by Philly native John Monforto. One of the bride's favorite moments was seeing everyone's faces when he made his singing entrance at the ceremony — which boasted a six-foot tinsel chandelier — to "It's Now or Never."
Rather than going all out on florals, the couple went all in on the theme with faux palm-leaf centerpieces mixed with disco balls and hot-pink baby's breath. There were roller skaters, a balloon garland, a tinsel photo backdrop, a wall lit up with a Hotel California-inspired palm-tree sunset — and speaking of the Eagles, the couple named all their signature cocktails after their fave songs by the band, from Lyin' Eyes (a gin-based piña colada) to Victim of Love.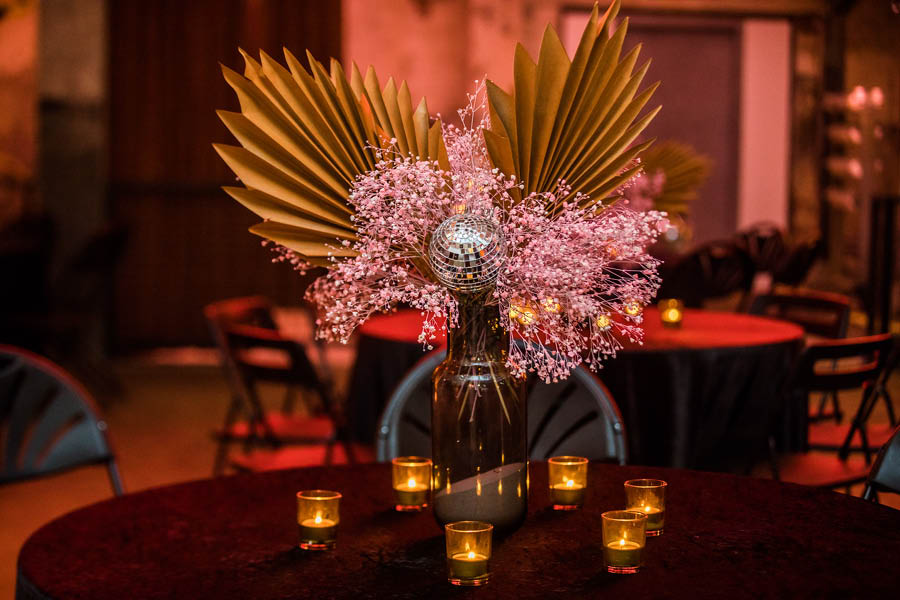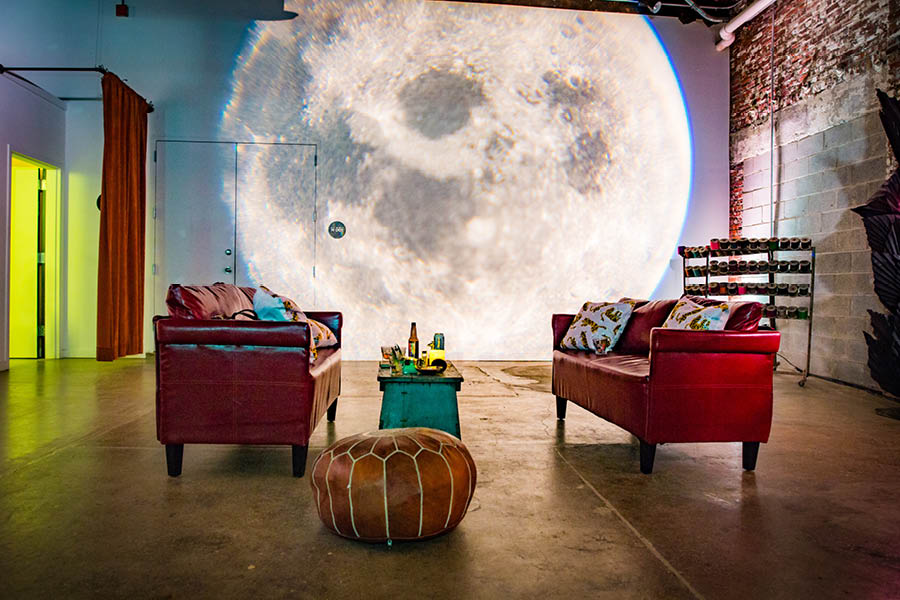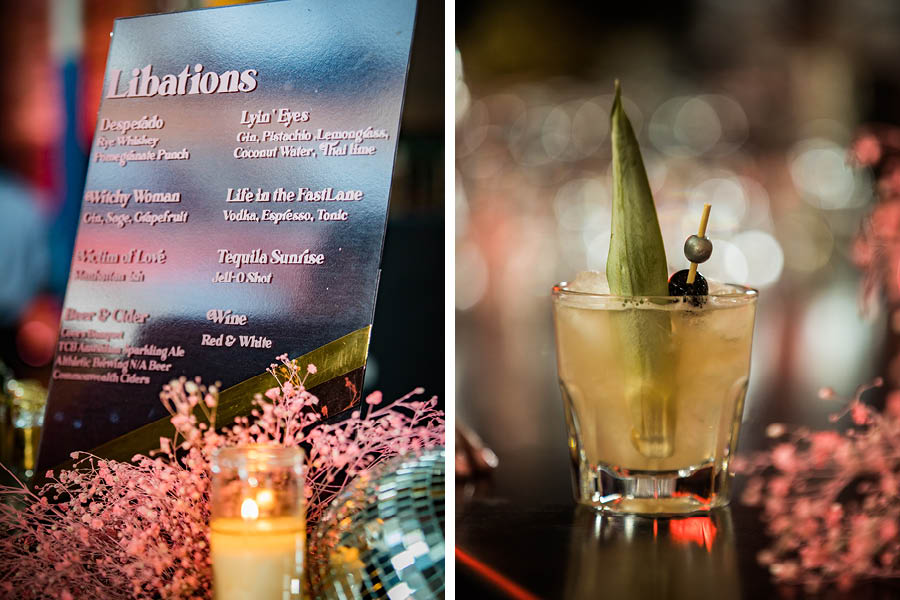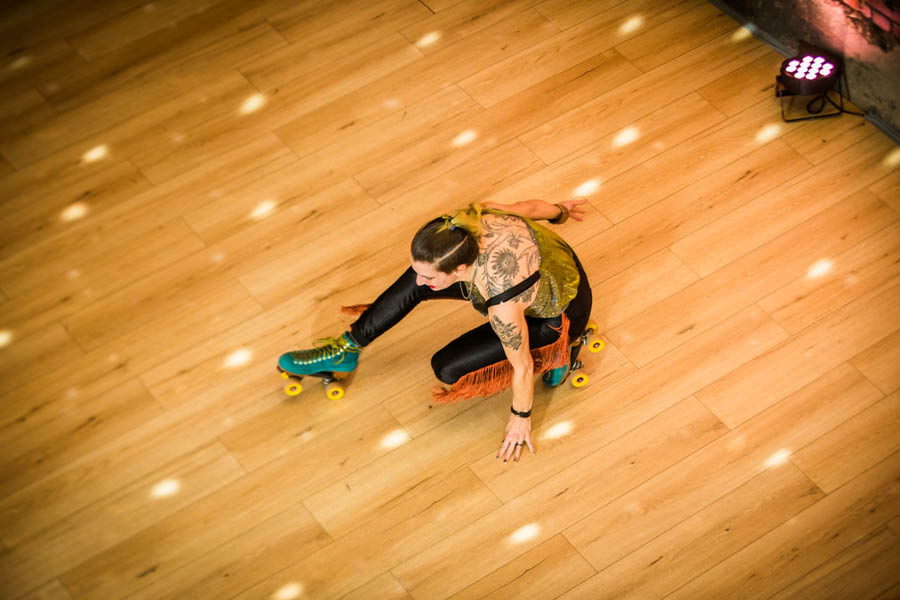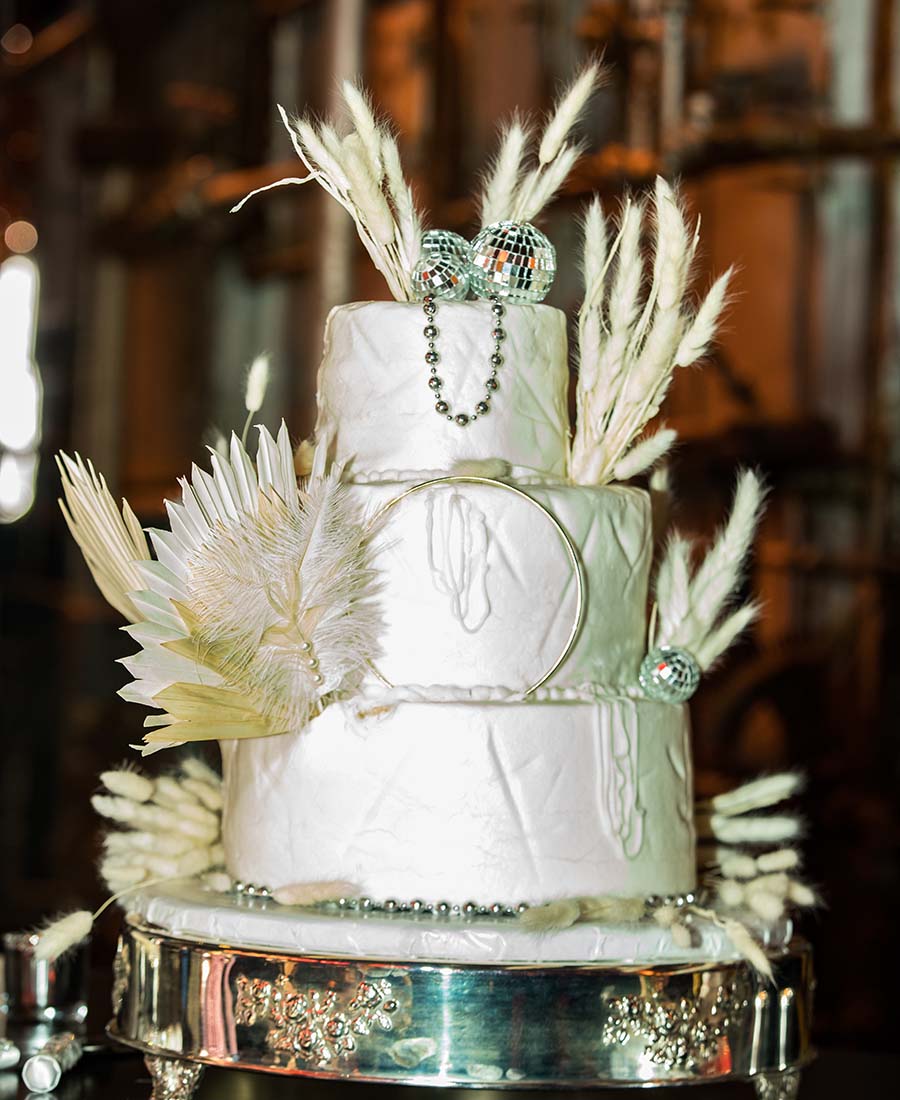 "We describe this as Manhattan-ish," says the bride. "We used a zero-proof spirit, Pathfinder Hemp and Root, and reversed the recipe, to make it significantly lower-ABV. Perfect for sipping all night at a wedding." Kylie worked with Backyard Originals to create custom cocktail mixers so drinks could be pre-batched for easier service and to eliminate a wait at the bar.
There were plenty of special moments, too. For starters, the couple's Frenchie, Sgt. Pepper, made a cameo. And the vanilla-and-buttercream cake was made by Chris's aunt. But particularly sentimental was the support from their friends.
"Chris and I did not have a bridal party, yet I was so touched at how many of my friends made me feel so special along the way," says Kylie, who was moved by friend Lauren Andrews's speech. "It was quite simply the kindest thing anyone has ever done for me." Legendary, don't you think?
THE DETAILS
Photographer: Amit Gabai Photography | Venue: Globe Dye Works | Planning/Design, Lighting, Signage & Decor: Lucky Dog Studio | Personal Florals: Petit Jardin en Ville (bouquet and boutonniere) | Catering: Castellino's Italian Market (charcuterie cups); Joe's Steaks + Soda Shop (dinner) | Bride's Gowns: David's Bridal (gown); Anthropologie (reception dress) | Snake Earrings: Meesha Farzaneh | Hair: Jessica Jane of The Parlour | Makeup: Kelley Hughes of Parlour Beauty | Groom's Attire: Macy's (velvet jacket); Levi's (jeans); Vans (high-tops); vintage bolo tie | Entertainment: DJ Romain | Invitations: Jackie Jensen Design; Fireball Printing (printing) | Officiant: John Monforto | Favors: Custom ale from My Local Brew Works; Morning Recovery by More Labs | Drinks: Backyard Originals (BYO cocktail mixers); Commonwealth Ciders (ciders)| Wedding Bands: Angela Monaco Jewelry (Kylie); Degs&Sal (Chris) | Rehearsal Dinner: Tacconelli's Pizzeria | Roller Skaters: Emily Joynton and Mo Stubbs of Rock Steady Rollers | Dog Vest: Canada Pooch
Get more great content from Philadelphia Wedding:
FACEBOOK | INSTAGRAM | NEWSLETTER
Getting married? Start and end your wedding planning journey with Philadelphia Weddings' guide to the best wedding vendors in the city.
---
---