Q&A
An Inclusive, Sustainable Bridal Salon Is Now Open at the Bok Building
The appointment-only Kinfolk Bride carries independent, women-led designers, including one based here in Philly.
---
Philly soon-to-be-weds now have a new option for wedding attire with Kinfolk Bride, which quietly opened at the Bok Building in South Philly in January. The appointment-only studio is the brainchild of Mayana Carter, who started her career in luxury retail and bridal styling, and, over the past decade, has moved into buyer and designer wholesale positions. But she's long wanted to open her own salon, one that focuses on sustainability, inclusivity, diversity and personal touches.
Kinfolk embraces all of that, which you'll feel in every inch of the light, airy industrial space, from the independent labels Carter handpicks to the furnishings, which are either thrifted, vintage (check the cozy couch from Jinxed) or sourced from her family. "It's how I make sure that every bride gets to feel like they're shopping in the comfort of their best friend's living room," she says. Here, a peek inside.
Congratulations on the new salon! Why should clients come to you? I feel like I have an opportunity to help increase representation in Philly's bridal sphere. I care deeply about introducing my clients to diverse and sustainable designers, especially labels led by women of color, and making sure that every person getting married feels beautiful on their Big Day — regardless of personal style, body size, or gender expression.
Tell us more about your inclusive focus. Here, you'll find wedding looks that range from gowns to mini dresses to jumpsuits and pantsuits — and not just in white, but in cool patterns and colors, and in sizes up to 22 in store (and 32 special-order). I hope to cater to all brides — especially the ones that don't connect with a wedding look centered on the traditional bridal gown. I'm offering lots of different garment options so that every person can enjoy that special experience of being styled without being limited to styles that don't speak to them. Additionally, on Kinfolk's intake form, we ask for pronouns and favorite music, all in an effort to make sure that every client is comfortable from the moment they arrive.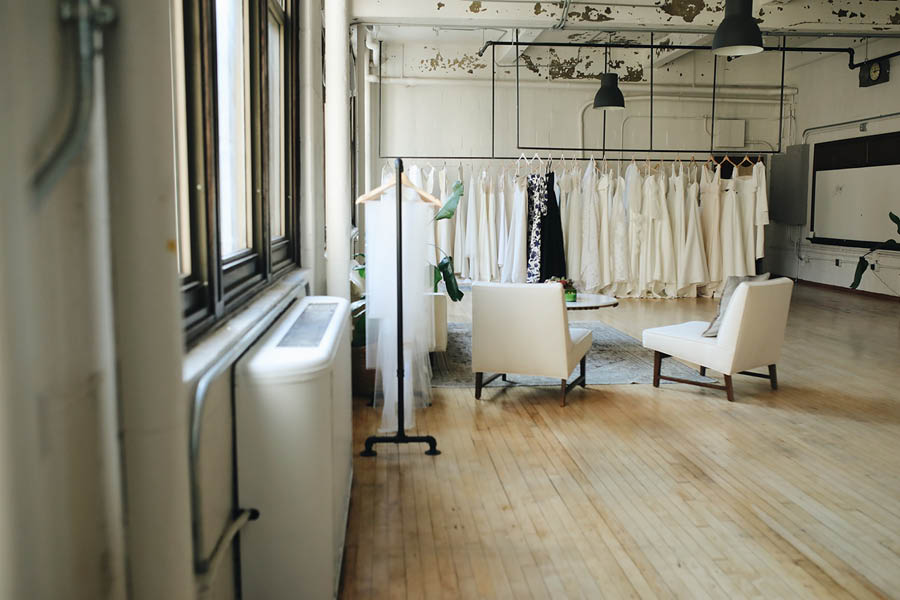 As for your sustainable efforts? Weddings inherently generate a lot of waste, because so many of the items purchased are only used once. With Kinfolk, I chose designers that create each garment to order, offer tons of options for customization, utilize deadstock fabric, and recycle unused fabric. That way, we're not contributing to the practice of mass producing stock that will hang in a warehouse indefinitely. Plus, a Kinfolk Bride is way less likely to see another person in their wedding look!
Let's talk about some of the designers you carry — like Spring Garden-based The Law. Megan Lawrence of The Law is an incredible designer, and I love that folks who choose one of her pieces are able to have their final fitting in her actual design studio, right here in Philadelphia. It's such a special, intimate experience, and a really amazing perk.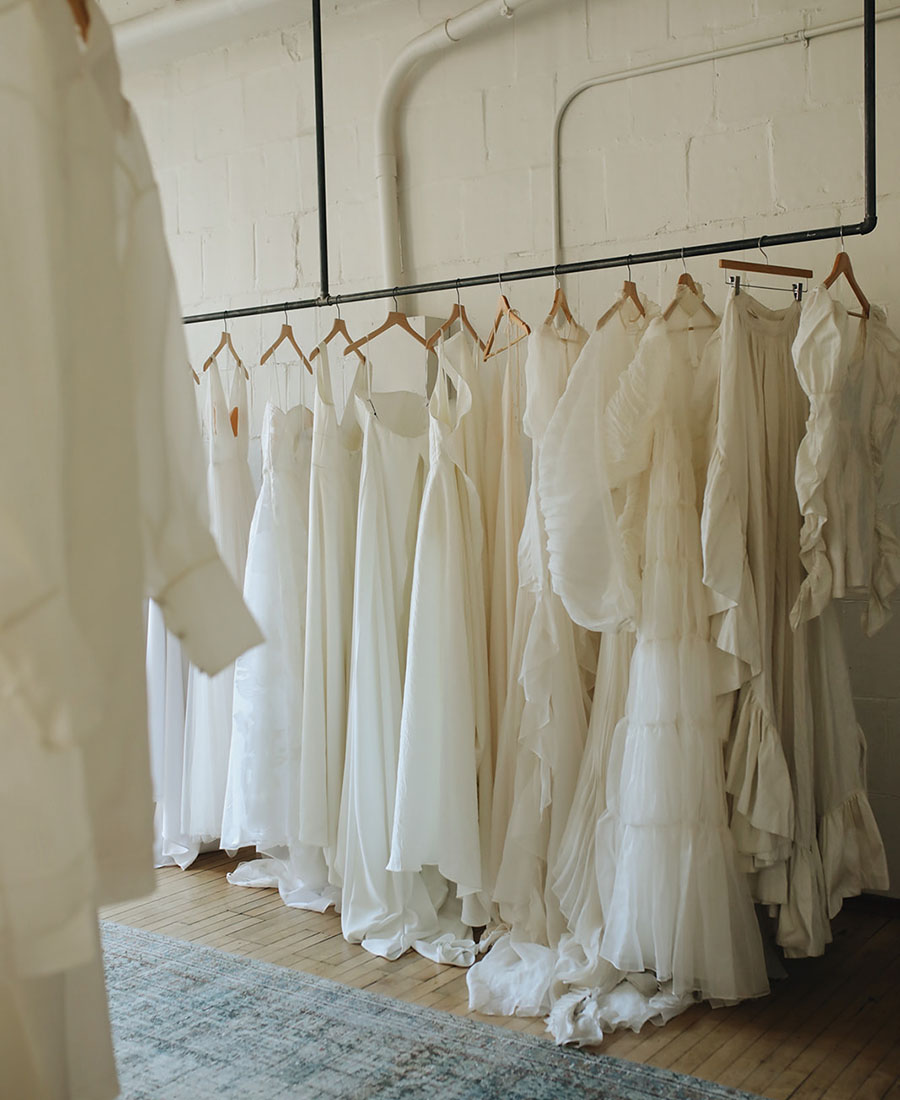 Who else can we find here? Our opening inventory features a curated list of eight designers. One line I love is Sophie et Voilà, which is designed and ethically handmade in Spain using sustainable practices. I also brought in modern fashion-minded fave NEWHITE, the free-spirited and ethereal Odylyne the Ceremony line, and the effortlessly cool Loulette collection, which is 100 percent handmade in Brooklyn from deadstock and recycled fabrics. I'm also working to add second looks, accessories and lingerie.
You're also collaborating with other Bok Building artisans, right? I've connected with Sarah Naji's Minimal Chaos to turn the Kinfolk Bride floors into a mini rug showroom of her gorgeous Middle Eastern pieces. When my clients arrive, I hand them a beverage in a cup from Remark Glass. I've also linked up with my next-door neighbor Franklin & Whitman to create a signature Kinfolk Bride candle scent. All of our businesses — plus P.S. & Co. bakery — will be collaborating for a wedding vendor showcase on April 29th.
Walk us through an appointment here. On our intake form, I ask all sorts of questions that help me prepare the studio for each individual bride so when they walk in, they're immediately in their element. We sit down on the couch and talk about what they're envisioning, and how they want to feel on their wedding day. I use this conversation to pull some pieces, and we go from there until each individual sartorial vision is realized. And because every bride has me and the space all to themselves for their entire appointment, there's plenty of room to bring your wedding party with you.
To book an appointment, click here.
This interview has been edited for clarity and length.
Get more great content from Philadelphia Wedding:
FACEBOOK | INSTAGRAM | NEWSLETTER
Getting married? Start and end your wedding planning journey with Philadelphia Weddings' guide to the best wedding vendors in the city.
---
---