News
A Great Dane, a Cat and a Tiger Mural Took Over This Backyard Engagement Photo Shoot
The couple is getting married at the Philadelphia Zoo on May 22nd.
---
We admit it. We're suckers for a proposal, wedding — anything, really — featuring our four-legged friends in all their furry glory. And we're not the only ones. Cece the pug became the star of the show during Brandon Jany and Adam Valone's American Horror Story-themed engagement shoot. The Eagles' Jake Elliott held dog Willy while wife-to-be Annie walked down the aisle. We even have a guide to incorporating your pup into your Big Day. So of course we fell for this Fishtown engagement photo shoot, which featured a dog, a cat, a tiger mural — and the couple's upcoming wedding at the Philadelphia Zoo. Audrey Amaro Photography snapped all the tail-wagging fun below.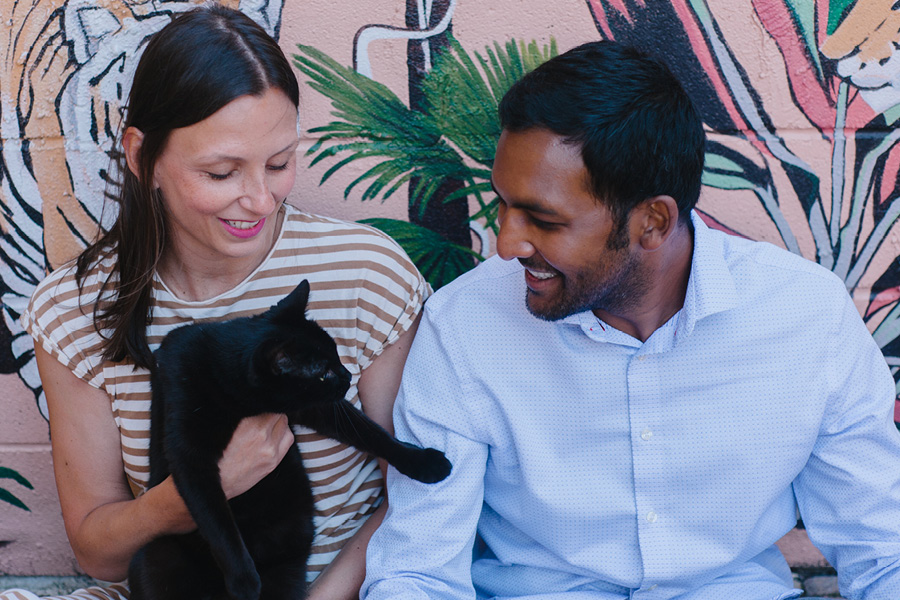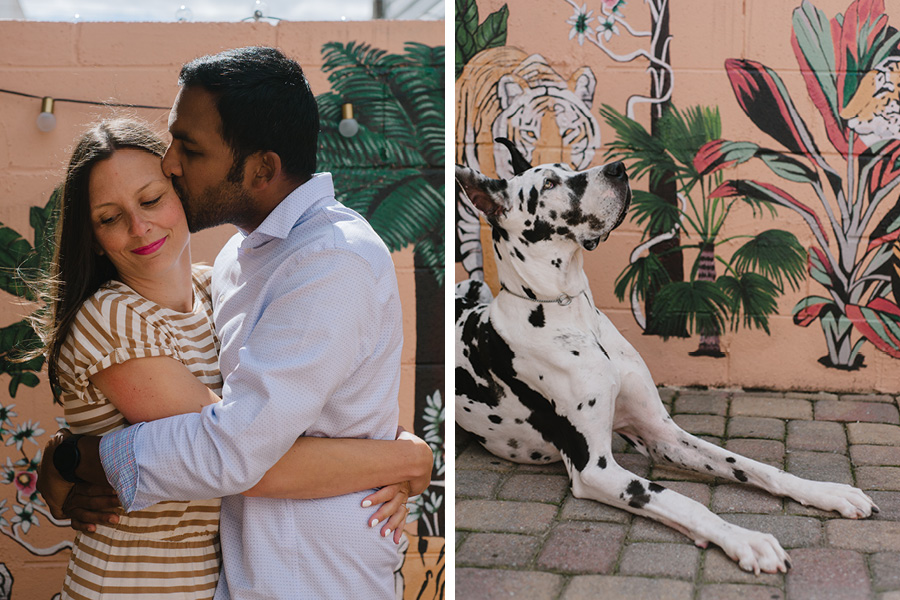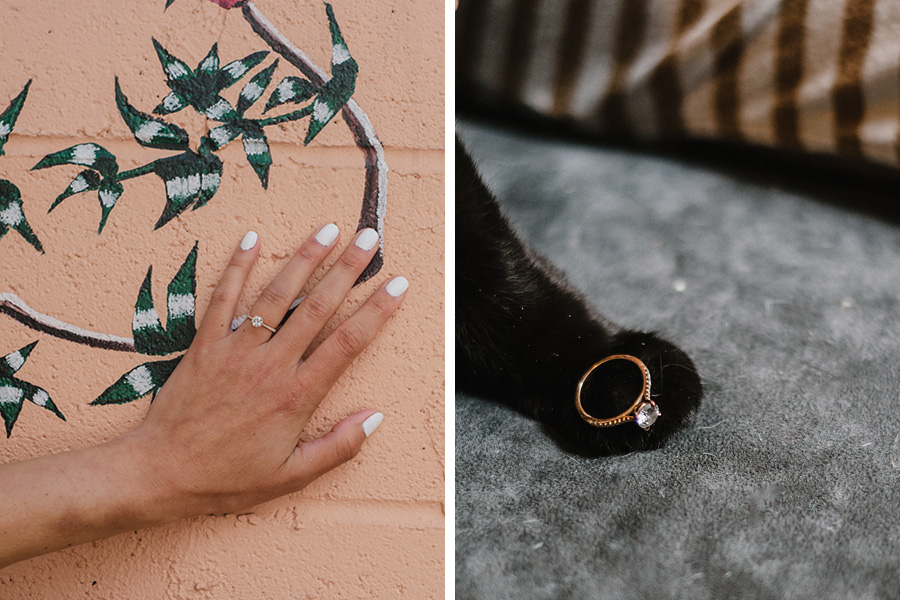 The couple: Kimberly Rinaldi, 35, a docent at the Philadelphia Zoo, and Imtiaz Alam, 36, manager of customer education at Guru Technologies, who live in Fishtown.
How they met: Kim and Imtiaz initially connected through the online dating app, Bumble. For their first date, the couple planned to meet in Palumbo Park for a picnic of Angelo's sandwiches. Imtiaz planned to bring his Great Dane, Clementine. Beforehand, Imtiaz remembers Kim texting, "Are you sticking around after bringing the dog? I'm okay if it's just me and Clementine." The two had their first kiss outside of the park on garbage night, and they still joke about how the smell of trash reminds them of that special moment. They dated for about a year and a half before getting engaged.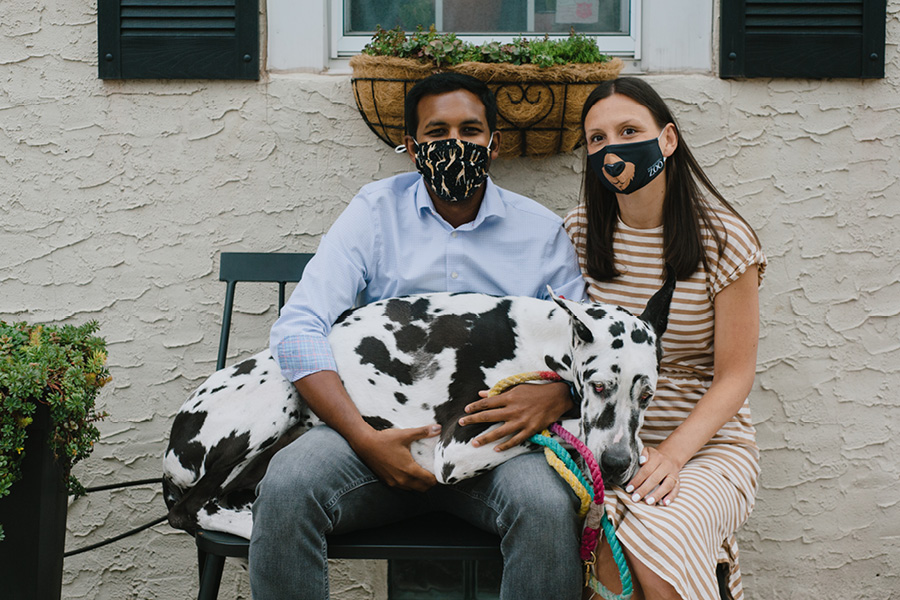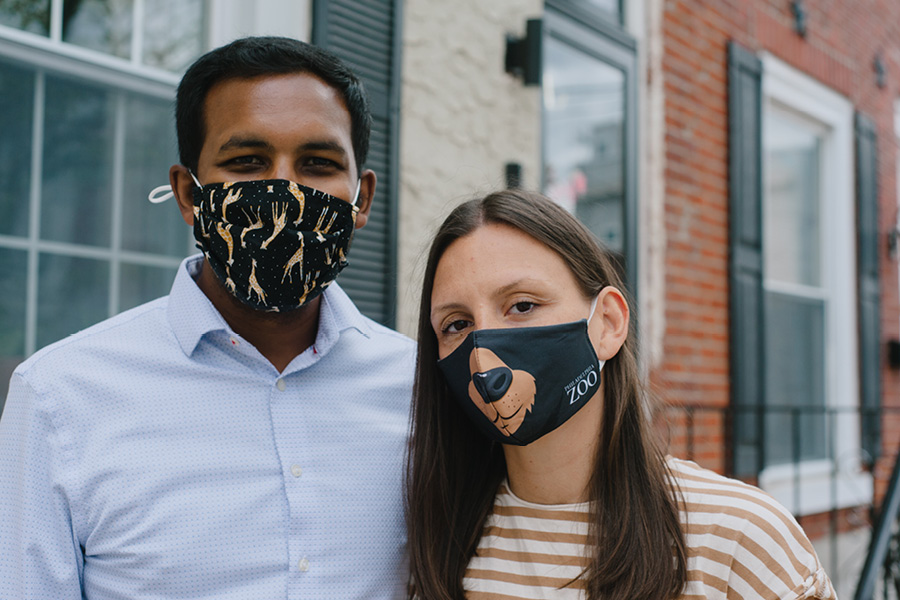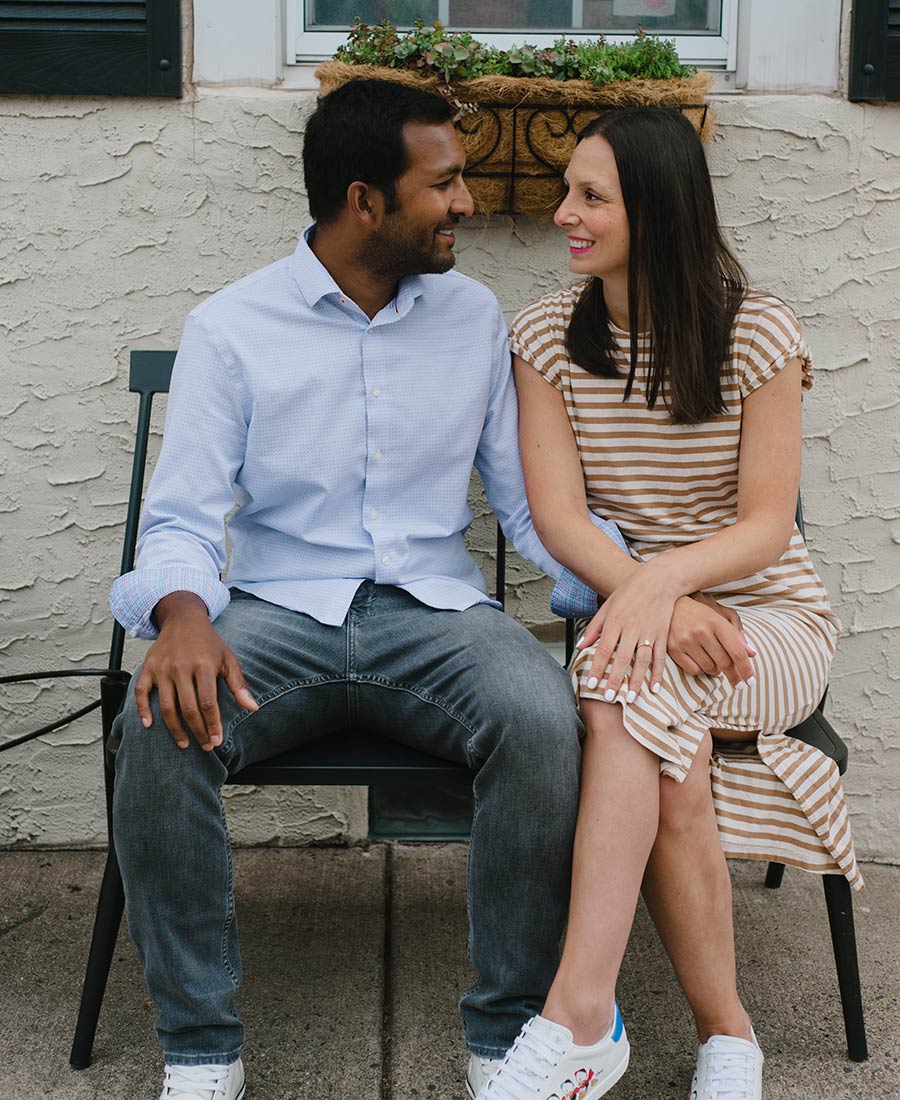 Their proposal story: It all went down on January 12, 2021. When Kim went to work that morning, Imtiaz drove to Lancaster to ask her parents for her hand in marriage. They were thrilled. "Clementine was there and received their blessing, as well," says Imtiaz. Later that evening, he picked up Kim from work and told her he had to stop by the dry cleaners near his old house in the Italian Market area. Kim didn't think much of it when Imtiaz found a spot on the same block as Palumbo Park since parking is tough in the area. As they were walking past the park, Imtiaz kept stalling and reminiscing about their first date. Kim was in a hurry because it was cold — and then her groom-to-be got down on one knee.
The happy couple returned home (with takeout from Dante & Luigi's), where Imtiaz had one more surprise — this time incorporating Kim's grumpy cat, Rita. He had spelled out a message from Rita using Scrabble letters that read, "I SAID I DO, TOO. LOVE, RITA. P.S. GET RID OF DOG. KTHXBYE."
The engagement-shoot locations: The couple decided to use their Fishtown home as one of the backdrops to their portraits for a number of reasons. They wanted to incorporate the tiger mural that Kim's sister, local artist Lauren Rinaldi, painted in the backyard. They also felt their pets should be included. "We felt it was fitting to keep the animal theme because both of us are deeply passionate about animals, and the wedding will be at the Philadelphia Zoo," says Imtiaz. Perhaps even more meaningful is the home itself: It has been Kim's labor of love; she worked hard to pay off the home in nine years.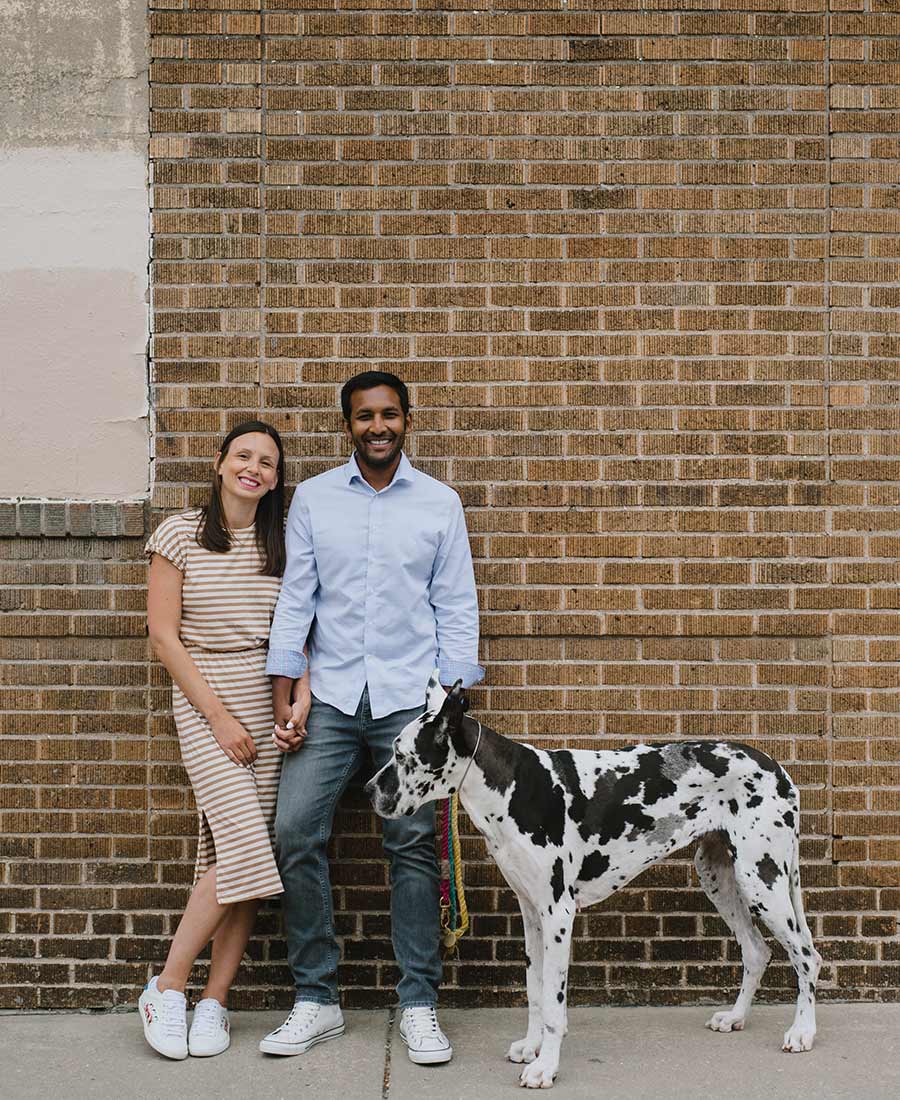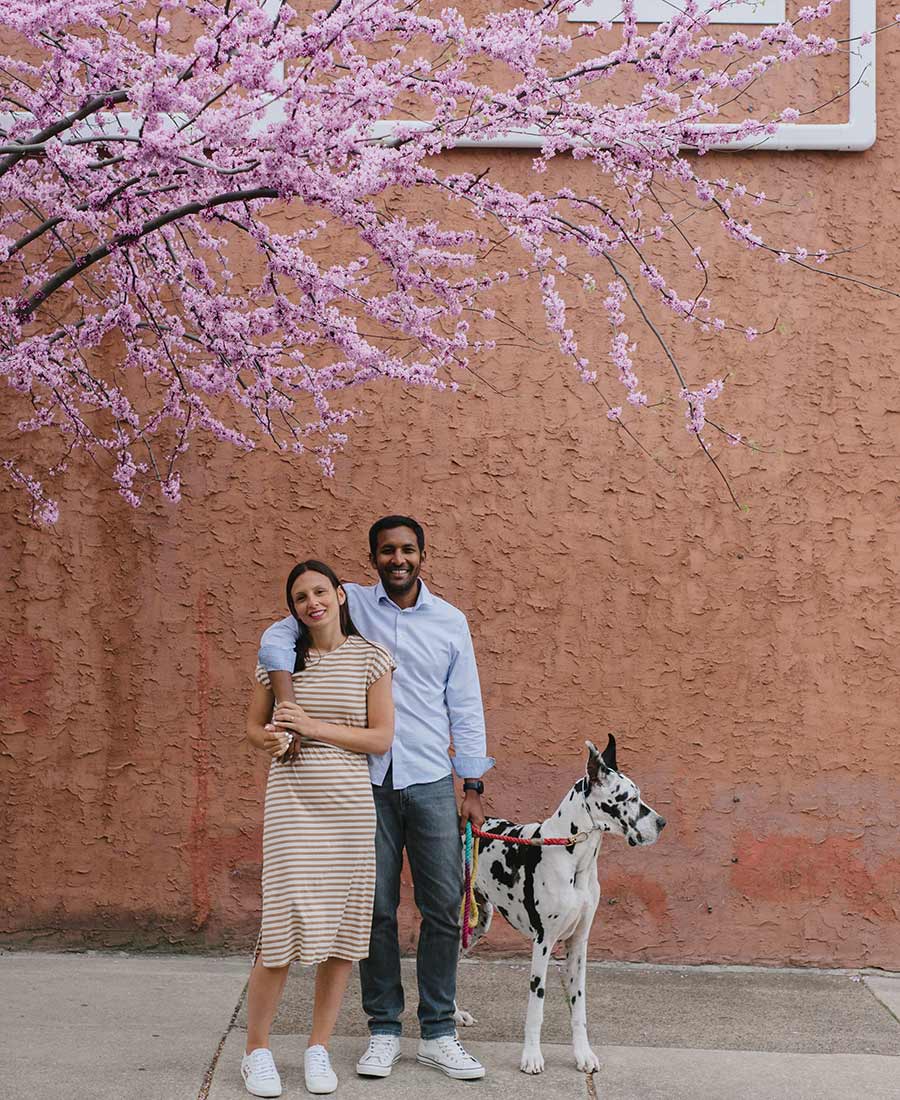 For their second spot, they chose to stroll their usual dog-walking route in the neighborhood they love. It is something they do multiple times per day, and enjoy seeing the beauty as they meander through the streets — the longtime residents and families in older homes, and the new construction coming up.
The attire: Kim wore a casual dress that didn't take away from the mural, along with her favorite Gucci sneakers featuring Huey, Dewey and Louie. Imtiaz also chose a relaxed look. They hoped to keep the aesthetic easy and laid-back — particularly given the fact that they haven't dressed up much (if at all) due to the pandemic. "We wanted to make sure that when our grandchildren look back on these pictures, they would represent the way we actually look, not some exaggerated view of who we are," shares the duo.
A four-legged surprise: While Imtiaz was walking Clementine before the shoot, Kim let photographer Audrey Amaro into the backyard and propped the back door open. Since Clementine was not in the house, Rita got brave and made her way to the backyard. They were able to sneak in some pictures with Kim, Imtiaz and the cat. Rita almost never comes downstairs and barely goes outside at all, so this was a big deal. At the end of the shoot, Amaro managed to get photos of Clementine giving Imtiaz a hug.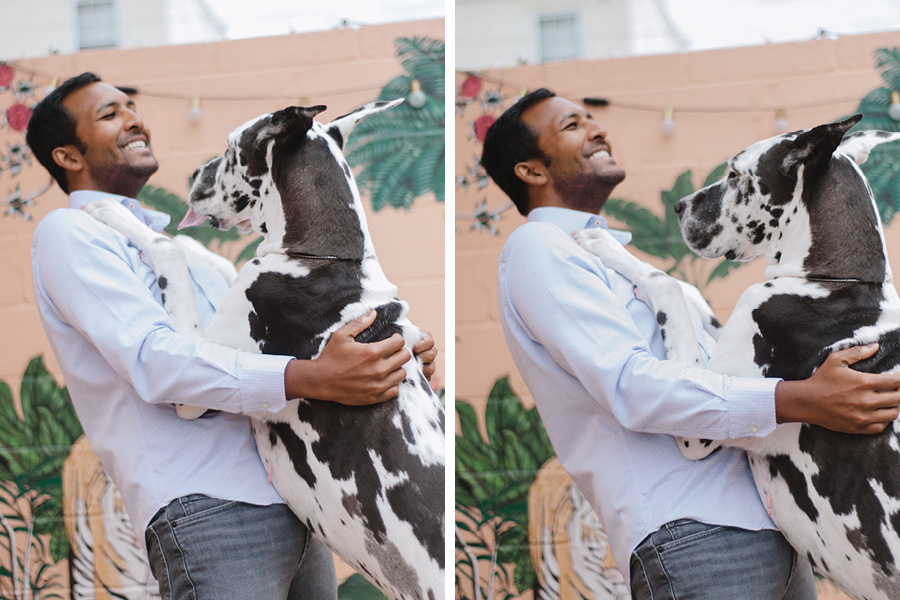 The Big Day plans: The wedding is on May 22nd at the zoo. The ceremony will be outside the giraffe exhibit and the reception will be by bird lake, weather permitting. Imtiaz's brother is officiating the Muslim side of the wedding, while his friend is providing a Catholic blessing. "Bridging the faiths was, and has been, a journey for us," says the duo. They have been working to find the balance between their personal and families' faiths, and what their ceremony will look like.
To keep on theme, the couple will have animal place-card holders and Animal Crackers for favors. Kabobeesh in West Philly will dish out a mix of Halal and American food options. For dessert: Isgro Pastries, cannoli and rainbow cookies.
Get more great content from Philadelphia Wedding:
FACEBOOK | INSTAGRAM | NEWSLETTER | PINTEREST
Getting married? Start and end your wedding planning journey with Philadelphia Weddings' guide to the best wedding vendors in the city.
---
---