News
This Wedding Is Both Christmas- and Pride-Themed, and It Totally Works
The couple moved their Big Day up from December to August due to the pandemic.
---
Not ready to give up the festive spirit just yet? Neither are we — and neither is this couple, for that matter. They celebrated Christmas (their favorite holiday) in August at their micro-wedding, which had initially been planned for this past December. The duo made the call to bump up their date and move their wedding from New Hope to Bolingbroke Mansion due to the pandemic, and it worked out better for them in every way. They were able to invite a few additional guests and add a second theme, Pride. Check out the photos from their jolly holiday, captured by Ashley Gerrity, below.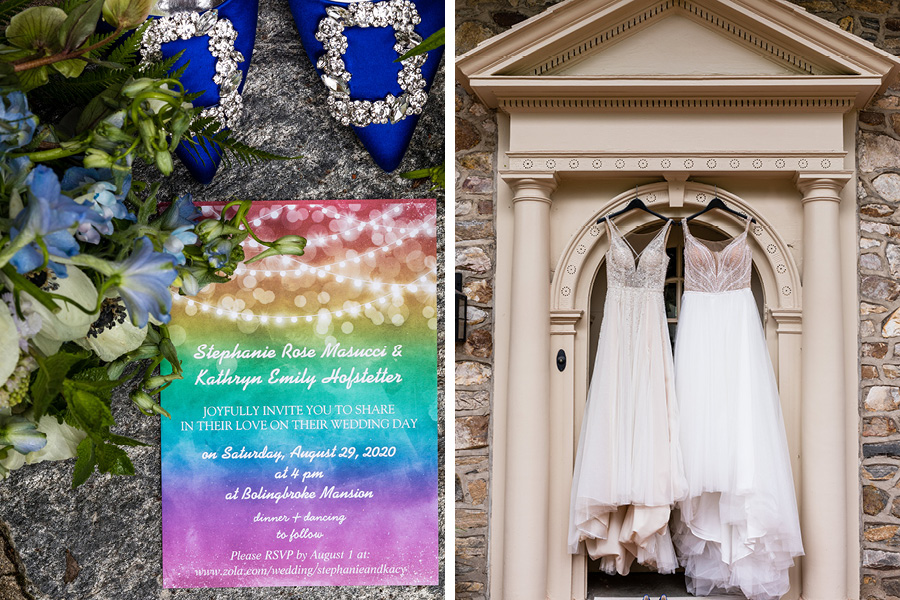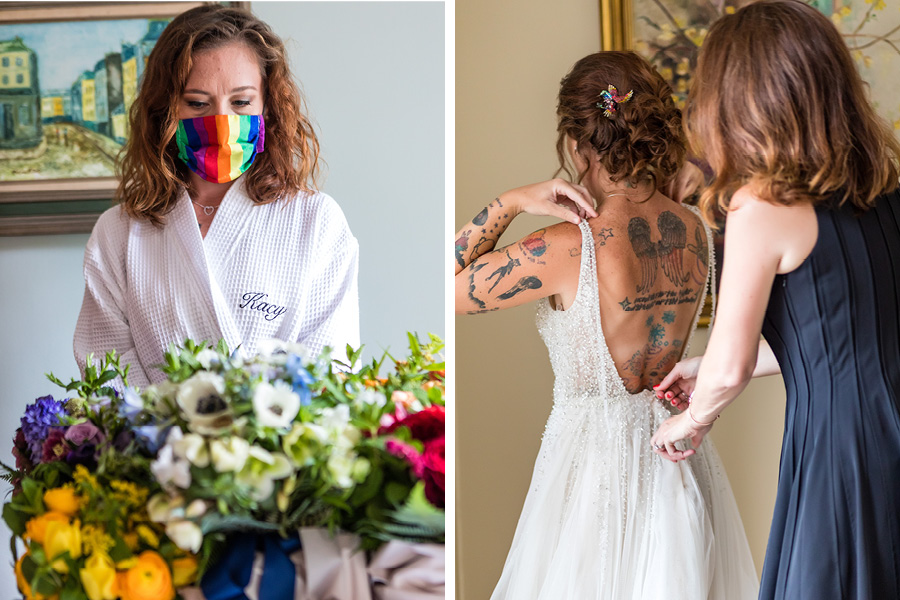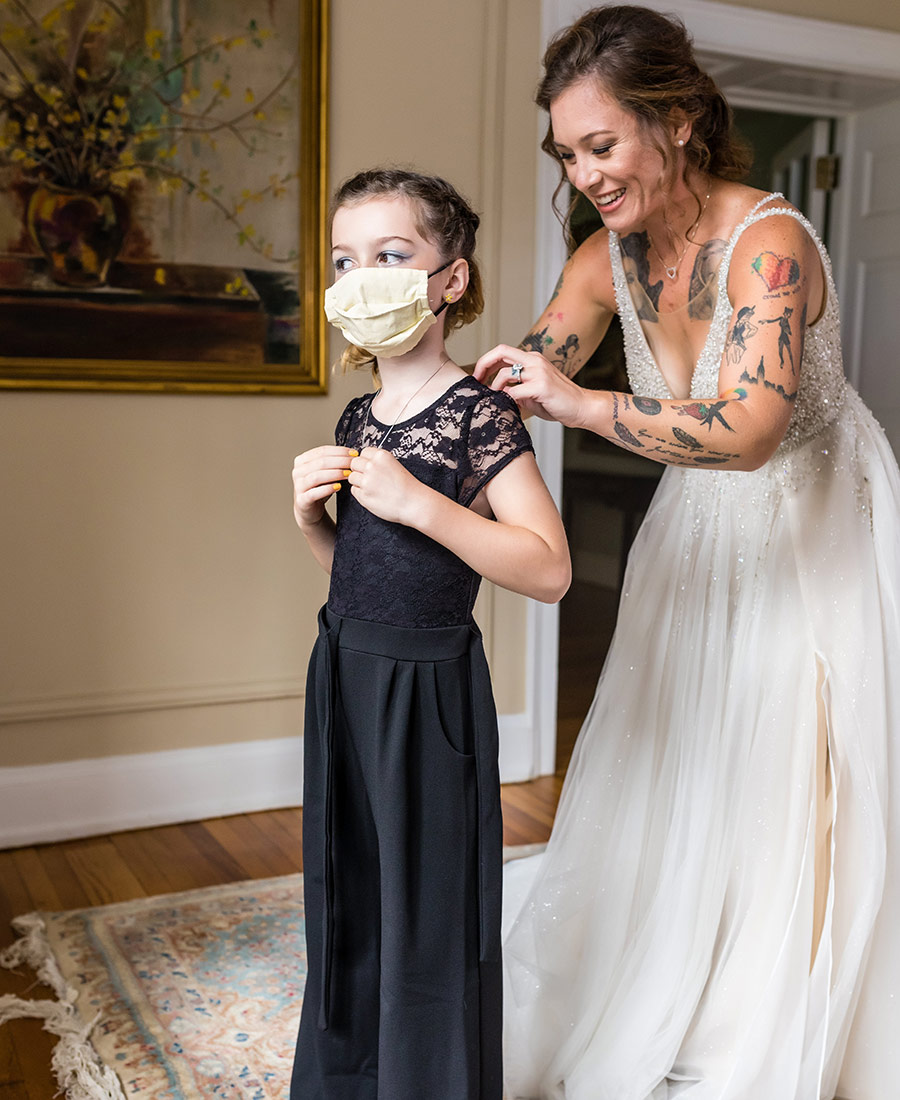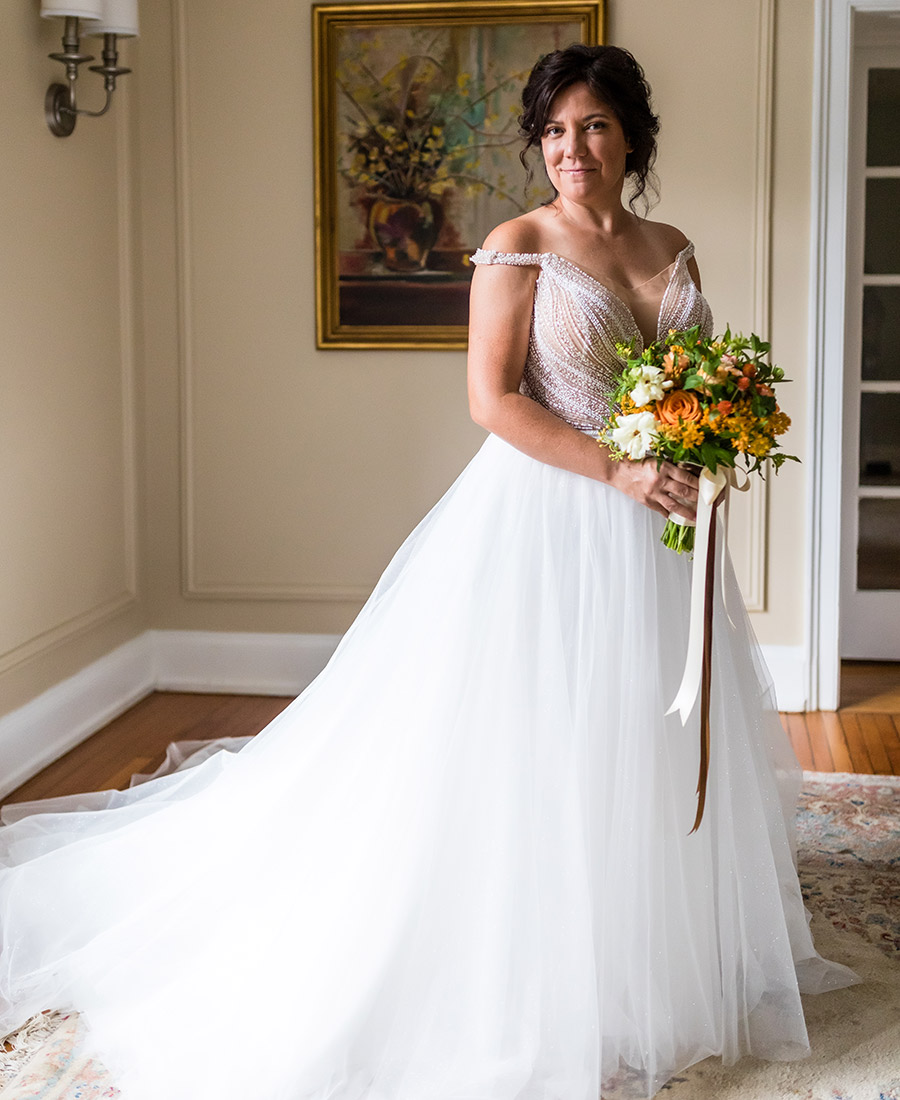 Philly native Stephanie Masucci had had just about enough of playing coy cat-and-mouse or being online pen pals before meeting in person, so she decided to be direct. In her Tinder profile, she simply wrote, "Let's go on a date!" It worked, because Kacy Hofstetter, who hails from Washington Township, swiped right and messaged Stephanie "I want to go on a date" in response, catching Stephanie wonderfully by surprise. "She cut through all the BS and went right for it," says the marketing director for Catering By Design. "I thought it was so cute, and I replied, 'Let's do it!'"
After a quick two days of texting, they decided to meet at 9:30 p.m. on a Tuesday evening (way past Kacy's bedtime, she admits) at Tavern on Camac in Center City for their first date. They connected immediately and discovered that they had quite a bit in common — down to their mutual affection for Mary Poppins and Julie Andrews. As if on cue, the pianist began playing a Mary Poppins medley that led to the couple's first kiss. "After the greatest first kiss of ALL first kisses, I said, 'You had to do that, because if this all works out, it will be the best story,'" shares Kacy, who works at the Broadway Theatre of Pitman.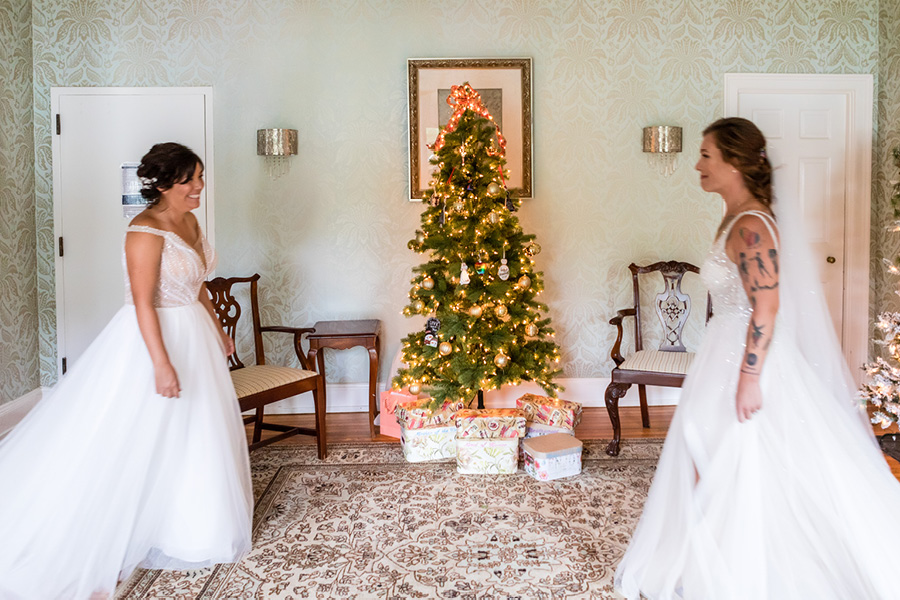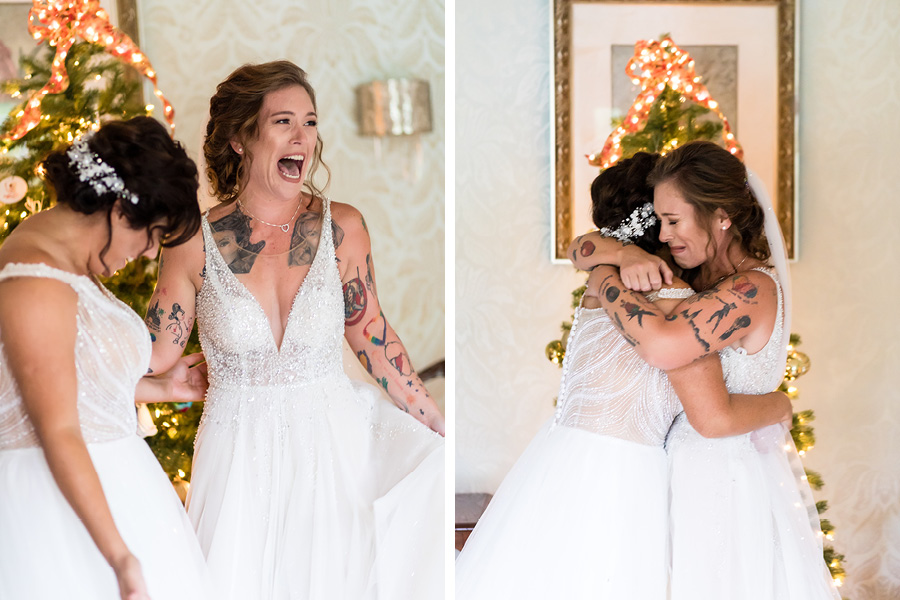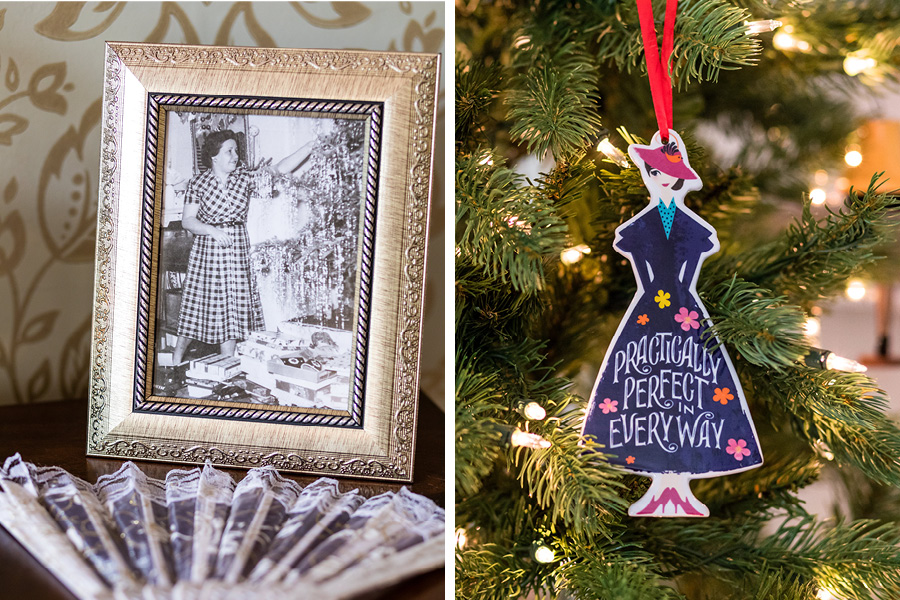 Three months later, Kacy proposed. The duo was decorating the Christmas tree (the holiday is another of their favorite things) with Kacy's daughter, Lucy. After Lucy went to bed, Kacy put on seasonal tunes, pulled the ring out of the tree (she'd hidden it while Stephanie was walking the dog), and popped the question. Stephanie said yes and shared that she had picked out Kacy's ring the day before; it was being made for her. A few weeks later, Stephanie proposed, too.
In January, they finalized their plans for a wedding at an inn in New Hope on December 19, 2020, with 40 guests and minimal decor because the hotel would be decorated for Christmas. By March, the pandemic was upending wedding plans for couples in Philly and beyond. In June, these two made their own call. Through her work, Stephanie found Bolingbroke Mansion in Radnor, and the couple decided to move up their Big Day to August 29, 2020. Kacy was concerned about Lucy starting school, in addition to other COVID-related worries. "It felt like if we could get the wedding in during the summer, it was more likely to happen," she explains.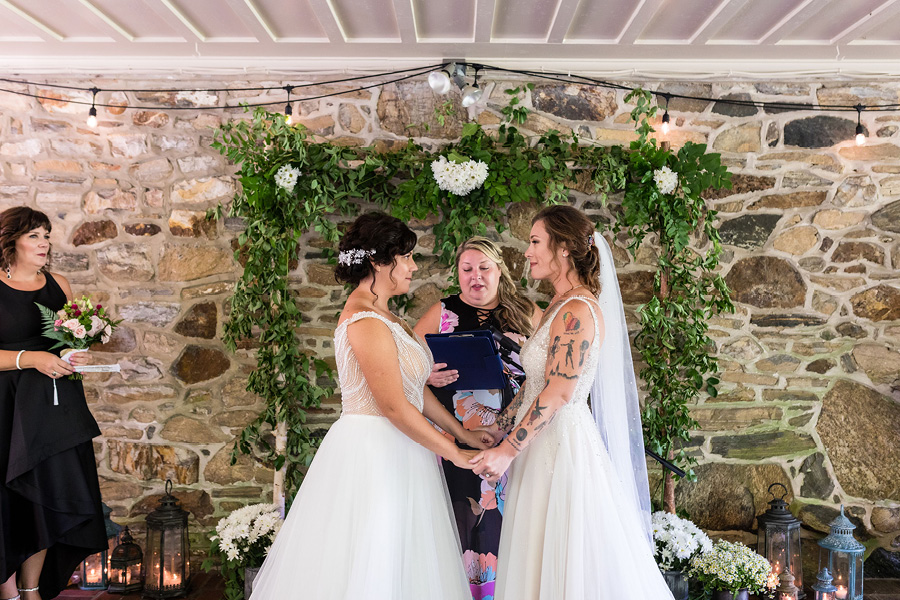 Did they scale back? No. Because of the larger outdoor setting closer to their home (they live in Audubon), they were able to safely expand their guest list to 50. They had two themes — Christmas, to pay homage to their original date, and Pride. They festively decked one of the mansion's rooms, hanging ornaments from their childhood and life together on a tree. (There was even a Mary Poppins trinket to honor their love of the character.) The stockings were handmade by their officiant. It was here that they held their first look — a backup plan due to rain. But it was uniquely theirs. "One of my favorite moments was seeing Kacy in that doorway," says Stephanie. In one of the biggest surprises of the day, they also realized how similar their dresses were: Kacy wore Galina, and Stephanie donned Maggie Sottero.
As for the Pride inspiration? They outfitted the venue with rainbow decor, from the event signage to the lighting. Each floral table arrangement was a different color, and each bridal party member picked a hue for her bouquet, nails and jewelry. When they lined up, they looked like a rainbow. Lucy's hue was yellow; one of the more sentimental moments took place when she gave her toast to the newlyweds, which she wrote herself and memorized.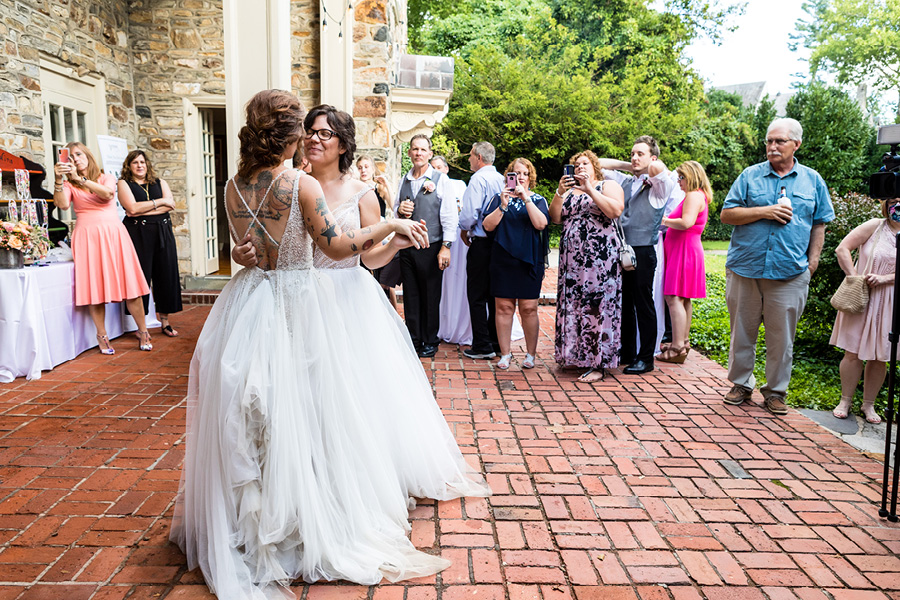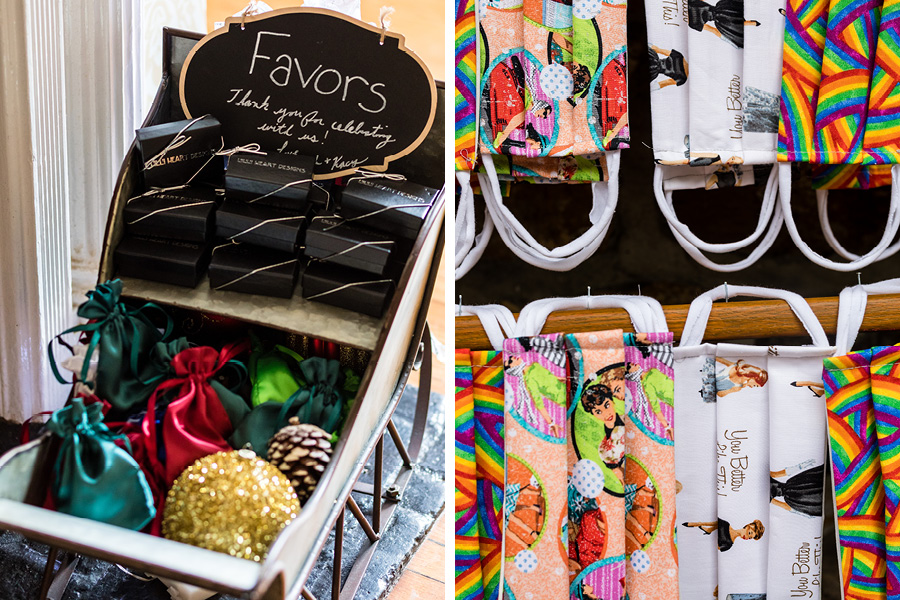 Another important element of the day was the cuisine from Catering By Design, all served in compliance with COVID guidelines. Those in attendance enjoyed a watermelon-cube appetizer, lobster rolls and truffle french fries served in individual boats (they were popular options, notes the couple), and different chicken and taco stations. Guests had fun with a vibrant DIY cake palette in which they chose their own flavors, and the signature drink was the Jolly Holiday Mocktail (a virgin mojito).
Guests left with ornaments, custom masks and white paper fans, and the newlyweds happily drove themselves home in their gowns. It was, in a curious way, fate. Says Kacy: "The day felt like this is what it was supposed to be all along."
THE DETAILS
Photographer: Ashley Gerrity | Venue: Bolingbroke Mansion | Florals: Garnish | Catering & Cake: Catering By Design (planning and design by Nancy Schwoebel) | Gowns: Galina from David's Bridal (Kacy); Maggie Sottero from Kleinfeld (Stephanie) | Hair: Dayna Defazio Hairstyling | Makeup: Brianna Spina of Facessentials | Cutting Cake: Heartbeet Kitchen | Invitations: Zazzle | Videography: Wedding Bug | Rentals: Party Rental Ltd. (chairs, linens, plates and silver)
Get more great content from Philadelphia Wedding:
FACEBOOK | INSTAGRAM | NEWSLETTER | PINTEREST
Getting married? Start and end your wedding planning journey with Philadelphia Weddings' guide to the best wedding vendors in the city.
---
---