News
This South Philly Couple's Wedding Was Filled With Colorful LED Lights and Video Screens
The groom hired the lighting director for Blondie.
---
Every couple has a different vision for their wedding, and there are certain elements that matter most to them. Maybe it's the ways they pay homage to their heritage. Perhaps the cake needs to be over-the-top. It could even be their approach to the after-party. But for this South Philly couple, it was all about setting the mood with colorful LED lights and videos, flowers, music and plenty of opportunities for dancing. Take a look at their fall University of the Arts wedding, captured by Heart & Rae Photography.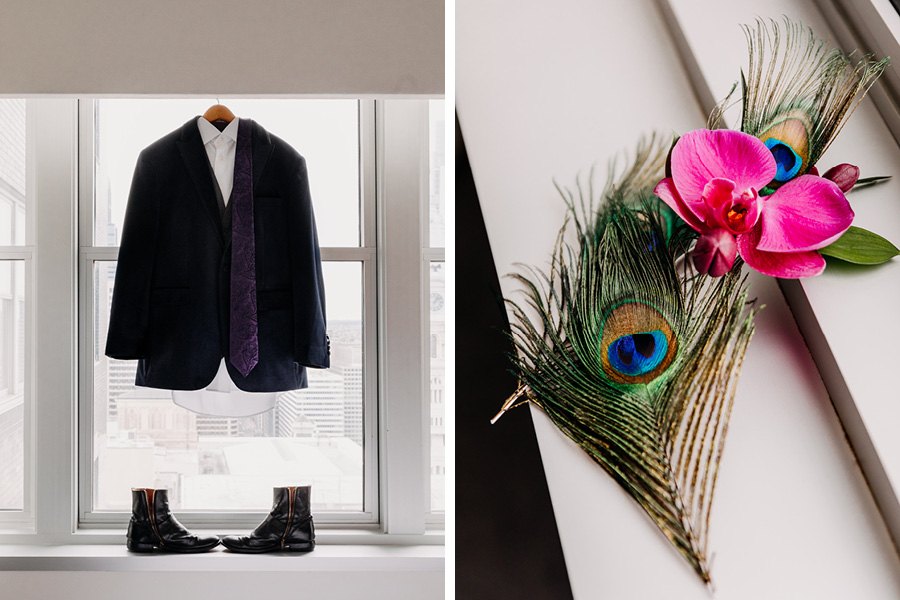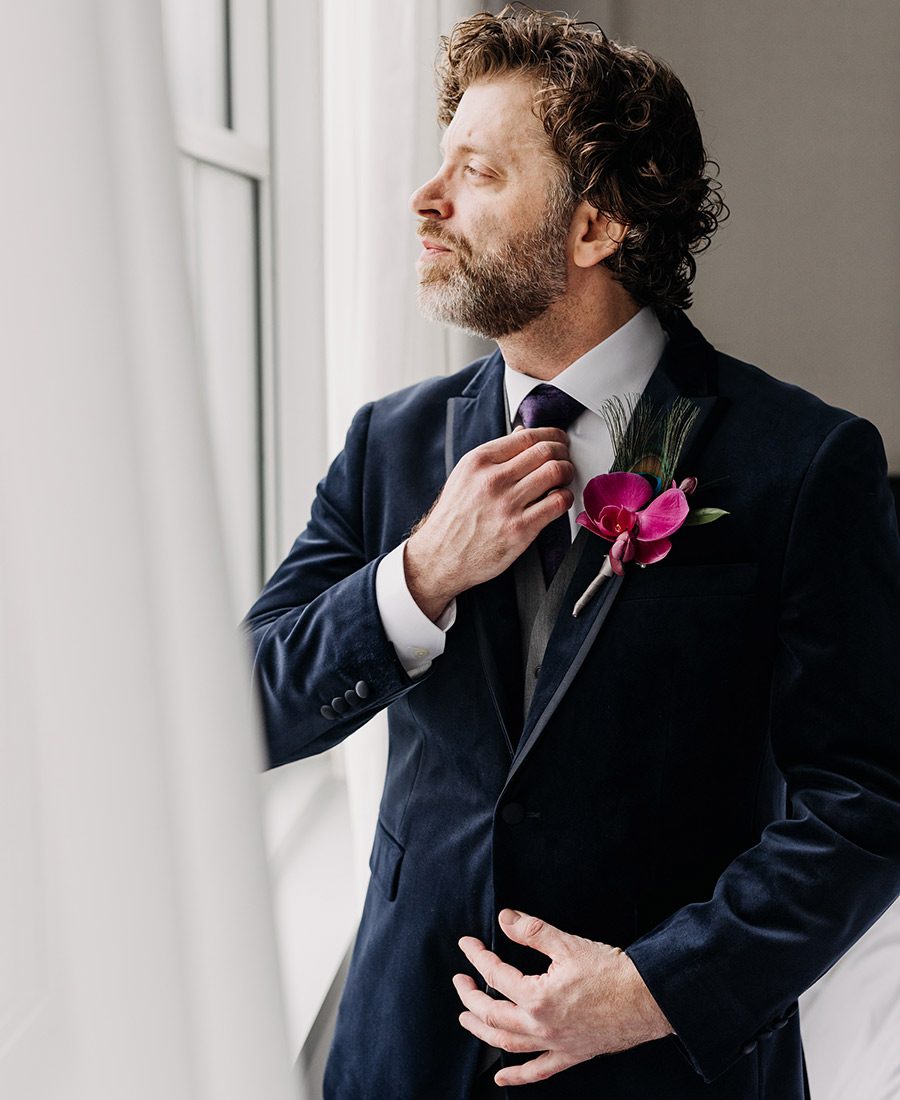 Brooke Everett and Jefferson Waful may have different opinions on when they initially crossed paths — he believes it was back in 2010 at a taco truck in Brooklyn, though she doesn't have any recollection of it — but they can't deny their mutual attraction and compatibility, which quickly blossomed into love. Nor can any of their friends or family. They'd been in overlapping friend groups for more than a decade, and when Jefferson moved to Philly (from Brooklyn) in 2016, pal Wendi Jensen had the good sense to plan a night out at the Dolphin. (Wendi, by the way, was also at the mysterious taco truck meet-cute.)
The first impressions? "What a crown of glorious curls!" says Brooke, the executive assistant to the executive director and board liaison at the Pennsylvania Ballet. "I am incredibly drawn to this beautiful, smart, funny person. Stop staring," recalls Jefferson, the director of video for CID Entertainment and CID Presents, of his reaction.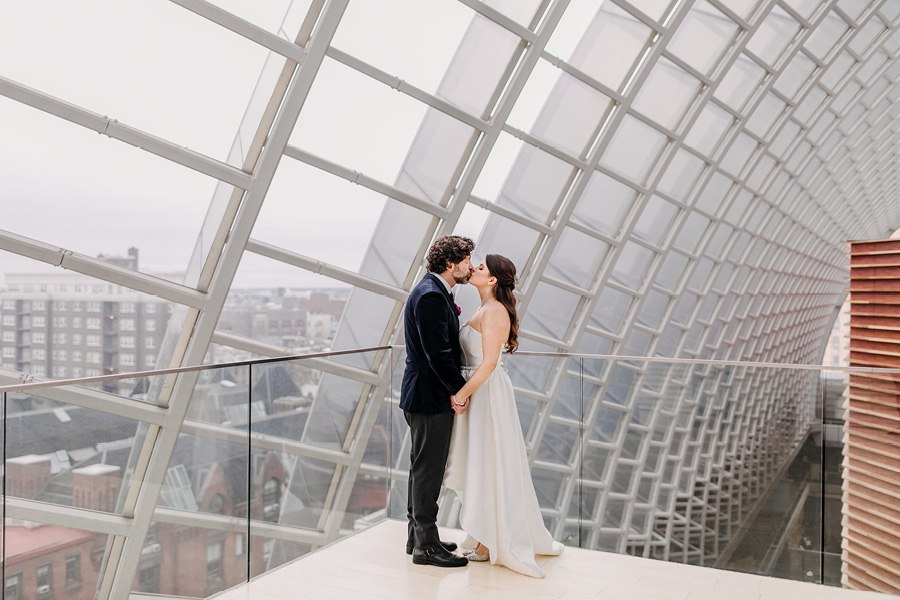 About a month later, they met at the former Saté Kampar, one of Brooke's favorites, for dinner. Brooke biked to the restaurant, arriving as "kind of a hot mess," after cycling in the humid summer weather. Jefferson, however, was the epitome of cool — he wore a periwinkle button-down and had a bottle of rosé he brought chilling in an ice bucket. They later headed to Townsend for more wine, and the night ended on an epic note. "It was legendary bartender Keith Raimondi's last night there, coincidentally, and the [spot] was wild with restaurant industry folks," says Brooke. "It was a party!"
The duo, who now lives in South Philly, dated just under two years before Jefferson staged an impromptu Parisian proposal (read about that 24-hour trip here), which he documented and made into a movie trailer for their fall wedding at the University of the Arts on November 23rd, 2019. In a made-for-TV-moment, the groom almost didn't make it to the first look at the Kimmel Center.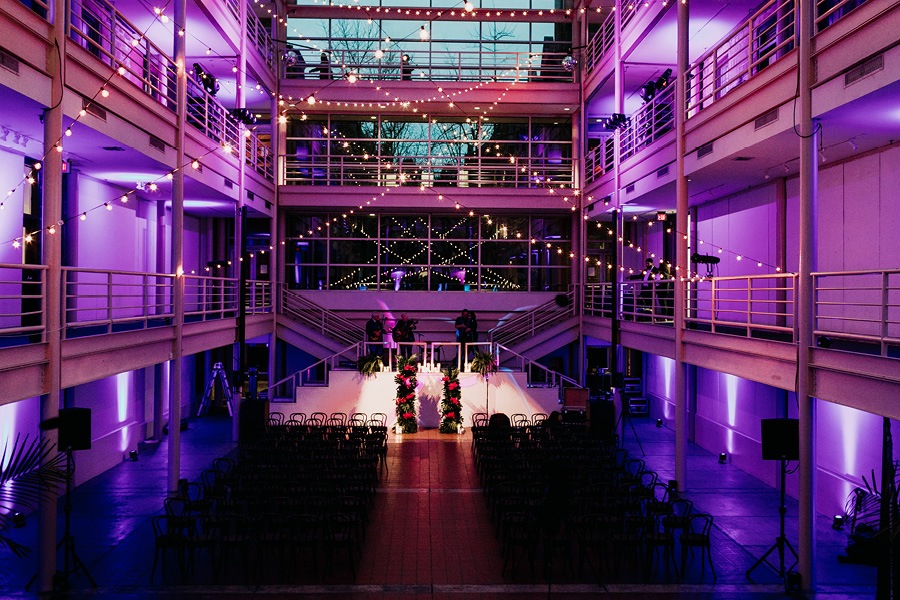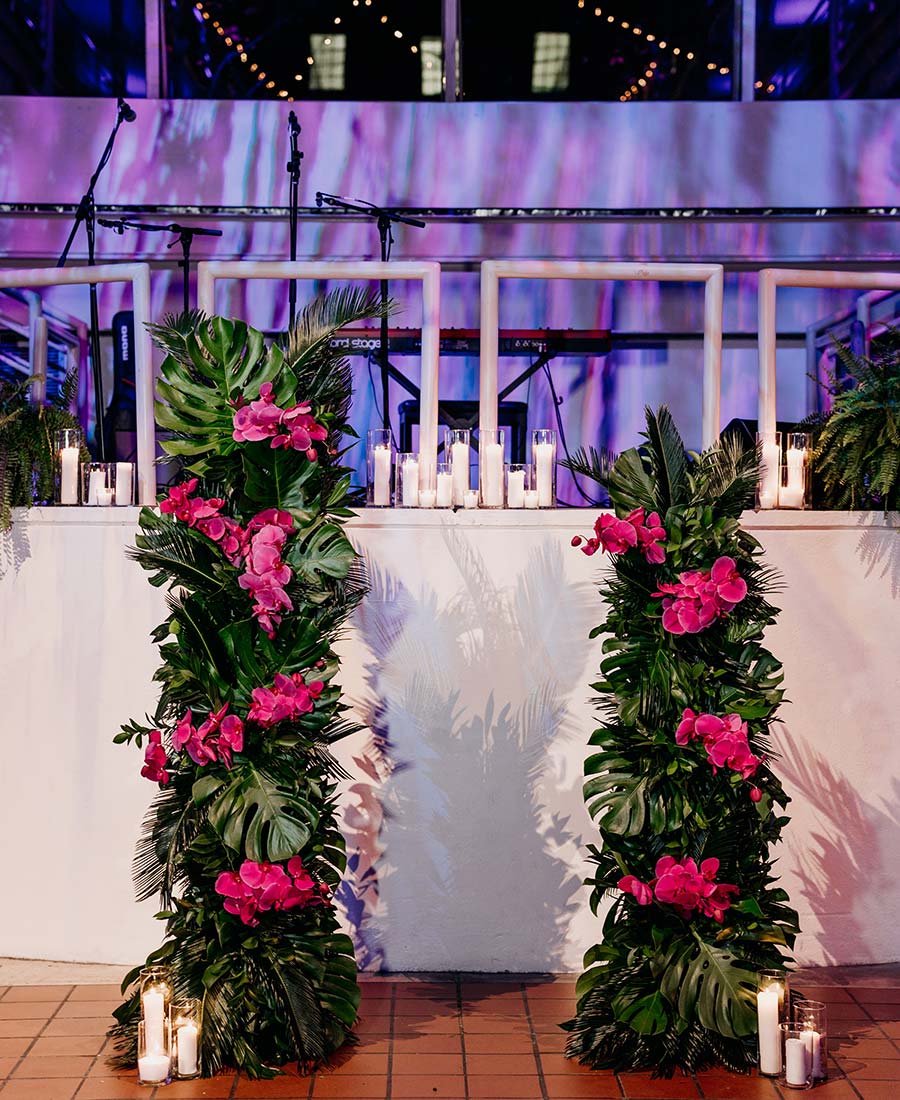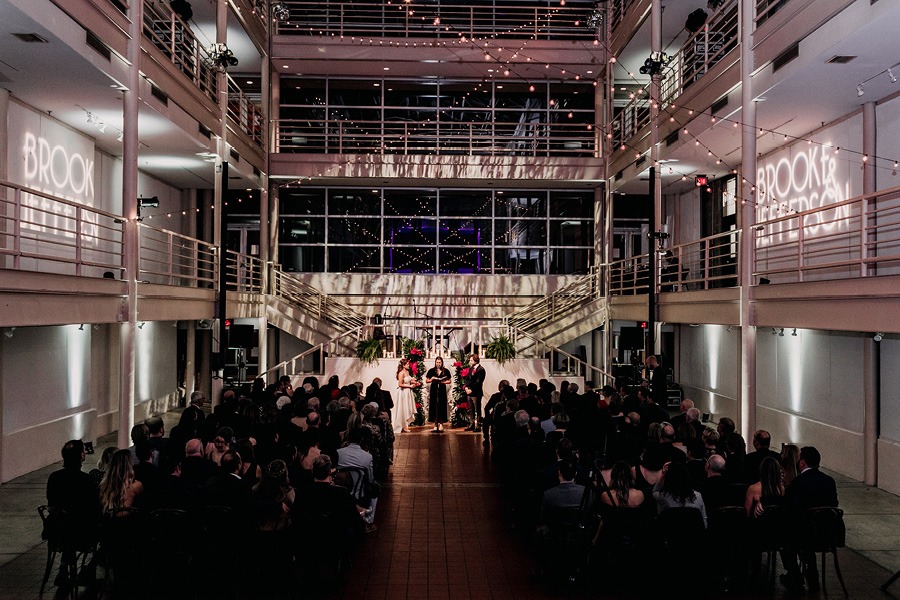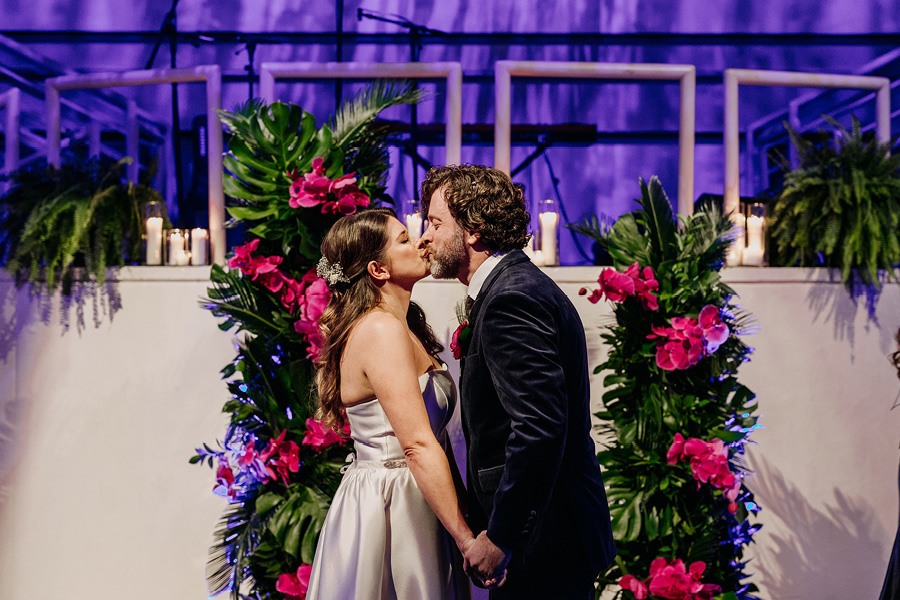 "The Seattle Seahawks were in town and staying at the Loews [the wedding accommodations and after-party,] and I almost couldn't leave," recalls Jefferson. "Of course the team was departing at the exact same time." Exits were blocked and security guards were en masse as the team boarded their charter buses. "And I'm this guy running around in a suit like I have any say in the matter. I told the security guard blocking the door, 'Look man, I have a wedding to get to' and politely barreled past him."
And Jefferson says the couple "nailed" their vows during their ceremony, presided over by his close friend, Regan Marscher. "She was our first choice right out of the gate, and her words about both of us were truly special," says Brooke. The bride had a rush of emotion during the recessional, when "that triumphant bit from 'November Rain' swelled up," she says. That was delivered by DJ Jersey Dan (aka Dan Bisogno), Brooke's friend — who also helped create a "rocking dance party" at their reception.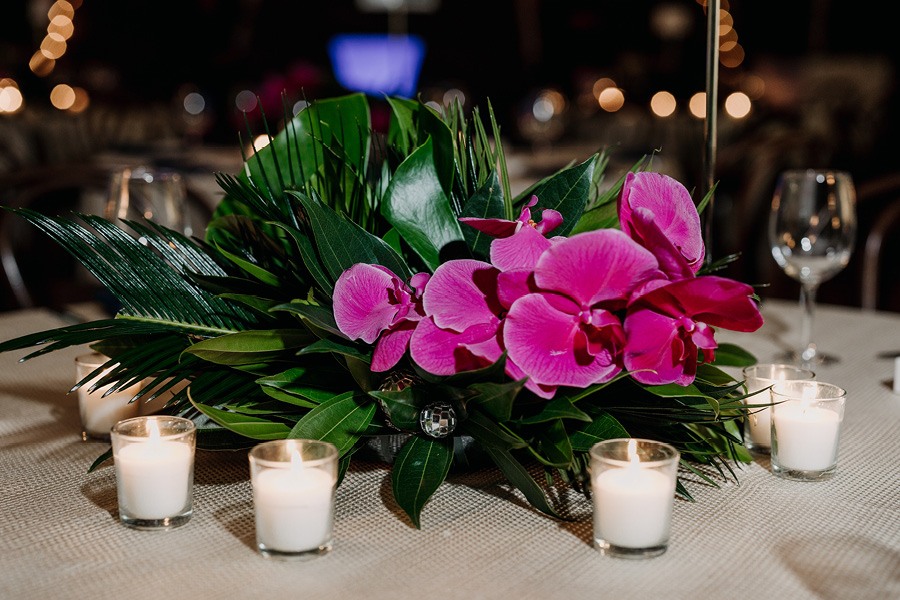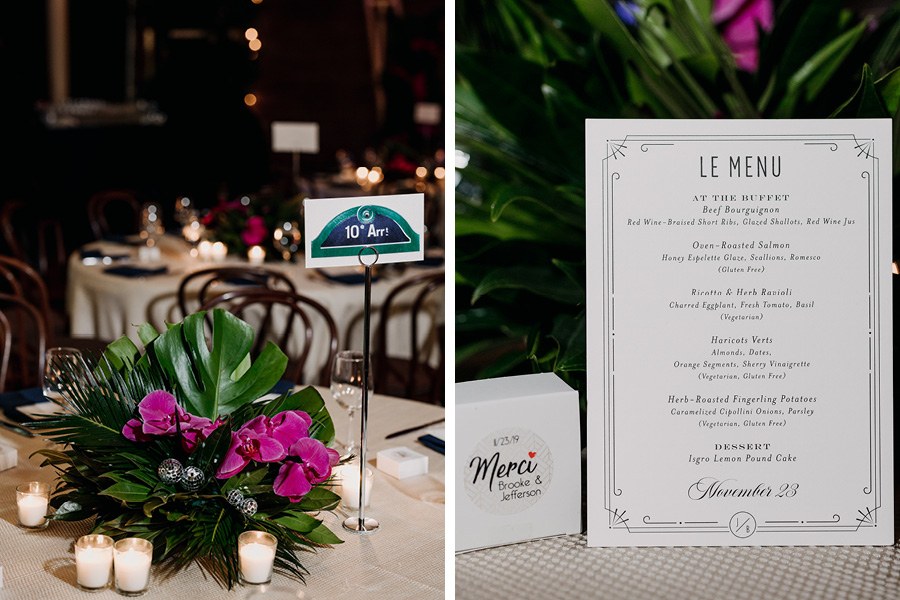 The couple set the scene for it all (Brooke calls it "disco deco with French touches") with a few of their favorite things, like lights and video screens. Jefferson, who toured as a professional lighting designer for 16 years, had a vision: "It was important to me to cover as many surfaces as possible with colored LEDs and to create a surreal, magical ambiance." He hired one of his mentors, Hans Shoop (who tours with Blondie), to pull it off.
The flowers were among Brooke's favorite touches — Meredith Skene at Stems by Meredith used orchids and tropical foliage. The arrangements had mini disco balls tucked into each one — to tie into the theme. The food was a highlight; Brooke worked with Garces for more than a decade (as Jose Garces's executive assistant), so the cocktail hour was what she calls a "Best of" spread, with passed items like ceviche de atún, bacon-wrapped dates and shrimp and Bilbao chorizo brochettes, and a French cheese display. The cava flowed, and the cake by Isgro Pastries was "insanely delicious," so much so that guests asked for seconds. (The couple ate their freezer stash of leftovers after two months.) The topper was also special; it belonged to Brooke's maternal grandparents, who used it on their cake in 1938, followed by her parents in 1978.
But the best part of it all was the convivial, fun, spirited dynamic thanks to their 130 guests. Their first dance, to "At Last," was delivered by friends Jennifer Hartswick (of the Trey Anastasio Band) and Rob Marscher (of Matisyahu and Star Kitchen). Jefferson's father sang and played guitar during his dance with his mom. And all of their pals were on the dance floor during LCD Soundsystem's "All My Friends."
It's what the bride likes to call a "'friend smash,' where friends who don't know each other hang out and end up having a blast together," she says. "Our wedding was the ultimate friend smash."
THE DETAILS
Photographer: Heart & Rae Photography | Venue: University of the Arts | Planning/Design: Natalie Diener | Florals: Stems by Meredith; Kremp Florist (plant rentals) | Catering: Garces Events | Alcohol: Frank's Wine | Bride's Gown: db | studio from David's Bridal | Bride's Shoes: Jimmy Choo (ceremony); Rothy's (reception) | Bride's Jacket: ANLaceStudioShop from Etsy | Hair: Alexis Burkhardt from Lakshmi Hair Studio | Makeup: Lori Kramer from Flawless Finish Artistry | Bride's Nails, Groom's Hair & Beard Grooming: Prep & Foxx | Groom's Attire: Men's Wearhouse; Boyds | Groom's Shoes: Frye | Rings: Golden Nugget Jewelers | Entertainment: DJ Jersey Dan (reception and recessional); band, with Rob Marscher, Jennifer Hartswick, Danny Mayer and Jason Fraticelli (ceremony and cocktail hour); musicians Peter Waful, Rich Hunt, Hartswick, Brendan Bayliss, Max Delaney and Marscher (groom's mother-son dance) | Cake: Isgro Pastries | Invitations, RSVP Cards & Menus: Minted | Additional Paper Goods: Matt Bookbinder (design); Media Copy and Vistaprint (printing) | Videography: Andrew Gormley from Silver & Spark (video and drone footage) | Favors: Asher's Chocolate Co. | Rentals: Party Rental Ltd. (tablecloths, napkins, chairs and high-top cocktail tables) | Lighting: Hans Shoop | Sound: D24K Productions | Rehearsal Dinner: Tinto | Accommodations & After-Party: Loews Philadelphia Hotel
Get more great content from Philadelphia Wedding:
FACEBOOK | INSTAGRAM | NEWSLETTER | PINTEREST
Getting married? Start and end your wedding planning journey with Philadelphia Weddings' guide to the best wedding vendors in the city.
---
---