News
Our Wedding Blended Nigerian, Congolese and Ivorian Traditions With Modern Style
The couple paid homage to their African heritage and life together.
---
At the end of the day, a wedding is a celebration of the couple and their relationship together — the inside jokes, the treasured moments, their families and friends, and, of course, their heritage. And that is what makes this union so special. This Philadelphia couple's wedding at Terrain at Styer's combined their African cultures — Nigerian, Congolese and Ivorian — with modern elements, to create a colorful, vibrant late-summer gathering that was personal to them and what they hold dear. Here, their story, captured by Tonjanika Smith Photography.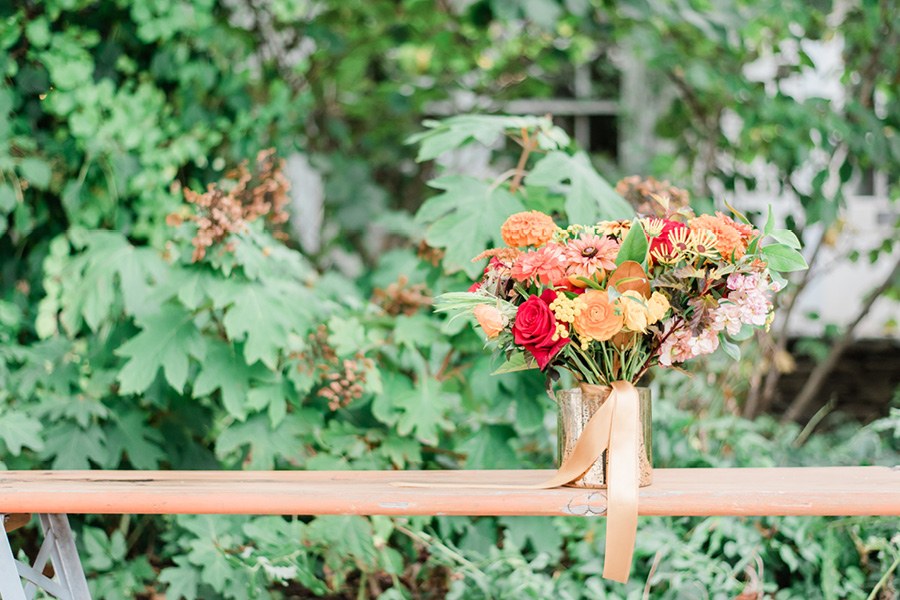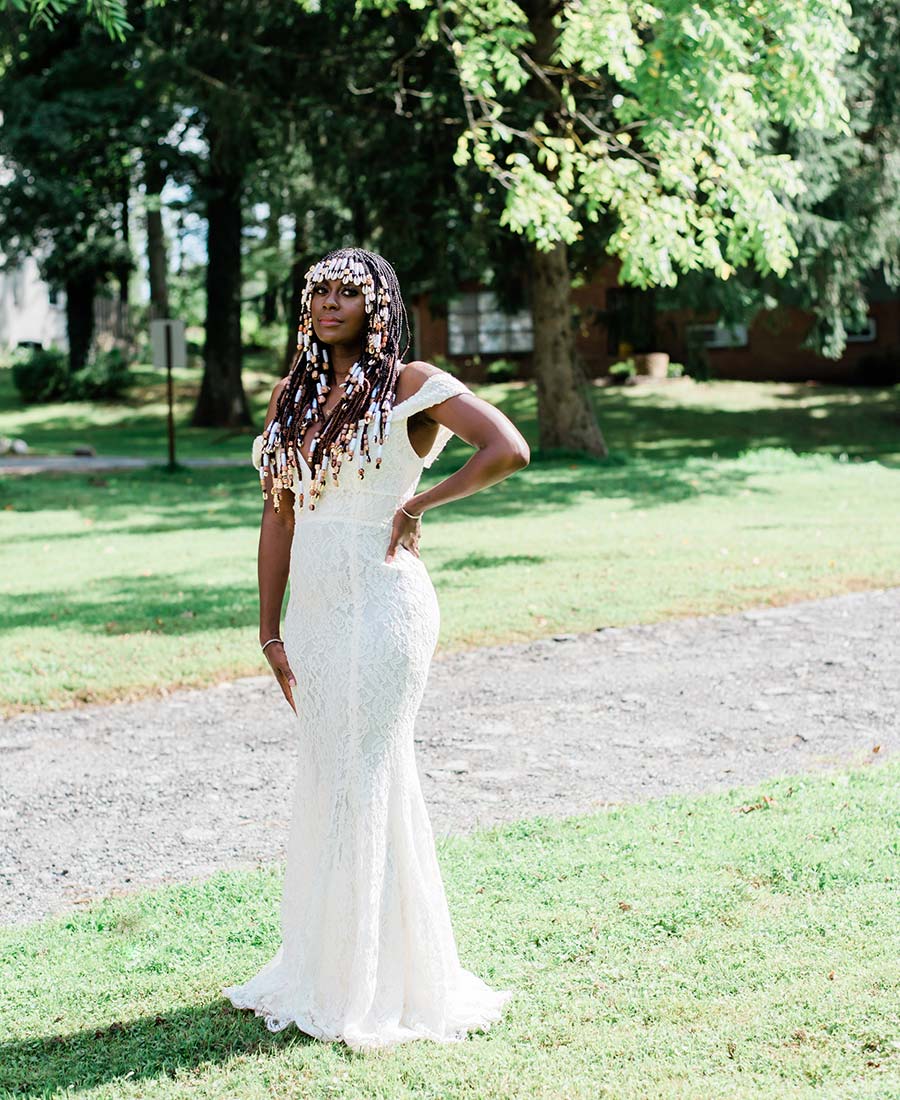 Enongo Lumumba-Kasongo (a.k.a. rapper Sammus) and Lanre Akinsiku's story started on a curiously sweet note. They met at an art exhibit featuring a massive mound of sugar. Neither knew what to make of it: They admitted their confusion and laughed. That led to laser tag on Valentine's Day. "Enongo wore heels and won the first two games," says Lanre, a creative writing instructor.
They dated for two years before Lanre proposed on Christmas in their West Philly apartment. He created a choose-your-own adventure book (Mighty Morphin', named for one of Enongo's most popular songs). All paths led to him.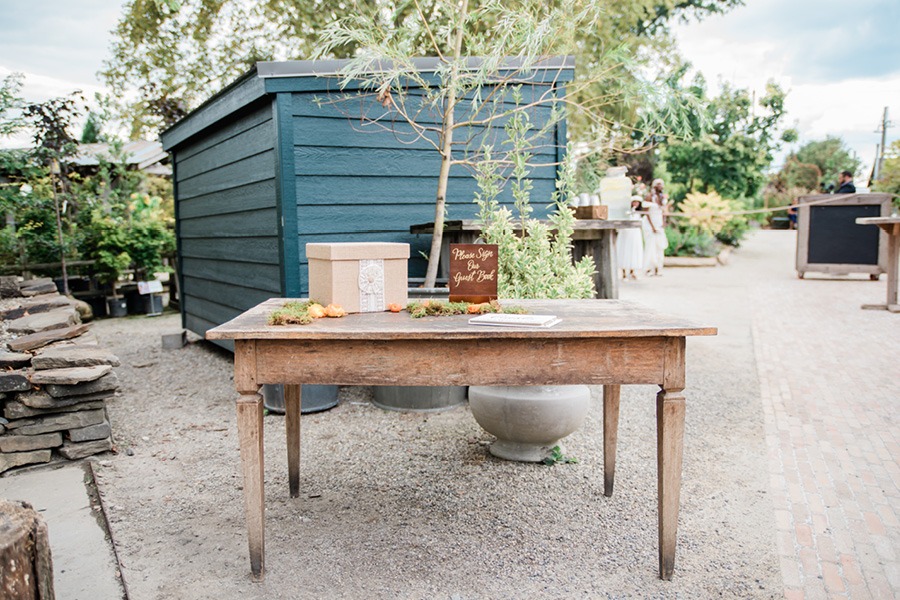 One year and eight months later (August 25th, 2019, to be exact), the couple pledged forever at Terrain at Styer's. Their celebration melded traditional Nigerian, Congolese and Ivorian customs with modern elements and drew 90 guests from around the globe. (The groom's aunts flew in from Nigeria and Australia.) There was the gifting of a fruit basket (symbolic of bearing children) and a West African-inspired money dance (during which the duo is showered in gifts of cash tossed by guests). Lanre had his hair in locs, and Enongo had hers in braids with cowrie shells and beads. They each wore three different wedding outfits during their festivities.
Their unconventional wedding nodded to their life together. They fostered a community ambience by spending the morning with close friends and family rather than a delegated wedding party. As for the ceremony? Philly in August is known for its humidity, but the heat broke before the wedding, so the ceremony could take place alfresco instead of in the greenhouse. "We couldn't have asked for a more beautiful day," says the bride. They read their vows as well as emails from throughout their relationship. Multi-dimensional artist Tsidi Ibrahim (a.k.a. Jean Grae) officiated. "It was totally surreal being married to my best friend, in front of all of my favorite people, by one of the most legendary emcees to ever grace a mic," says the bride.
Other touches included long tables fitted with low centerpieces (in burnt orange, strawberry and mustard yellow hues) to foster conversation among guests, who dined on cuisine that included flower-pot bread. Nutmeg Cake Design's semi-naked champagne confection bore florals in the signature colors and featured raspberry filling and buttercream icing. And guests were gifted with glasses reading "Forever and Always" and coin purses made from African textiles.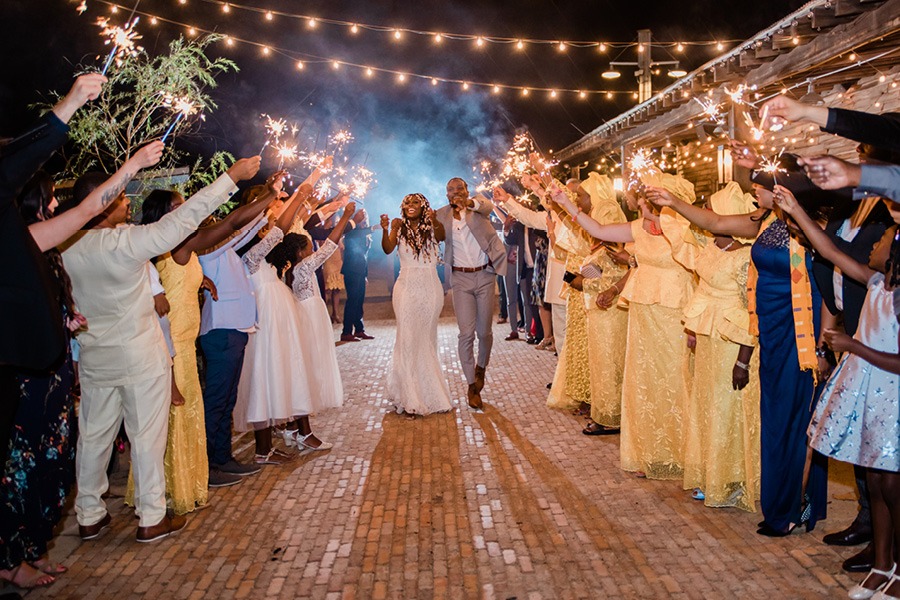 But sharing it all with the special people in their lives remains a highlight. "There was just so much love in the room," says Lanre. "I can still feel it."
THE DETAILS
Photographer: Tonjanika Smith Photography | Venue & Catering: Terrain at Styer's | Planning/Design: Lucinda Maree Liegel of Lucinda Maree Weddings | Florals: Belovely Floral Co. | Bride's Gown: Reformation | Hair: Jennifer Lord, with assistance from Rachel Auguste and Jennifer Bordes of Natural Hollywood | Makeup: Keanda Snagg | Groom's Attire: Custom design by Jerald Smith from the House of Black Balloon | Entertainment: Philly With a Twist | Cake: Nutmeg Cake Design | Transportation: King Transportation | Videography: Kevin Schreck Productions | Drinks: 13th Street Cocktails | Photo Booth: The Yellow Mirror | Officiant: Tsidi Ibrahim (a.k.a. Jean Grae)
Get more great content from Philadelphia Wedding:
FACEBOOK | INSTAGRAM | NEWSLETTER | PINTEREST
Getting married? Start and end your wedding planning journey with Philadelphia Weddings' guide to the best wedding vendors in the city.
---
---