Look Inside a 1912 Church Transformed into the Gorgeous New Pocono Palms Wedding Venue
The Sooner and Later package is a perfect option amid the pandemic.
---
No, not every wedding venue in the rural parts of Pennsylvania is a barn or farm. In fact, some are downright modern. Enter Pocono Palms, a four-acre rural oasis in Cresco. The decommissioned Catholic church circa 1912 has been restored into a contemporary enclave complete with indoor and outdoor spaces, secret spots and a Sooner and Later package to ease the pain of planning amid the pandemic. And it's perfect for a couple who wants to run wild with their Big Day whims.
"We are excited by the couples we are bringing in here," says Alyssa O'Leary, who co-owns Pocono Palms with sister Carolyn O'Leary. "We are attracting couples with a creative, open mind." Originally from Allentown, the two formerly lived in NYC where they worked in design and marketing, respectively, before they traded their big-city gigs for their dream: collaborating creatively. That materialized in a wedding and event destination. "When we started looking for a venue, we didn't have this specific vision," says Alyssa, a mom-to-be and former fashion designer with a love for woodworking. "We wanted something breathtaking; we were looking at properties with a ton of land. But when we walked in, we had a moment like this is going to work."
They moved into the same house with their families (Carolyn is a mother of two and previously worked on such initiatives as launching Justin Bieber's first fragrance) to dedicate their time to restoring the property, formerly known as St. Bernadette. The renovations began in 2019; while the pandemic caused construction to halt, they are on track and expect to open in late August or the fall. Tours are taking place now.
Want a peek? Let's start indoors — and up, with the arches. The duo painted them black, adding a striking contrast to the white walls. (Just imagine snapping photos underneath those angles!) A black-and-white tile dance floor was added. Sixteen herringbone tables were crafted out of the pews, and a confessional was transformed into the women's room. A hidden space (and photographer favorite), according to Carolyn, is the former choir loft, with its view over the reception area. The sisters are looking into making it a private lounge or getting ready space; it could also function as an area for whiskey tastings. The indoor reception area can accommodate up to 160 (subject to COVID-19 guidelines).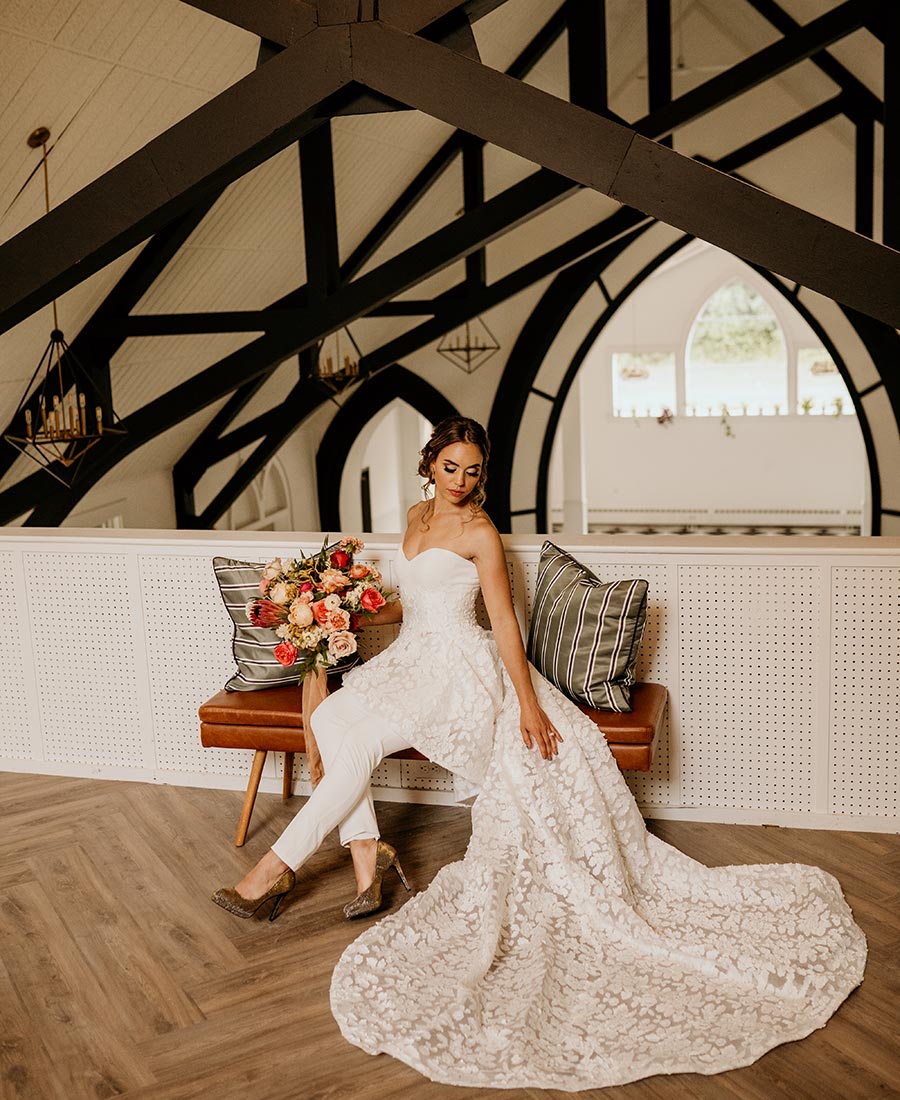 Outside, the freshly painted blue-green facade was topped off by a metal roof. The team excavated half of the parking lot to create alfresco spaces, including a ceremony site and outdoor cocktail area; there are trails, streams and bridges for first-look photos. Oh, what about the palms? Tropical plants give the venue a fun vibe — think mid-century Palm Springs style. "We're set in this rustic setting, surrounded by trees, and in our little oasis," says Alyssa. "It is unique to the area."
Ultimately, they hoped to create a transformative space; it could be standalone or adaptable, with all black and white with neutrals and greenery, or form the backdrop to any trend. Want to get married indoors during the winter, surrounded by ultra-glam decor? Sure. Want to set a boho-cool scene outside? That'll be a breeze. In fact, the pair is not limiting the vendors, though they have a recommended list (including those in these photographs); your team should meet with the Pocono Palms team beforehand.
The destination is offering various packages and is largely booking for 2021 — though its Sooner and Later program adds an incentive for those seeking to say "I do" in the fall. With this service, you and your betrothed will be able to hold a micro-wedding (less than 40) now and a larger bash in 2021 for $8,750. (This package requires you to work with a specific list of vendors.) This is also the cost of a Saturday wedding package, which includes full-day access to the grounds, lounges and bridal suite. Other options are elopements for 10 or less and micro-weddings.
If all that piques your interest, know this: Alyssa and Carolyn's dream for this space is to see you use it in your own way. So you do you.
For more on Pocono Palms, click here.
Get more great content from Philadelphia Wedding:
FACEBOOK | INSTAGRAM | NEWSLETTER | PINTEREST
Getting married? Start and end your wedding planning journey with Philadelphia Weddings' guide to the best wedding vendors in the city.
---
---