What It's Like to Do a FaceTime Engagement Shoot
The couple's photographer snapped the pictures virtually.
---
I have to admit, I often struggle with the digital world: Sometimes the technology is so mind-boggling that I can't quite grasp it. But the coronavirus pandemic has given me a new appreciation for how it can share and capture special moments — even when I agonize about learning how to go live or operate Zoom. So when Jena Wilson, 31, reached out to Philadelphia Wedding about her recent FaceTime engagement photo shoot, held in the Collingswood apartment she shares with fiancé Anthony Kotlarsky, also 31, I was intrigued. Did the photographer take the photos through the computer?
Yes, though you probably figured that one out by now: Kristen Lopez of Dearly Beloved Weddings snapped the sesh with her cell phone. "The quality is not compared to a professional DSLR," she says. "However, I think the main goal is not to get the most stunning quality photos, but to have fun with your partner and make positive memories during such a stressful time." Lopez came up with the idea after seeing overseas photographers do webcam portraits. She also thought it would be a great way to provide a bit of cheer for couples whose weddings are impacted and support the community: For each sesh, she asks for a donation of at least $15 from the couple, which Dearly Beloved matches. The funds go to Second Harvest Food Bank and the Allentown Rescue Mission. Every single duo has contributed at least that; one even gave $50. "It's been amazing to see how couples have been so generous," says Lopez, who adds that seven different pairs have taken her up on the offer in the last two and a half weeks, with a handful more in coming days (and more to come).
"I would absolutely do a virtual shoot again and suggest it for any couple who wants to share such a sweet, special memory," says Jena. She and Anthony, who are planning for a wedding in March 2021 at Tendenza, had initially decided upon this spring for an engagement shoot. (He proposed in March 2019 beneath the Ben Franklin Bridge.) They wanted to capture the verdant florals of the season (Jena has a penchant for blooms; she designs sketches with real flowers as the fabrics) and were considering Longwood Gardens or a mountain environment for the photos. But with stay-at-home orders in effect for the near future, they began searching for new ways to capture the moment. "I saw [on Instagram] that Kristen was offering a FaceTime photo shoot," says Jena. "Because I knew our engagement photos were likely not going to happen at the time we thought, I figured it would be a great opportunity to capture us in our home and have them in case we never get the chance to take the photos we really want to."
The day before the new shoot, Jena and Kristen scouted the space together via FaceTime. "I gave her some of my suggestions as to what would be best, knowing fun places (like our back porch or stairs)," says the bride-to-be. Day of, the couple carried a tripod from room to room, placing it on tables and chairs per Kristen's guidance. "Whether they use a tripod or a book, once they place the phone down in a decent position with some good natural light, I take over with the direction," says Kristen. "I gave them direction like I would at an in-person session. I prompted them into real laughter, real emotional moments and just challenged myself to give them a similar experience as if I were in the room with them."
It lends to truly intimate moments — different, in a sense, from a typical engagement shoot. "We wanted to showcase what we love to do: spending the afternoon listening to music, snuggling on the couch, sipping Champagne in the kitchen and hanging out on the porch," says Jena. "That's the real us." The barefoot, caught-in-the-moment quality makes them even more beautiful, as if we're getting a glimpse into the couple's future. "I think these FaceTime sessions just give couples a reason to put the focus on each other and remember that they're in this together," says Kristen. "It's been so easy to get the couples to show affection to each other because of everything that's going on. I'm reminding them to just be in that moment together and be themselves and cherish their time together, despite the chaos around us all. Those emotions paired with the raw and organic feel that the cellphone-quality photos bring make the images feel so personal."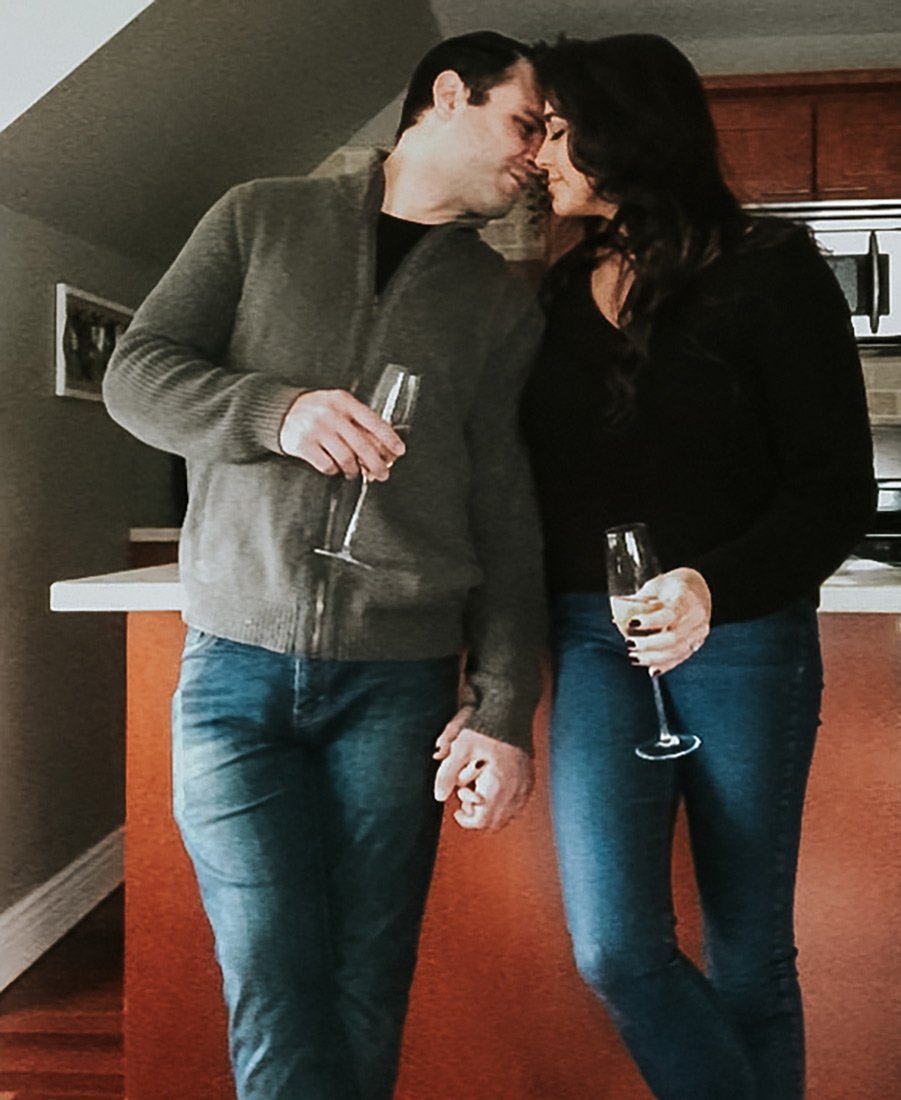 Dearly Beloved will likely continue to offer the service in the near future. "We've got to adapt as a small business and figure out ways to give our couples an emotional, authentic and memorable photography experience and, of course, sustain our small business and lifestyle," says Kristen. "We're looking forward to things getting somewhat back to normal, but I think there is something really special we have all discovered during this time: Your friends and your loved ones are only ever a phone call or a FaceTime away."
RELATED: A Guide to Philadelphia Weddings During the Coronavirus Outbreak
The biggest hiccup of it all? Jena's hair, says the bride-to-be with a laugh — that and getting Anthony to shave his "corona beard." It didn't matter, however. "I think for a lot of brides planning their weddings right now, it's become so much less about the glitz and glamour, and so much more about the important things: being thankful to have your fiancé, your family, your friends, your health."
The couple hopes to do a larger engagement shoot should time and restrictions allow, but they aren't going to dwell on it. "It's such a crazy time in the world, but when we look back on this day, we don't remember the stress we felt," says Jena. "Instead, we realize how grateful we are. This shoot is something we never would've arranged if the circumstances were different, and the outcome is irreplaceable."
Get more great content from Philadelphia Wedding:
FACEBOOK | INSTAGRAM | NEWSLETTER | PINTEREST
Getting married? Start and end your wedding planning journey with Philadelphia Weddings' guide to the best wedding vendors in the city.
---
---