This Bride Wore a Tinsel Jacket at Her Awbury Arboretum Wedding, and We're Obsessed
The Star Wars inspiration added even more sparkle.
---
This Sunday dinner-themed wedding at Awbury Arboretum photographed by Shannon Collins was filled with personality (Star Wars played a role), artful florals by the bride's sister and a shimmery tinsel jacket for a final touch — perhaps it will spark your own creative inclinations too.
[Ed. Note: The coronavirus outbreak has impacted the wedding industry greatly, and we are committed to continually sharing pertinent news and information for and about couples who are navigating the impacts on their weddings and related events. We must also, however, serve as a resource for those preparing for weddings in the future, and honor weddings that have recently taken place. We are here to support past, present and future Philadelphia weddings.]
A bit of puppy love first brought Edith Chang and Yonathon Dassa together, but it was their shared adoration for a good story, a great time — and each other, of course — that solidified their status. The duo, who lives in Boston, met during a low-key hangout with their respective roommates, who also were pals: Yoni was playing Call of Duty, while Edith was trying to win over Yoni's dog, Teddy. She did more than make a four-legged friend, however. "She came over… wearing workout gear and no makeup," recalls Yoni. "I thought she looked stunning, so much so that I turned to my roommate at the time and called dibs on taking her out. The fact that she clearly loved animals and was so effortlessly gorgeous piqued my interest."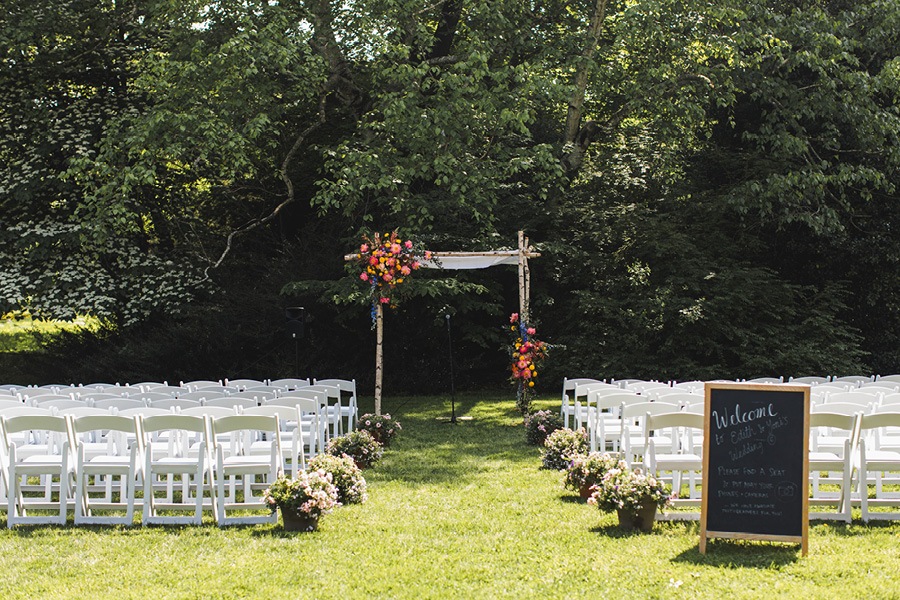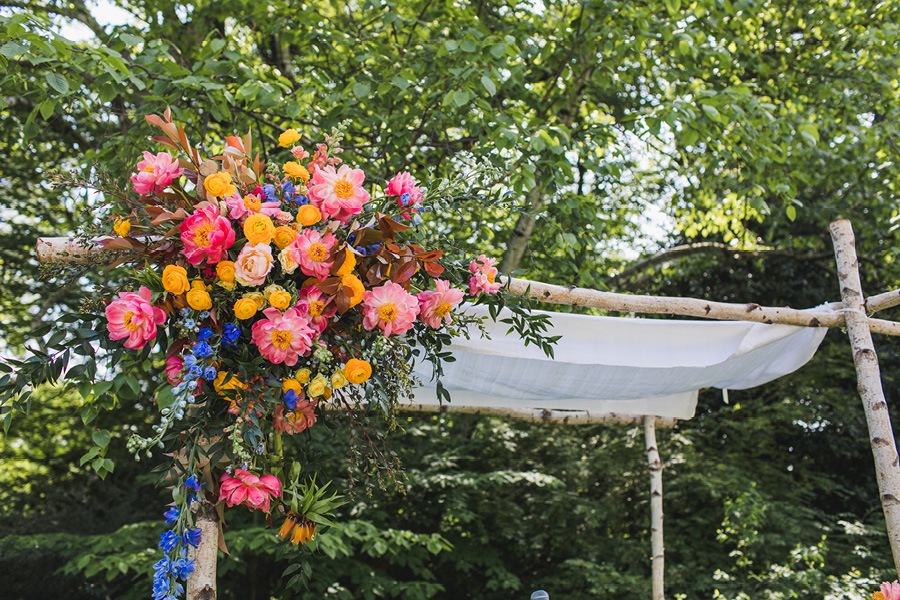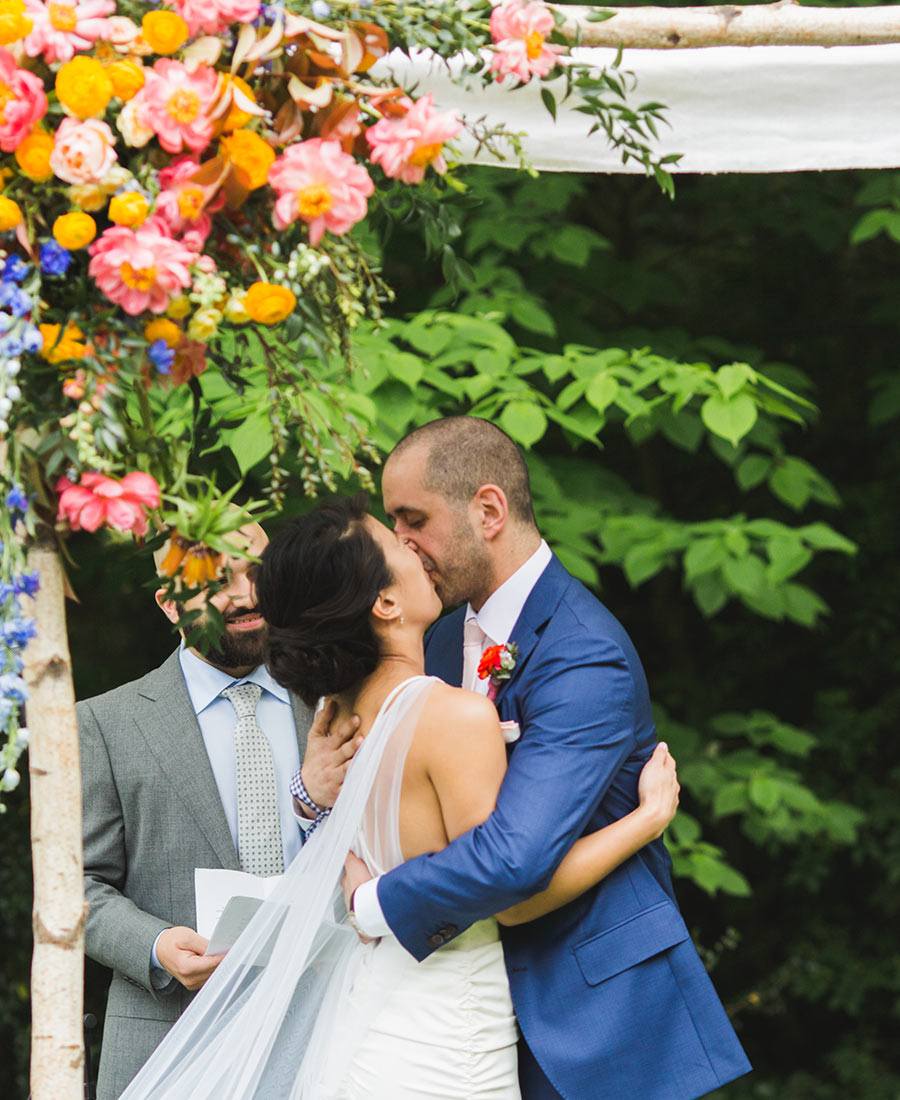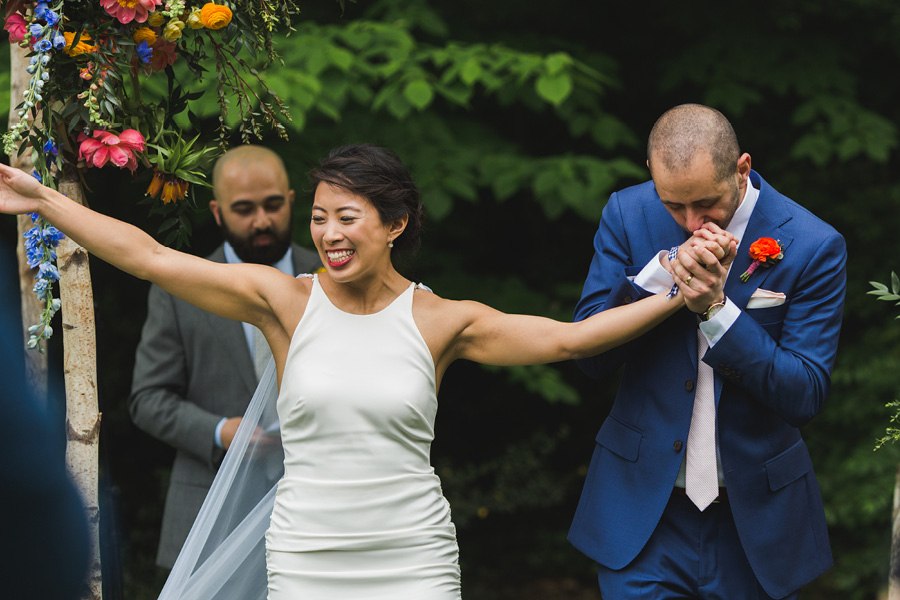 But it was Edith who ended up making the first move: She asked him out on a date to one of The Moth events, a themed storytelling evening that they credit with giving them thoughtful topics to get to know each other better. It worked, because they dated for two years before getting engaged — which is a story in itself. The couple was in Greece to celebrate Edith's graduation from nursing school; Yoni had also planned an elaborate sunset dinner proposal in a mountainside vineyard. His scheme was foiled when Edith found out. "Yoni panicked and attempted a nonsensical lie to postpone the surprise," she recalls. "That did not go well. We can laugh about this now." He popped the question after all — a bit differently, over dinner at Faka, a quaint family-owned restaurant. "The whole thing was a very Edith and Yoni situation — never going as planned but always working out just right," they share.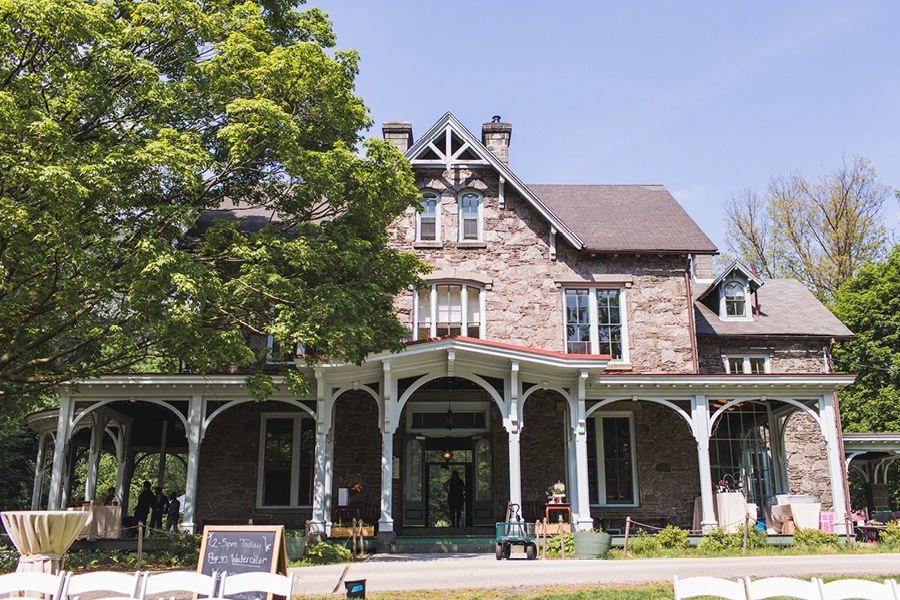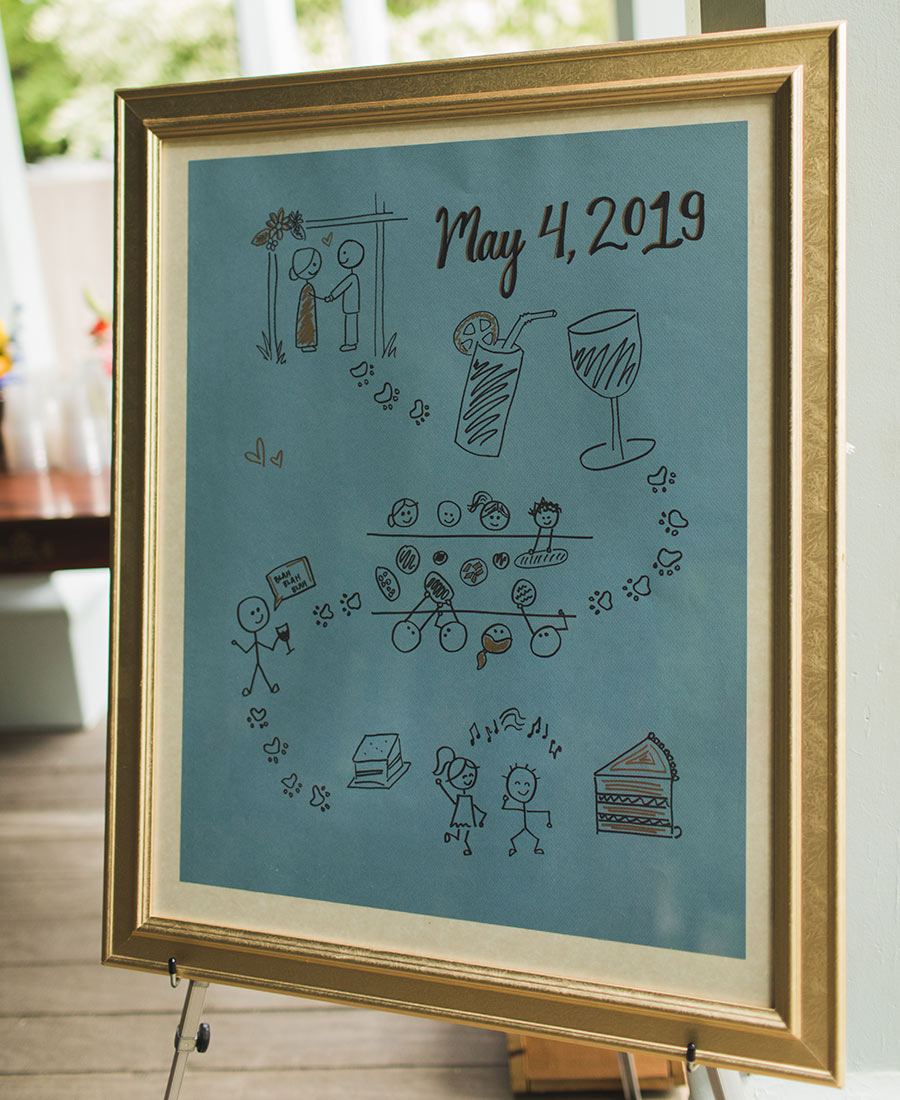 Their May 4th wedding at Awbury Arboretum (she hails from Wayne) was warm, welcoming and happy, and designed to feel like one of their Sunday dinner gatherings with close friends and family. There were yard games, a hint of Star Wars inspiration (May the 4th be with you, of course), music and food. "[It] was a hodgepodge of this and that, just like us," shares Edith. One of her favorite details was being able to give a speech thanking all of the people they love. "Public speaking really stresses me out," she says. "It was surprisingly really easy with Yoni by my side, and it was just one more thing to add to the reasons why I was marrying him."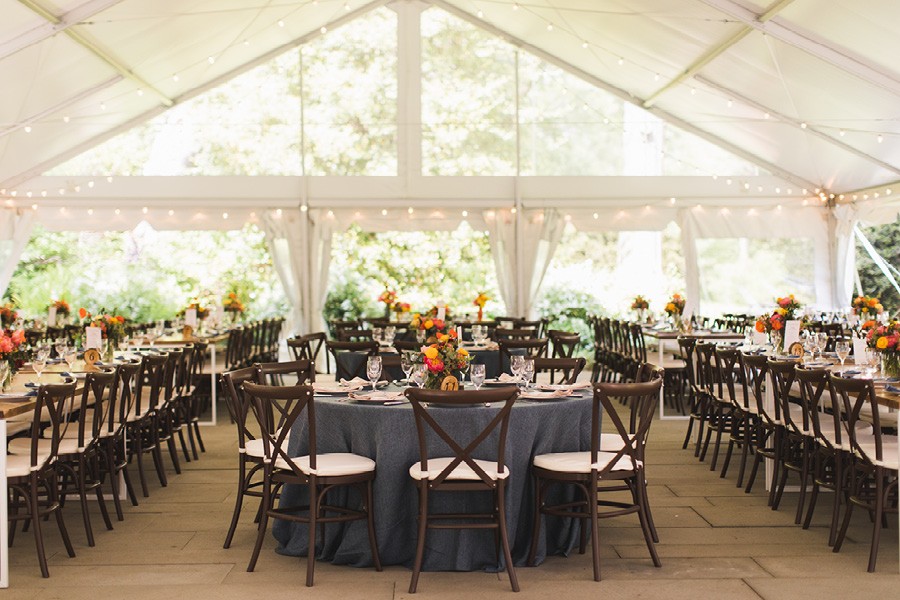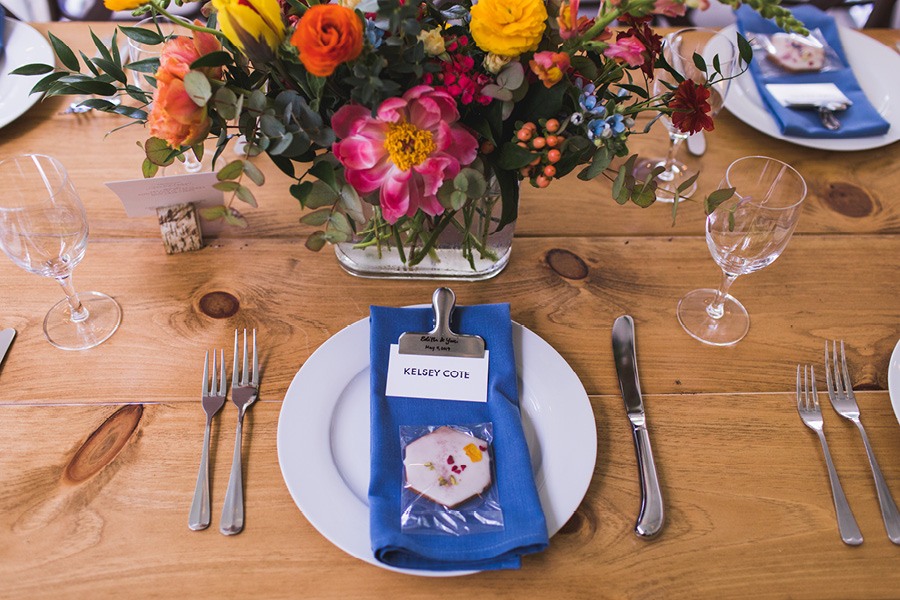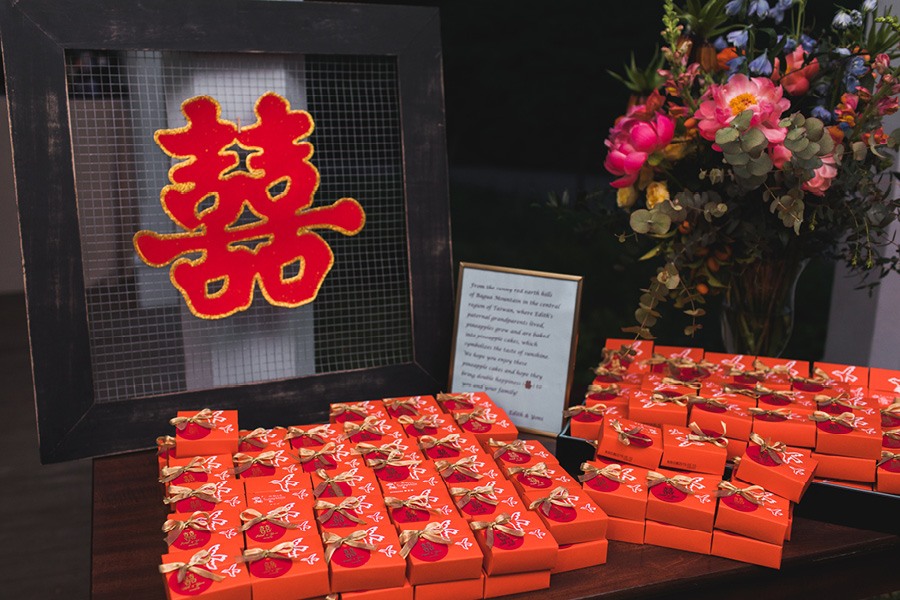 This comfort and ease carried through each aspect of their special day; the pair felt blessed to spend the day with their favorite people. "It was more like a joyous reunion party than a formal affair," says Yoni. His cousin, Annie Taubenfeld, designed their wedding logo; they printed it on custom invitations and linens. (They also have the original on display in their home.) Kiddos in attendance were given Star Wars-themed wedding coloring books by Mariapalito. And Edith's sister, Peicha Chang of Vault + Vine, crafted the floral arrangements using peonies, garden roses, Philly-grown ranunculus and tulips. These brightly colored beauties accented tables where guests dined on cuisine served family style—coffee-smoked brisket, crispy summer grouper, green pappardelle and butter-broiled local mushrooms. Signature cocktails Sparkling Lychee Limeade and Ode to Limonana were toasted. And there were late-night snacks too, by way of Philly pigs (mini hot dogs wrapped in house pretzels) and crabcake bites, and wedding favors that included honey shortbread cookies by Cake Life, chip clips and pineapple cakes from Taiwan.

Oh, about that tinsel? Yes, we saved the best for last: Edith's hot pink and silver tinsel Rachel Burke jacket. She'd purchased it in advance of their wedding, and Yoni called it "the most ridiculous thing to splurge on" at the time. But she wore it for their reception; she started shimmying in the tinsel, and the tent erupted in cheers. "We've never heard anything like it," says the duo, whose first dance to "(You're) Timeless to Me" from Hairspray earned even more applause. The couple's final word on this story? "And that is how Yoni learned that Edith's tinsel jacket is awesome."
THE DETAILS
Photographer: Shannon Collins | Venue: Awbury Arboretum | Planning/Design & Catering: Nicole Hutnyk of Birchtree Catering | Florals: Vault + Vine | Bride's Gown: Nicole Miller Manayunk | Cape Veil: Champagne & Grit | Hair & Makeup: Onlo | Groom's Attire: Suitsupply | Cake: Cake Life Bake Shop | Cake Toppers: Goose Grease | Invitations & Wedding Logo: Anniegrams from Made by Itineris, designed by Annie Taubenfeld and printed by PaperSource | Entertainment: The Craig Satchell Experience | Ice Cream Desserts: Weckerly's | Rentals: Maggpie | Photo Booth: Cut + Paste Photo Booth
Get more great content from Philadelphia Wedding:
FACEBOOK | INSTAGRAM | NEWSLETTER | PINTEREST
Getting married? Start and end your wedding planning journey with Philadelphia Weddings' guide to the best wedding vendors in the city.
---
---