Coronavirus Wedding Diaries: We Still Held Our Church Wedding — Minus the 270-Person Guest List
This couple clinked Coronas after saying "I do."
---
The coronavirus crisis has upended life in Philly (and across the country) in more ways than we can count. With the strictest guidelines first focused on large group gatherings, and now all of Philly under a stay-at-home order from Mayor Kenney, weddings as the grand celebrations we know and love them as are effectively halted. While there's no perfect roadmap for how to proceed, there is something to learn from every couple's story as they navigate postponing, canceling, and changing their wedding plans in the wake of COVID-19.
This story is part of Philadelphia Wedding's on-going Real Talk series, where real Philly couples share their unique approaches to wedding planning and marriage. If you have a unique story or experience worth sharing, we'd love to hear about it.
The Couple: Lauren Clavin, 31, of Manayunk, and Bob Walsh, 33, of Hatfield, New Jersey
Wedding Date: Friday, March 20th [Ed. Note: This was before Mayor Kenney issued his stay-at-home order.]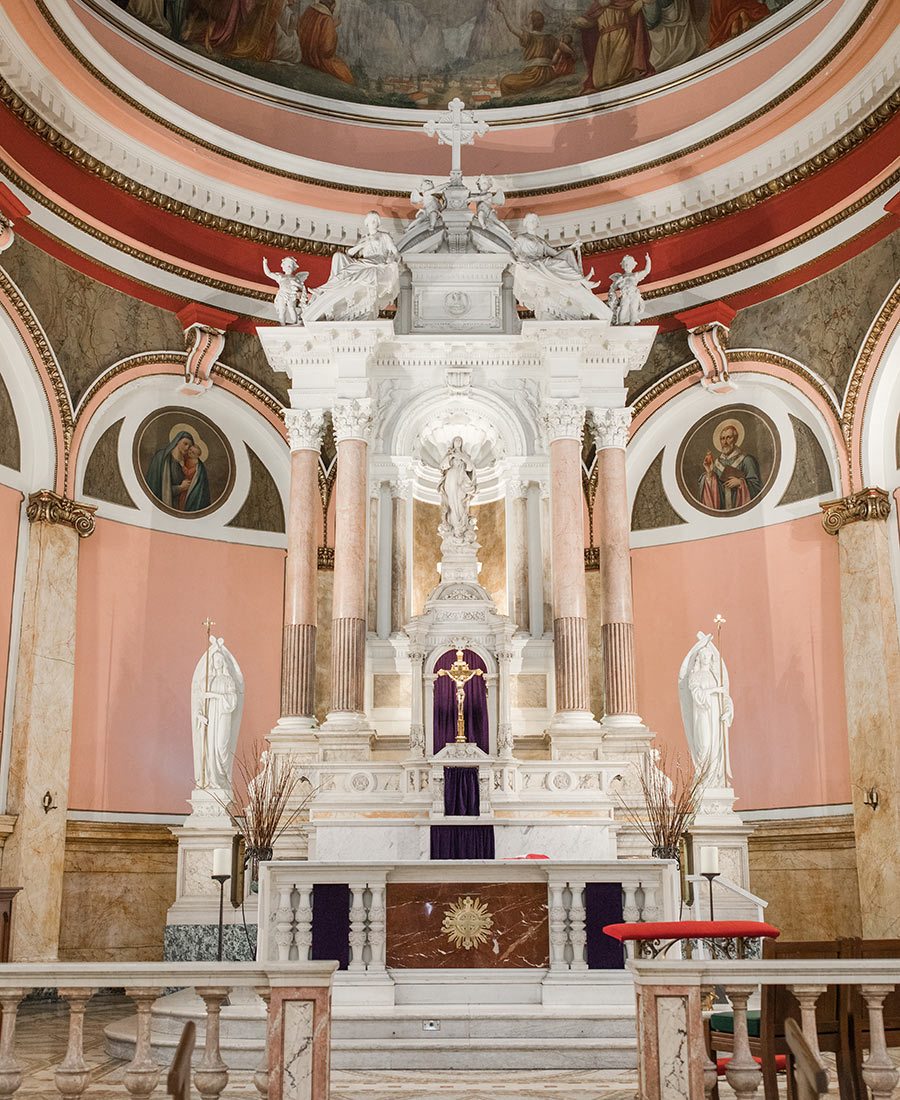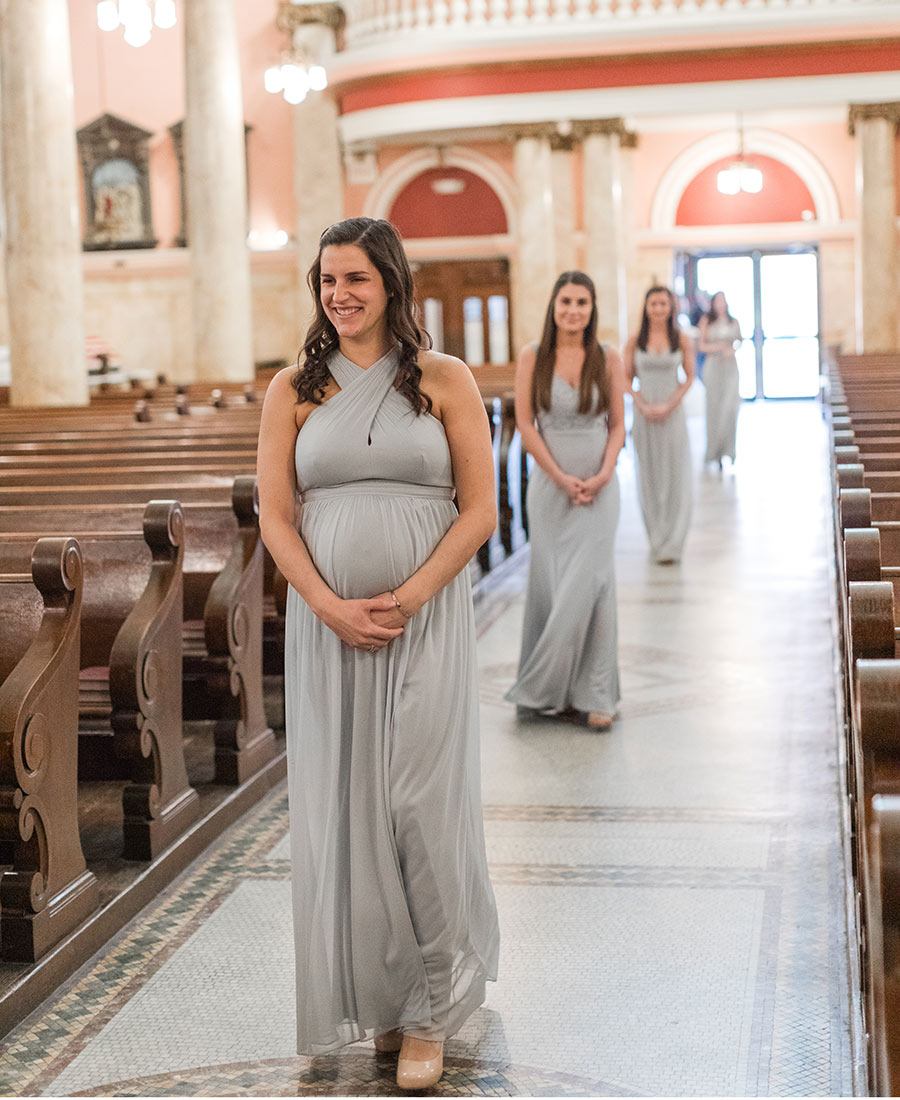 Tuesday, March 17th. Three days before the wedding.
As told by Lauren
We first started thinking about canceling … when cases of coronavirus started to really rise in the United States. I started to think about if it would be socially responsible to have a reception our size, because we had 270 confirmed guests.
Bob is a nurse. It did cross my mind that there could have been someone in his hospital who has the virus, and that Bob may not have symptoms and could pass something on to someone else and we wouldn't even know. Because of course, as the bride and groom, everyone's going to want to hug you on our wedding day.
It wasn't until … Bob's grandmother is in a nursing home and they told us that she wouldn't be able to attend that we really started feeling like the day wasn't the same anymore.
The Monday before the wedding … I woke Bob up at six o'clock in the morning. I told him I think we need to postpone the reception. It just wasn't sitting well anymore. There were a lot of family members who are sick that could no longer come, and there was new guidance saying you shouldn't have any gatherings over 50 people. So we made the decision to postpone. While we were in the process of doing that, the city issued the guidance that we actually wouldn't be able to have the reception anyway, so the decision was kind of made for us simultaneously.
We called our priest. He has been such a pleasure to have as part of this process. He said that whatever we wanted to do, he would do. If it was a small number of people, he would be so happy to still marry us at our church Friday, or he would marry us in June. He left it up to us. [Ed. Note: The couple opted to keep their Friday ceremony, but with only immediate family in attendance.]
Up until then … it was hard to be excited with all the feelings of disappointment and worry. But now, I know what the day is going to be. I'm going to walk down the aisle and marry Bob, and I'm not going to have those fears about getting someone sick. I feel excited again.
I'm still undecided on my dress. I picked it up today, and looking at it really made me want to wear it on Friday. But it's maybe something I want to save for June. [Ed. Note: Lauren and Bob were able to move their 270-person reception at the Ballroom at the Ben to a later date.]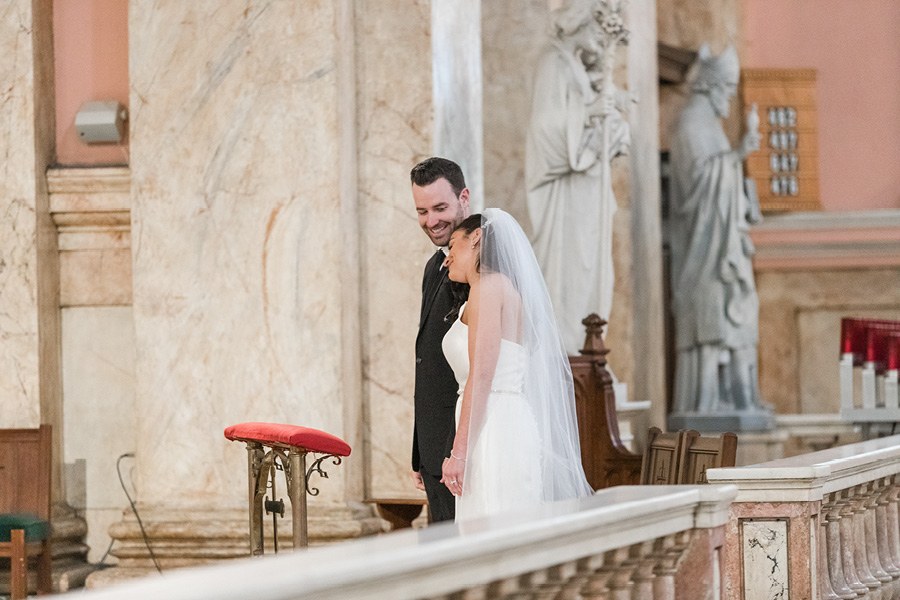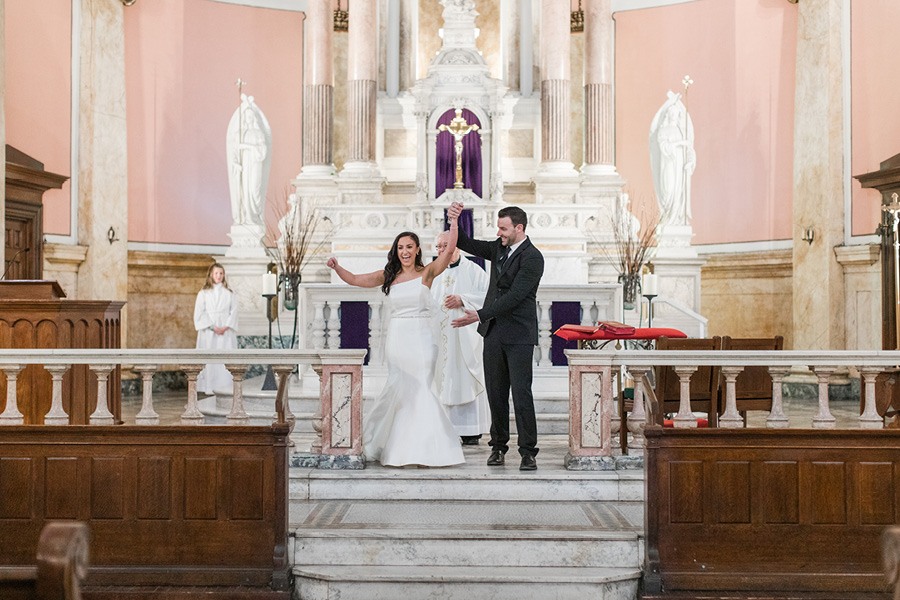 Monday, March 23rd. One day after the wedding.
As told by the couple.
It was the best moment of our lives. By the end of the day, we didn't even think about the fact that we were missing our reception.
We both stayed with our families the night before. I rode to the church in my dad's car. I did decide to wear my wedding dress, and I never would have anticipated riding to my wedding like that — laying down in the front seat so I wouldn't get it wrinkled.
My sister did my hair. I did my own makeup.
There were less than 15 people there. It was just our parents and our brothers and sisters.
There's a photo that's really telling of how it was. The whole church is empty, and you can see our families on either side. Everyone is sitting several feet apart.
The priest said it was the most intimate wedding mass he remembers doing, but it was perfect. I was honestly really sad that week thinking our bridal party and people that are very close to us wouldn't be there, but, when we were in the moment, it didn't really matter who was there except for our immediate family, and that we were there together. I never once turned around and thought, "This is bad."
Our photographer still came. I don't know how, because she was by herself, but she captured me walking down the aisle and Bob looking at me. I don't know how she captured it at the same time, but she did.
When we walked out of the church, we saw … my aunts and uncles and two of my cousins standing outside in the street, holding up a sign. It was kind of sad that I couldn't go over and hug them, but it meant so much that they still came.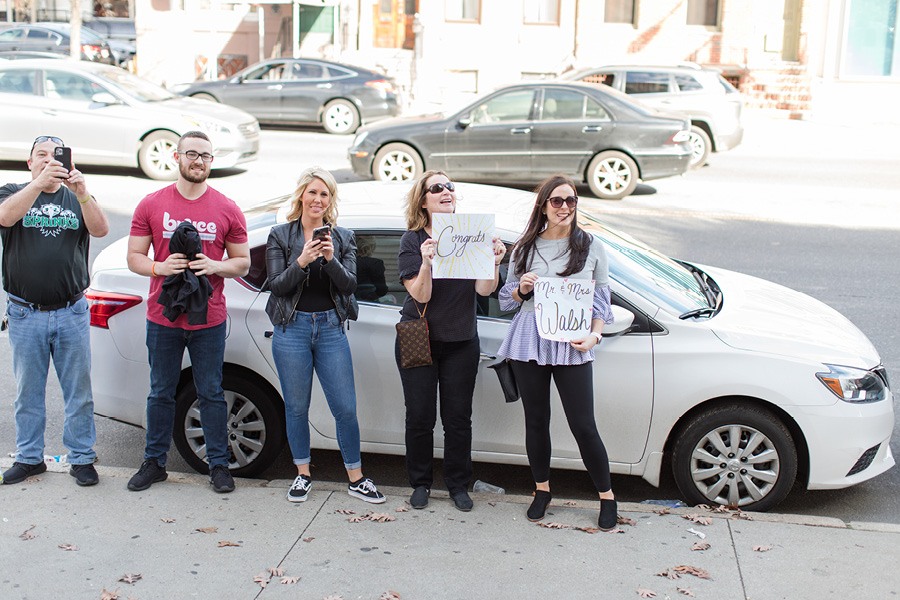 Afterward, we went to my parents' house. Just the same people who were in the church, our immediate family. They had the most amazing spread of food for us. I don't know how they pulled it together in three days.
Somehow, they got us … a wedding cake. They tried to re-create parts of the wedding cake we were supposed to have.
We did our first dance … in my parents' dining room. It was to "Can't Help Falling in Love," the Haley Reinhart version.
Bob stayed in his suit. I put on a different white dress, but only because I'm going to wear my dress again in June.
The neighbors on my parents' street came outside, put on some music and danced in their driveway. We danced in our driveway. We social distanced but still kept dancing. It was really sweet.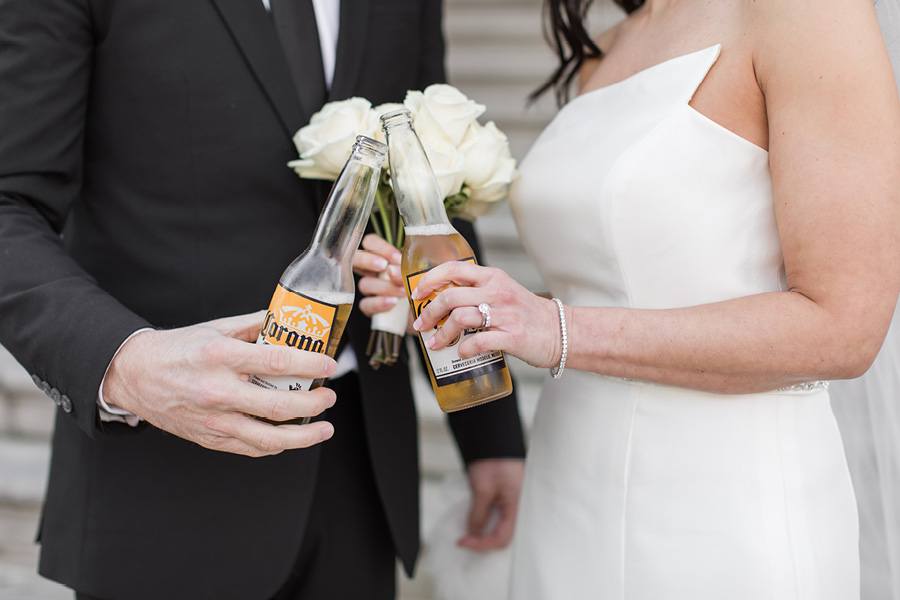 Bob's dad said … it was almost nice that we had to have our – I'm doing air quotes here – reception the way it was, and I completely agree. It was a very intimate setting where we got to talk to all the people who we love most. The other reception would have been running around to 270 people trying to make sure we got all our thank yous in. That's important to us, too, but it was kind of nice to just turn to my mom and to Bob's mom and say, "Wow, we did this."
To all the couples going through this: What you're feeling is valid, but the day will still come where you get to marry your best friend. Whether it's the day you originally planned or another day, it's gonna be the best day of your life. Three weeks ago, I was stressing about what our wedding programs were going to look like. And now I just think, "Who the heck cares about that?"
Get more great content from Philadelphia Wedding:
FACEBOOK | INSTAGRAM | NEWSLETTER | PINTEREST
Getting married? Start and end your wedding planning journey with Philadelphia Weddings' guide to the best wedding vendors in the city.
---