This Couple's Dog Crashed Their Engagement Photos at Tattooed Mom
And totally stole the show.
---
Philadelphians take their dogs everywhere, so why not take your fur baby to your engagement session? This local couple did just that for their Tattooed Mom engagement photos, and the results — captured by Peach Plum Pear — are the perfect love letter to our city. Leather jackets, a dive-y bar, Citywide Specials, and two utterly devoted dog parents — does it get any more Philadelphian than that?
The couple: Point Breeze residents Alice and Matt Parmet-Romanko.
How they met: We met at a mutual friend's wedding in fall 2017. The groom was Matt's fraternity brother and my childhood friend. We started talking in the hotel after the reception. We took a trip to Atlantic City on Saturday and ended the weekend at our first Eagles tailgate, during which Jake Elliot drilled a 61-yard field goal to beat the Giants as time expired. After that weekend we spent just about every day together. We would go on to watch every game together and the Eagles win their first Super Bowl.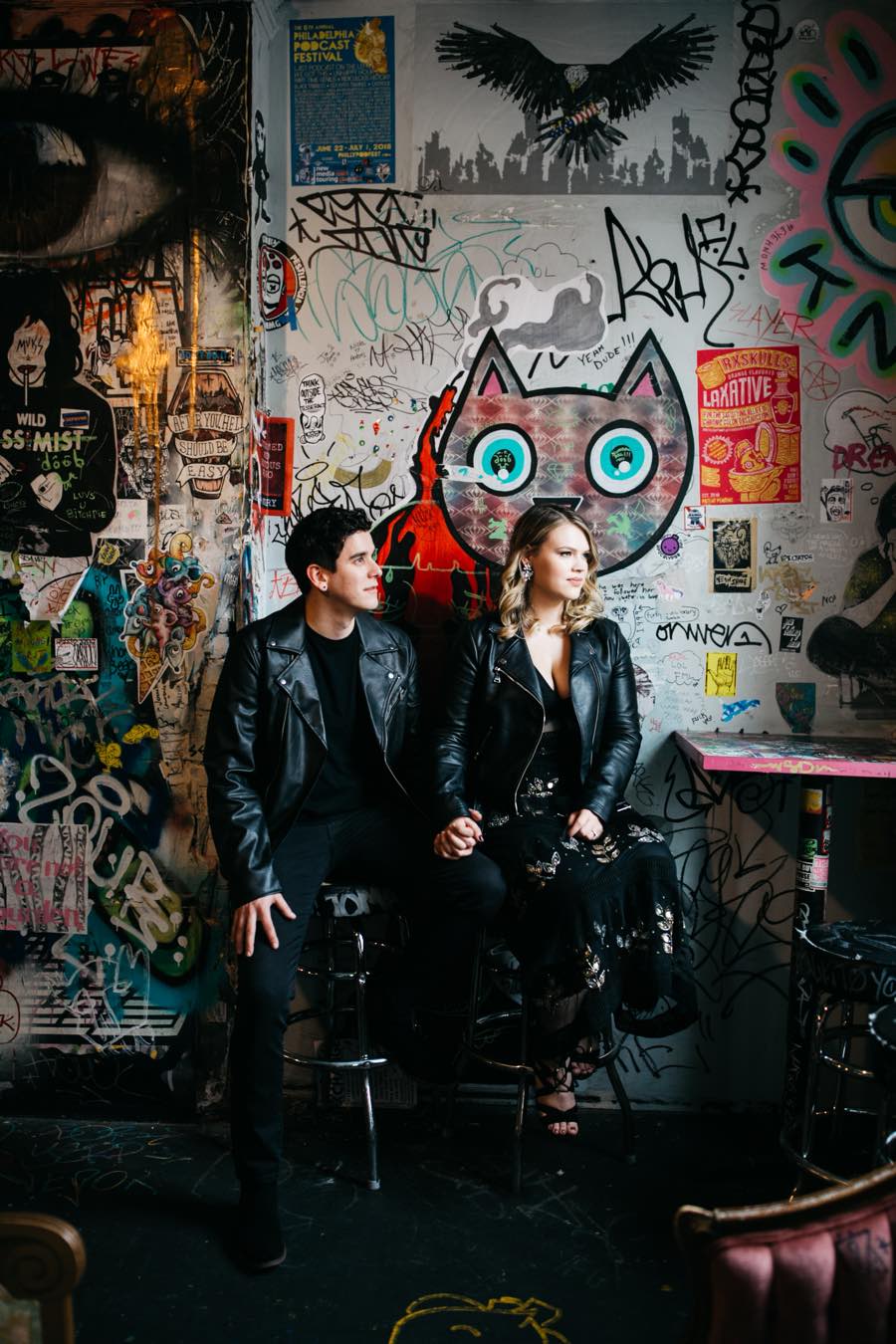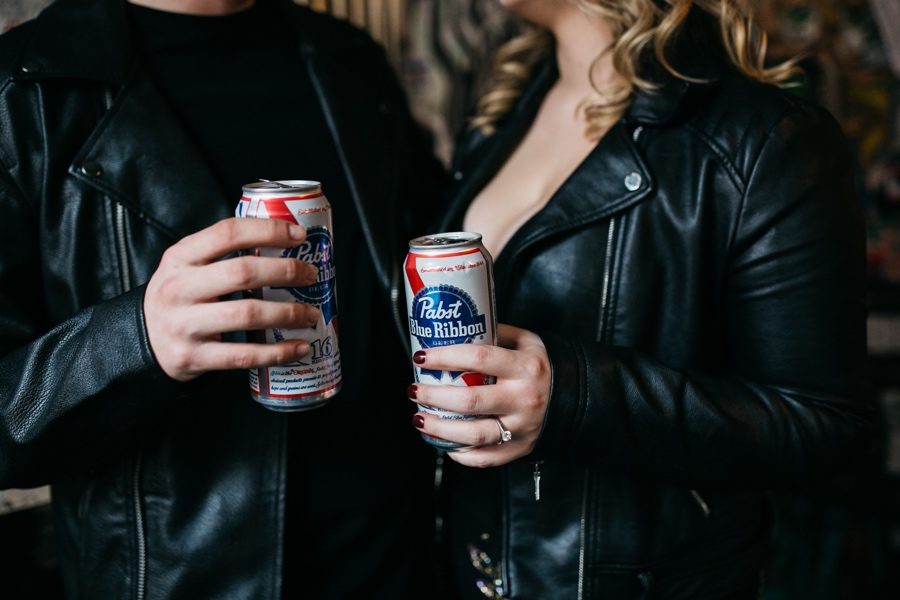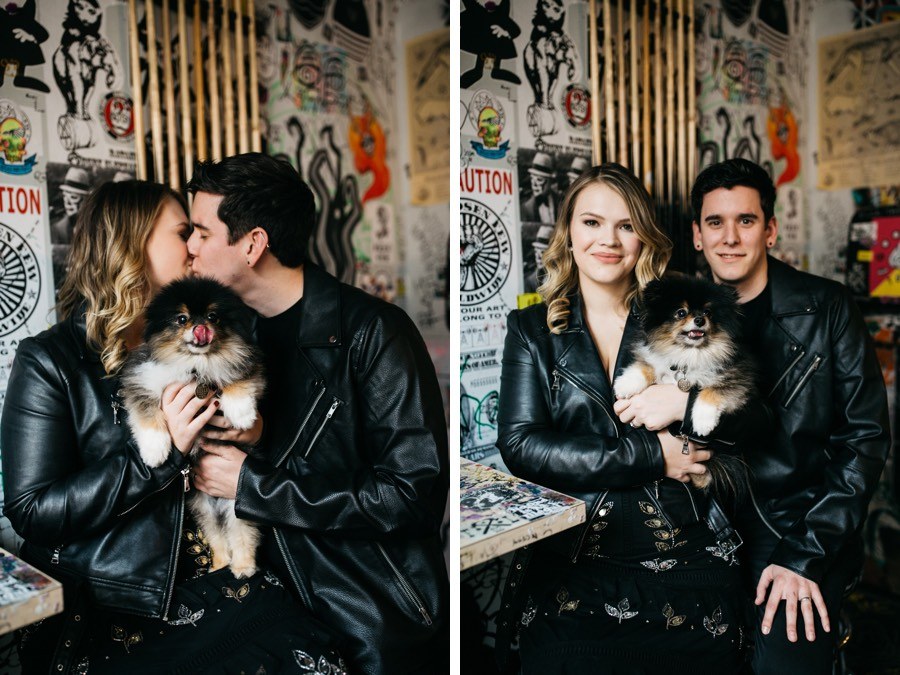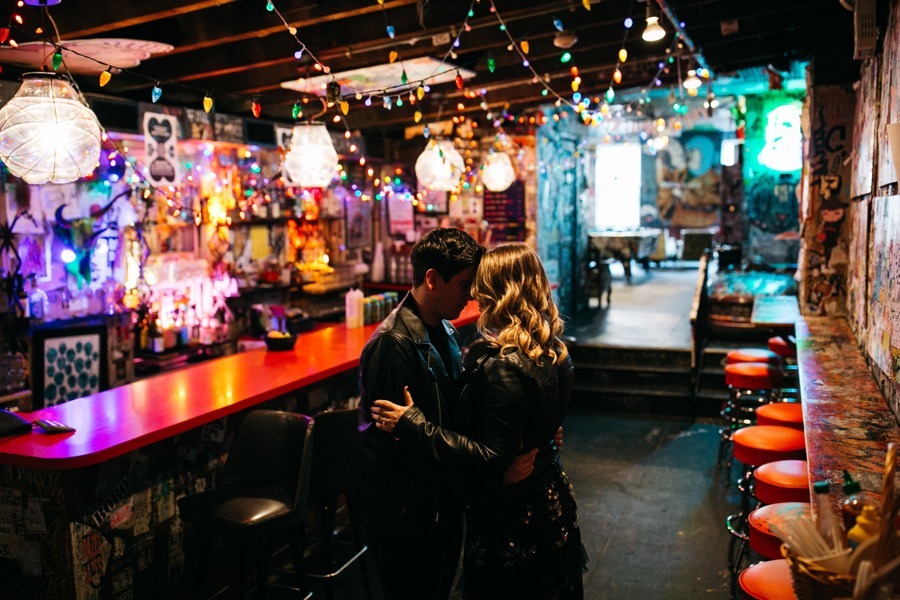 The proposal: We'd been planning a day trip to New Hope, PA, for some time and finally decided to go during Memorial Day weekend. We walked across the bridge to Lambertville, NJ. Lambertville had a tasting room for Tomasello Winery, the same winery where the wedding we met at took place. After stopping in and having some wine, we started crossing back over the bridge. Halfway across, in the middle of the Delaware River, Matt asked me to marry him. I grew up in Russia, and Matt proposed to me in Russian, which was a very sweet touch.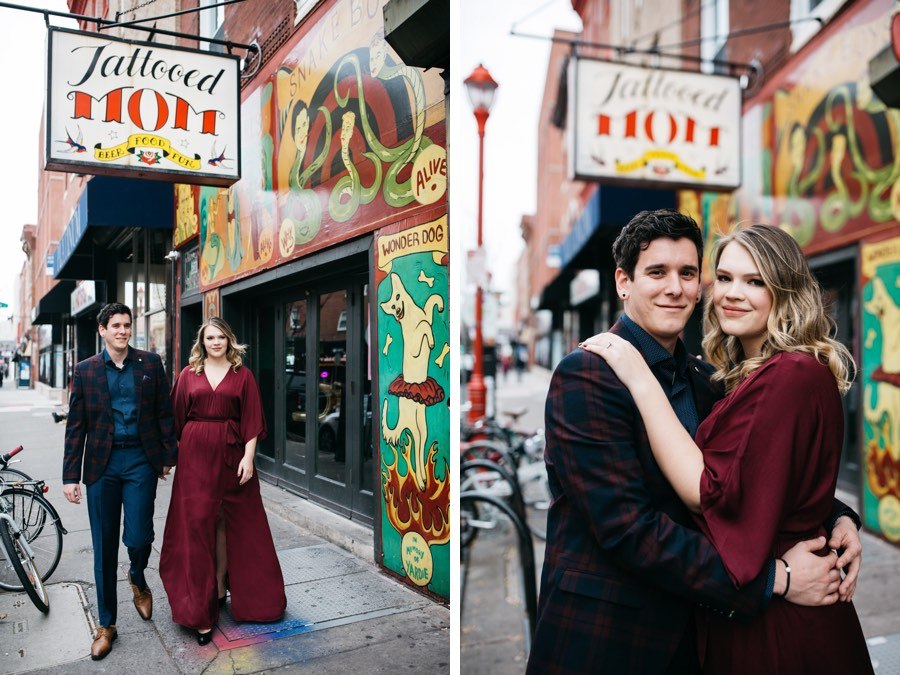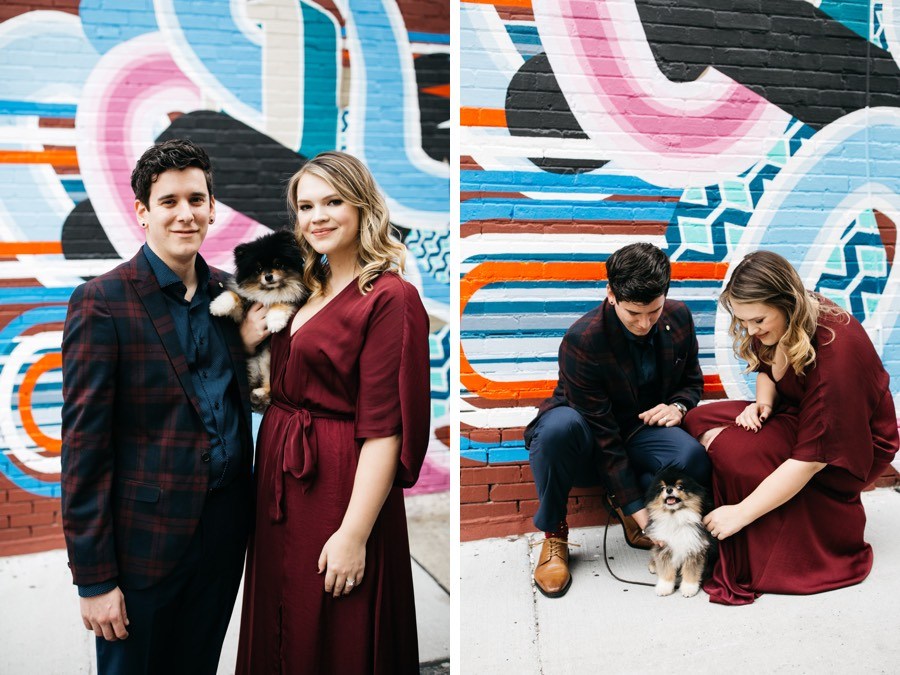 The engagement shoot: When I lived in Queen Village, Tattooed Mom was one of the places at which I would always get together with my friends. If I had any out-of-town visitors, I would always take them there. It's just such a cool space! It was also a bar Matt and I went to for one of our first dates.
When we were thinking about our engagement pictures, we knew a couple things: We wanted to do it in the city, we wanted to do something different, and we wanted to do it in a space where we would feel at ease because neither of us are comfortable in front of a camera. Tattooed Mom came to mind right away. The artwork upstairs made for a unique, colorful backdrop.
The drinks: We're big fans of Citywide Specials and pickleback shots. Besides helping with our nerves, we thought having Citywide Specials in our pictures was a good nod to our 20s in Philadelphia.
How their dog got involved: Our dog, Bella, is seven years old. Bella was there with me throughout college, and when I met Matt, she quickly became a part of his life. We knew we probably couldn't involve her in our wedding, so this was our way of including her in the process. We weren't planning on having Bella in the pictures at Tattooed Mom, but next thing we knew, our friend came into the bar with her in her bag. Nobody seemed to have an issue with it, so we decided to roll with it. It all worked out!
The wedding: This past November at Terrain.
This story has been edited for clarity and length. Want to see your Big Moment on this blog? Learn how to submit your engagement or wedding photos to our editors here.
Get more great content from Philadelphia Wedding:
FACEBOOK | INSTAGRAM | NEWSLETTER | PINTEREST
Getting married? Start and end your wedding planning journey with Philadelphia Weddings' guide to the best wedding vendors in the city.
---