This Blogger's "Will You Be My Bridesmaid?" Brunch Is Very Pretty—And Very Extra
A four-course brunch, champagne mimosas, and a dress code were involved.
---
We love it when a bride throws a party for her bridesmaids. It shows that she cares, and appreciates how much work being a bridesmaid actually is. (Check out this bride who skipped a bridal shower and threw a tarot party for her pals instead.) So, we were tickled by this party thrown by local fashion blogger Dani Maiale, whose proposal was equally magical: her beau faked a fashion shoot to get her to the location, a picture-perfect setup near a fountain in the Morris Arboretum. Check out the story behind the brunch at the Union League Golf Club at Torresdale with florals and design by Carl Alan Floral Artistry in the bride-to-be's own words below, and see all the lovely photos by Minh Cao of Du Soleil Photographie, too.
Do you have a modern, unique, or just plain emotional wedding planning story of your own? We want to hear it!
How I Got The Idea To Throw A Brunch for My Bridesmaids: "They were all such a huge help in planning my surprise proposal with my fiancé John that I wanted to return the favor and thank them for everything they have done, and everything they will do with me in preparation for my wedding day. All ten of them are truly amazing and have the biggest hearts. The idea was simple: we all love to eat and try new things so why not host a four-course brunch with unlimited champagne and mimosas?"
The Inspiration Behind The Decor Was: "I knew I wanted this brunch to resemble a fairytale. One where the room was filled with candles and lush flowers and greenery surrounding every inch of the room. In a sense, I wanted it to resemble love — the love I have for my friends, the love I have for John and our soon to be wedding, and the love that brought us all together. I first started with a color palette: pink, gold and white. Carl Alan Floral Artistry brought it all to life. And, by asking the bridesmaids to wear any shade of pink they wanted I feel like it really captured the overall theme! As soon as I walked into the room for the first time, I was speechless. It truly was a fairytale and more. The MRS. Light Up Letters by Slay Displays were amazing, and we had great balloons Maple Street Modern Design. I also really loved our mirror calligraphy by Hello, Bird."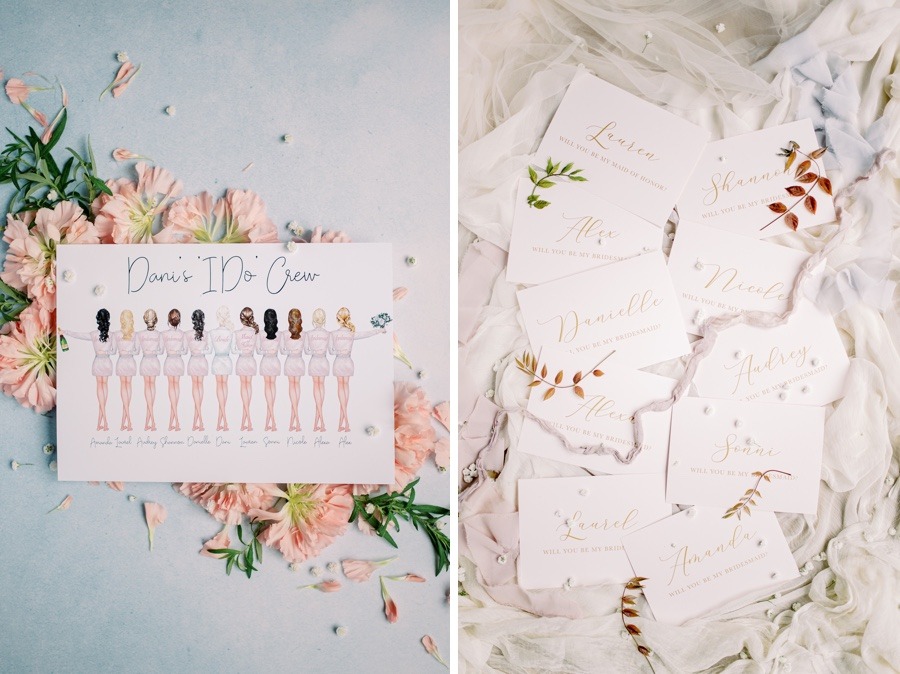 How I Asked Them to Be My Bridesmaids: "I had ten bridesmaids total, all of whom I have known for years! It means so much to have them by my side during this time in my life. It was really important to have them all there that day to share in the start of this exciting time in my life and to show them that they truly mean so much to me. The way I officially asked was placing a custom card in front of their plate setting stating their name, followed by "Will you be my bridesmaid?" Before we had dessert I gave a short speech thanking them for being in my bridal party, where of course I cried because I couldn't contain how happy I was."
The Best Food Details Were: "We had a champagne mimosa bar filled with peach, grapefruit and passion fruit sweetener so the girls could create their own unique drinks throughout the day. We also had custom Funfetti cupcakes at the end of the courses with a little "Thank You" topper in gold as to thank them all for being my bridesmaids as the day concluded. And I mean, who doesn't like funfetti? In addition to the cupcakes, we had a decadent red velvet cake, all by Cake N Bake Shop by Allegra."
We Took Those Golf Cart Pictures Because… "I think the pictures were one of the best parts of the day. The staff suggested we go out onto the green and take pictures in the middle of the golf course. We all took off on golf carts, champagne in hand and started snapping away. Laughing hysterically, we managed to get the shots as the girls got acquainted with one another in a fun and memorable moment!"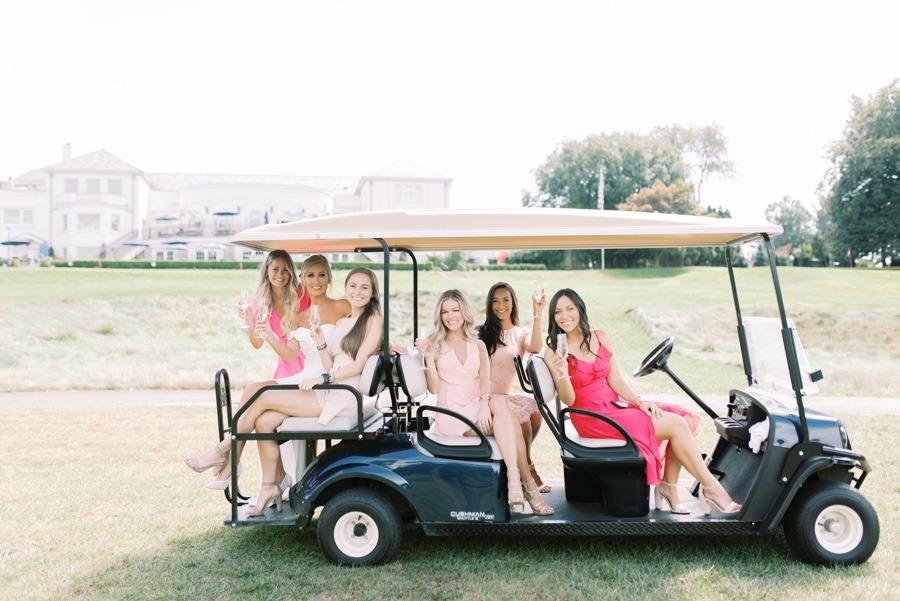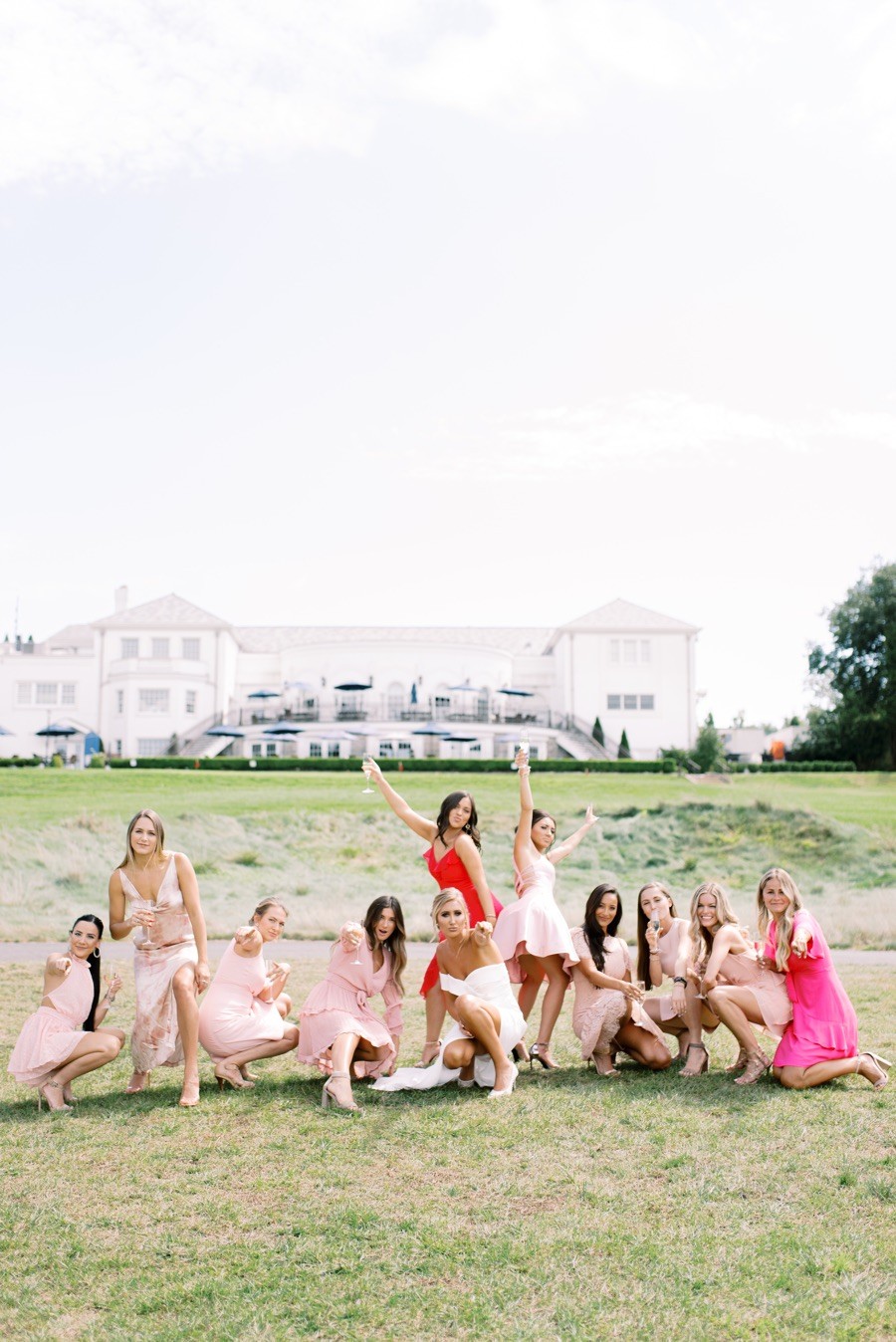 My Favorite Part of The Day: "I just loved that everything was unique and tailored to my friends. Even though all ten of them make up the bridal party as a whole, each of them had their own special moments throughout the day. From the custom name-engraved champagne glasses to their own personalized bridesmaid cards, it was all unique for them. The menu and stationery were artfully done by Paper on Pine. I even made a board filled with photos of us throughout the years growing up which were both sentimental and in some cases embarrassing. It was fantastic."
Dani and her groom, John Dombroski, are getting married on October 3, 2020 at Saint Patricks Church and The Union League of Philadelphia. We can't wait to see more from this happy couple!
Get more great content from Philadelphia Wedding:
FACEBOOK | INSTAGRAM | NEWSLETTER | PINTEREST
Getting married? Start and end your wedding planning journey with Philadelphia Weddings' guide to the best wedding vendors in the city.
---
---