Welp, These Wawa Wedding Photos Are Just A Delight
A groom and his shorty eat a Shorti.
---
When it comes to wedding photos in Philadelphia, there are certain no-brainers. The LOVE Statue. The murals of Old City. The median in front of City Hall. The list continues, but everything on it has one key thing in common: they all celebrate iconic Philadelphia. So why, we have to ask, does Wawa, our favorite convenience store, not get more attention? Especially when we've got a fancy new flagship right in Washington Square West?
Well, Fishtown couple Lindsay Gordon and Eli Neuman are here to change your perceptions of what Wawa wedding photos can be. Before their Power Plant Productions wedding last weekend, they stopped by the aforementioned fancy Wawa with photographer Nik Morina for coffee, hoagies, and some just-plain-delightful portraiture.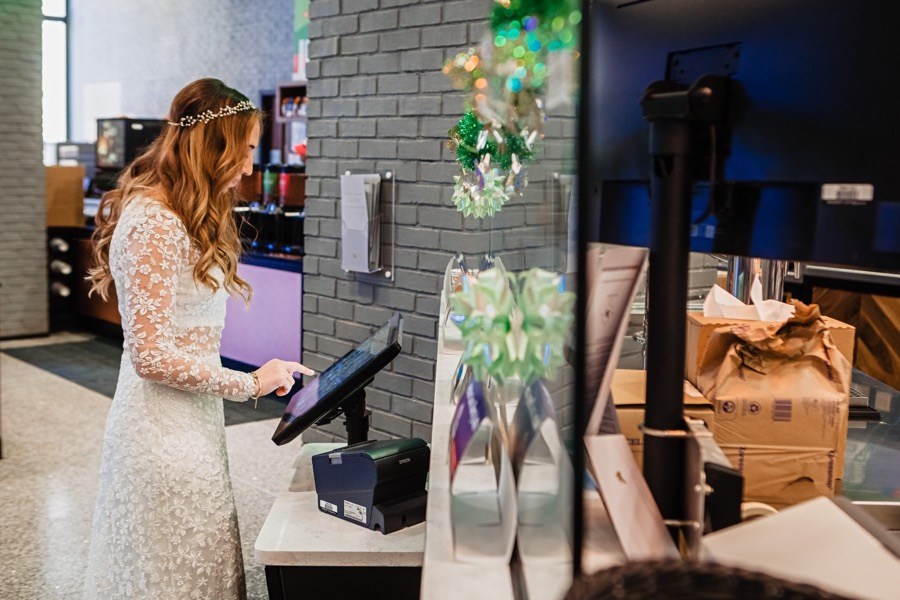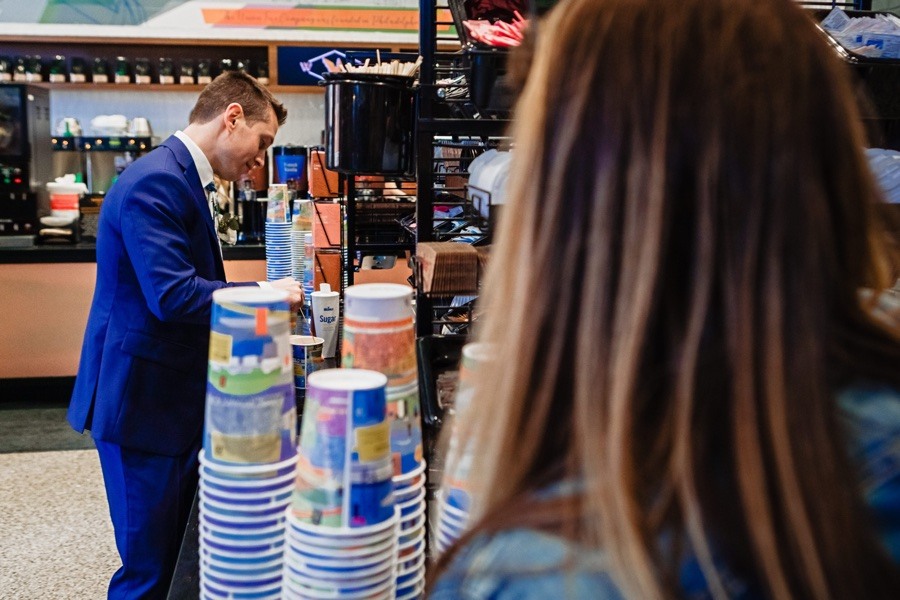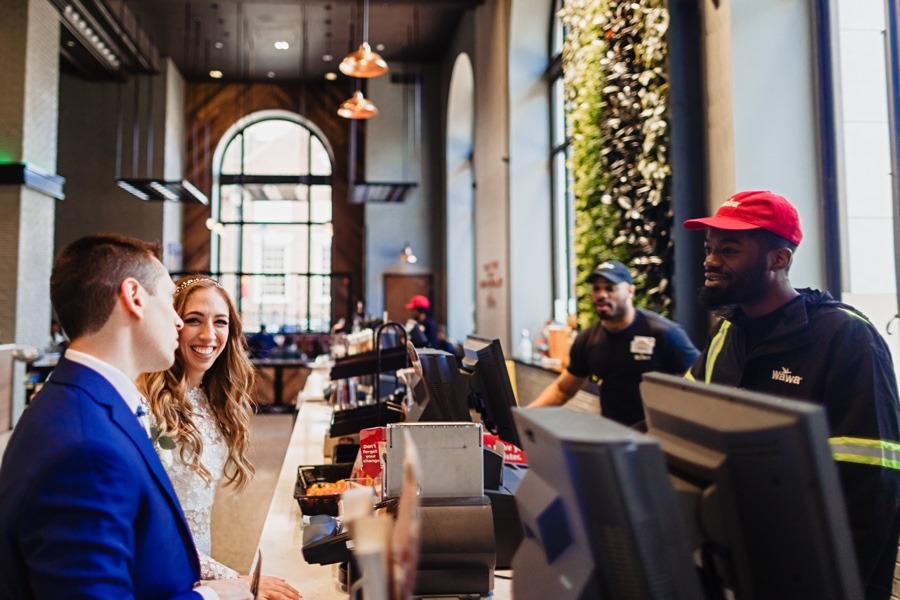 Here's a bit more from Morina about how the spontaneous session came about:
After the first look, we headed towards Independence Hall for some more portraits. Lindsay and I had created a perfect timeline for the wedding day, where we had plenty of time for our portrait session. Taking into consideration the engagement session we did last year at Devil's Pool, Lindsay wanted to create some more unique photos. She suggested we stop for drinks before family portraits and create something with fewer poses and more moments between the couple.
While walking towards The Cooperage in the Curtis Center, we saw Wawa. Lindsay got excited and said: "Oh look, Wawa, should we go in? Do we have time? What do you think, Nik?"
Before entering Wawa, I asked them to pose in front of the store with the logo in the background. Once we got in, we were debating if we should grab something to eat. I suggested a hoagie with no red sauce or anything crazy, just to be safe! As Lindsay was ordering, I took a couple of pictures of her as well as Eli making coffee.
Luckily, this Wawa has a few tables, so I asked the couple to sit and eat the sandwich. I remember saying, "Give me a passionate bite of the sandwich!"
Once we were done, we headed out and got a couple of drinks at a nearby bar.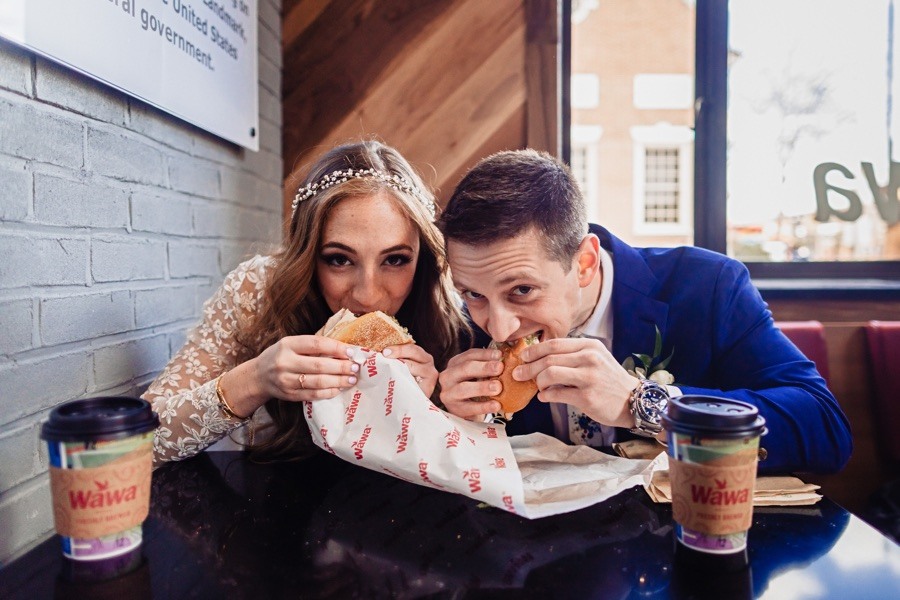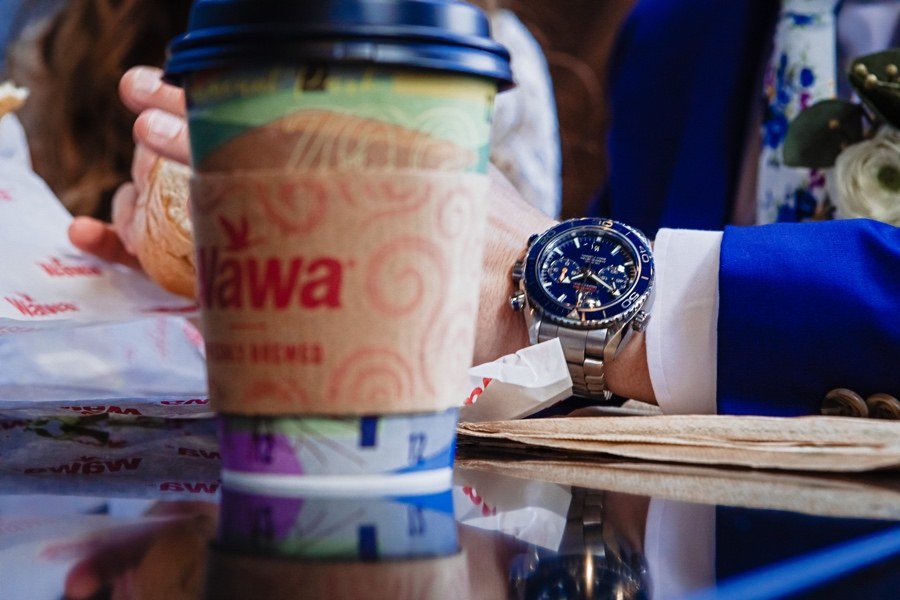 Lindsay and Eli's Wawa wedding photos certainly brightened our Friday, and we hope they do the same for yours. We're also kind of hoping they use the sandwich shot for their holiday cards this year.
Get more great content from Philadelphia Wedding:
FACEBOOK | INSTAGRAM | NEWSLETTER | PINTEREST
Getting married? Start and end your wedding planning journey with Philadelphia Weddings' guide to the best wedding vendors in the city.
---