The Police Shut Down Filbert Street for This Reading Terminal Market Wedding
The reception had the best totally Philly foods: cheesesteaks, roast pork sandwiches, and Bassetts ice cream.
---
It's pretty damn impressive when the PPD shuts down Filbert Street for your wedding ceremony — and even better when your reception takes place inside an iconic spot like Reading Terminal. Which is why we're totally obsessing over all of the classic Philly places represented in Amy Cheng and Christopher Min's spring wedding at Reading Terminal Market, with design and planning by All About Events. See all of the Philly magic in the shots below from Melissa Kelly Photography!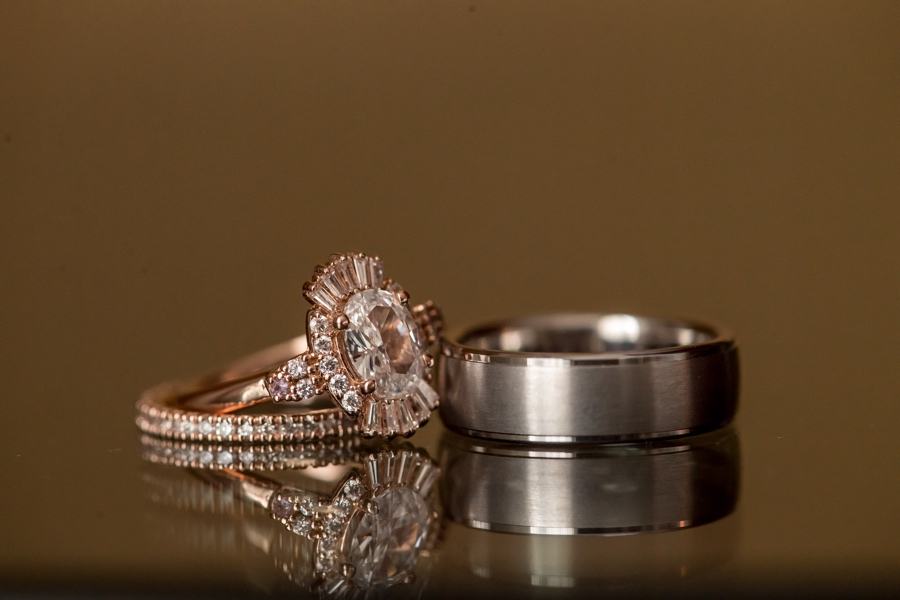 Amy and Christopher met almost a decade ago when they were both enrolled in pharmacy school. During their very first week, Amy saw Chris wearing a USC shirt. She had just moved from Los Angeles, so she excitedly asked if he had moved from California, too. To her disappointment, the shirt was gifted to Chris by his friend. "My first impression wasn't very exciting, since I was let down when I found out he didn't go to USC," Amy laughs, "I never would have thought nine years later, I would be marrying this man!"
"I thought Amy was pretty cute," Christopher remembers, "so of course I was excited when she stopped by to say hi. But I wasn't expecting anything to happen." Fortunately for them, the two became friends. Chris was quickly drawn to her fun and easygoing personality, and they started seeing one another often.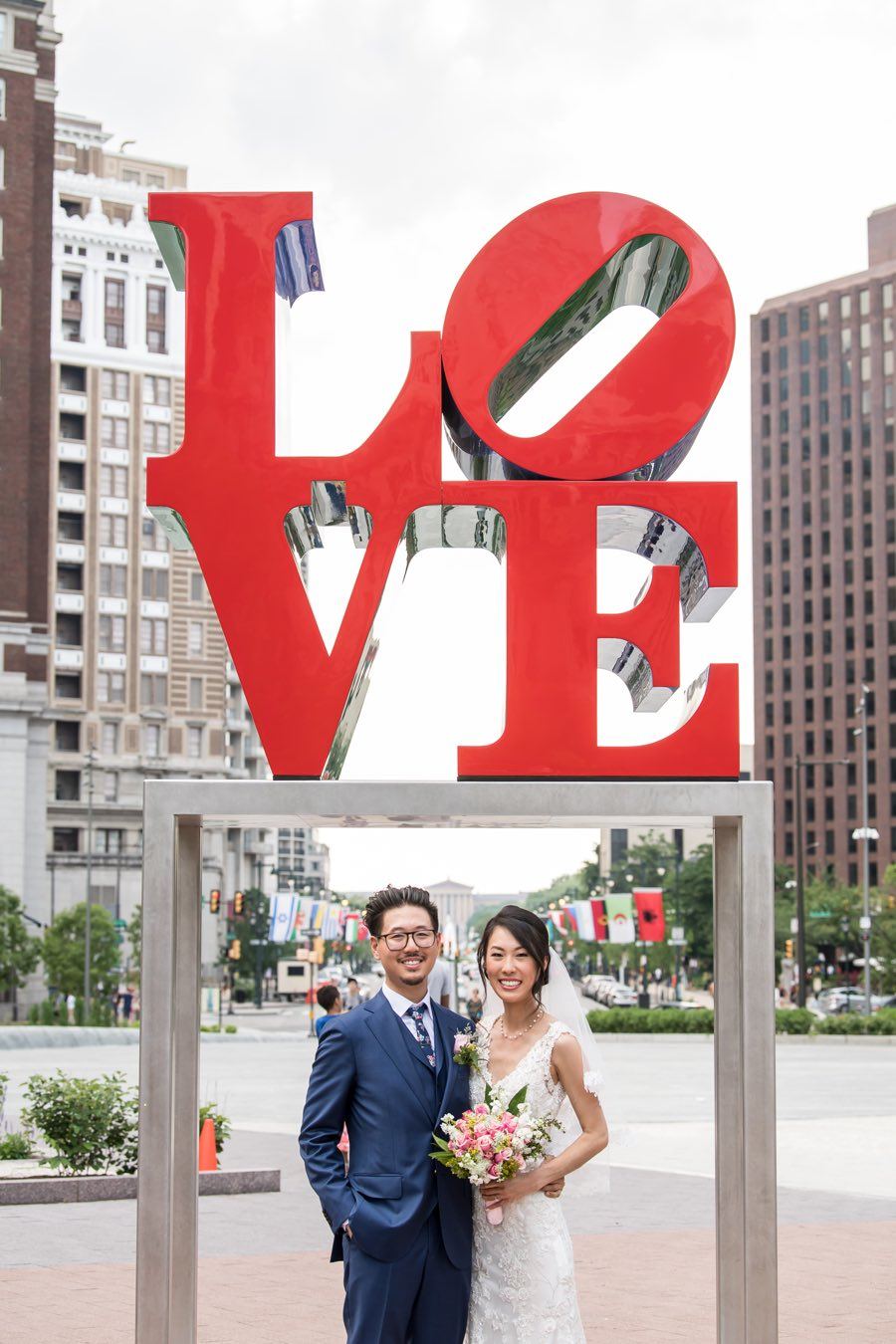 A year after they met (and after they luckily shared the same hospital rotation) they began walking to work together. That's when sparks started to fly. Their first date, however, was unfortunately derailed by a fender-bender as Chris drove to pick Amy up. He couldn't believe he had ruined their first date — but it turned out that sharing an umbrella in the rain waiting for the tow truck only served to bring the budding couple closer together.
After that fated night, they dated for seven years, including a whole two years covering four cities of long distance (Amy was living in Philadelphia while Christopher was in Chicago, and then Amy was living in Houston while Chris lived in Columbus) they finally found themselves together in the right city: Philly.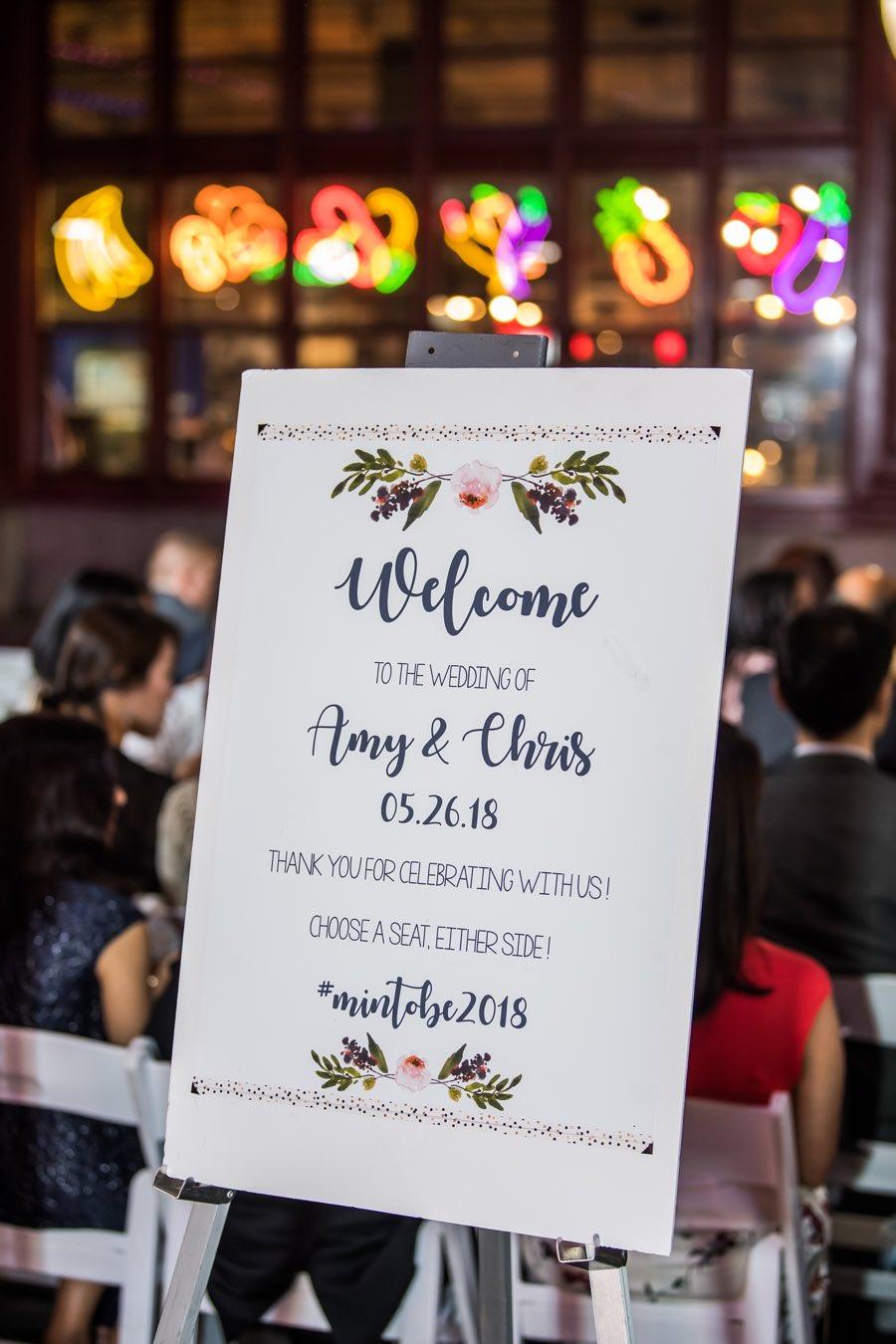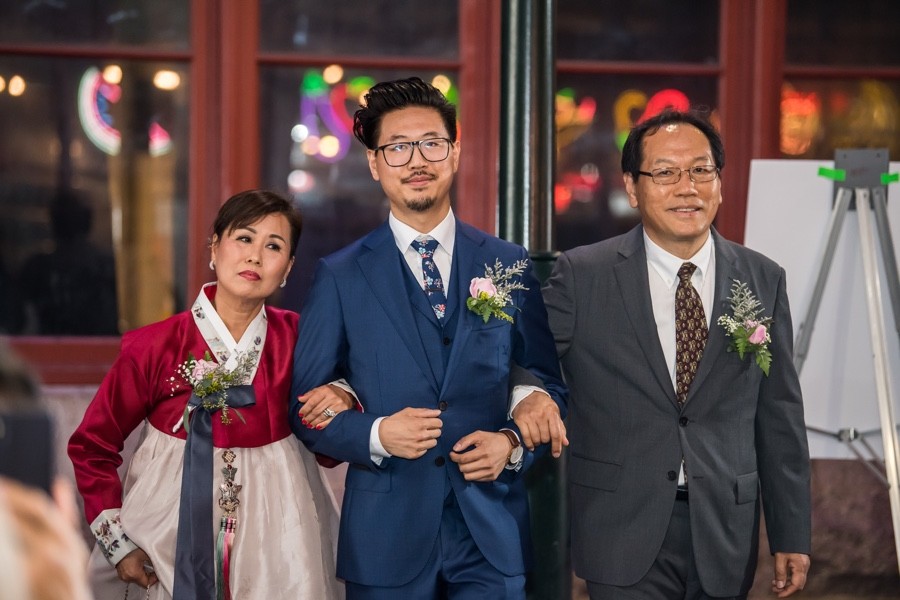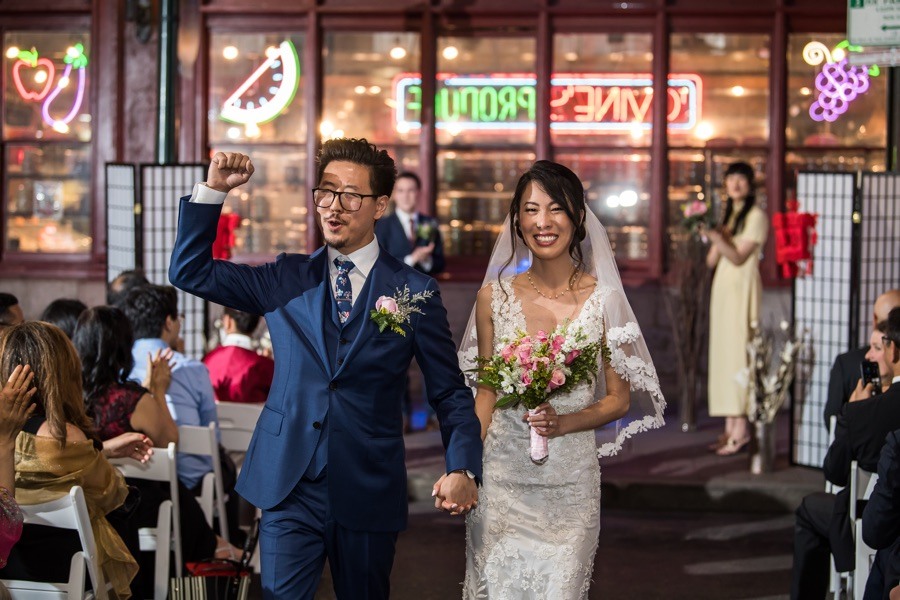 Chris proposed on Valentine's Day in Rittenhouse Square Park, with the help of their adorable pup, Toby. As they walked Toby after work, Chris had conveniently taken out Toby's poo bags so Amy would have to run back to get more. While she did, he attached post-it notes to Toby's harness detailing inside jokes and all of his favorite things about Amy. The last post-it note said he had a question to ask her. In the middle of the park, he got down on one knee and asked her to marry him. She instantly said yes, and they celebrated with a romantic surf and turf dinner Chris had prepared at home.
After a year and three month engagement, they wed in a sweet outdoor ceremony on Filbert Street that they actually had the police shut down the street for. The PPD closed down the block, and they wed in a sweet and unique ceremony under the neon Iovine Brothers Produce sign. (It was emotional for both of them: Amy could barely start her vows without shedding tears.)
Their amazing Reading Terminal celebration featured design and direction by All About Events, which transformed the cafeteria space into a magical place for the 150 of the couple's friends and family in attendance. Dinner was a perfect tribute to the city of Brotherly Love, all from favorite food stands at the market (think DiNic's, Molly Malloy's, Meltkraft, Bassetts, and Beiler's).
Options included cheesesteaks, roast pork sandwiches, fun choices like lamb chop lollipops and assorted French fries, mini grilled corned beef sandwiches, and Brussel sprouts satay with blue cheese fondue. The guests sipped Rosemary Greyhound and Bourbon Smash cocktails while the happy couple danced to Ellie Goulding's "How Long Will I Love You" and enjoyed the very Philly atmosphere of Reading Terminal.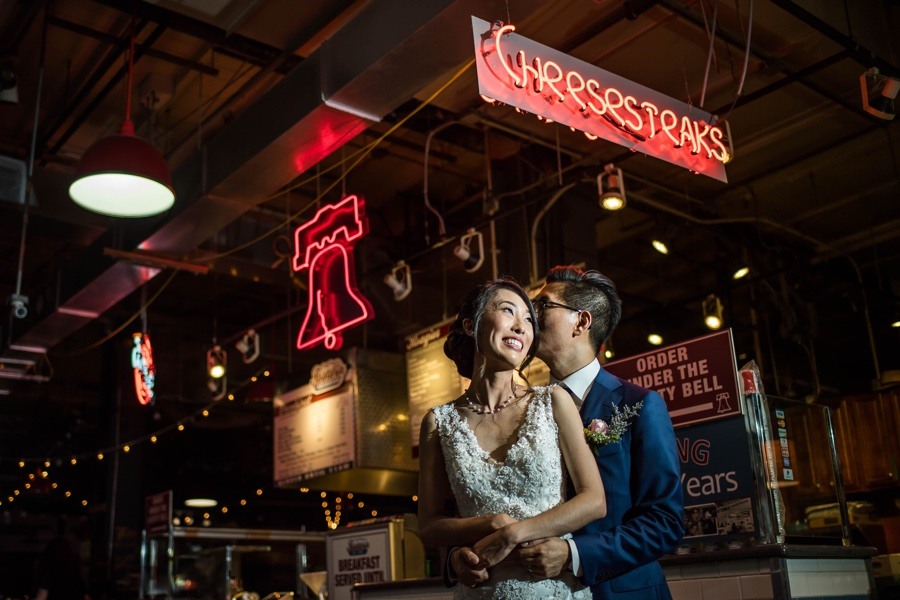 After a charming evening, guests departed with a very on point favor: a La Colombe coffee repackaged into small jars with stickers that read "The Perfect Blend." The couple headed out on a blissful honeymoon in Oahu and Maui, Hawaii to relax in the sun. The now married pair then happily returned to their home in South Philly, where Amy is an assistant professor and Chris is a pharmacist.
THE DETAILS
Venue and Catering: Reading Terminal Market | Photographer: Melissa Kelly Photography | Event Coordinator: All About Events | Bride's Gown: Carolyn Verdi Boutique | Groom's Tux: Suitsupply | Hair and Makeup: Beauty By Phyllis | Cake: Flying Monkey Bakery
Get more great content from Philadelphia Wedding:
FACEBOOK | INSTAGRAM | NEWSLETTER | PINTEREST
Getting married? Start and end your wedding planning journey with Philadelphia Weddings' guide to the best wedding vendors in the city.
---
---