See How One Guy Turned a Logan Circle Coffee Shop into the Sweetest Proposal Ever
Luke proposed to Ettie with their two favorite things: scrabble and coffee.
---
Sure, it's a wonderful thing when a couple rides the wave of city-wide excitement over our Super Bowl win (or even just the Mummers parade) right into a marriage proposal, but we also love a meticulously planned popping of the question that involves things that are special only to the people involved. Like Luke Kim's deeply personal, sweetly sentimental, and extremely adorable proposal to longtime girlfriend Ettie Kim last month.
Luke and Ettie first met during a game of group Scrabble, and later had their first date at Peddler Coffee. When it came time to propose, Luke knew both would have to be involved. He rented out the Logan Circle coffee shop, and recruited friends from around the city and out of state to help set the scene. On the door, he posted a sign temporarily changing Peddler's name to "Sanctum Coffee Roasters" — the name of the coffee shop the java-lovers have "half-jokingly, half-seriously" discussed opening together throughout their relationship. Inside, the group hung photos of the couple from the ceiling and set up a charming table display. Cafe lights and plenty of greenery were the final touches needed to transform the space into a romantic oasis.
Next on Luke's to-do list: Getting Ettie to Peddler without her suspecting anything. He tricked her into thinking they'd be taking over a co-worker's dinner reservation for a casual date night, then enlisted Ettie's sister to distract her during the day so she wouldn't question Luke's whereabouts. Once Luke was "done with work," Ettie's sister walked with her over to Luke's place. (Peddler is conveniently on the way.) Seeing the shop was closed for a "special event," they headed to the glass door for a closer look. Spotting the Sanctum sign, Ettie realized the coffee shop was actually closed for her.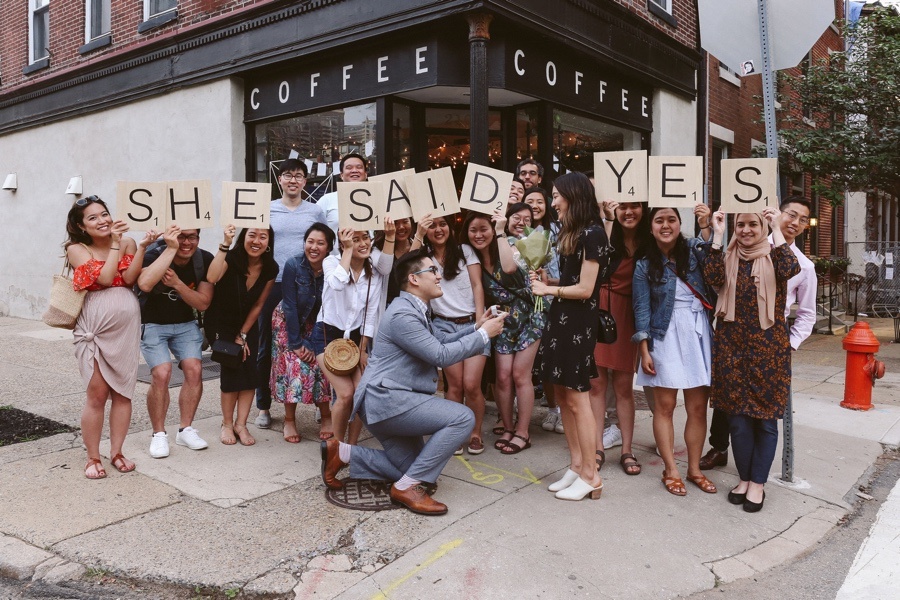 Ettie walked in, and Luke gave her some time to wander through the memories and momentos of their relationship. She took in the old photos, marveled at the "I Love You" written out in Scrabble tiles on the wall, and was particularly touched by the "Luke and Ettie" handprint mailbox — a recreation of a poignant moment from the movie "Up" — on a nearby table.
Then, Luke and Ettie's song, "Is This Love," started playing on the speakers. Luke came out from his hiding spot, retrieved the L. Priori ring he'd had specially created for Ettie from the mailbox, and asked her to spend the rest of his life with him. She accepted (How could she not?), cueing friends and family to sneak out from around the corner holding up jumbo Scrabble tiles.
Congrats to the happy couple! If you're interested in more behind-the-scenes moments from the day, check out the video below. And Luke, if you're not already developing a side-hustle planning other people's proposals, we strongly urge you to consider it.
Get more great content from Philadelphia Wedding:
FACEBOOK | INSTAGRAM | NEWSLETTER | PINTEREST
Getting married? Start and end your wedding planning journey with Philadelphia Weddings' guide to the best wedding vendors in the city.
---