This Minimalist Hipster Wedding Was One of the Coolest We Saw in 2017
And they pulled it all off in three months!
---
Ahhhhh. That's all we can say about the downright refreshing union of Emily Weaver and Justin Hess. The duo married in a beautifully minimalist and Scandinavian-inspired wedding in their hometown of Manheim, PA in a day that was uniquely theirs. The groom created the sweetheart table, the bride designed the look and feel of the celebration herself, and we love that they opted for a bridal-party-free ceremony as well as pie over cake. See the more from the celebration at Manheim co-working space SUPPLY in the photos below by Marisa Albrecht.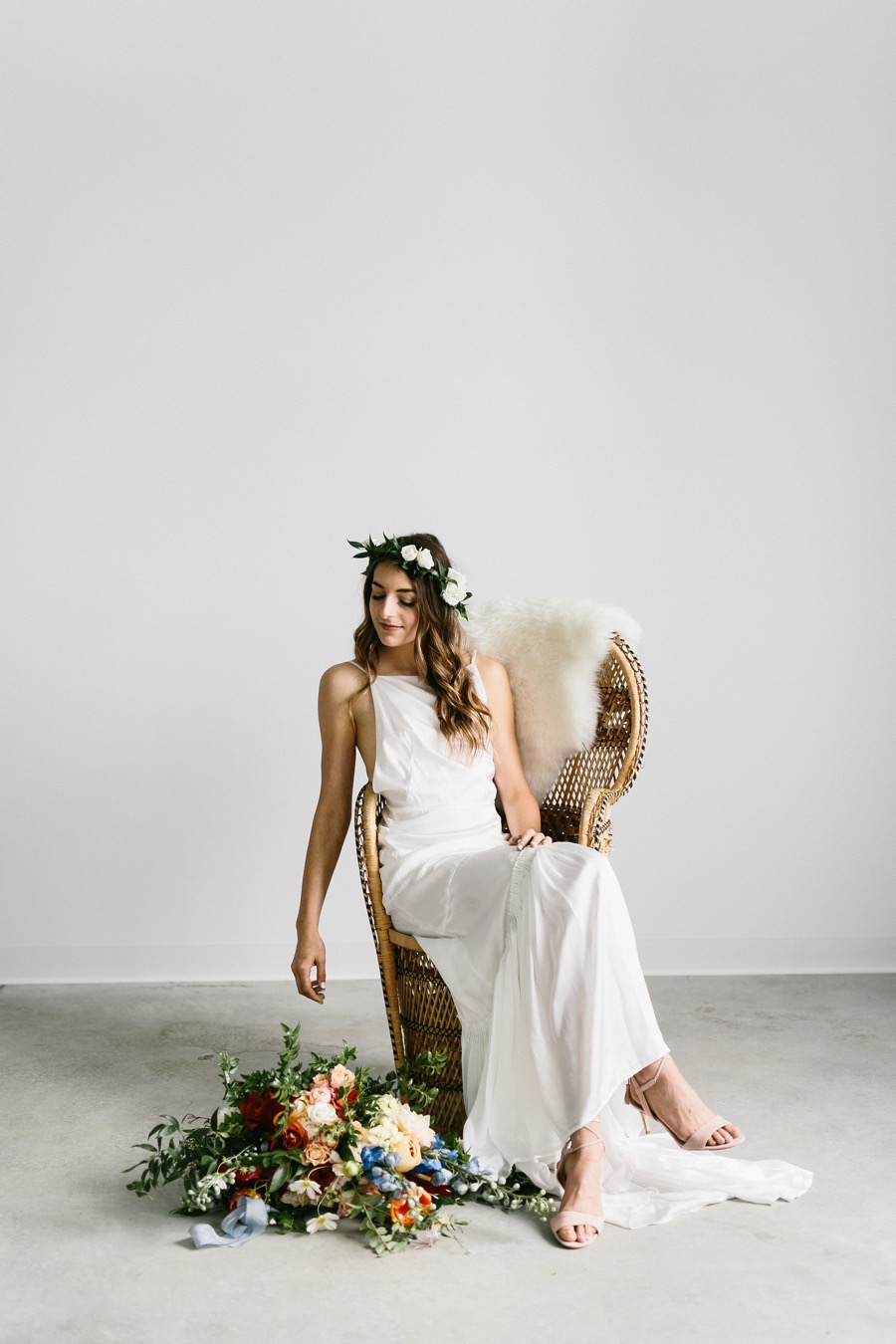 Justin and Emily were both brought up in the small town of Manheim. They had mutual friends, attended the same high school, and had family connections — that's how small towns work, ya know. But it wasn't until after graduation that there was a spark. They ran into each other in Jamaica of all places while Emily was there with her church youth group and Justin was there visiting with his sister-in-law. From a meeting on the sidewalk in Jamaica, and then on, Emily had a driving interest to get to know Justin better — a feeling unique to her "career focused, independent" persona, while Justin was intrigued by her distinct personality.
Their first date was shared at Tomato Pie, a local cafe in Lititz, where they sipped tea lattes and talked for a good two-hours, covering everything from a mutual love of traveling to their entrepreneurial dreams. The pair dated for two years, surviving two stints of long distance while Emily was living in NYC and Europe, before getting engaged. After a trip to IKEA, where they set out to purchase furniture for their new home together, Emily fell asleep on the car ride home. When she woke up, she realized they were at the same walking path where Justin asked her to be his girlfriend. Near the end of the path, Justin got down on his knee and asked Emily to be his wife.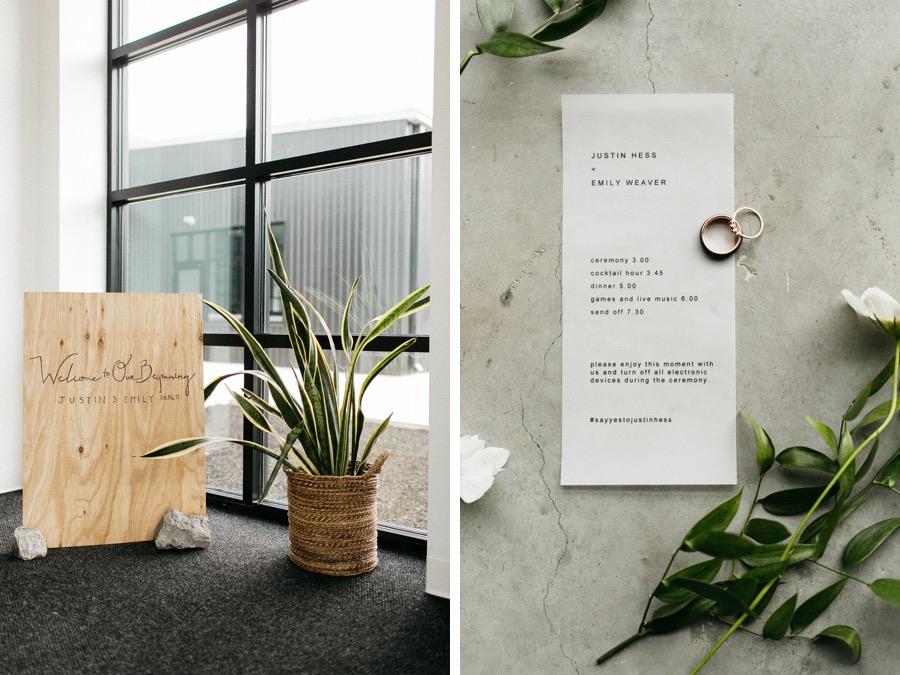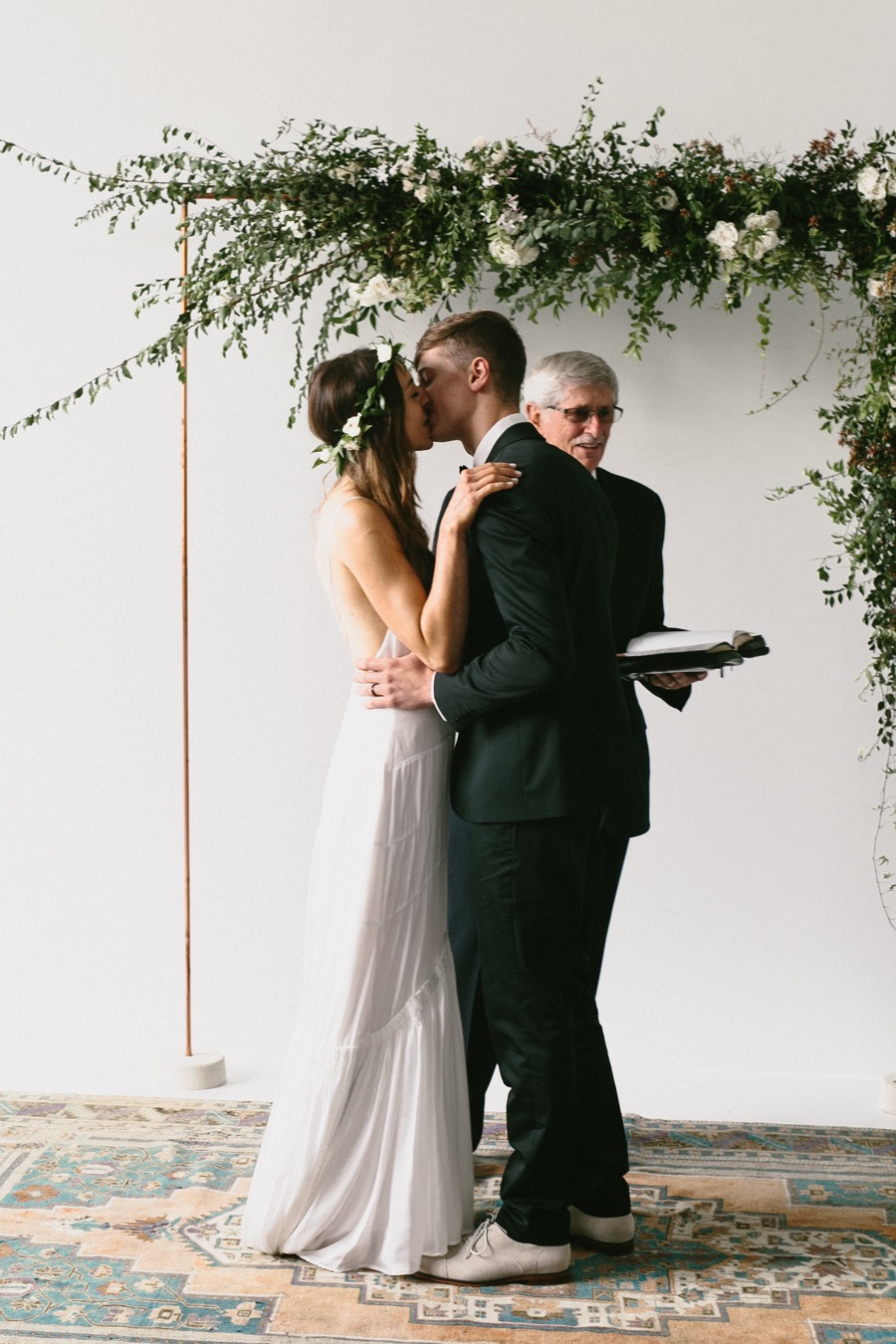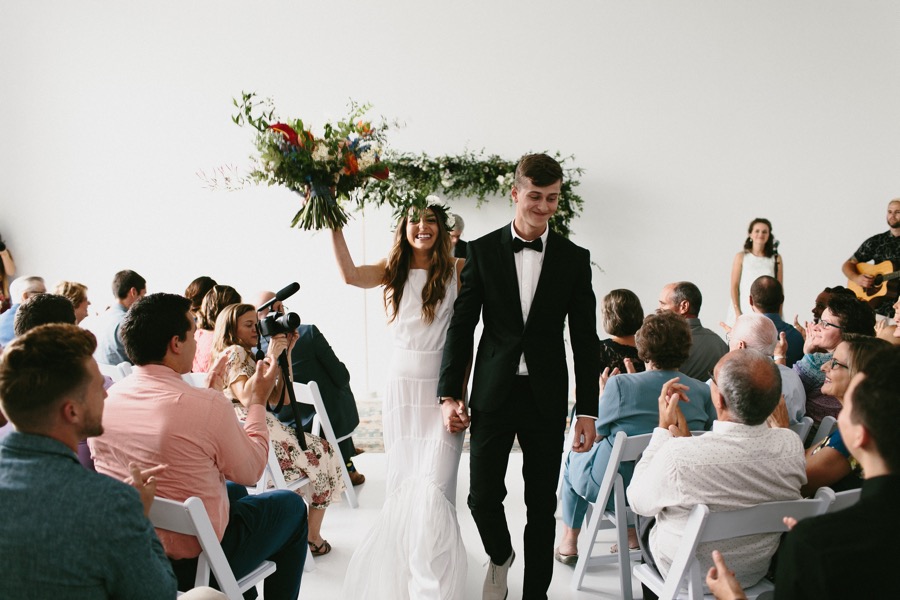 Three months later, Emily and Justin were married on August 7, 2017 at the extremely photogenic venue SUPPLY Manheim in a ceremony led by Emily's grandfather. The minimalist, Scandinavian vibes carried through the ceremony and into the reception, also held at SUPPLY, with crisp white linens and chairs. Tables were adorned simply with vines of eucalyptus, white candles, and unfussy table numbers. For a little extra green (and aromatics), each plate was garnished with a sprig of rosemary.
Like all other aspects of this wedding, the food was elegant and beautiful. We also love the artisanal (and local-to-them) cold brew coffee station to help fuel the celebration.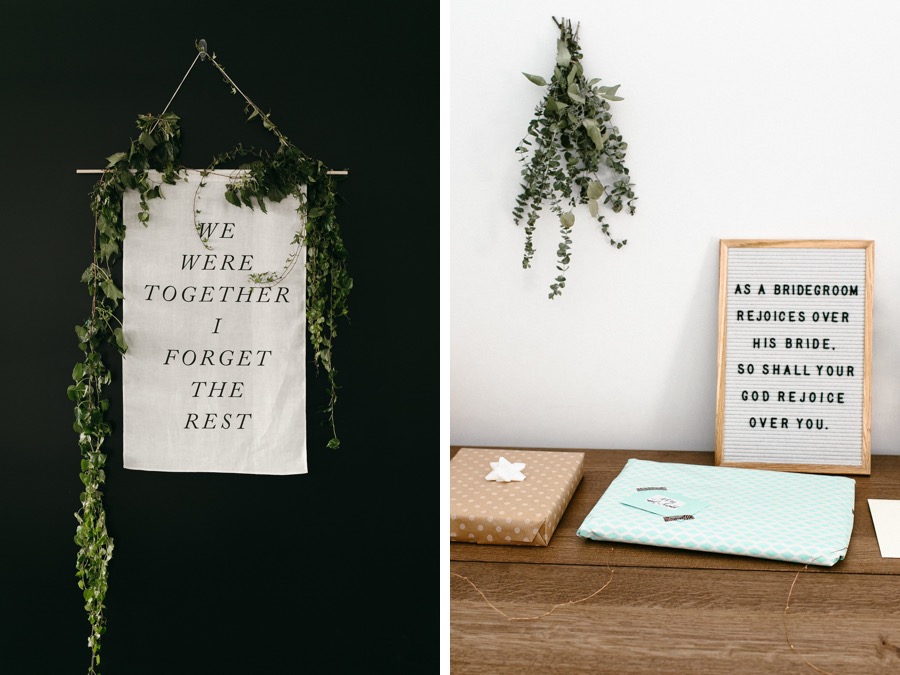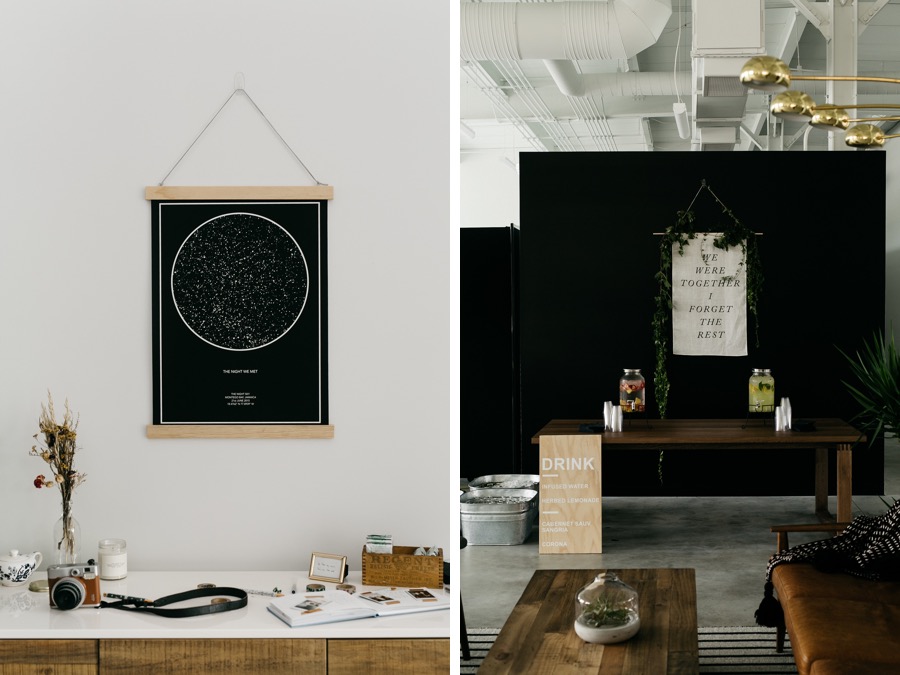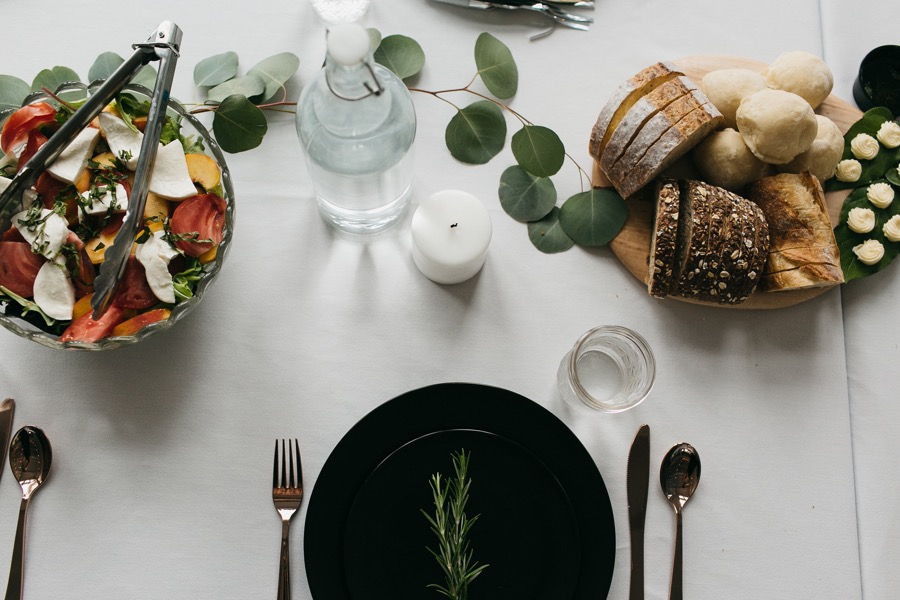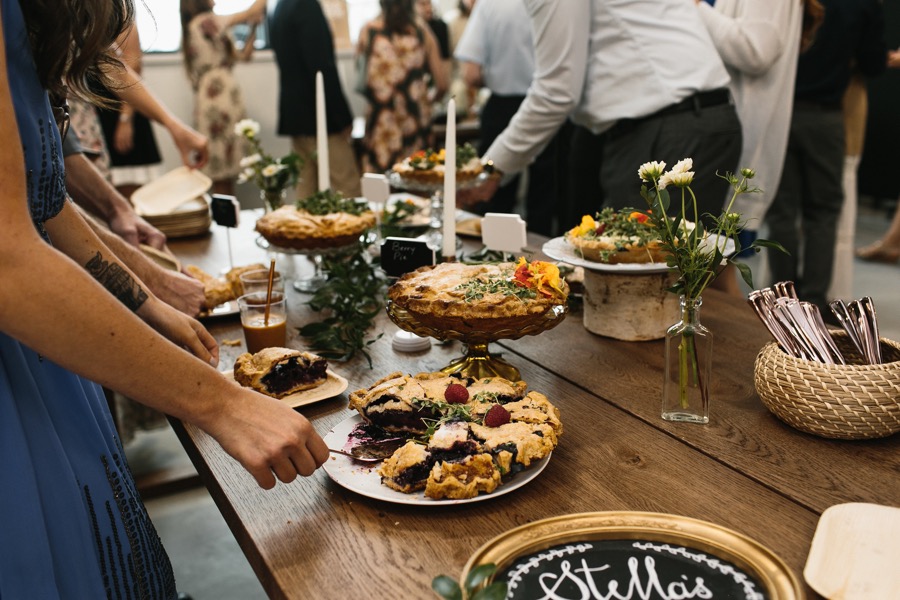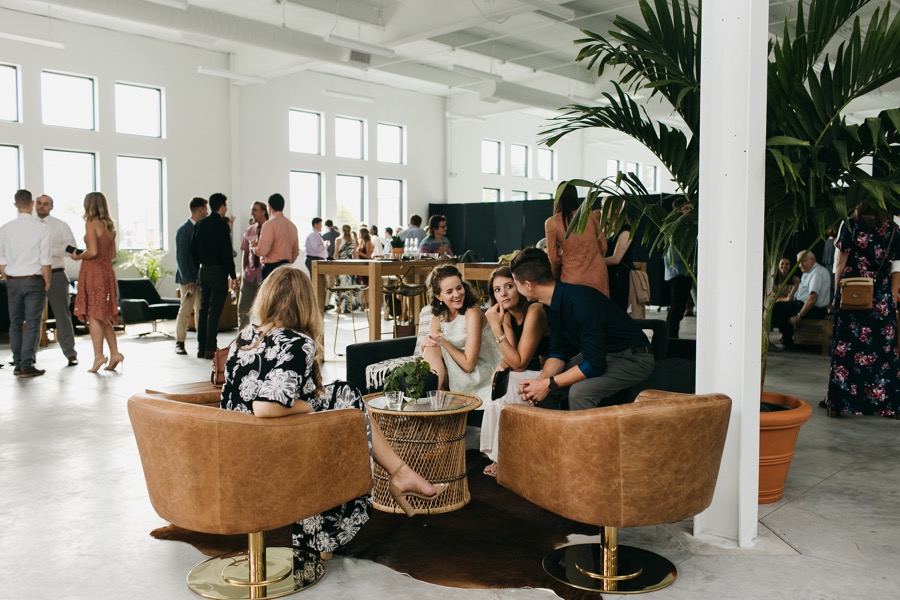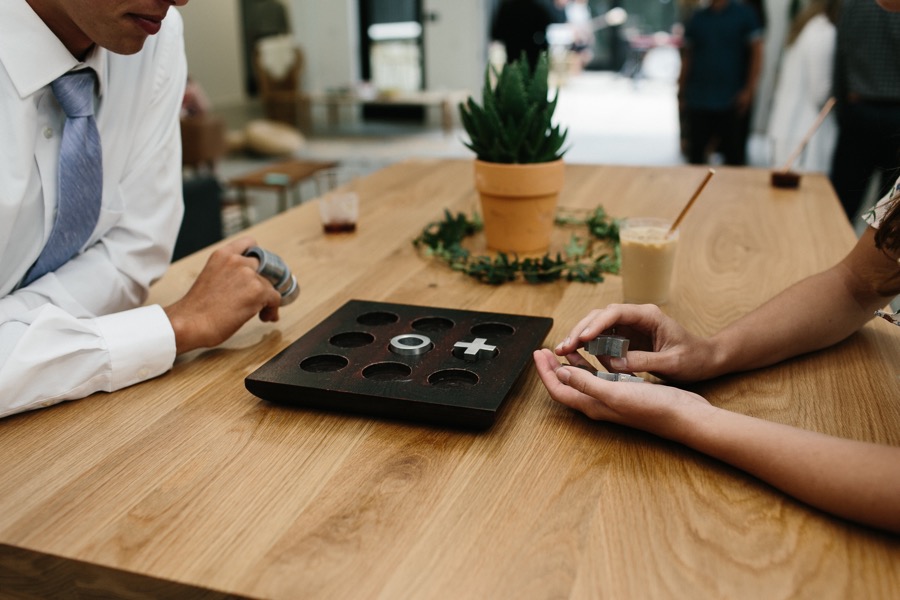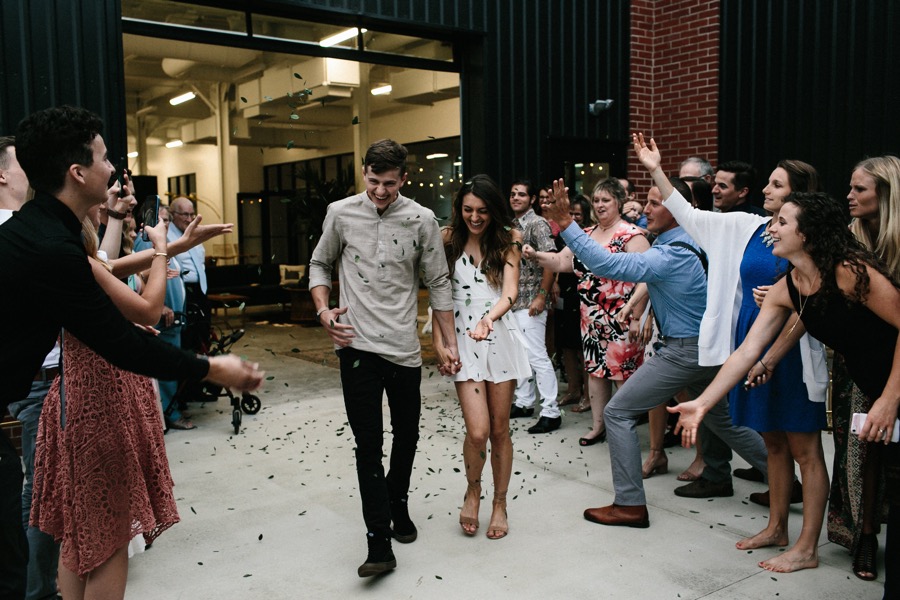 Emily and Justin's first dance to an acoustic version of Bon Iver's "Blood Bank" was intended to be a private sunset moment on the venue's rooftop, but guests found their way up to join them for the happy moment. After nibbling on earl grey, lavender creme, triple berry, chocolate mouse, and grilled peach pies for dessert, the pair set off for a honeymoon in Budapest before returning to their home in Lititz, where Justin is a vinyl installer and Emily is a social media photographer, content creator, and stylist.
VENDORS
Event Stylist: Emily Weaver | Photography: Marisa Albrecht | Venue: SUPPLY Manheim | Florist: Lavender Fox Florals | Bride's Gown: ASOS Bride | Groom's Tux: Express | Catering: Kristie Walter Home Cooking Made Simple | Wedding Pie: Stella's Sweets | Cold Brew Coffee: Little Amps Coffee | Ceremony Entertainment: Lindsey Horst | Reception Entertainment: Tigers + Thieves | Invitations: Rifle Paper Co. | Wedding Favors: O'Shea Woodworking
Get more great content from Philadelphia Wedding:
FACEBOOK | INSTAGRAM | NEWSLETTER | PINTEREST
Getting married? Start and end your wedding planning journey with Philadelphia Weddings' guide to the best wedding vendors in the city.
---
---